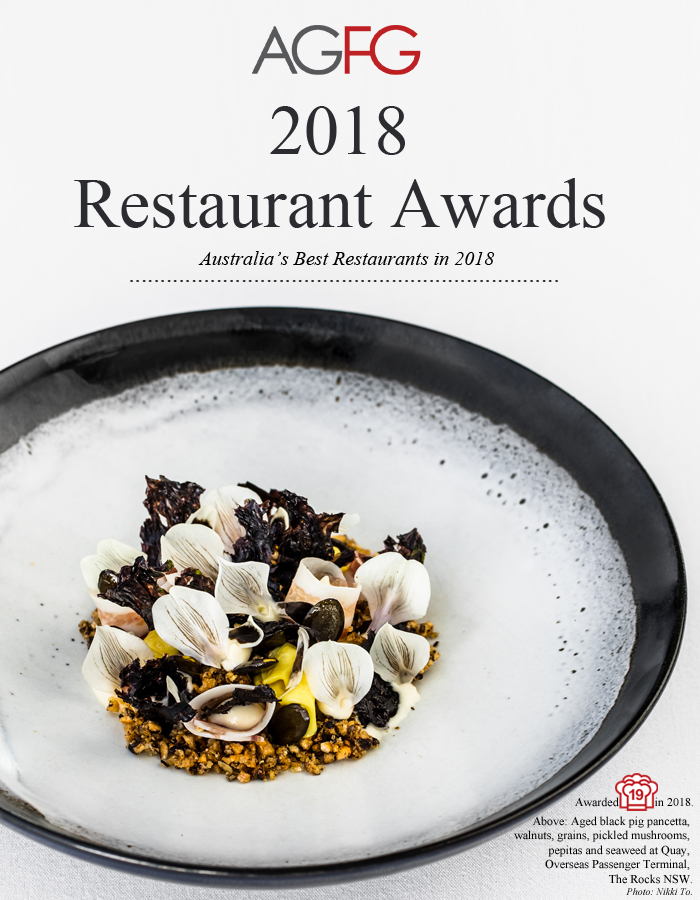 As Australia's first national food guide, celebrating over 40 years, never have we enjoyed a greater talent of Chefs and restaurants to the Australian name than we do at this very moment. The year of 2017 brought with it much reflection and deliberation surrounding the changes and advancements we have witnessed in food over the decades.
The foundations of our mission statement and ethos has remained the same; to inspire more memorable moments. After all, it is but a collection of moments which bring us all to this point each year. Moments of divine clarity and technical execution from our top Chefs, moments of discovery within the industry, moments of pleasure experienced by diners and moments of progression had by all.
Our country has set the culinary benchmark high for the 2018 Chef Hat season without hesitation, offering a year of distinguished moments for our judges, now awarded and acknowledged, so you too can share in the experience of their excellency.
2018 sees 390 restaurants awarded Chef Hats around the country, down 18 from 2017.
2018 Chef Hat Winners by State: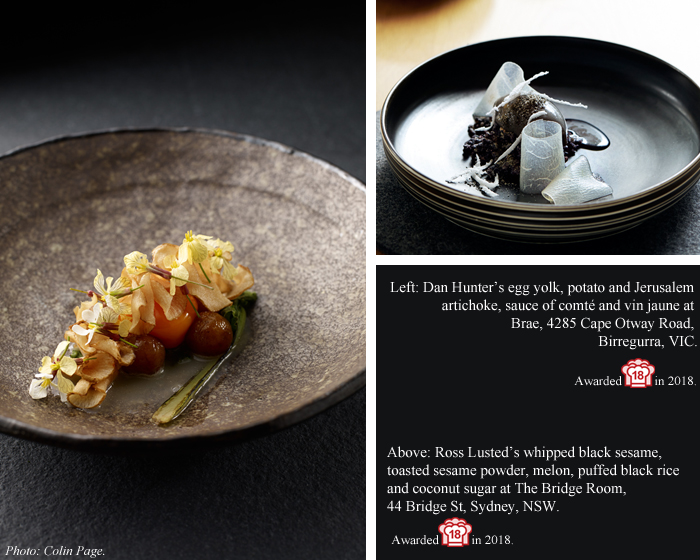 Notable Openings/Newcomers to the Awards List this year:
Sydney:
South Coast NSW:
Long Time No Sea (12)
Riverina NSW:
The Roundabout Restaurant (12)
Melbourne:
Mornington Peninsula VIC:
Great Ocean Road VIC:
Captain Moonlite (13)
Grampians & The Pyrenees VIC:
Wickens at The Royal Mail Hotel (15)
Brisbane:
Gold Coast QLD:
Perth:
Swan Valley WA:
Wild Swan at Mandoon Estate (12)
Adelaide:
Adelaide Hills SA:
McLaren Vale & The Fleurieu Peninsula SA:
Mitolo Wines – Bocco di Lupo (13)
Eyre Peninsula SA:
The Line and Label (13)
Hobart:
In 2017 there were some notable closures:
Sydney:
Eleven Bridge
Gastro Park
Pei Modern
Zambo
Bouche on Bridge
bistrode CBD
Melbourne:
Circa The Prince
Pei Modern
Bistro Vue
Easy Tiger
Luxembourg
Nora
Brisbane:
Mondo Organics
Gold Coast:
Chill on Tedder
Hank Dining & Bar
Perth:
Restaurant Amuse
Fuyu
1907
Print Hall Bar
Adelaide:
Kenji Modern Japanese
Bistro Dom on Waymouth
Assaggio Ristorante
Hobart:
Smolt
Canberra:
Farmhouse Restaurant
Darwin:
Evoo
Here is your chance to share your memorable moments of the past year.
Good food and exceptional food are truly subjective terms; we acknowledge that what AGFG may consider the latter, you may consider average or even terrible, and just like that the never-ending food critic debate is born. If you'd like to know more about what makes an AGFG Chef Hatted restaurant award-winning, you can find our rating criteria here.
Social media has given rise to a new kind of review diner, one that opens up the doors for anyone to tell their story to everyone. By opening up our site to your comments, the whole process becomes more democratic and open to debate. Supporters can reinforce positive assertions and contenders can argue their estimations; after all, a 'well-thought-out' diner comment has proven to hold just as much weight in the public perspective.
We encourage all budding food enthusiasts to vote for their favourite establishments and contribute their opinions on the establishments they visit. To do this, read about our separate, Readers' Choice Awards.