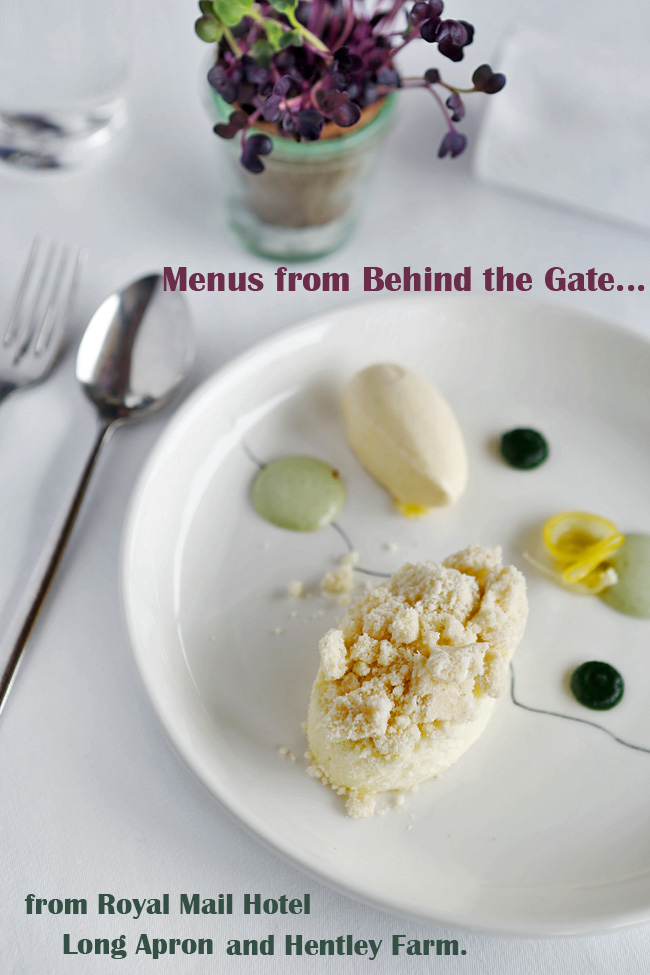 Quark Cheesecake, Nettle and Buttermilk Ice Cream, Chef Recipe by Robin Wickens from Royal Mail Hotel.
As we went behind the gate last week to discover the inner workings of Hentley Farm and Royal Mail Hotel (if you missed it, head here), this week we want to take you through the arduous menu creation process. Many restaurants that focus on a complete seasonal, gate to plate philosophy, plan out their menus months ahead, while it is also important to note that numerous restaurants rely on regular updates from local producers which can dictate a daily menu approach. Whether you're noshing down a black board special or have booked six months ahead for a special occasion at a chef hatted restaurant, take heart in the process behind your plate.
Seasonality isn't always at the forefront of a consumers mind thanks to importation, but with this process we're also training our palates to accept old produce that doesn't allow the ingredient to truly shine. Executive Chef, Cameron Matthews from The Long Apron restaurant strictly believes that ingredients which are in season taste better.
"In season ingredients [in Australia] are usually plentiful and we don't have to travel far for them, so we're decreasing the cost while increasing the quality … and when we get a delivery of fruit or vegetables that have just been pulled, they are amazing!" says Matthews.
Cameron goes on to say that Long Apron endeavours to teach their diners to eat within season and as local as possible, as the producers and farmers are the real heroes on his menu.
"There is such an abundance of great, local and seasonal produce in just about every region of Australia, it seems such a shame to eat flaccid, rubbery vegetables that have sat on a boat or plane and lost most of their flavour (not the mention their nutritional value)."
"I'm looking forward to Spring this year [simply for] asparagus, it's one of those ingredients that are … on every breakfast menu all year because they're imported from Peru or Mexico [but we get them within season], so they're fresher, crisper and are amazing raw in their simplest form and there's no better platform for a great dish," says Matthews.
Lamb, Sheep's Milk, Pea and Grilled Lettuce, Royal Mail Hotel.
Of course such an approach to any meal is an educated one and consumers will only learn if given the time and knowledge to make their own choices. Executive Chef, Robin Wickens from the Royal Mail Hotel in Dunkeld acknowledges that having a kitchen garden and sourcing local produce is a large undertaking for any restaurant.
"Kitchen gardens are a massive trend in restaurants at the moment. Most only use the garden as a PR 'hook' though, as not many would be able to provide the resources and time needed to do it on the scale we do. You also need to be open to changing the menu a lot as produce is being used up, which is not that common in kitchens," says Wickens.
Robin goes on to say that creating menus around using the whole animal has really pushed the restaurant in a new direction.
"The entire kitchen staff are excited to be creating menus around the whole animal. Using the entire beast pushes us to be more creative to ensure that no part of the animal goes to waste and encourages us to look beyond just prime cuts," says Wickens.
A seasonal approach paired with an organic kitchen and farm certainly has its benefits but it also can leave Royal Mail Hotel behind the pack, especially in Spring.
"In most restaurants, on the first day of Spring a chef has asparagus on the menu, but here we're a month into Spring before we could use it as we are so driven by the elements since everything is organic," says Wickens.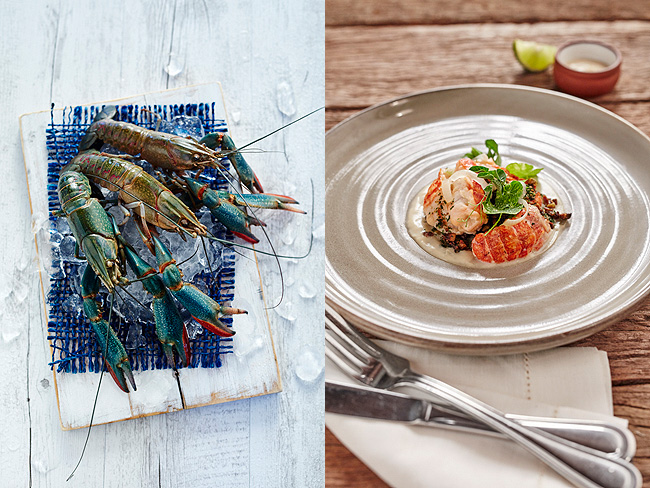 An example of a local approach at Homage Restaurant, yabbies.
While some may be disappointed to not see a seasonal favourite on the menu straight away, eating an ingredient that is in its peak season is well worth the wait. Not only does it make the ingredient special again, it also allows diners to fully appreciate something they'd traditionally take for granted, while giving the restaurant serving the experience a point of difference for diners to return. Head Chef, Lachlan Colwill wholeheartedly endeavours to showcase Hentley Farm Restaurant with this point of difference.
"It should be fairly well known in the industry that the quality of ingredients you source determines the quality of your restaurant, or at least your menu. If you use ingredients in their peak season, you will find you need to do less work to make it sing on the plate, even to the point where sometimes you barely need to touch it at all." "I get great joy when a peach is so naturally perfect and ripe that all we do in the restaurant is slice it and encourage people to enjoy it in its peak beauty!" says Colwill.
Creating an entirely new experience for a diner, while educating them to perhaps continue the same thought processes at home will hopefully begin to push Australian consumers in the direction of local produce. Lachlan believes that we can all band together to assist our farmers and consume in a fashion that produces less wastage.
"I think the majority of people appreciate the effort chefs go to these days [to create a seasonally focussed menu], but maybe they don't fully understand how difficult it can be to source quality produce at certain times of the year, particularly if you're a city restaurant, [but with] farmers markets and going direct to the farmers themselves to see what they actually need to sell … they'll be less wastage," says Colwill.
As Winter draws to a close and restaurants begin to roll out their Spring and Summer menus, endeavour to pick something different, especially if you're dining at a restaurant with a direct seasonal focus and taste the difference in local, Australian produce; we have a few suggestions below (which are, by no means, a complete list – let us know about more).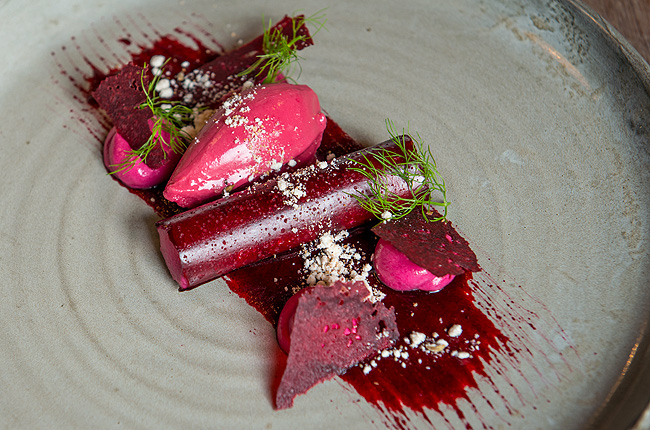 Local beetroot and Goat's Milk, Homage Restaurant.
Vue de Monde (Melbourne)
The Winery Kitchen (Seymour, VIC)
Stamps (Adelaide)
Pickled Pig (Great Ocean Road, VIC)
Harvest (Byron Bay, NSW)
Potager (Carool, NSW)
Ezard @Levantine Hill (Coldstream, VIC)
Forager's Field Kitchen and Cooking School (Pemberton, WA)
Homage Restaurant (Brisbane)
Attica (Melbourne)
The Peak Restaurant (Maryvale, QLD)
Margan Restaurant (Broke, NSW)
O.MY Restaurant (Beaconsfield, VIC)
Season Restaurant (Kingscliff, NSW)