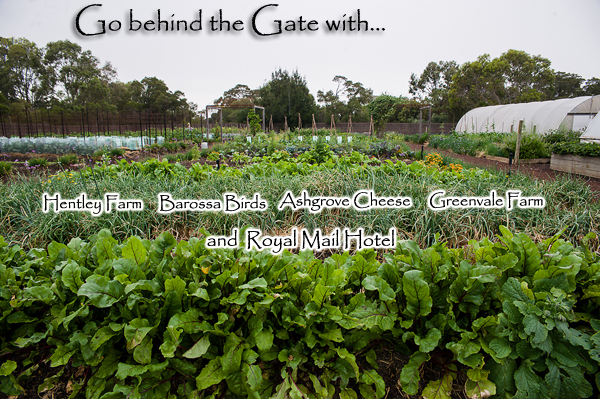 Royal Mail Hotel, Dunkeld, Kitchen Garden.
In a fast paced world with high consumerism and an immediate mindset, it's seldom that we sit back during a meal and investigate what's on our plate. While it's been big foodie news that fine-dining stalwarts such as Rockpool Est. 1989, Marque, Movida and Sepia (within the next two years) are moving out of the fine-dining sphere, we need not worry about our next meal as more and more restaurants are opening with a gate to plate (farm to plate, paddock to plate) philosophy. Whether these restaurants have their own kitchen gardens, are located directly on farms or produce culinary art with produce direct from a freshly farmed supplier, we can take heart that Australian cuisine is being sowed in the right direction of less food wastage and more educated diners.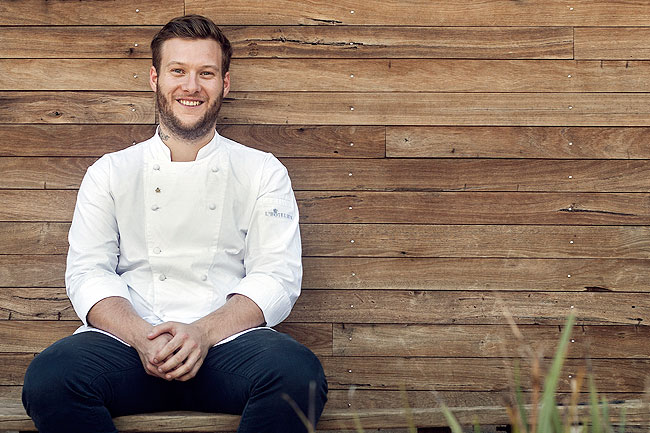 Hentley Farm Restaurant Head Chef, Lachlan Colwill.
Take Hentley Farm Restaurant for example, situated on 150 acres of rich red-brown soils of the western Barossa Valley, Head Chef Lachlan Colwill is taking every opportunity to showcase the fresh produce from not only their own farm but from the region.
"Chefs often influence how people cook and eat at home, so it's vital the chef represents the farmers' interests first and foremost. There should be no middle man … in between the chef and the farmer. The farmer should be able to say directly to chefs what he needs to sell to continue producing and the chef should [be able] to adapt their cooking to support that system," says Colwill.
Lachlan goes on to say that serving produce at its peak would provide a better restaurant experience for the farmers, chefs and diners.
"If all restaurants didn't have to show a menu, instead just guaranteed people each dish you serve will be at its seasonal peak and delicious (which is generally easy if your produce is on point) there would be close to no food wastage!" says Colwill.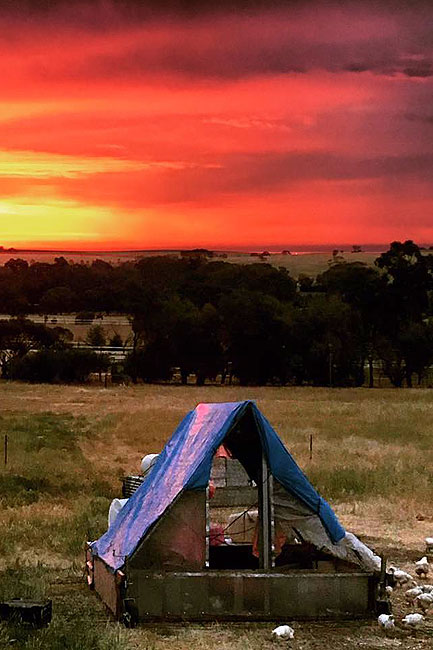 Barossa Birds, free-range chickens around their mobile coop.
When Lachlan needs to go outside the capabilities of Hentley Farm, he seeks out Barossa Birds, a sustainable, efficient and animal friendly farm that has mobile tractors (coops) for their chickens, which they can move around the pasture. These coops not only provide shelter for the chickens when they come in to rest and for water, but it also heats them during winter and provides ventilation and air condition during summer, all in all this treatment allows the chickens to have the most comfortable life possible.
Hentley Farm Restaurant isn't alone in this mindset, we've seen it in a multitude of restaurants recently and to name just a few: Harvest in Byron Bay, Potager in Carool, Ezard @Levantine Hill in Coldstream, Dragoncello in Surry Hills, Forager's Field Kitchen and Cooking School in Pemberton, Homage Restaurant in Brisbane, Attica in Melbourne, The Peak Restaurant in Maryvale, Margan Restaurant in Broke, O.MY Restaurant in Beaconsfield and Season Restaurant in Kingscliff, all have a fresh, seasonal and farming approach to their menus.
In particular, Royal Mail Hotel in Dunkeld is a foodie tourists' dream – a destination that truly embraces nature in the majestic location of Grampians National Park. Each day, chefs from the restaurant harvest produce from the kitchen garden, orchards, olive groves as well as eggs from their free range hens that will then go on to inspire that day's menu.
Executive Chef, Robin Wickens has always had a small kitchen garden at home, growing basic herbs and vegetables, but Royal Mail Hotel is his first experience growing organically.
"Now that I'm seeing everything across the whole life of the garden, rather than produce just turning up at the kitchen door, I have started to see the benefits of not using fertilisers and chemicals … growing organically means our produce has much more flavour."
"[When we have go outside of our garden] I like the idea of people dedicated to doing one thing well, rather than the big suppliers who cover everything, normally with more generic produce. I think the kitchen garden is a continuation of this," says Wickens.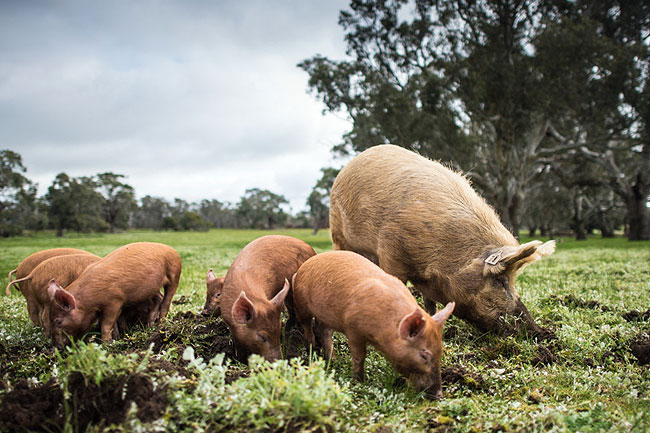 Greenvale Farm, photo credit: Richard Cornish, photo supplied.
Royal Mail Hotel has expanded its garden in recent years and also provides their own lamb and beef, but when they need to go beyond their own farm they look to Greenvale Farm (pork) in Western Victoria.
Greenvale Farm is dedicated to a future where Australia has sustainable agriculture; set on 1150 acres of scenic red gum pasture, Greenvale's free-range rare breed pigs are raised without growth hormones or antibiotics and are fed a grain based diet that comes directly from the pasture as well as supplementary grain feeding. Greenvale is also working towards a future where the farm will generate all the feed that the pigs require for a bio-dynamic diet, while being as close to organic as they can possibly be.
While restaurants take great care in developing and maintaining their direct relationships with farmers it's also important to note that the farmers are reciprocating with the way they produce their products. A recent event in Brisbane for the launch of Bundaberg's Winterfeast showcased the utter excitement and enthusiasm from farmers when they see their company/family/brand name on a restaurant menu. It's a way for restaurants to give back to the farmers and educate diners on where their plate came from as well as being the ultimate flattery for the industry.
In a naturally bountiful country like Australia, it's likely we'll see this approach continue not only in our restaurants but also from overseas investors and consumers, which can be seen in the strength of Australian beef prices as well as the development of Australia tapping into the fruit export market. Challenge yourself this July and go behind the gate with what's on your plate.
The Cowboys - Tourism Tasmania from Go Behind The Scenery on Vimeo.
If you're a cheese lover, be sure to go behind the scenery in this video documenting the beginning and legacy of Ashgrove Cheese (1:30), the product of Michael and John Bennett who hail from five generations of dairy farmers.
Watch out for part two of Behind the Gate.