By Leigh O'Connor.
Come February 14, love is in the air and everywhere you look around. Partners will ask how deep is your love, or just call to say I love you, as Australians can't help falling in love one more time.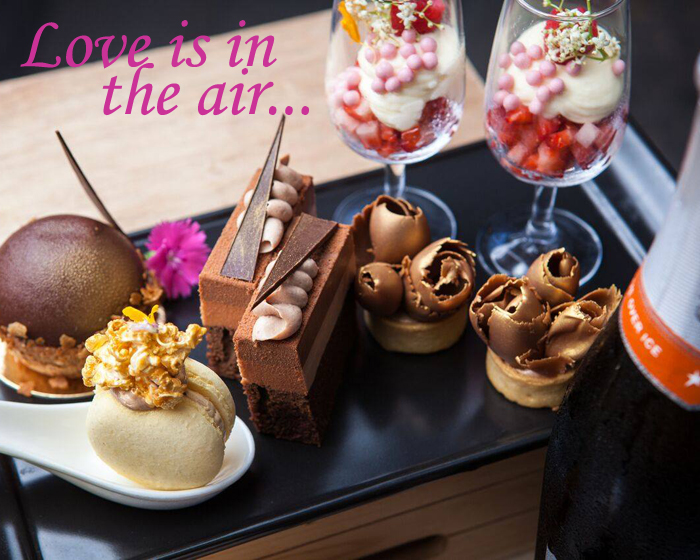 Clifford's Grill & Lounge, QLD.
When a man loves a woman, Valentine's Day is the perfect opportunity to spoil her with jewellery, flowers or a romantic dinner at a favourite restaurant. Those crazy in love will truly, madly, deeply celebrate their feelings with champagne, hot air balloon rides, or just hanging out at home together on the couch.
The power of love can't be denied and love will keep us together as we move forward into a new year of hopes, dreams and expectations. For those crazy in love and wanting to commemorate their own love story, check out these restaurants and getaways, where endless love and fine food abound:
Quaintly Queensland:
Romance the one you love from a stunning rooftop location at Cazzy's at the Top overlooking the Gold Coast's Coolangatta Beach. Glass walls and a deck maximise the restaurant's ocean front views, while tables laden with white cloth and polished glasses, make for an intimate dining experience. Set sail on a journey of discovery with starters like seared scallops on cauliflower pancakes and lemon butter sauce, before an endearing main course such as grilled Atlantic salmon, crunchy potatoes, pear, tomato and rocket salad. Finish with an intoxicating dessert of coconut crème brulee with wild berries.
A star-lit dinner awaits at Clifford's Grill & Lounge on Surfers Paradise Boulevard. A mere block from iconic Surfers Paradise beach, loved up couples can sit alfresco on the covered deck and soak up fresh, sea air, or dine indoors and gaze into each other's eyes in a sleek décor filled with recycled materials and earthy tones. Nothing says I love you more than an entrée of freshly shucked Pacific oysters with lemon, vinaigrette and housemade hot sauce, followed by delectable grilled jumbo King prawns on a pillow of rice, finished with charred asparagus spears, garlic and herb cream.
Just down the road tucked into the Watermark Hotel and Spa in Surfers, Waves Buffet Restaurant fulfils hearts' desires with a timelessly furnished setting and whirl of tantalising aromas. For a royal feast fit for a princess, expect exciting tastes from the ocean and international flavours from seasonally sourced produce, such as whole prawns and rock oysters in the half shell. Be bitten by the love bug with an array of healthy salads and Chef's dishes inspired by Asia, India and the Mediterranean, then lust after a decadent sweet from the dessert bar and chocolate fountain.
Whisk the love of your life away for a lavish overnight stay and bask in the boutique opulence of Emporium Hotel, in Fortitude Valley's trendy hub. With a striking design and precise attention to detail, this luxury love nest has received numerous awards since opening its doors in 2007. Choose from a suite with individual character and charming indulgence, rooftop pool and sauna; or perhaps an intimate queen room. Spend your day exploring the surrounding attractions and evening enjoying cutie pie chilled cocktails and tapas in the elegant Emporium bar.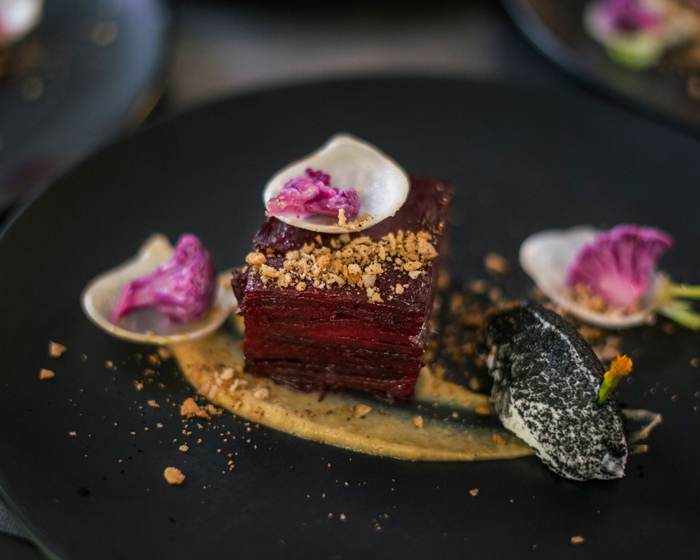 Dine under the stars with the one that awakens your soul at A Touch of Salt (pictured above) on Ogden Street in Townsville. Chill on the verandah and soak up waterfront views in style, while perusing an ever-evolving collection of menus, complemented by an impressively stocked wine cellar to suit dishes bursting with the flavours of seasonal ingredients. Bewitch the one you love with an entrée like spanner crab gyozas with clam and dashi broth, sea beans, green onions and shemji, before main dishes such as za'atar spiced salmon, cauliflower hummus, fried chickpeas, oyster mushrooms and asparagus.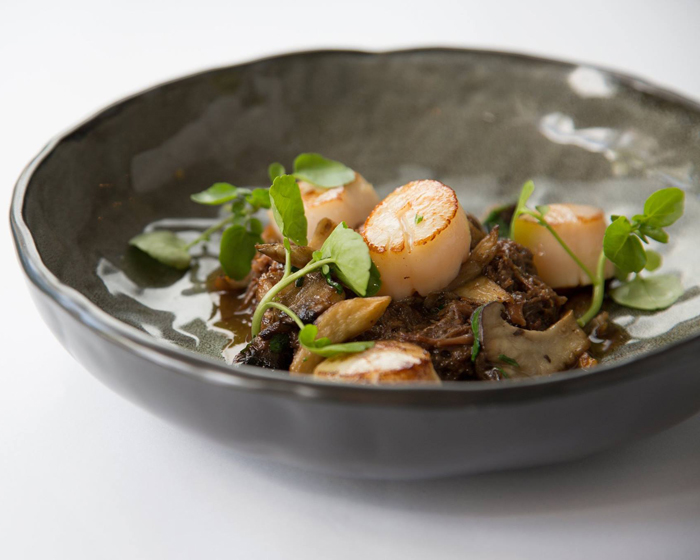 The heart wants what it wants at Bistro Chico (pictured above) on Tedder Avenue in Main Beach. With a pink lychee chiller cocktail in hand, take in a romantic moment and dine in style on leather seating surrounded by recycled timbers and intricate lighting, while under the gaze of feline turquoise eyes on the wall by the bar. Set the mood with freshly shucked oysters, wakame, wasabi flying fish roe and Vietnamese dressing, before an enticing main like confit duck leg with braised cabbage, carrot puree and port wine jus. Seal the love deal with an espresso and Bailey's crème brulee, salted caramel semi freddo and biscotti.
There's nothing more romantic than a getaway to Ocean View Estates Winery and Restaurant on Mt Mee Road in Dayboro. Escape day to day hustle and bustle at this sublime setting among flourishing vineyards and rolling hillsides, an ideal spot to get down on one knee and pop the question this Valentine's Day. Plan to stay over and indulge in the ultimate experience, with a six-course degustation dinner and matching wines, plating up combinations such as scallops with apple, golden shallot puree, Mooloolaba spanner crab and pepitas, paired with 2016 Unwound Sparkling Chardonnay.
Take your sweetheart to the Caribbean at El Patio de Cuba on Surfers Paradise Boulevard. Mojito the night away at this vibrant restaurant nestled in the Surfers Paradise foodie precinct of Chevron Renaissance Towers, where warm colours, hanging greenery and courtyard alfresco dining set the mood for love. El Patio serves tapas plates designed to share, such as slow cooked pork belly with honey and chilli glaze, spice flavoured lamb 'Cuban' cigars with mint yoghurt; or beef cheeks with chimichurri sauce, served with roast potatoes and cauliflower puree.
The whole world stops and stares for awhile at Three Wolves on Abbott Street in Cairns. A hidden gem down Red Brick laneway, an intimate dining and bar experience awaits at a sleek, black subway tiled bar and relaxed vibe of mood lighting and colourful murals, while contemplating a menu of creative fare. Gaze into each other's eyes over wild caught tiger prawn spring rolls, with wakame salad, sticky soy and chilli sauce, or a shared charcuterie board with marinated olives, smoked ham, Hungarian salami, creamy brie, toasted breads, lavosh and Chef's dip.
Virtuous Victoria:
Say that's amore to your beloved partner at Cucina & Co. on New Street in Brighton. Charming locals with flamboyant Italian confidence, this recent addition to the town's dining precinct lures guests with a moody setting of walls the colour of storm clouds and rich scents drifting in the breeze. Devour a signature focaccia with Buffalo mozzarella, prosciutto di Parma, cherry tomatoes, zucchini and eggplant; then captivate the moment by twirling your fork around seafood linguine in a light Napoli sauce. Steal a kiss in between spoonfuls of traditional tiramisu and gelato.
Indulge the senses under reflective city lights at Mr Hobson on Waterfront Place in Port Melbourne. Stunning water views are sure to bewitch and bedazzle, as black pendent lamps blend seamlessly with floor-to-ceiling windows, facing the sparkling water beyond. Kickstart the evening with pepper crusted beef carpaccio, before amazing your Valentine with a seafood tower for two - natural and Kilpatrick oysters, smoked salmon, chilled King prawns, grilled octopus and salmon, seared scallops, prawn tortellini, chilli mussels, pan seared snapper and fried barramundi fillet.
Bring out your naughty side at Scugnizzo on Little Bourke Street in Melbourne. Intriguing aromatic smells waft from the kitchen at this warm, casually elegant Italian restaurant, ideal for a sinfully scrumptious dinner with il tuo amore, away from city hustle and bustle. Woo your date with an entrée of roast duck breast, ricotta and pear tortellini, served with hazelnut vincotto; then pick up a slice of Diavola pizza, topped with San Marzano tomato and basil sauce, spicy salami, spinach, roast capsicum, chilli and mozzarella.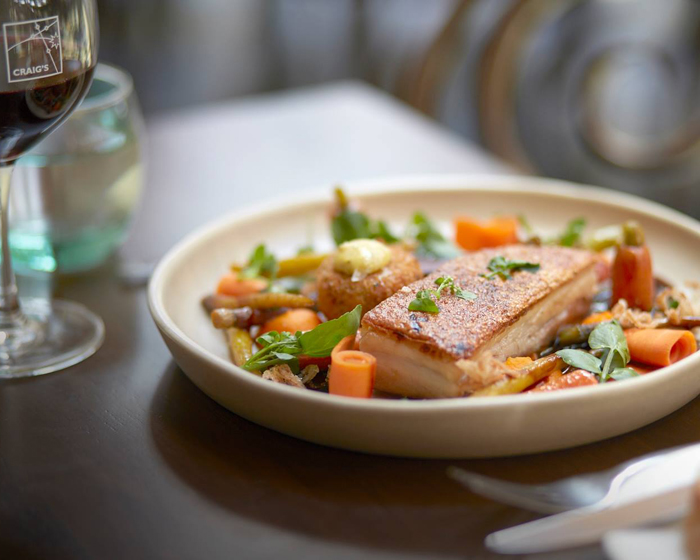 Intimate dining in Victorian grandeur awaits lovers at Craig's Royal Hotel (pictured above) on Lydiard Street South in Ballarat. Known as the city's grand dame, Craig's has a diverse collection of restaurants, bars and lounges to suit all occasions, complemented by contemporary menus based on fresh, regional produce. Where there is love there is life, so celebrate living with cured Ora King salmon, burnt cucumber, sea vegetables, salmon pearls and horseradish; then share 12-hour slow cooked shoulder of lamb, roasted potato, confit garlic and rosemary, with asparagus, smoked ricotta, chilli and garlic oil.
If music is the food of love, play on at Chez Olivier Le Bistro on Greville Street in Prahran. One of Melbourne's most loved French restaurants, Chez Olivier exudes a harmonious vibe from a warm, inviting décor creating a 'tres Parisien' romantic charm. Blending French cooking traditions with quality Australian ingredients, expect loved-up offerings such as moules marinieres – mussels in white wine and onion broth – or escargots a la Bourguignonne, snails in garlic and herb butter. Say je t'aime with a main course of canard a l'orange – roasted duck with orange sauce and pumpkin mash. Tres magnifique!
Romance your Valentine with an alfresco dinner under the leaves of heritage-listed trees at Mercato @ Daylesford on Raglan Street. Lovingly restored Mercato is one of Daylesford's iconic restaurants, featuring intimate lighting, high ceilings, chic décor and polished floorboards in a charming 1864 historic, rustic timber building. Sip on a cold glass of wine and begin an alluring culinary journey with carpaccio of emu with shaved pecorino, baby herbs and thyme; then delve into the likes of honey glazed pork, creamy lentils, roasted carrots, potato and celeriac galette with poached quince and white wine jus.
Abundant and inspiring views will be forever etched in mind and memory, when wining and dining the one you love at Sault on Ballan Daylesford Road. Smooth sophistication and style awaits at this Chef Hat awarded Daylesford venue, with the restaurant offering a 180 degree vista of the surrounding lake, lavender and forest. Sault's kitchen produces seasonal delights fused with a touch of Spanish spice, such as prosciutto-wrapped game and pistachio terrine, sourdough, quince and herb salad; or slow cooked beef oyster blade, glove artichokes, mushroom ketchup and red wine jus.
Look how the stars will shine for you at Turkish-inspired Tulum Restaurant on Carlisle Street in Balaclava. Set the mood for an evening of fine cuisine in a polished vibe, where crisp whites and warm timbers are complemented by calming turquoise tiles, shaped like overlapping fish scales. Your soul will never grow old with loved up plates like stuffed zucchini flowers, with cinnamon pine nuts, rice, broad beans and lemon myrtle broth; or perhaps lamb rump, Turkish tea prune, smoked eggplant and mastic yoghurt with date lamb sauce. For a sweet kiss goodnight, try the Lor cheese pine nuts cake with lemon yoghurt mousse.
Jump on board the love train and enjoy a gastronomical journey with stunning views of Swan Bay and Bellarine. Travelling restaurant The Q Train, based out of Drysdale Station, takes a three-hour scenic tour along a heritage rail line, serving delicious fare and local wines from the comfort of restored carriages and dining cars. Toot the romance whistle with Portarlington mussels, Vietnamese mint, cucumber, green mango, chilli, ginger, lime and ruby grapefruit, before pulling into the platform with braised lamb shoulder, roasted cutlet, adzuki bean, chimichurri, red pepper puree and Bellarine Shiraz glaze.
Whisper soothing French words into her ear at Tu Restaurant and Bar on Toorak Road in South Yarra. Designed around food, wine and music the French will recognise, Tu radiates a confident elegance homed between rustic brick walls and furnished with deep polished timber. Feel the closest to heaven that you ever have while perusing a seasonally changing menu, serving up love plates such as smoked salmon blinis, with roe and whipped cream. Make your dreams come true with slow cooked beef in red wine and fresh mustard shoots, before saying I'm yours with chocolate mousse, raspberry and tonka bean powder.
Naughty NSW:
Fan the flames of romance at Embers Mezze Bar on Oxford Street in Darlinghurst. Traditional Lebanese share plates infused with modern, unique twists beckon at this classic restaurant, where arched white windows and rustic wooden tables create a warm vibe to worship the one you love. Skilfully blending authentic ingredients, exotic spices and contemporary flavours, expect vibrant dishes like chermoula chargrilled octopus with peach, roasted peppers, Persian feta and ancient grains. Be intoxicated by carob glazed beef cheek with freekah and labneh, or pulled lamb with pine nuts and goats cheese.
Take your love sky high at Cucina Locale Revolving Restaurant on Campbell Street in Blacktown. Discover 360 degree views of the Blue Mountains and Sydney's busy streets in an air of elegance, charming guests with comforting blue hues and a timeless style that adds to the ambiance of top-of-the-world dining. An entrée of pan roasted scallops with pea puree and chorizo is an ideal starting point, followed by chargrilled lobster tails, Romesco, grilled lemon and house salad; or perhaps game farm salt and pepper quail with quinoa, orange and nam jim.
A classy and moody ambiance of dark timber and red-on-white clothed tables, sets the vibe for a night of love at Georgio's Seafood & Steakhouse on Old Princes Highway in Beaconsfield. Offering relaxed dining with a touch of elegance, Georgio's is one of the city's most popular restaurants with a menu dishing up something for everyone. Hold hands and enjoy a glass of your favourite wine while devouring shelled prawns wrapped in Tasmanian smoked salmon, served on mixed lettuce with capers, Spanish onion and cocktail sauce; followed by chicken scallopini, with bacon and mushrooms in a cream sauce.
All of me loves all of you at Rubyos on King Street in Newtown. A trendy interior of elegantly set linen tables and hardwood flooring complement the charming heritage location, where diners can enjoy a pre-dinner drink in the cocktail lounge, before choosing from a grazing menu with a wealth of global flavours and internationally inspired share plates. Propose a toast to a special evening and enjoy warm, crusty French baguette with organic butter and black sea salt, before pink roasted lamb rump, sumac mustard, baked Japanese pumpkin, Greek yoghurt, charred eggplant raita and pepita dukkah.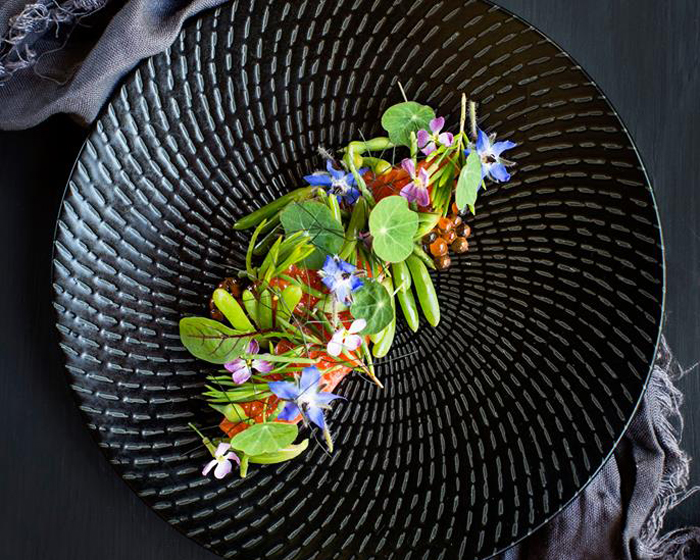 Classically refined style awaits those celebrating the power of love at Eschalot (pictured above) restaurant on Old Hume Highway at Berrima. Sitting pretty in a heritage-listed sandstone cottage, this award-winning eatery embodies elegance with white tablecloths, chandeliers and draped curtains, while the garden and courtyard beckon on balmy days. Love will keep you together with starters like seared foie gras, cultured fromage blanc, beetroot, pickled cabbage, plum and sorrel; followed by warm shellfish in smoked leek juice, sea plants, lemon jam, legume congee, sesame and ginger.
Couples can't help falling in love in the beautifully tranquil rural setting of the Hunter Valley at Margan Restaurant on Milbrodale Road in Broke. Relax in sophisticated surrounds inside, or dine alfresco on the verandah and take in breathtaking views of luscious vineyards as well as the Brokenback Range, while perusing a menu with a Mediterranean twist. Express undying love with dishes like warm salmon, crème fraiche, beetroot, horseradish and puffed rice, paired with a 2012 Aged Release Semillon; or roast duck breast, confit leg, pumpkin, kumquat and pistachio, with a glass of Tempranillo Graciano Shiraz.
Say how wonderful life is with you in this world, with a gorgeous special occasion cake from Black Velvet Sydney on Darlinghurst Road. Dessert dreams become reality at this designer concept store for sweet treats, drawing inspiration from current global fashion trends, such as the Red Carpet dress with customised flavours, colours and decorations. Using highest quality ingredients - including free range eggs - for all their decadently moist, light and fluffy cakes, choose from melt in the mouth options like vanilla cake with salted caramel icing and sauce; or decadent chocolate with Venezuelan syrup.
Be amazing, just the way you are at Mizz B'z Food & Wine on Elizabeth Street in Sydney. Tantalise tastebuds with an enticing array of Asian fusion fare in stylish modern surrounds, creating a sophisticated, warm vibe to complement a menu showcasing diverse and aromatic flavours. Say you're the one I want for life with dishes like Yamba Bay prawns with green asparagus, chilli and lime; or spiced honey duck breast, charred leek and wasabi snow. Sweeten the deal with warm apple tart, caramelised walnuts, soy bean powder and sake ice cream.
So, don't go breaking a heart this Valentine's Day! Can't find a location near you? Check out our Valentine's Day guide here.