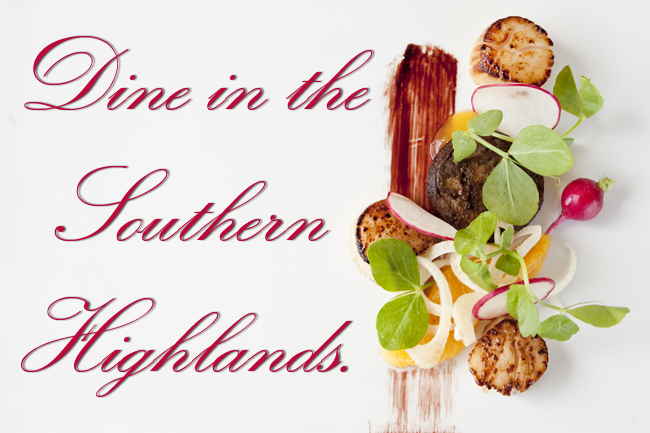 Eschalot Restaurant, Berrima.
<<< Win the Ultimate Getaway with Peppers Manor House! >>>
True old world charm can be found in the flourishing hillsides of the Southern Highlands, where a diverse food culture blossoms in an abundant region known for its rich history and unique character.
"From Robertson spud farms and the valleys of Fitzroy Falls, to the historic sandstone walls of Berrima and the country sophistication of Bowral – The Southern Highlands is truly unique." ~ The Southern Highlands Cookbook.
With an increasing demand from Chefs and the public for fresh and local produce along with educated and inquisitive consumers looking for authenticity and uniqueness on a menu, the Southern Highlands is a step ahead of the pack, as the idyllic conditions of the region allow for a thriving industry ready for an agritourism boom. Award-winning restaurants, world class wines and numerous artisan producers are not the only drawcards for the region, with many visitors coming to experience truffle hunts, berry picking and farm visits. For city folk looking to connect with land and food, the tight-knit community of the Southern Highlands are just waiting to welcome you into their way of life with a rural experience you'll never forget.
Amazing food and once-in-a-lifetime experiences have never been so accessible, so delve into our recommended dining destinations below and be sure to check out even morehere.
Eschalot | Berrima NSW
A striking, heritage listed sandstone cottage is home to Eschalot Restaurant, an award-winning eatery and popular destination since 2003. A classically refined style with white tablecloths, chandeliers and draped curtains combined to infuse elegance throughout where guests are invited to unwind in a sunny window overlooking the garden and courtyard, or cosy up around an open fireplace.
Phatt Duck at The Fitzroy Inn | Mittagong NSW
Drawing on rich European culture and a knack for culinary finesse, spoil yourself and loved ones to dinner at restaurant, Phatt Duck located at the historic Fitzroy Inn (circa 1836). Inside is inspired by old world grandeur; an alfresco feel can be attributed to walls and flooring of heavy stone supported by solid timber beams, while lush pot plants positioned around a spacious series of dining areas adds a fresh touch.
Katers Restaurant | Sutton Forest NSW
A harmonious blend of intimacy and grandeur, Katers Restaurant at Peppers Manor House in Sutton Forest offers diners a classy, chef hatted dining experience. The magnificent country estate setting, rich decor and celebration of fresh, seasonal local produce including vegetables, herbs and flowers grown on site combine to create a meal to be remembered.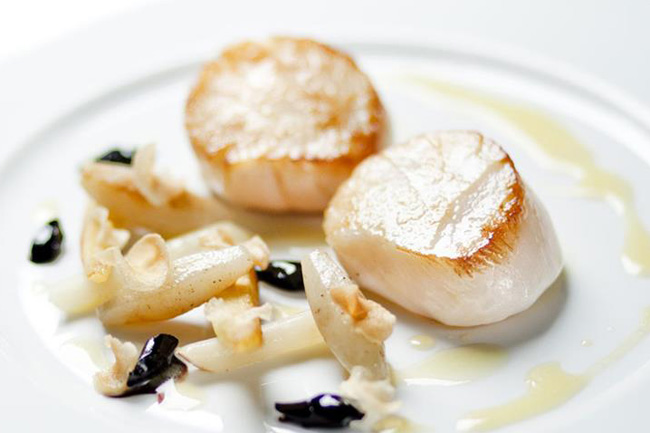 Scallops at Horderns.
Horderns Restaurant | Bowral NSW
Set on a secluded private estate, Horderns Restaurant is nestled inside the grand mansion of the Milton Park Country House Hotel, built at the turn of the 19th Century. Rich fabrics, high back chairs and soft lighting give a distinctive feel of the great restaurants of France, enchanting diners with an elegant vibe while parted drapes give an outlook to manicured gardens graced with a tranquil energy.
McVitty Grove | Mittagong NSW
Enjoy a day of wining and dining in Mittagong at McVitty Grove estate, an all-encompassing establishment nestled in among scenic landscapes on Wombeyan Caves Road. Merging a charming farm shop with local artisan products, a cellar door of estate produced beverages and a light filled restaurant, be sure to set aside the best part of the day to experience all McVitty Grove has to offer.
Rockabellas Roadside Diner | Robertson NSW
A delightful pit-stop for those en-route through the Southern Highlands, this retro eatery charms with rockabilly style via a vibrant display of turquoise walls, decadent cake displays and an upbeat friendly vibe. Stop in for Southern American eats like loaded chips, burgers, housemade custard tarts and apple and berry pie.
The Shaggy Cow | Mittagong NSW
Join locals at The Shaggy Cow in Mittagong for a coffee and a tasty bite to eat. Featuring large portraits of adorably shaggy cows, this venue radiates a charming vibe for visitors to unwind in, offering up cushioned comfort to weary travellers in the form of a plush lounge running one length of the trendy setting.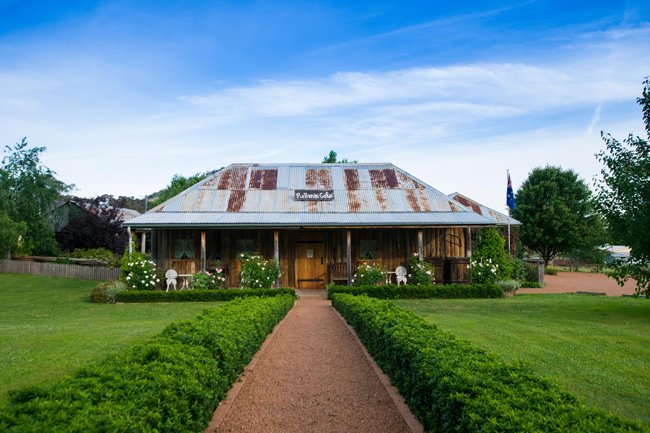 Rollonin Café | Bowning NSW
Set inside a charming homestead designed and built to replicate those from Australia's pioneering days, guests to Rollonin Café are met with old world panache and vintage decor with walls line in newspapers from the 1900s. If mingling outside, wander on over to meet and greet some of the friendly farm animals in paddocks nearby the café and enjoy fresh country air dining out under the verandah as peacocks strut by, showing off a tail of beautiful feathered plumes.
Endeavour to discover the mysteries of the Southern Highlands region via ourCapital Country & Southern Highlands Travel Guide. Want to stay in Southern Highlands style? Then check out everything that is new atPeppers Manor Houseand for taking the Southern Highlands back home with you and into your kitchen, you'll need the essential recipe guide,The Southern Highlands Cookbookpublished by the team atQuicksand Food.