By Julie Johnson.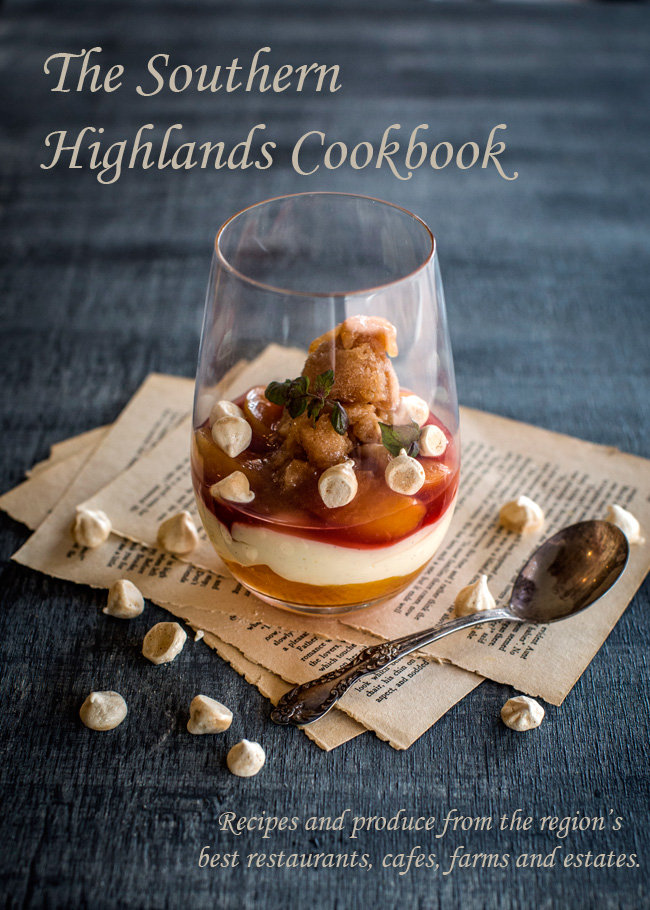 The Shaggy Cow's Peach Verrine with Crème Patissiere, peach compote, nectarine granita and vanilla meringue, p 89.
Uncover the raw beauty flourishing in the New South Wales' Southern Highlands region with the all-encompassing publication The Southern Highlands Cookbook, collated by the Quicksand Food team (check out our interview with company Director, Stefan Posthuma-Grbic).
In a colourful snapshot of what this stunning region has to offer, find a collection of delectable recipes and vibrant produce from some of the best local restaurants, cafes, farms and estates all contributed by the passionate people behind these establishments.
Hear the words straight from awarded Chefs, dedicated growers, knowledgeable farmers and well regarded country cooks whom spend life living and breathing everything the Southern Highlands is renowned for. Following the book, travel region by region through Bowral, Mittagong, Fitzroy Falls, Bundanoon and much more. Check in with locals along the way and familiarise with the produce springing up out of fertile soils in each area. Combining armfuls of these ingredients and more, enjoy re-creating the stunning dishes of the cookbook's featured establishments from page to page.
Eschalot's lightly-cured Salmon with Dashi Smoked Trout Roe, Jamon Dressing and Beach Greens, p 53.
Each recipe has been simplified by the contributor as much as possible, offering at home kitchen friendly alternatives and approachable methods to achieve a similar effect. Should the produce of the Southern Highlands be unavailable in your area, substitutes and store-bought items are also encouraged as opposed to missing out on creating delightful dishes altogether.
Written commentary is often provided at the beginning of each recipe, padding out some of the finer details, providing handy hints and tips to get it just right. In an ingenious addition to many recipes, a QR scanner code is located at the bottom of the recipe for readers to unlock another world of information. Tune in to podcasts of interviews with Chefs and growers and find out exactly what goes in to producing a single dish.
Feast your eyes upon the likes of cured salmon with dashi smoked trout roe, jamon dressing and beach greens, a culinary artwork and culmination of skills from theEschalotrestaurant team who take time to forage on the coastline for succulent ingredients. For those unable to find the likes of foraged beach plants, the recipe suggests purchasing them online or substituting with more available herbs that provide a similar taste. To hear the interview piece with owner and head Chef of Eschalot, Richard Kemp and his young Chefs, simply scan the QR code or go to quicksandfood.com.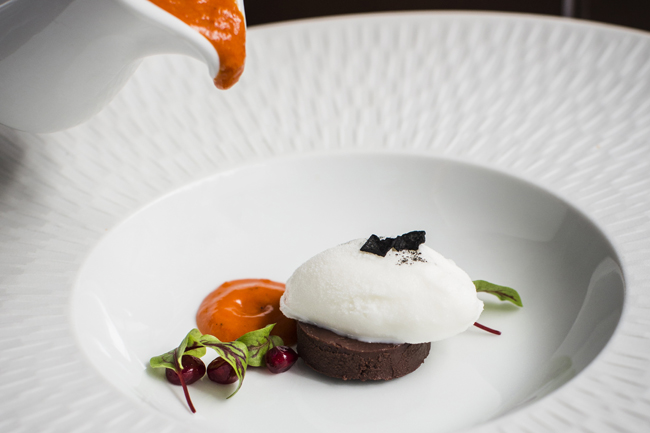 Katers' Red Bell Pepper Soup with Goat's Cheese Sorbet and Chilli Chocolate Panna Cotta, p 144.
Found somewhere between entrées and dessert, tease the tastebuds withKaters' red pepper soup with goat's cheese sorbet and chilli chocolate panna cotta, making sure to prepare the sorbet in advance as advised. As there are many compartments to this curious dish, a little extra help is likely to go a long way. Scan the QR code to hear from Katers Restaurant's Head Chef, John Shelly.
For dessert, finish with a peach verrine with peach compote and nectarine granita fromThe Shaggy Cowrestaurant in Mittagong. This elegant dessert is well suited to special occasions, romantic dinners for two or to spoil friends with an unexpectedly beautiful parfait with golden layers of fruit and miniature meringue droplets.
After feasting on the recipes and the intuitive multimedia experience of The Southern Highlands Cookbook, take a moment to kick back and soak in the imagery of stunning landscapes, with rolling green hillsides and farmlands, flourishing produce and the cheerful faces of those who reside there. Find your copy of The Southern Highlands Cookbook by Quicksand Food today.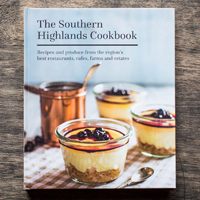 Recipes and Images fromThe Southern Highlands Cookbook, published by Quicksand Food, RRP $39.95.