Interviews by Shawn Sheather, compiled by Annabel Rainsford.
What was once old, has been made new again and without any loss of charm or character!
<<< Win the Ultimate Getaway with Peppers Manor House! >>>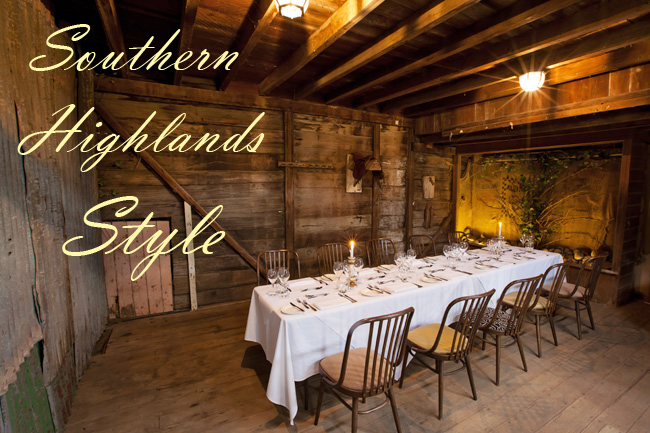 Peppers Manor House, Dining Stables.
Nestled among sweeping landscapes in the Southern Highlands of New South Wales,Peppers Manor Houseand onsite venue,Katers Restaurantcontinue leading as the region's most awarded boutique accommodation provider and dining establishment. The AGFG team recently spoke with the Peppers Manor House General Manager Jesse Kornoff and Katers Restaurant Executive Chef John Shelly to gain insight into how Peppers continues to set and surpass standards in offering a truly memorable experience to all who visit.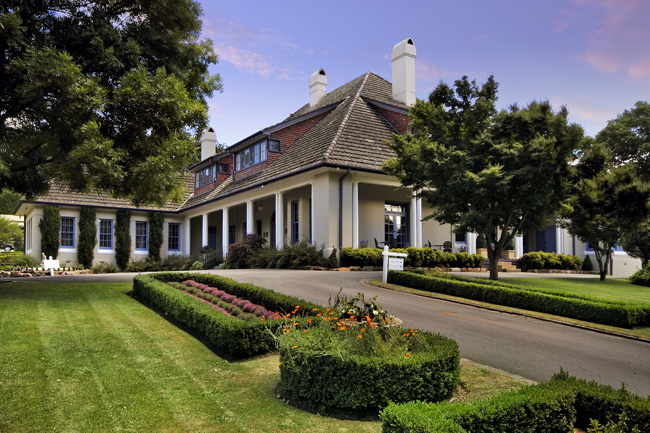 Peppers Manor House as you drive in.
Though impressive to begin with, Peppers has recently undergone an entire refurbishment, ensuring even the smallest details add prestige, exceed in delighting visitors and entice one to linger longer.
"We really went about looking at every aspect of the property and experience. In addition to the new dining venue, we refurbished every guest room," said Kornoff.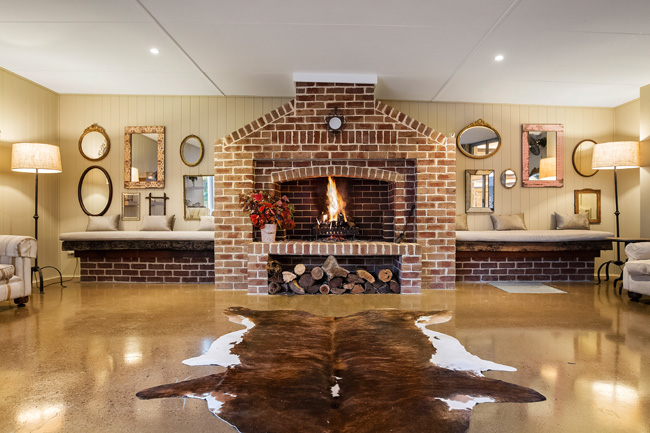 Peppers Manor House, Terrace Lounge.
From top to bottom, inside and out, the Manor has been transformed, beginning with signage to mark the way and newly asphalted driveways and carparks, so those arriving in style can do so smoothly, finding substantial landscaping and gardens as they roll in. Next met with a new reception area, guests can mingle in refurbished public lounge and foyer spaces, or perhaps take a wander through the significantly extended kitchen gardens that now encompass a growing tunnel as part of the guest gardens.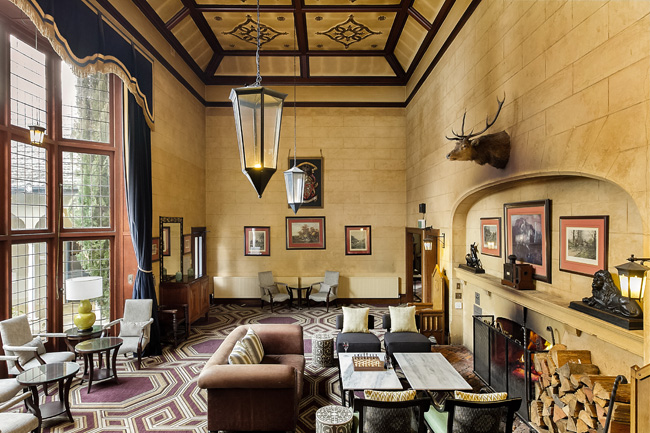 Peppers Manor House, Great Hall.
Should you be here to source a venue for celebrations, take time to peruse a new weddings and event space with a 300-seat dinner capacity aided by a dedicated kitchen for events catering. Visitors to the Manor in need of a luxury weekend escape can look forward to hillside accommodation areas rendered and refurbished externally, and all rooms across the Manor given a stylish overhaul. With many walls removed, bathrooms are an impressive size and decor appeals with more panache than ever.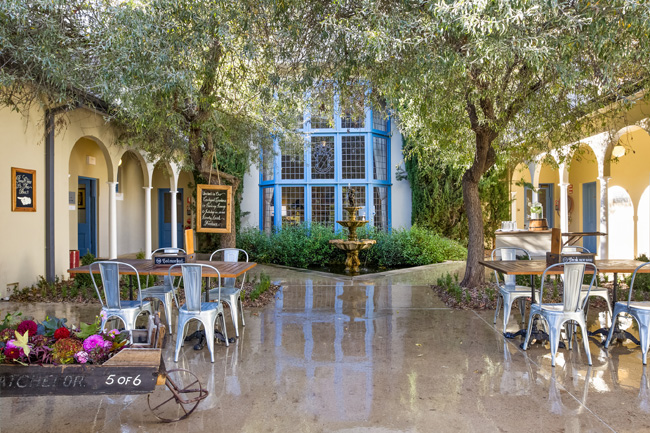 Peppers Manor House, Katers Larder.
"In the guest rooms everything was changed from the ground to the ceiling to create a brand new, five-star hotel, representative of our great area," said Kornoff.
On top of the extensive refurbishment to the Manor, Katers Restaurant has undergone a transformation.
"Katers Restaurant has always been a destination restaurant; indeed, this is really where the Peppers brand came from.
"Post relaunch of Peppers Manor House we wanted to provide two distinctly different dining experiences to better reflect what diners were really looking for in the area… we saw a great opportunity to provide a more casual experience in the beautiful gardens onsite – thus,Katers Larderwas born!" said Kornoff.
Read on for AGFG's interview with Executive Chef, John Shelly and learn more about what Katers Larder has to offer.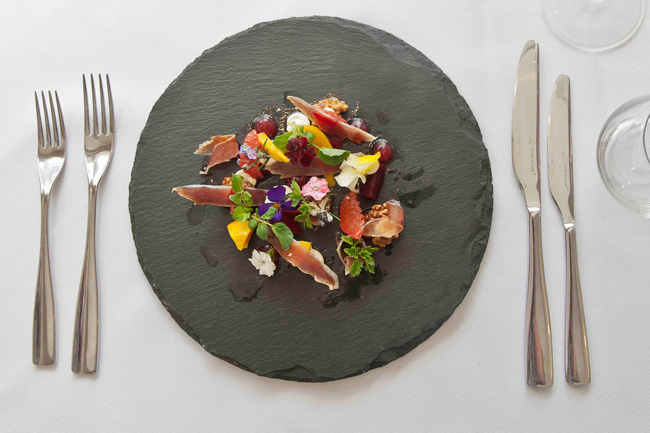 Katers Restaurant's Duck Prosciutto and Beetroot Salad.
AGFG: It must be exciting opening Katers Larder - the menu reads like a great place to spend with friends! Can you share more about what is offered at this latest venture?
John: The Larder concept was always about enjoying your day off with friends relaxing in the gardens in the sun. Does it get any better than that? With that in mind we came up with dishes like the slow braised pork shoulder with radish from our gardens, apple and celeriac puree. Simple dishes done seriously well that really let the fantastic ingredients we have here in the Highlands speak for themselves.
AGFG: Can you share more about a couple of exceptional local ingredients and how they are transitioned from paddock to plate at Katers Larder?
John: Let's start with Maugers, our main meat supplier. The family are well established out in Burrawang and Robertson which is referred to locally as the green heart of the Southern Highlands. Seriously, anything will grow there - it's unbelievable. The livestock are raised on grass, and because of how nutritious and bountiful feed is, they don't need any grain or hormones. A lot of people don't know that a difference in feed has a major effect on the nutrient composition of the beef, particularly the fatty acids with grass fed beef containing much more Omega-3s (think fish oil) and CLS both of which are associated with reduced body fat and other beneficial effects. Because the product is so good, the Chef just needs to treat it with respect and they are ensured a fantastic dish.
For something a little more luxurious, Ted and Barbara out at Yelverton Truffles produce fantastic French black Perigord truffles. Back in 2014 they found the largest truffle in Australia weighing in at a massive 1.172kg! They have planted white truffles, however none have produced as yet – fingers crossed and we will add another new product to the region.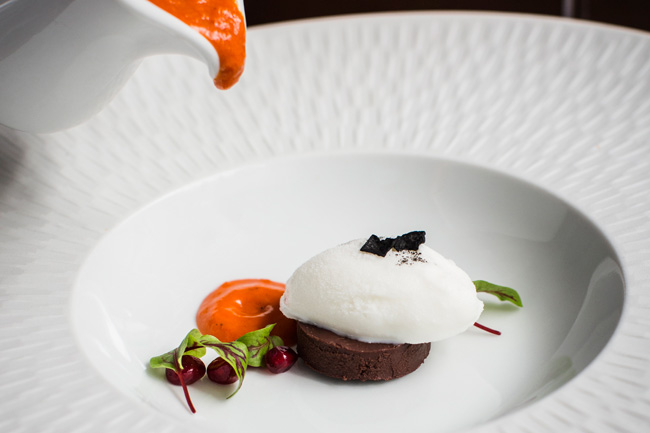 Katers' Red Bell Pepper Soup with Goat's Cheese Sorbet and Chilli Chocolate Panna Cotta, recipe from The Southern Highlands Cookbook published by Quicksand Food.
AGFG: With a long list of awards, how does the team maintain focus to keep achieving these results?
John: I think the continuous renewal of our passion is key. The team connects daily with our suppliers and is often out at their farms, or working together to promote our region. Jesse worked with Brigid Kennedy to establish the Southern Highlands Food and Wine Cluster movement (which you can check outhere) and has recently handed over leadership of the Moss Vale Chamber to myself. With this level of involvement in our local food producers who couldn't be passionate about what we do?
AGFG: What is your recommendation on the current menu?
John: I can't go past the Mauger's assiette of lamb with yellow squash, baby zucchini, and smoked rosemary jus. The radishes are straight from the kitchen gardens, it's local, in season and fantastic.
AGFG: What is one ingredient you can't live without?
John: Butter. I wouldn't trust anyone that gave you a different answer.
For more on dining in the Southern Highlands check out our list of must eats and for cooking in Southern Highlands style,check out our reviewof The Southern Highlands cookbook. If you're new to the region and are interested in some travelling tips, you're in luck as we have a whole suitcase full straight from explorer, Stefan Posthuma-Grbic.