As an Antarctic blast brought an early start to the ski season and chilly temperatures hit the East Coast sending shivers down the spines of those of us more used to temperate Winters, it's time to think about cosy, intimate dining.
With a bunch of cuisines on offer, we are spoilt for choice when it comes to eating out – whatever your taste you will find a great spot to enjoy the heartier fare that appears on menus at this time of year, accompanied by your favourite drop.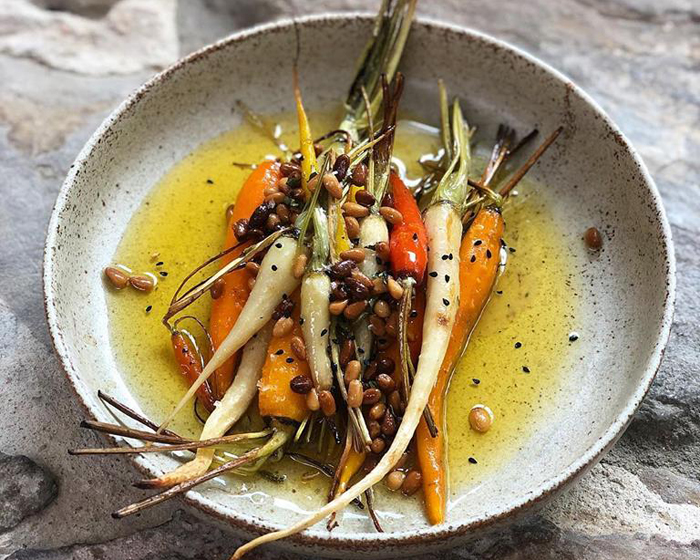 Duck fat roasted carrots with local honey and pine nuts at Leonards Mill, SA.
Let's ski past the slopes to find some of the best venues to escape the cold weather this Winter:
Dine in the Snowy Mountains this Winter:
To enjoy all that the picturesque Snowy Mountains have to offer, embrace a stay at The Denman Thredbo on Diggins Terrace. After a day on the slopes, head to Terrace Restaurant for a truly memorable dining experience, where candle-topped tables, dark furnishings and floor-to-ceiling windows set the mood, with sensational views of snow-capped peaks.
Terrace's internationally inspired menu, handcrafted by Chef Tristan Goodwin, plates up starters like pan-seared scallops, with cauliflower puree blistered cherry tomato and lemon parsley butter; before hearty mains of braised beef cheek with housemade pappardelle washed down with a glass of Grenache.
Soul warming Italian fare and a welcoming ambience awaits ravenous appetites at Alfresco Pizzeria on Mowamba Place in Thredbo Village. Located on the lower concourse of Thredbo Alpine Hotel, admire vistas of snowy slopes while delving into a bowl of pasta, as the buzz of conversation sets a lively vibe for Winter evening dining.
Kick back with spinach and ricotta ravioli with tomato and basil sauce, ideal for refuelling the body after a tough day on the ski field, or share a Thredbo Special pizza, with housemade tomato passata, topped with Cabanossi, mushroom, pineapple, garlic and mozzarella. Don't forget to check out the specials board for gourmet offerings of something a little different.
Perched on the edge of Kosciuszko National Park, Lake Crackenback Resort & Spa is an ideal spot for a ski holiday or quiet escape. Whether staying in the resort or passing through, a leisurely dinner at Cuisine Restaurant & Bar offers country flavours, based on fresh produce sourced from the surrounding region.
While taking in pristine lake views, sip on a cheeky cocktail beside the fireplace, before choosing from a French-European inspired menu dishing up starters of baked brie, bush herbs, olives and crostini; moving on to mains such as sumac lamb cutlets, with spiced tomato chutney, beetroot, baby vegetables and roast pumpkin.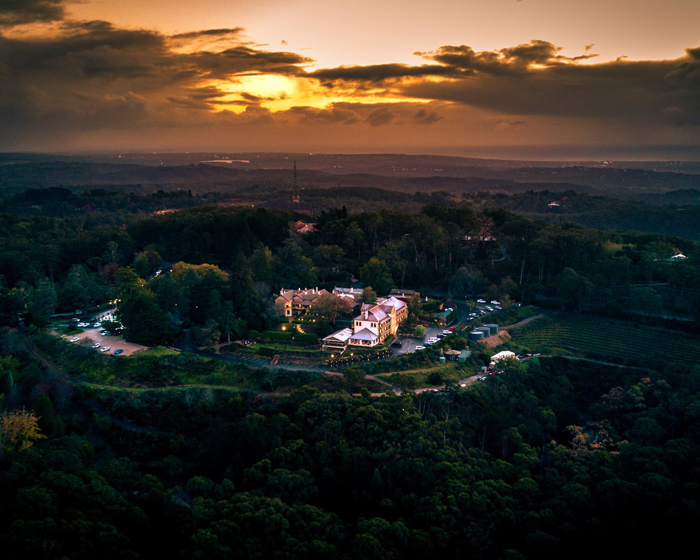 Mount Lofty House, SA.
Winter Dining Hot Spots in South Australia:
Soak up an elegant ambience styled with true refinement and opulence, ideal for warding off Winter chills­ at Hardy's Verandah Restaurant on Mawson Drive in Crafers. Well worth the 15-minute drive from Adelaide, Hardy's nestles in Mount Lofty House where the intimate table settings with white linen, a dark oak bar, open fireplace and ambient lighting create a welcoming space for a creative culinary experience.
Begin with an entrée of BBQ pork belly, white kimchi and green apple; before delving into Wagyu brisket, Riverine striploin, scallop and pearl onion with sides of herb buttered potatoes and broccolini and preserved lemon dressing. Decadent desserts like apple tarte tatin, walnut ice cream, salted caramel and crème patisserie are sure to tempt.
For a truly spectacular dining experience set in a 160-year-old flour mill on the Southern Fleurieu Peninsula, head to Leonards Mill at Second Valley on Main South Road. Embracing its historic roots, this rustic restaurant and bar is also home to a productive vegetable garden and an array of flourishing fruit trees, allowing the menu to combine homegrown goods with locally sourced produce.
From a three-course share style menu, expect entrees like wattleseed gnocchi, Fleurieu rabbit, pecorino and horseradish leaf; while mains present dishes such as venison with Deep Creek blackberry, Myponga potato and karkalla. Finish divinely with Second Valley apple, brioche beignets and spiced raisin; or perhaps enjoy a cheese board with fruit, seeded crackers, honeyed apple compote and sesame lavosh.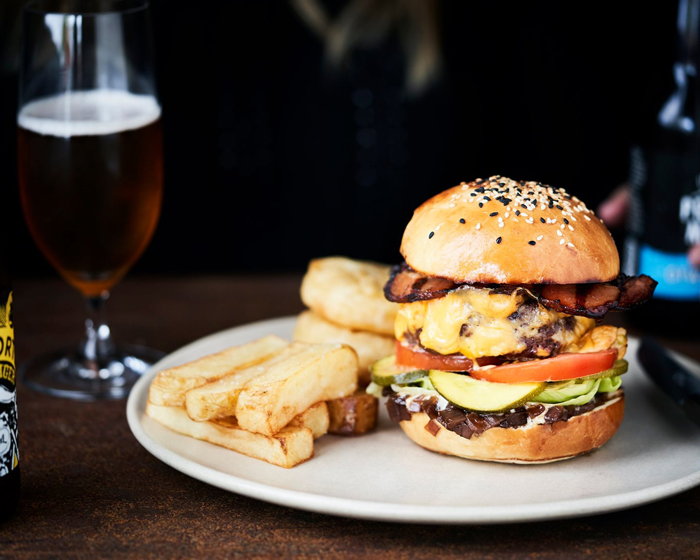 Wagyu burger at The Woodhouse, VIC.
Warm Up to Winter Dining in Victoria:
For a rustic dining experience where guests can enjoy a pre-dinner drink in front of an open fire as the Winter night draws in outside, head to The Woodhouse on Williamson Street in Bendigo. This steakhouse with a red gum grill is a firm local favourite as delicious smoky aromas waft from the kitchen, where Chef Paul Pitcher delivers a Mod Oz menu championing dry-aged beef and wood-fired pizza.
Share a charcuterie board with jamon, capocollo, bresaola, fromage de tete, bloomed mustard, roasted pear compote, duck parfait, jelly, cornichons, tomatoes, pickles zucchini, quail eggs, burrata and fennel lavosh; then slice your knife through perfectly cooked Sher Wagyu rump cap, with red wine jus, baby carrots, cauliflower and hand cut chips, with rosemary salt and aioli.
Reflecting the spirit of a bygone era, Quorum Restaurant on Kepler Street in Warrnambool is styled after the gentlemen's clubs of 19th-century London, radiating relaxation and charm. Set in a lovingly restored historic Victorian building, a crackling fire welcomes Winter diners into elegant surrounds of draped windows, chandelier lighting and fresh flowers, to enjoy dishes from an internationally-inspired menu.
Smoked chicken croquettes with corn, leek, rouille and chives may entice to start, before mains like Western Plains pork cutlet scallopini, potato gratin, broccolini, carrot, mushroom, bacon and brandy sauce. An indulgent dessert of soft-centred chocolate pudding, fresh raspberry and housemade strawberry and blood orange sorbet will take your mind off the chilly weather outside.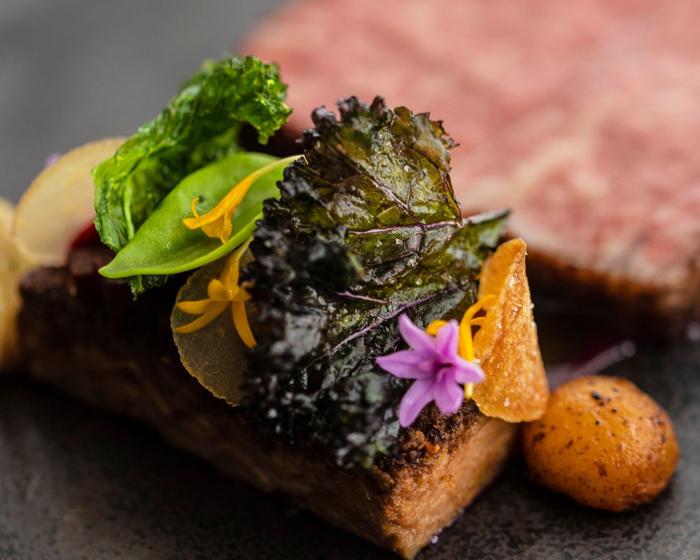 Mayura Wagyu 9+ with confit potato at The Peak Restaurant, QLD.
Queensland Winter Dining Destinations:
Escape for a romantic evening in front of an open stone fireplace and dine in relaxed luxury at The Peak Restaurant at Spicers Peak Lodge on Wilkinsons Road in Maryvale. Comfy furnishings and views overlooking the Scenic Rim Mountain Ranges make this a destination-worthy stop for guests looking for quiet, attentive service and Modern Australian dishes to tempt all palates.
With a focus on native ingredients showcasing the best regional producers, the menu boasts dishes such as Muscovy duck with Hervey Bay scallops and wakame, paired with a glass of 2018 Abeillo Albarino Rias Biaxs; or Great Northern poultry black namoi, Tasmanian truffle and eggplant, best enjoyed with a McLaren Vale 2018 Ministry of Clouds Tempranillo Grenache.
Rural views across the countryside and vines await guests at the Darling Downs' new wining and dining venue, Rosalie House Cellar Door Restaurant on Lavenders Road in Lilyvale. Housed in an old Toowoomba railway building, this country-style cellar door and restaurant oozes charm as an open fireplace and oak barrels set a warming ambience along with vibrant eclectic artwork on the walls.
Perhaps start with house-cured duck, pickled plums, orange, basil and rye, moving onto mains like local lamb, pickled beets, quinoa, beans, mint, hazelnuts and awassi sheep's milk labneh. Steak lovers will salivate over Yagaburne free range, pasture fed rib eye, served with housemade chimichurri and charred greens; for a sweet finish try quince crumble, roasted white chocolate and mascarpone.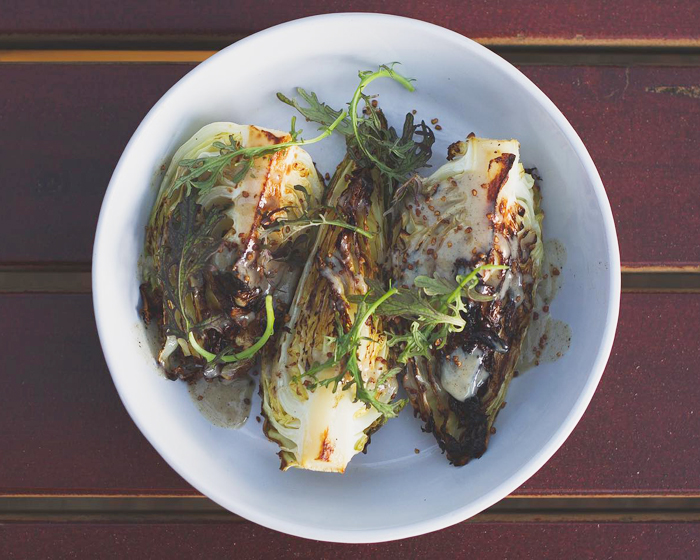 Charred cabbage with truffle dressing at Caves Road Collective, WA.
Dine in Western Australia this Winter:
Warm away Winter chills beside a stone fireplace on comfortable leather couches at South Perth's grand old lady, The Windsor Hotel on Mill Point Road. Proudly showing off her revamped look and Mod Oz menu, The Windsor is the ideal spot to enjoy a favourite tipple and bite to eat as locals have done since 1898.
Be treated to white tablecloth service in the dining room while enjoying share plates like Spanish-style lamb meatballs with tomato sauce and char-grilled sourdough; for a hearty main try slow-cooked lamb shank, served with creamy mash, vegetables and gravy, or whole roasted spatchcock, marinated in rosemary, garlic and lemon, with mash and sautéed spinach.
Say cheers to Winter with a drink in hand at Caves Road Collective, Home of Black Brewing Co on Caves Road in Wilyabrup. This Margaret River combined restaurant, brewery, distillery and winery boasts rustic surrounds of wooden ceilings and doors, while a large stone open fireplace adds a cosy ambience during chillier months, as guests ponder a tapas-style menu.
Snack on plates of smoked ham hock croquettes with minted pea puree, or pickled Freo octopus, preserved lemon and rocket; before larger plates like char-grilled hanger steak, smoked barbeque jus, charcoal and pickled pumpkin, paired with beer tasting paddle of Lager, Fresh Ale, Pale Ale and IPA. Sweet tooths may be enticed by banana bread, caramel parfait, torched banana, crème Anglaise and walnut crumb.
Tasmanian Winter Dining Picks:
Nothing chases away Winter chills more than the tantalising aromas wafting from the wood-fired oven at Verona Italian Restaurant and Wine Bar on Rooke Street in Devonport. A trendy interior of charcoal walls, criss-cross timber accents and moody lighting makes for a relaxed vibe, as guests cosy up on leather couches with a glass of vino in hand and peruse an authentic pizza and pasta menu.
Hand rolled potato gnocchi, garlic, olive oil, gremolata and mixed green herbs will tempt pasta lovers; along with spaghetti and Wagyu beef ragu, cooked in an 8-hour rich red wine and tomato sauce. Pizza choices include the Tassie Devil – Calabrese salami, capsicum, red onion, fresh chilli and bocconcini, on a Napolitana base.
A courtyard fire embraces guests as they sip a Chardonnay and contemplate a menu brimming with Mod Oz fare with flair, at The Old Fig Tree Restaurant on Benara Road in Caversham. Friends and good food come together at this venue bordering the Swan Valley wine region, with a tranquil ambience both inside and out setting the tone for a memorable meal with your special someone.
Soup of the day is guaranteed to kickstart a Winter meal in style, served with a freshly baked roll, or perhaps juicy mushrooms, stuffed with cream cheese, garlic and fresh herbs, crumbed and fried; for the main affair try Chef's secret spice rubbed pork belly, crackled to perfection and served with creamy mashed potato, baby carrots, pickled cabbage and red wine jus.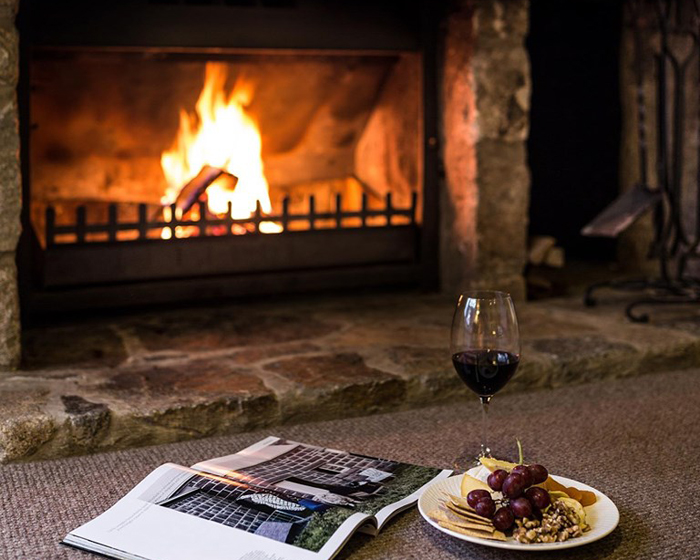 Wine, cheese platter and fireplace at Lake Crackenback Resort & Spa, NSW.
Winter Dining in Darwin:
While the temperature doesn't drop to the same levels as the rest of the country, Winter in Darwin still means cosy dining and hearty meals. Stuart Park locals and visitors seeking Mod Oz plates with a Nepalese twist head down Westralia Street to find Yogi's Way, where floor-to-ceiling murals adorn one wall, while another acts as a chalkboard for menu specials.
Authentic chicken momos with housemade dough and charred tomato chutney are a must to start, followed by sizzler beef, served in a hot iron pan, on a bed of seasonal vegetables and drizzled with Schezuan sauce. Vegetarian options include chana masala – overnight soaked Nepalese-style chickpea stew with Himalayan spices, tomato, onion and coriander.
Watch the Winter sun set over Darwin Harbour with a cocktail in hand at Pee Wee's at the Point, on Alec Fong Lim Drive in Fannie Bay. Established in 1997 on the shores of Fannie Bay, Pee Wee's offers a remarkable dining experience with an extensive menu to match the laid-back setting, combining the region's fresh produce to create 'Modern Territorian' cuisine.
Embark on your culinary adventure with hot and sour pork cheek, smoked barramundi cheeks, bonito broth, kimchi and puffed wild rice; then move on to double roasted duckling, prosciutto wrapped asparagus spears, pastry fleuron, Kakadu plum and tamarind jus. Fifty shades of chocolate will satisfy dessert lovers, with dark chocolate, meringue, macaroon, crumble, praline and ice cream.
Dine Out in Canberra this Winter:
Spread across four separate spaces, Monster Kitchen & Bar on Edinburgh Avenue in the heart of Canberra city is preoccupied with serving local and seasonal produce prepared for sharing. Take your seat in the salon and dining rooms, which tell the story of Australian immigration, with a Russian Forager vodka cocktail in hand and share a plate of spiced lamb ribs, curry leaves, chilli jam and lime.
Larger plates like twice cooked duck breast, carrot, figs or pulled lamb shoulder with pistachio, yoghurt, vine leaf and pomegranate, may entice heartier appetites; finishing with dark chocolate, hazelnut, banana, pumpkin and caramel. Can't choose? Perhaps opt for the Feed the Monster daily Chef's selection.
Kingston diners take in the sounds of sizzling hot pots and delightful aromas wafting from the kitchen at Portia's Place on Kennedy Street. This restaurant comes alive with the hum of lively conversation in warm and inviting surrounds, making it a fun dining destination for Canberra locals seeking an experience for the eyes and senses.
An impressive a la carte menu has been carefully crafted from seasonal and local produce, with starters such as chicken and sweet corn soup and steamed scallops with black bean sauce sure to hit the spot; before finger-licking crispy boneless lamb ribs with spicy Shangtung sauce. Malaysian chicken curry with sides of Chinese broccoli, mixed vegetables and special fried rice is guaranteed to chase