Kale isn't the only healthy vegetable out there – red vegetables like tomatoes and capsicums may help reduce the risk of diabetes, osteoporosis and high cholesterol.
Not only do they look pretty on the plate, the phytonutrients that give these ruby beauties their colour also come with powerful health benefits; while deeper colours such as the dark hue of beets mean the veggies are richer in these nutrients including antioxidants, vitamins and minerals.
Red vegetables get their colour and nutrition boost from lycopene and anthocyanin, which have been shown to reduce heart disease risk, protect eyes, fight infections and protect against damage from tobacco smoke.
From beetroot, red cabbage, radish, chilli, radicchio, rhubarb and red potatoes to onions, there is a red vegetable out there with your name on it. Here are 10 ways to put red on your plate: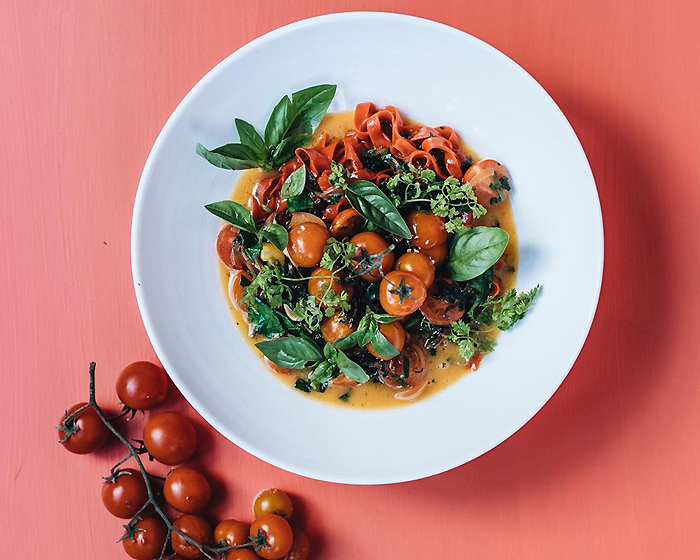 Birch's roast capsicum linguine.
From the red pillar telephone box outside to an elegant interior ambience, Birch on Argyle Street in Moss Vale creates a lasting impression. With a menu that is produce and technique-driven, expect innovative Mod Oz cuisine such as this red dish of roast capsicum linguine, heirloom tomatoes, rocket, white wine, eschalot and chilli.
Heirloom tomatoes can be many different colours - including red, yellow and purple – and are usually varieties that have been handed down through several generations of a family, because of their valued characteristics.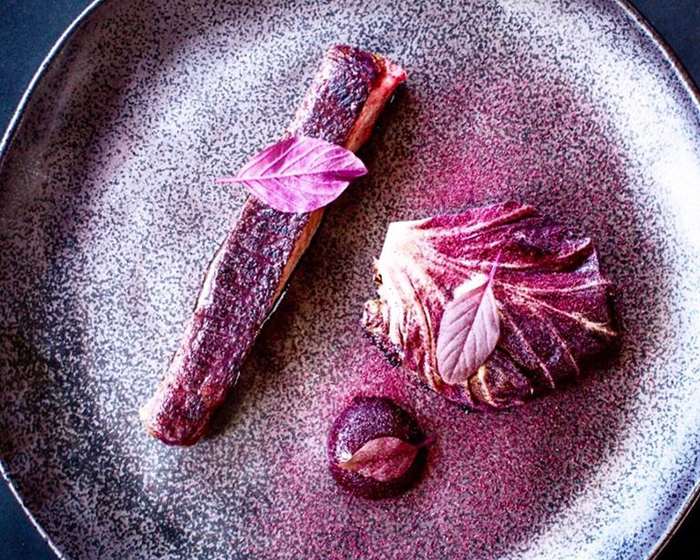 Caveau's dry-aged Thirlmere duck.
An extreme dedication to local producers, winemakers and artisans translates to a provenance dining menu at award-winning Caveau on Keira Street in Wollongong. A refined, artistic offering of Modern Australian tastes is complemented by the restaurant's naturalistic table settings, while a sustainable, bio-dynamic ethos sees the kitchen team use the whole animal in dishes.
Dry-aged Thirlmere duck, salt-baked beets, Illawarra plum and radicchio is beautiful on the plate with different textures and colours resonating with the featured flavours. Radicchio – a bright, colourful cabbage look-alike – adds crunch and bitter touches to any boring, bland green salad and helps promote healthy blood sugar levels.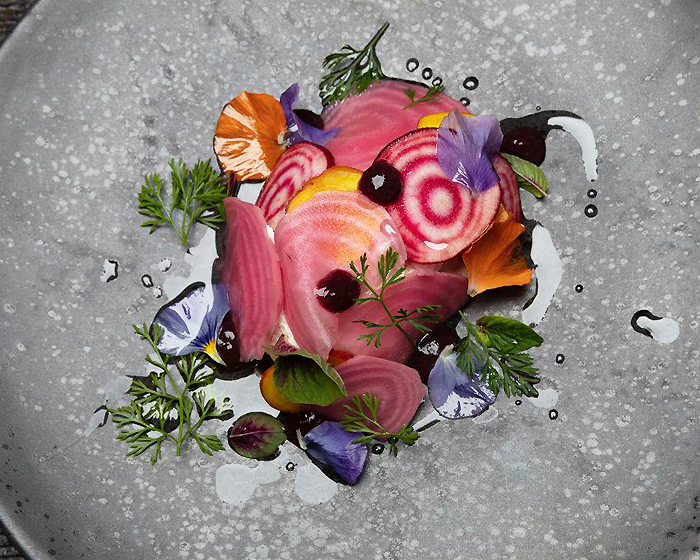 Noosa Waterfront Restaurant's smoked buffalo ricotta.
Overlooking a calm, canal inlet of the Noosa River from their venue on Gympie Terrace, Noosa Waterfront Restaurant brings tantalising modern Italian cuisine to the Sunshine Coast. A touch of elegance graces a spacious setting surrounded by lush greenery, or simply soak up the sunshine by the water while delving into entrees such as smoked buffalo ricotta, fresh and pickled beetroot, blueberry and edible flowers.
Packed with essential nutrients, beetroot is a great source of fibre, folate, manganese, potassium, iron and vitamin C. Beetroot and their juice have been associated with numerous health benefits, including improved blood flow, lower blood pressure and increased exercise performance.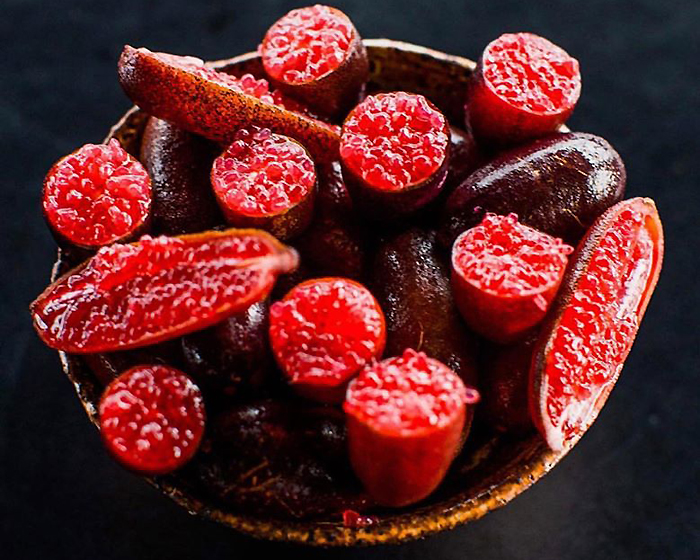 Red finger limes at Vue de Monde.
Finger limes can range in colour from purple to red-orange, green and black. At Vue de Monde restaurant in the heart of Melbourne's CBD, the Chefs love using native finger limes in dishes on a distinctly imaginative menu, in both sweet and savoury plates.
The flesh of the lime contains many small pearls, that are firm, juicy and burst with a tart flavour when eaten; they are also aromatic with a fresh, minty scent and slightly sour flavour with herbaceous undertones.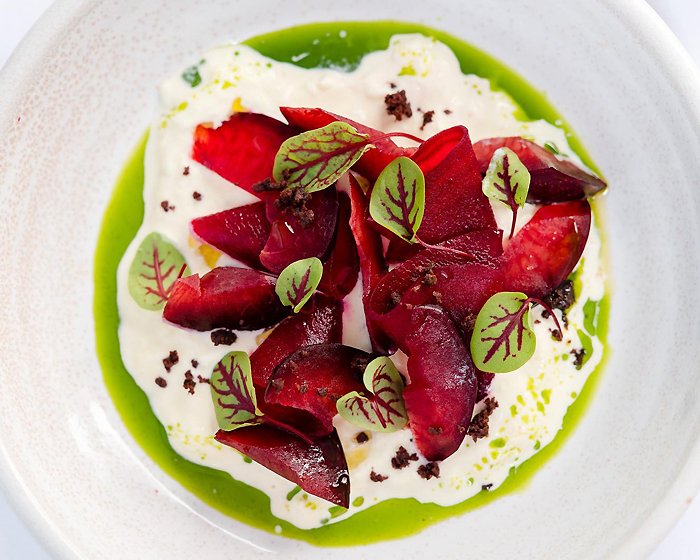 Sails on Lavender Bay's Stracciatella.
Along with spectacular Sydney Harbour views, Sails on Lavender Bay delivers refined and delicate cuisine from a Modern Australian menu, curated by Chef Saro Derderyan. Skirting along floor-to-ceiling windows, an elongated dining room ensures just about every seat is the best in the house, allowing world-class views and dishes like Stracciatella with blood plum, beetroot, olive and basil to do the talking.
Blood plums are great for eating, stewing, preserving and making juice – they are rich, juicy and dark red from the skin to stone, with a sweet and flavoursome taste. Plums are rich in antioxidants and can also help lower blood sugar and high blood pressure; while the reddish-blue pigment in some plums (called anthocyanins) may protect against cancer by mopping up harmful free radicals.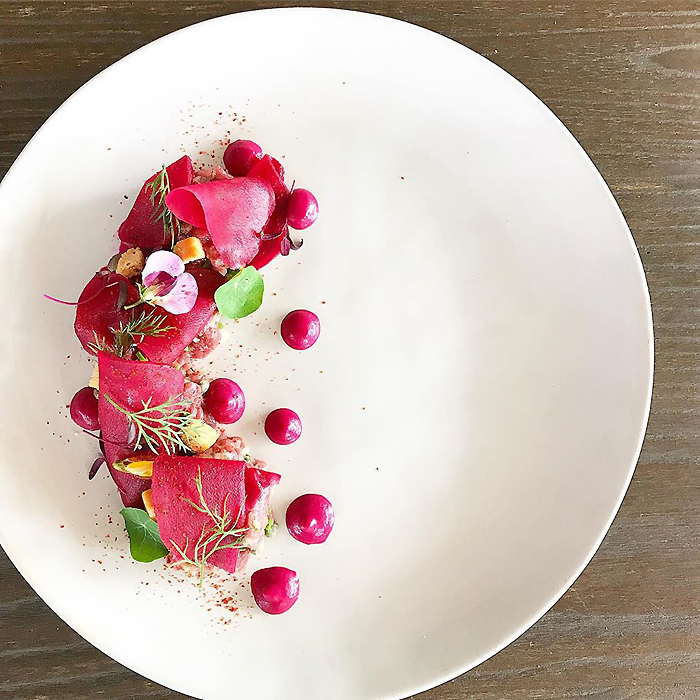 The French Pan Tree's kangaroo loin tartare.
Bringing Parisienne style to Yamba, The French Pan Tree on Clarence Street exudes a soothing vibe of sea green colours, honey-hued wood and warm, worn brick accents under chandelier lights. With an ever-evolving seasonal menu, expect the best of organic fruit, vegetables and flowers from local markets and friends' veggie gardens; while seafood comes straight off local trawlers.
This visually stunning dish of kangaroo loin tartare, pickled beetroot, beet lime puree, croutons and dill is the epitome of red on a plate. As well as its dark red colour, kangaroo is a lean meat with less than 2% fat, making it a healthier red meat option, as well as being high in protein and essential B vitamins. Compared to beef, kangaroo has double the amount of iron and triple that of chicken and pork.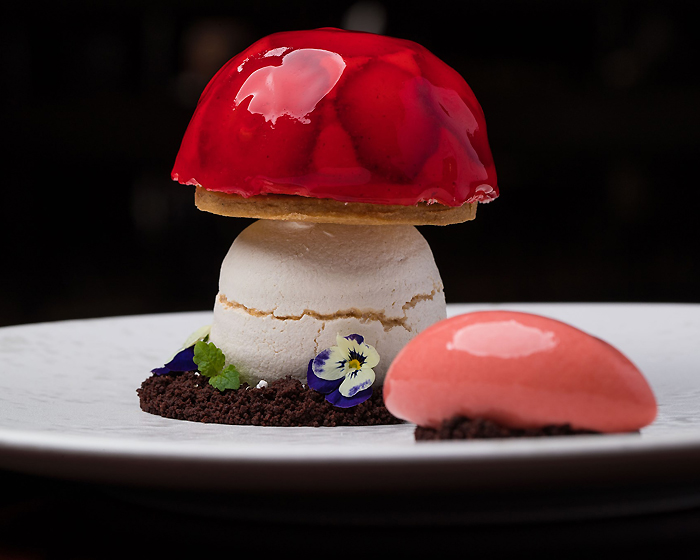 Bacchus's strawberry mousse toadstool.
Sweet, juicy strawberries are hard to beat on a hot, Summer's day – a good clue to the fruit's impact on your health is its heart shape. Strawberries are an excellent source of vitamin C, folate and potassium, whether eaten raw or used in decadent desserts such as this strawberry mousse toadstool, with Valrhona white chocolate and meringue, filled with strawberry salsa.
Created by the Chefs at Bacchus restaurant in South Brisbane, it is just one of the innovative Modern Australian dishes on the menu at this venue, located on the podium level of Rydges South Bank. It wouldn't be surprising to see the God of food, wine and indulgence himself lounging at Bacchus, where treating in a cheeky cocktail and ever-changing array of taste tempters are the norm.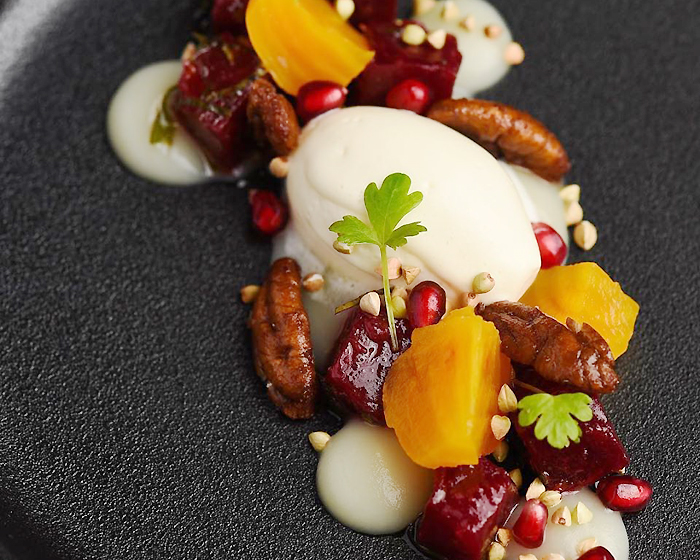 Bistro Selle's beetroot and pomegranate dessert.
Pomegranates are a beautiful fruit, with shiny red jewels containing sweet, juicy nectar surrounding a white seed in the middle. While opening a pomegranate and freeing the jewels can be hard work, it is worth the effort as the fruit is loaded with important nutrients and its juice has been used for thousands of years as medicine.
Albury restaurant Bistro Selle on Olive Street dishes up this plate of beetroot cubes, goats' curd, pomegranate and pecan as a vibrant and texturally defining starter. This casually elegant dining spot delivers a cosy, intimate ambience where blond wood tables and black iron chairs meld together to encourage guests to take their time over a seasonally-based menu of local produce.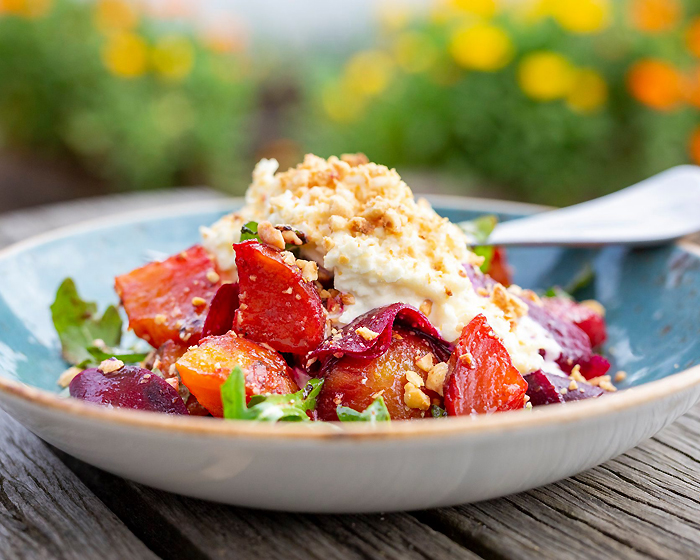 Montalto's Stracciatella.
Beet a path to the piazza at Montalto on Shoreham Road in Red Hill South for this stunning dish of beetroot, black garlic, hazelnuts and Stracciatella… perfect with a glass of Montalto Cuvee. A visit to Montalto winery is never complete without a memorable meal at the award-winning restaurant, where floor-to-ceiling glass windows allow guests to drink in breathtaking vineyard views.
Sourcing seasonal, local and estate-grown produce to be cooked on the wood fire grill allowing ingredients to sing, the Mod Oz menu features offerings like Wagyu, rhubarb and burnt onion and aged duck, smoked beetroot, preserved beetroot greens and muntari berries.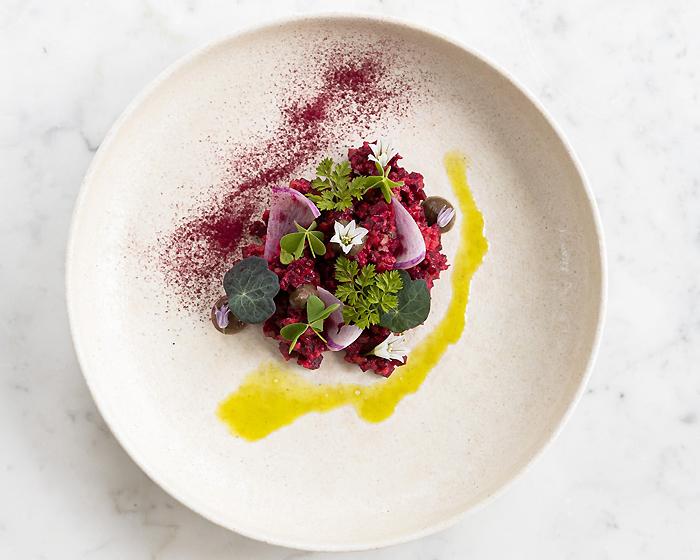 Restaurant Botanica's Wagyu beef tartare.
An ever-growing kitchen garden provides constant inspiration for the menu at Restaurant Botanica, nestled in Spicers Vineyard Estate in Pokolbin. Planted and planned by passionate Chefs, Botanica uses only heirloom seeds and follows the flow of the biodynamic calendar to present guests with fresh produce as seen in this dish of Wagyu beef tartare, coal-roasted beetroots, onion buttermilk and sorrel oil.
Located in Australia's oldest and most historic wine region, this venue is quintessentially Hunter Valley with stunning views of the Brokenback Mountain range, alongside a light-filled dining space where you are encouraged to live, laugh and enjoy great food and wine.
We hope we've opened your eyes to all that is red on a plate…let your imagination take you away and remember, red is the ultimate cure for sadness.