Sustainability is one of the on-trend buzz worlds of our time… but what does it really mean?
The definition of sustainability is to renew resources at a rate equal to, or greater than which they are consumed – in other words living within the resources of the planet, without damaging the environment now or in the future.
Over 1 billion people globally will participate in Earth Day today (April 22), making it the largest civic observance in the world. It is a day intended to inspire awareness and appreciation for the Earth's natural environment and to build a global movement, which embraces nature and its values.
In Australia, businesses and households are switching onto sustainability practices – restaurants sourcing sustainable produce or even growing their own with an onsite garden, accommodation providers are conscious of the products they supply, and solar panels abound on rooves all over the country.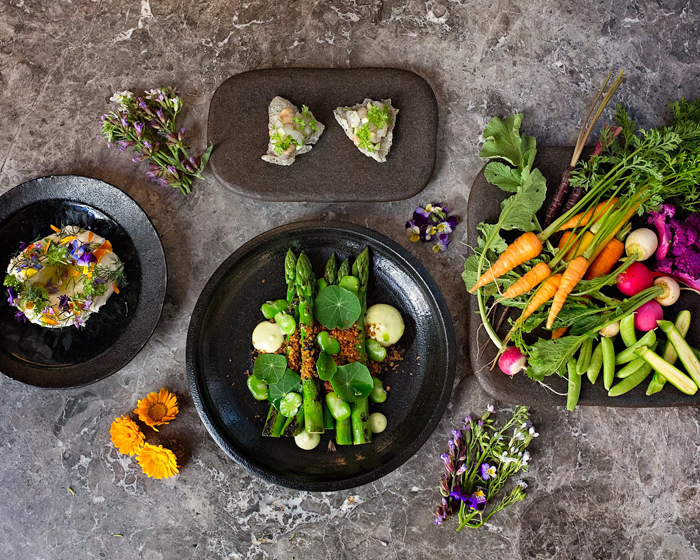 Photo: Hogget Kitchen presents a collaboration dinner with renowned Chef, social entrepreneur and sustainability communicator Ben Mac. The team will come together to create a dinner with Gippsland's best produce and experience Ben's cooking techniques which are described as produce driven, simple food with fun twists, highlighting provenance and communicating stories of sustainability. You can be a part of it, check out their Facebook event here for more information and tickets.

Did you know these businesses have sustainable practices?
With a colourful history from the gold rush era, family owned and operated Silver Spoon Estate winery and vineyard on Heathcote-Rochester Road in Mt Camel is powered by the sun, 100% off-grid and fully self-sustaining.
Named after an abandoned mine on the property's eastern hillside, Silver Spoon boasts 51 acres of dry-grown vines producing Shiraz, Viognier, Grenache, Mourvedre and Tempranillo vintages, from the deep, rocky Cambrian soil.
The boutique winery and cellar door is powered by solar panels and lithium-ion batteries, while the wines are produced using traditional techniques of hand picking, pruning and low chemical intervention to achieve quality, unique flavours. As well as the winery and cellar door, the solar setup also supplies 240-volt power to the on-site residence.
With a philosophy of seasonal, local and fresh produce sourced from surrounding farms, suppliers and an onsite kitchen garden, Laggan Pantry embraces sustainability in their restaurant, cottage accommodation and brewery.
Located on Peelwood Road in Laggan and exuding country charm, the restaurant nestles in the gardens of an old police barracks dating back to 1837 and serves up a farm-to-fork menu; alongside pantry preserves and fresh produce available for sale. The soul of the property is the farm garden, which harvests an array of fruit, vegetables, herbs and spices, grown completely by Mother Nature without the use of chemicals.
Laggan Pantry is presently completing a tasting room inside the micro-brewery, where beer such as The Baron Pale Ale and Old Barracks Brown Ale are brewed on site using quality grain, specialty hops and pure Laggan water.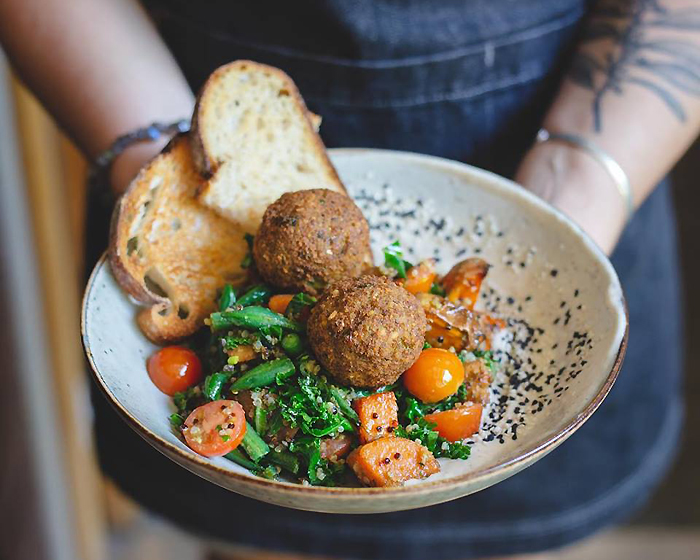 Buddha bowl with cauliflower falafels at Modern Organic.
Organic practices are not just about certification – they are about the holistic approach that supports the earth, all life forms, the farmer and the people – as seen at Modern Organic Yoga Café on The Entrance Road in Long Jetty.
Creating and cultivating well-being, this café offers a consciously prepared and nutritious menu, utilising organic, local, sustainable and seasonal ingredients where possible, reducing their footprint and bringing awareness of ethical living.
Housed in a yoga studio offering a chance for guests to nurture mind, body and soul, sip a matcha latte and chill out in the alfresco dining area nestled in the Zen garden, before delving into a Buddha bowl of cauliflower falafels, sautéed sweet potato, kale, quinoa, cherry tomatoes, green beans, crunchy toasted sourdough and tahini aioli.
Born out of conversations over shared food, Hogget Kitchen on Farrington Close-Warragul Korumburra Road in Warragul uses a nose-to-tail approach to meat, with all the carving and butchering done in-house to ensure the best possible cuts of meat and the least wastage.
Chef Trevor Perkins and winemakers Bill Downie and Pat Sullivan believe ingredients should be allowed to speak for themselves – for this philosophy to work, the freshest ingredients at the peak of their season, are required. This approach allows the trio to support local growers and develop relationships with food producers throughout the region.
All the pickling, bottling, charcuterie, smoking and brining is done by hand in-house and these skills are passed on to staff in an effort to preserve the techniques for future generations of Chefs. Expect to taste dishes such as rabbit terrine, carrot, date, fig and Hogget vincotto, alongside White Dorper hogget, grains, salsa verde, beetroot and jus.
Sourcing produce from small, local suppliers, including two local butchers, so that their meat can be traced back to the source, is the ethos of Quigley & Clarke Café Restaurant in Clunes, Victoria.
They deliver a seasonal menu alongside regional (within 10kms) and international wines, sweet treats and great coffee. With offerings that are inclusive for the entire community, owner, Donall Quigley insists on creating an experience that is reasonably priced.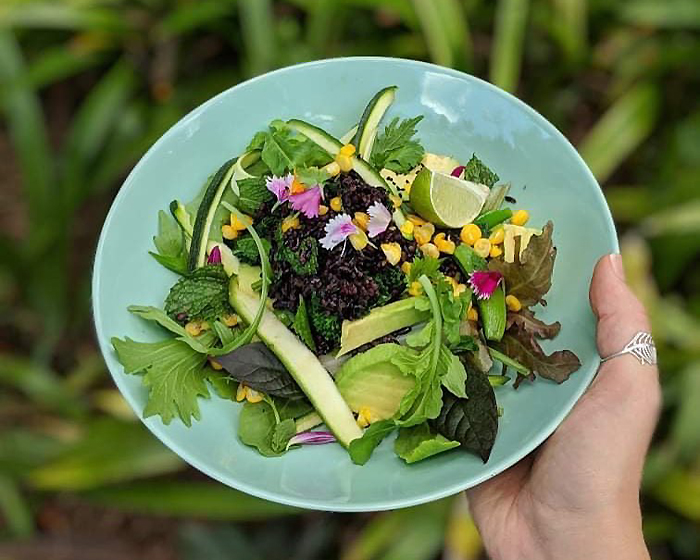 Homegrown garden bowl with zucchini, corn and kale from Homegrown Cafe.

Driven by the harvests of local farmlands and Sunshine Coast produce, Homegrown Café on Main Street in Palmwoods is the place for sumptuous meals and in-house roasted coffee, alongside shelves, stocked full of artisan items and bags of beans for purchase.
The café's kitchen garden provides herbs, chillies and greens to be used alongside ethically produced eggs from Gympie, freshly baked local bread, zesty citrus, sweet potatoes, cherry tomatoes and honey – all supplied by nearby growers.
Expect colourful dishes which change with the seasons to ensure fresh, vibrant tastes, such as fattoush salad, roasted beetroot, heirloom tomatoes, housemade labneh, hummus and lavash; or roast eggplant topped with Australian-grown pomegranates, served with Syrian chicken and saffron pistachio rice.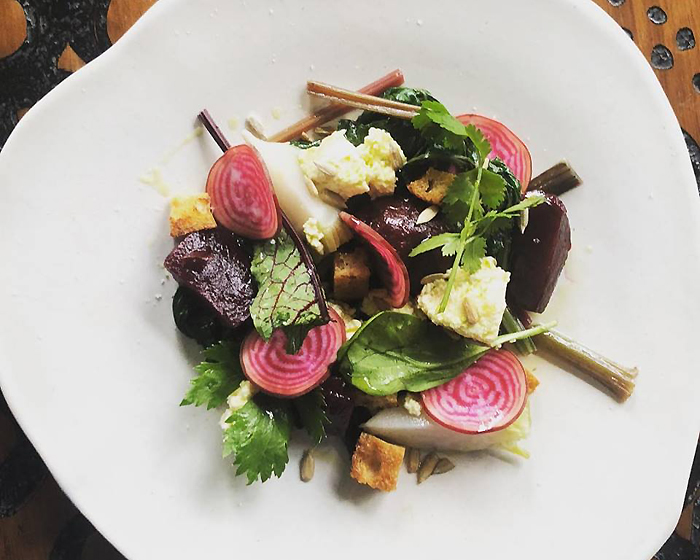 Potager's beetroot salad full of fresh, local ingredients.
With an aim to only serve organic produce and grass-fed meat, Potager in Carool is a popular culinary destination for locals and visitors alike. While the restaurant, nestled on a picturesque 10-acre farm on Carool Road, doesn't grow everything it serves, everything grown in the kitchen garden makes it onto the plate.
There's nothing like picking something fresh from the garden and guests will often see kitchen staff out harvesting before or during service, as seen in a Potager garden salad of mixed leaves, sprouted seeds and honey mustard dressing; or broccolini with Parmesan and pine nuts.
Passionate about supporting local producers and craftsmen, the restaurant dining tables were made by Lobo Workshop in Carool and table plates crafted by Murwillumbah potters; while a stunning vertical feature wall was constructed by Earth and Colour Nursery, from plants grown in the Potager garden.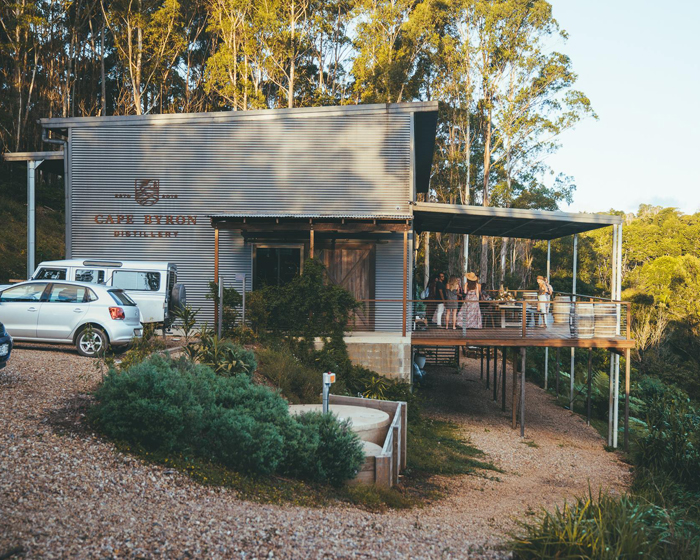 In 1988, Pam and Martin Brook purchased a rundown dairy farm on St Helena Road in McLeods Shoot and proceeded to plant more than 35,000 subtropical rainforest trees. Today this landscape has transformed into a haven for birds and wildlife and also produces 18 of the botanicals used in Cape Byron Distillery's Brookie's Dry Gin.
Creating a new chapter in Australian gin distilling, Cape Byron produces spirits which capture and showcase the unique terroir of the Northern Rivers area, made with a passion for time honoured traditions, sustainability and giving back to the local community.
The purpose-built distillery rests amongst the macadamia orchard and rainforest, inside visitors, will find the cellar door bar, made from locally sourced Norfolk pine and recycled materials.
A spectacular natural setting with a scenic golf course, breathtaking vineyard views and great leisure facilities right on the doorstep, attract guests to Crowne Plaza Hunter Valley on Wine Country Drive in Lovedale. Spend the day exploring local wineries and abundant wildlife, before returning to the resort where 414 spacious and stylish guest rooms offer a wide range of accommodation options to suit every guest and occasion. When hunger strikes, head to signature restaurant Redsalt, where Executive Chef Craig Robertson has introduced a farm-to-gate concept to the menu, as seen in 'Garden of Morpeth Brassicas' – which showcases local growers.
Port Campbell restaurant Forage on the Foreshore go out of their way to source everything possible from the magnificent south-west of Victoria. Combining a love of foraging and an obsession for food, this destination-worthy diner on Cairns Street dishes up locally sourced and foraged fare from an all-day seasonal menu.
All meat is produced in the region and cruelty-free, the bread is artisan organic sourdough from Torquay, eggs are organic free-range from a biodynamic farm in Bookar; while their spelt and wheat flour is grown and milled in Birregurra.
Expect to devour local, fresh seafood such as abalone – straight from the diver who forages it from the ocean – crayfish from local fisherman and octopus from Portland. The whole family is involved with the restaurant from sourcing and preparing the food, helping in the kitchen and garden, to dishing up tempters like spelt hotcakes, preserved rhubarb, quark cheese, shaved organic coconut and maple syrup.
Camberwell eco-friendly café Enter Neighbour strives to change the way businesses conduct their operation by setting the benchmark for reducing their impact on the environment. Located on Camberwell Road, the café has implemented their own internal steps to separate organic waste into a large-scale composting system; while every menu item is locally sourced and made on site.
By supporting Foodbank Victoria, Enter Neighbour helps provide meals for 1 in 7 Victorians who cannot afford food, more than a quarter of whom are children; they also donate 30c per coffee that is served in a Keep Cup or a similar re-usable cup, to the same charity.
Resonating with a casual, cosy ambiance of worn brick, whitewashed walls and polished floors, expect plates like the Hartwell Brunch of quinoa, kale, green beans, edamame, cherry tomato, almonds, housemade ricotta, red pepper hummus and poached egg, with caper crisps.
Nestled among rolling green hills, The Loch is a working farm, garden and guest house, just five minutes' drive from the historic town of Berrima. As well as four guest suites providing luxury self-contained accommodation in the architecturally converted bar, The Loch has an authentic paddock-to-plate restaurant called the Tasting Room, and a farm stall selling freshly-harvested fruit, vegetables, herbs, flowers, meat and eggs, along with housemade cakes, jams and chutneys.
Every Sunday, Chef and owner Brigid Kennedy throws open to doors of the elegant restaurant so guests can take advantage of seasonal produce harvested directly from the garden, or sourced from local and sustainable meat, dairy and vegetable producers.