By Leigh O'Connor.
On Easter Sunday all over the country, a bunny will deliver chocolate eggs to eagerly waiting children… and adults!
Have you ever wondered how this seemingly bizarre tradition came to be?
Long before its association with Easter, the egg was a symbol of rebirth – many ancient cultures used eggs in their Springtime celebrations, later they became incorporated into Christian tradition.
Decorating and colouring eggs was a popular custom in the Middle Ages, while the chocolate egg is a relatively new addition, first made in Europe in the early 19th Century. In 1875 John Cadbury made his first Easter egg out of dark chocolate, with a plain smooth surface and filled with dragee – bite-sized confectionery.
These days eggs come in all shapes, sizes and chocolate varieties… there are also bunnies, bilbies and truffles!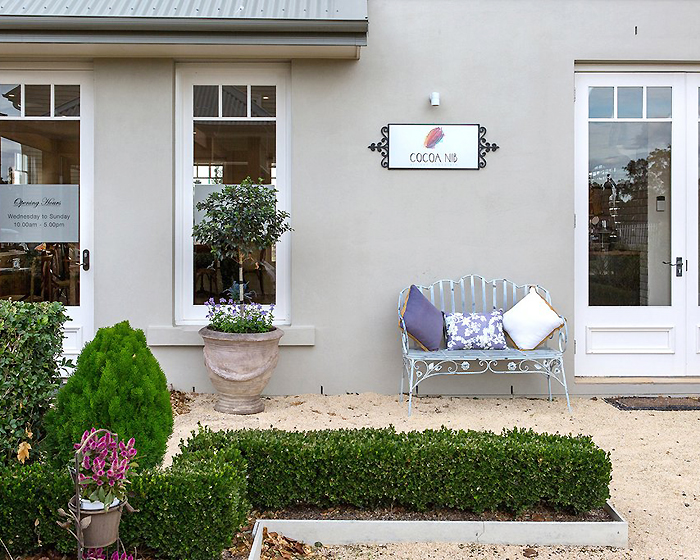 Who better to ask for a make-at-home Easter truffle recipe than the Queen of chocolate, Aymee Slaviero from Cocoa Nib?
Located inside the Keith Tulloch Winery complex in Pokolbin, this chocolate indulgence destination sets the scene for a dainty interior with neatly trimmed hedges, colourful flowers and ornate outdoor furniture; while indoors is stacked with artfully packaged treats and Aymee's latest creations.
Local residents looking for something sweet, along with Newcastle foodies, flock to the area for coveted chocolates created from the finest French ingredients and produced in small batches to retain freshness and flavour.
The life-long dream of this former pastry Chef, Cocoa Nib delivers everything from Easter Eggs to Christmas chocolate and all things in between, such as caramelised popcorn and pecan dark, or macadamia butter crunch.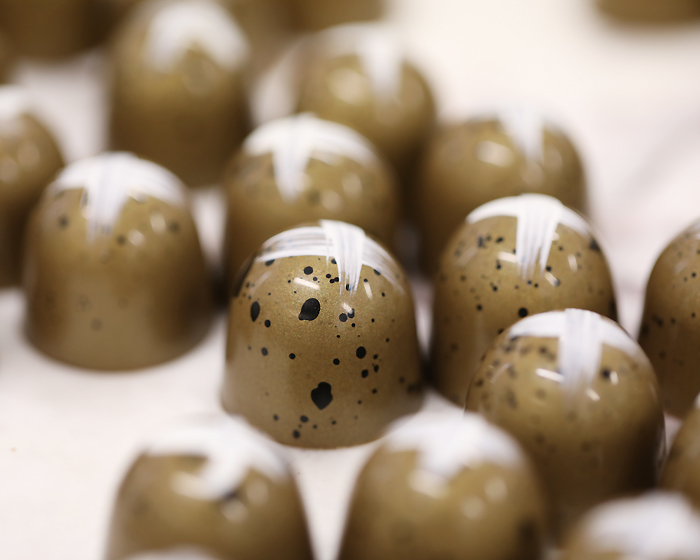 Easter is the time Aymee really comes alive with creations as visually stunning as they taste on the palate. She shares her recipe for hot cross bun truffles with AGFG readers to make at home for those little and big bunnies in their lives.
"Easter is my favourite time of the year, it is such a colourful time for us and the time I can be the most creative," she says. "I think these truffles are one of my all-time favourites to make."
For those who want to find chocolate closer to home, Cocoa Nib has opened a new store at The Junction Fair on Union Street in Newcastle and that is where Aymee creates her masterpieces. Relocating the kitchen to the new premises has meant people can watch the chocolatiers at work, which was something visitors to the Pokolbin store regularly asked for.
To celebrate the holiday, Aymee recently made a giant 75 cm tall egg, using 12 kg of chocolate, which is on display in the window of The Junction Fair kitchen for all to see and salivate over. Custom-made Easter hampers are also available - complete with the obligatory chocolate bunny - and most of the products are gluten-free.
"I have a couple of these giant eggs on order and I'm also planning on making another one to donate to a special cause," she explains.
So, get your apron on and ready the kids to lick the spoon, as you make chocolate treats for all to enjoy from Aymee's truffle recipe.
For more Easter goodies to create, click
here.