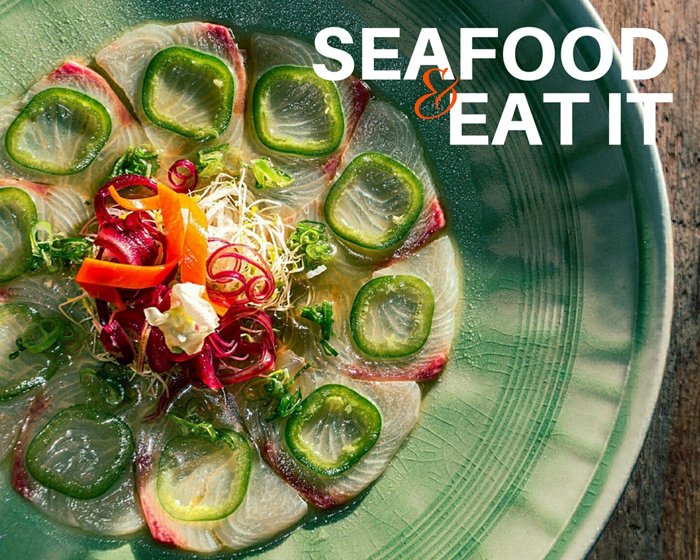 Hiramasa Kingfish with jalapeno at Umii Modern Izakaya.
As the sun sinks over a glittering ocean and thoughts turn to an evening meal, chances are somewhere in this land girt by sea, Australians are tucking into sensational, fresh seafood.
With a coastline measuring more than 25,000 km, our love affair with the ocean is well documented, from the infamous Paul Hogan line 'slip an extra shrimp on the barbie' to Sunday morning nipper sessions at the local surf club.
In 2015-16, Aussies ate an average of 19 kg of seafood per person, making it a significant part of the national diet and growing appetite. Salmon tops the list as a firm family favourite, followed by prawns, oysters, tuna, shark, crab and barramundi.
Australia is considered the place that does a casual seafood meal best in the world – from classics like a whole bucket of prawns, to salt and pepper squid and fresh or cooked oysters. Diners can't get enough of grilled, battered or crumbed fish, luscious lobster and succulent scallops, so fresh they could still be swimming on the plate.
As Summer approaches and thoughts turn to long, leisurely nights sipping wine on an alfresco with balmy breezes ruffling the hair, we also salivate over seafood platters to share and sun kissed memories of childhoods at the beach.
Let's take a surf safari around the country and look at what's on offer at some of Australia's best seafood restaurants: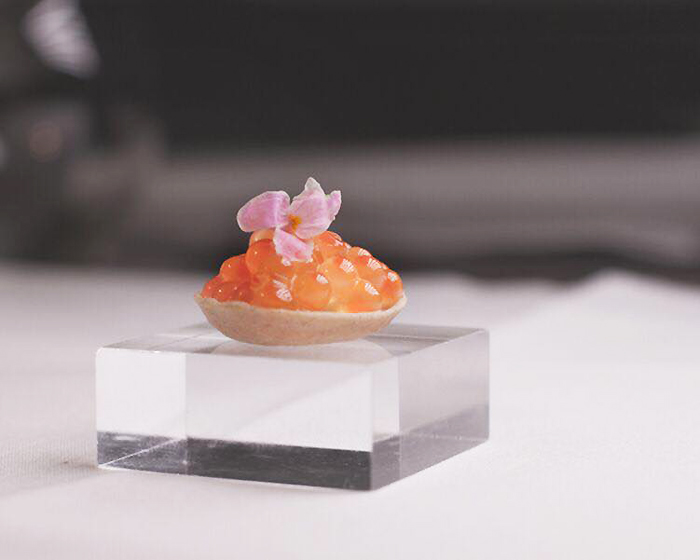 Buckwheat tart, smoked creme fraiche and salmon roe at Quoi Dining.
Nautical NSW…
Sydneysiders experience seafood delights at Quoi Dining on Century Circuit in Baulkham Hills, where this quaint destination offers views over Norwest Lake and an intimate ambiance for dining with that special someone. A modern French and Australian inspired menu offers dynamic dishes such as pan roasted barramundi fillet with mussels and mussel beurre blanc, lobster with tomato, cucumber and sea herbs, or wild barramundi with caper berry, potato and fennel.
Combining maritime elements with Oriental panache, Umii Modern Izakaya on Lyons Road in Drummoyne is gaining popularity with Sydney's suave and savvy diners. A luring décor of thick naval ropes and deep-sea crab pots, entices guests to sample morsels from a rotating sashimi bar - such as New Zealand snapper carpaccio with white soy and truffle oil, or steamed oysters with scallion, ginger and ponzu sauce.
Cruisy waterfront surrounds overlooking the docks draw guests to Lavana Restaurant on Hickson Road in Walsh Bay. A modern open plan dining area is decked with splashes of worn iron and timber, creating a rustic nautical vibe, matched by a well-crafted menu highlighting locally caught seafood. Twirl the fork around linguine with scampi, King prawns, garlic, chilli and cherry tomatoes, or delve into a grilled seafood platter for two with crab, prawns, fish, oysters, mussels and scallops.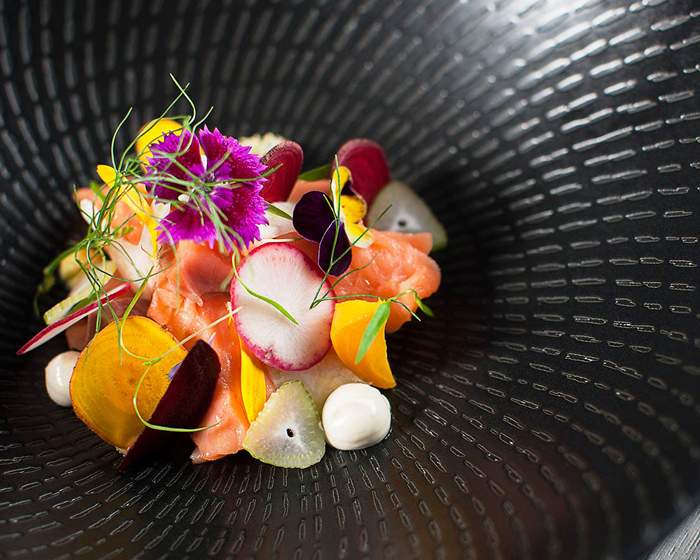 Cold smoked cured salmon with capers, blood orange, sauce vierge and creme fraiche at Lure.
Transporting guests to a charming Greek fishing village, Lure on Hobart Road in New Lambton serves sophisticated seafood in a vintage blue and white themed décor, with thick ropes suspending exposed drop globes, casting a relaxing golden glow. Choose a fish from the window upon entering and have it cooked to order, or perhaps start with an aromatic seafood bisque, before a main such as grilled silver dory fillet with Lyonnaise potato and ratatouille.
Plating up stunning day and night views over Wollongong's marina, Harbourfront Restaurant on Endeavour Drive offers sophisticated dining over three levels. Breezy outdoor decks and floor to ceiling windows bring the outside in on each floor, as diners indulge with a glass of wine and peruse a menu brimming with seafood choices such as West Australian scampi with angel hair pasta, wakame, red miso beurre blanc, black sesame and salmon pearls.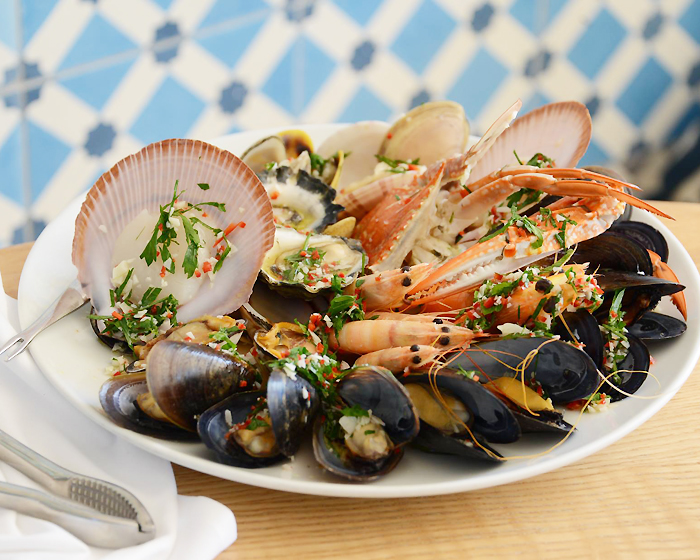 Warm shellfish with parsley, chilli, olive oil, garlic and lemon juice at Rick Stein at Bannisters.
When it comes to seafood, few do it as well as Rick Stein at Bannisters on Mitchell Parade at Mollymook. Every diner experiences an ocean panorama, and this restaurant's chic beach setting is comfortable, classy and understated, ideally matched with a menu of exquisitely prepared fare. Look out for dishes such as marinated tuna with passionfruit, lime and coriander, or send the senses into overload with Bombay masala salmon curry with coconut spice paste, tomatoes and tamarind.
Prawn buckets and fresh seafood platters hook Wollongong locals into Bombora Seafood restaurant at The Jetty on Endeavour Drive. Stylish surrounds with views over the glistening waters of the harbour, create a smart, casual setting where diners can feel the salty sea breeze on the outdoor deck, or dine indoors from a sensational seafood menu with tempters such as whole lemon sole with rosemary smashed chat potatoes, green beans, peas and herb salsa verde.
Penrith diners can revel in retro seaside style at CJ's Crab Shack, located inside Panthers Leagues Club on Mulgoa Road. Delight in vintage inspired charm from crab pot lampshades to stuffed parrots swinging from the ceiling, while enjoying a cool, laidback vibe and tuck into fresh ocean offerings such as Creole jumbo shrimp with Andouille sausage, potatoes and corn, or perhaps a chilli salted soft shell crab burger with coriander, mango and cucumber salsa.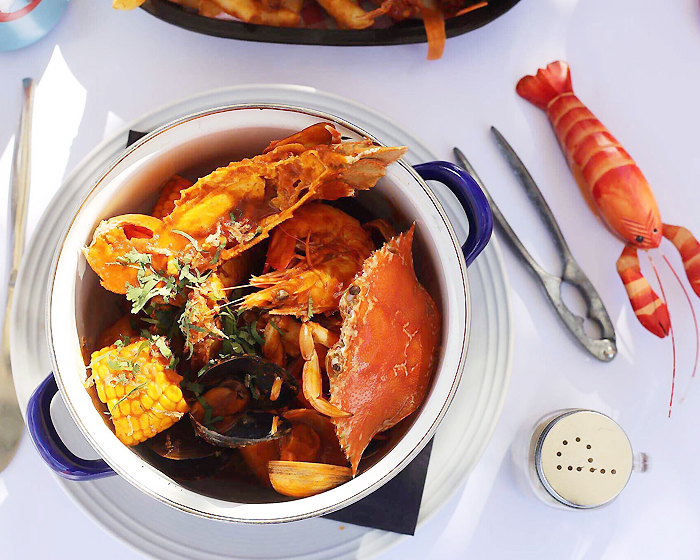 Seafood spread at CJ's Crab Shack.
Vital Victoria…
Seaside city suburb Brighton is blessed with not only the beach, but also Fish Tank fish and chippery on Church Street. Priding itself with the tag 'a healthy alternative to the corner fish and chip shop,' this popular eatery doubles as a fishmonger, takeaway and sit-down restaurant - where guests can dine with a refreshing glass of wine. Kick start an ocean taste journey with tangy chilli calamari, before a seafood grill plate of crayfish mornay, prawn and fish skewers, scallops, salad and chips.
Melburnians are enticed by sumptuous seafood and sunny, alfresco dining near the Yarra River, at Sea on Quay on Siddeley Street in Docklands. Indoors, an ocean theme with sandy coloured tables and bright blue touches lures guests strolling by to linger awhile over freshly caught Australian and New Zealand fish, plated up in dishes like grilled John Dory fillet with chips and salad. Those looking to share can grab a seafarer's basket with King prawns, fish bites, scallops, potato cakes, chips, lemon and tartar.
Tantalising Tasmania…
Breathtaking views of iconic Cataract Gorge and the Tamar River await diners at Hallams Waterfront Seafood Restaurant, on Park Street in Launceston. Complementing the traditional feel of the Apple Isle, Hallam's elevated cottage design, utilising reconstructed timber, is a magnet for guests looking to cosy up beside an open brick fireplace during chilly months. Settle in for a seafood sojourn with a starter of seafood chowder with blue eye trevalla and mussels, before a main event like pan fried Atlantic salmon with smoked tomato butter.
Way Out West…
Open the golden doors and step into a Chinese palace, where hanging lanterns cast a subtle glow over red linen adorned tables, at YINGon Francis Street in Northbridge. Order a cocktail at the black and yellow embossed bar and peruse an extensive menu, including choices from a live seafood tank - cooked to order. Kick start a sensory journey with Cantonese-style spicy squid tentacles and seasoned crispy mushrooms, before devouring snow crab or lobster with black bean sauce.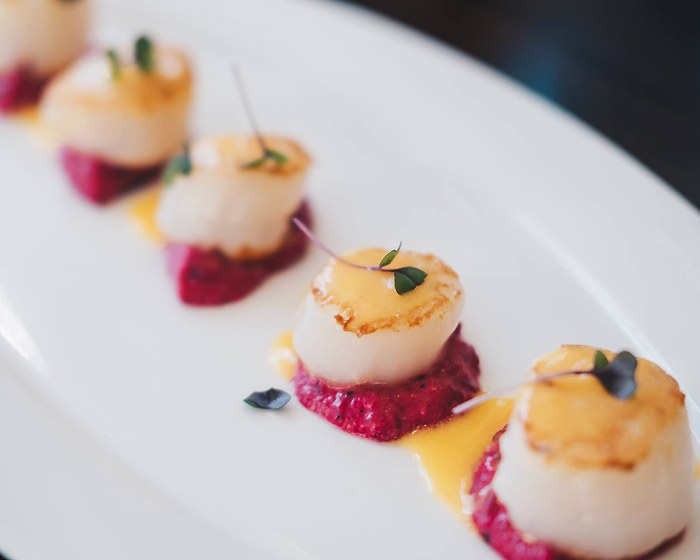 Pan seared scallops with beetroot relish and a creamy rosemary and orange reduction at Citrique.
Quintessential Queensland…
For modern, elegant dining, book a table at Citrique, nestled inside the Surfers Paradise Marriott Resort and Spa. Set in sleek surrounds and providing guests with a myriad of dining choices, Citrique delivers a gastronomic journey from succulent seafood to yum cha, curries and European fare. Perhaps start with Moreton Bay spanner crab cakes with avocado and corn hash and passionfruit aioli, before a main affair of wild caught barramundi with crab risotto, asparagus and dill beurre blanc.
Embracing the old world charm of a heritage listed building, Seasons on Ruthven brings stylish dining in sophisticated surrounds to Toowoomba. This upbeat restaurant and lounge bar has a light and airy vibe where diners can linger over a pre-dinner drink, while contemplating entrees like honey, soy and sesame calamari, before sharing a signature platter of fish, prawns, calamari, baby octopus, bug and scallops served with sauces and salad.
Panoramic ocean views await guests at Tides Waterfront Dining, directly opposite the beach in Caloundra. Sit alfresco to inhale salty sea air while sipping a glass of wine and enjoying balmy breezes, then salivate over a menu brimming with seafood sensations such as seared scallops with cauliflower, wild mushrooms and black garlic. Those with ravenous tastes may opt for a seven course tasting menu from both land and sea, that's well worth the adventure.
Clean, fresh flavours of the sea and tropics are on the menu at 2 Fish Seafood Restaurant on Macrossan Street in Port Douglas. This award-winning venue's chic interior of white linen, blond wood and vivid blue glass panelling is matched by a menu that's innovative in taste and formula, with starters such as spicy tomato black lip mussels with garlic, onion and housemade bread. Pasta lovers may be tempted by razor clam and crab spaghetti with chilli, bacon and Parmesan, teamed with a glass of Pinot Grigio.
Now you have salt water in your veins, why not find a seafood restaurant near you… click herefor more.