By Leigh O'Connor.
Plating up cutting edge seafood dishes and minimising food waste is the motivation behind Saint Peter's Owner, Chef and fish whisperer, Josh Niland.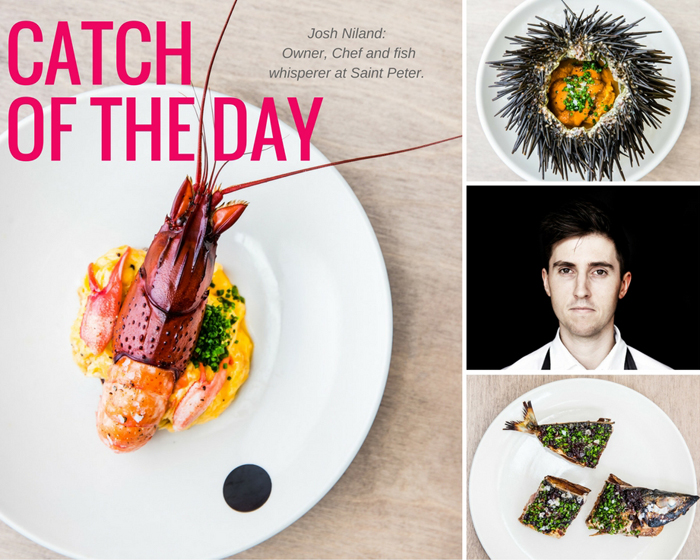 Clockwise: Donnybrook Marron scrambled eggs, Pambula sea urchin (served with a crumpet), Portrait of Owner and Chef of Saint Peter - Josh Niland and sweet and sour Ulladulla Blue Mackerel on toast. Food photography by Nikki To and portrait of Josh by Jason Loucas.
Just awarded New Restaurant of the Year, Saint Peter in Paddington is the realisation of a culinary dream for Josh and wife Julie, created from a desire and love of cooking fish. At 28, he is a young Chef with big dreams – running a successful restaurant and on a mission to showcase Australian sustainably sourced seafood.
Growing up in a land-locked NSW town, Josh suffered cancer at an early age and for three years, instead of going to school and participating in other childhood activities, his entertainment was often television cooking shows and recipe books.
The illness also shaped Josh's future career drive, teaching him not to waste time, to focus on achieving goals he sets himself and by writing everything down, ensuring his dreams come to fruition.
Moving to Sydney at age 17, Josh quickly immersed himself in the restaurant world, which led him to work at Peter Doyle's Est and discovering an overwhelming affinity for cooking with fish. From there an introduction to Stephen Hodges launched his love of using every piece of seafood possible, to create intuitive dishes that resemble art on a plate.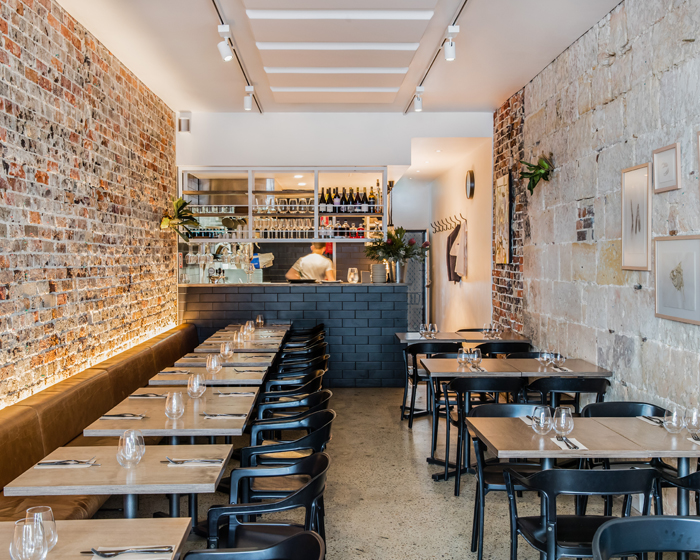 Interior of Saint Peter. Photo: Nikki To.
Embarking on a long overseas working honeymoon saw Josh at Heston Blumenthal's three Michelin-starred restaurant, The Fat Duck in Bray, before travelling to the culinary wonderlands of France and Spain. Upon his return, and after a short stint as Head Chef at Fish Face in Double Day, Josh and Julie decided the time was right to open their own restaurant in Paddington.
Saint Peter was born and has taken Sydney by storm, with a challenging menu inspired by available fish, vegetable produce and the weather. Josh explains there is often no set-in stone recipe, he just cooks what tastes delicious and brings out the flavour of the fish.
"I believe seafood is the one protein we all wish we could eat more of. It is difficult to buy and cook at home successfully and one of those luxury items we enjoy eating at a restaurant," he says.
"I have a love for cooking fish so the concept of Saint Peter – an Australian fish eatery – made sense."
At times, Josh's focus on sustainable, local seafood can narrow choices depending on seasonality, however these limits inspire creativity, pushing him to select under-utilised fish and cooking methods that best suit them.
"It compels me to use all parts of the fish, not just for novelty value but because offal such as liver, roe, milt and bones are delicious and go towards our goal of minimising food waste," he says.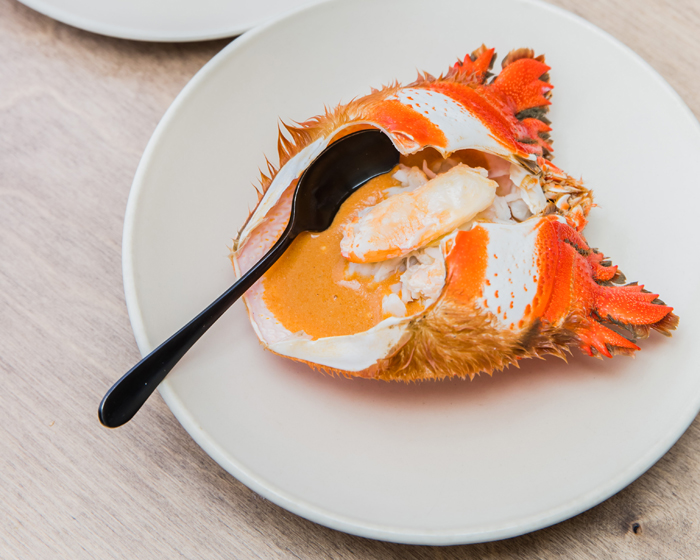 Hand picked Ballina Spanner crab meat and coral sauce. Photo: Nikki To.
Think dishes like raw 21-day aged Mooloolaba albacore, or Josh's signature sea urchin crumpet - where diners scoop out roe from an urchin shell and smother it on a yeast-battered crumpet with lots of chives, salt and pepper.
Working for Steve Hodges at Fish Face provided an invaluable understanding of not just cooking with seafood, but also how to run a seafood-only restaurant.
"Fish is an expensive product that traditionally deteriorates quickly, making it a challenging protein to have on your menu. Order too much and risk it deteriorating and being wasted, or order too little and miss out on the reduced prices that come with ordering fish by the box.
"Steve's solution to this problem was a custom-designed fridge where fish was stored on trays in a static (no fan) and very cold environment. Each night we would turn the fish to dry out the side that had been in contact with the tray."
For Josh, the concept of hanging fish at Saint Peter is a logical extension of this technique. Fish that sits against a tray in the cool room accumulates moisture, causing it to deteriorate and smell fishy.
"At Saint Peter we hang all our larger fish; everything from John Dory right up to 16 kg wild kingfish. This hanging process has multiple benefits: keeping fish at its peak for an extended period of time, drying out the skin to allow it to crisp in the pan and a marked improvement in the fish's flavour," he says.
"The first fish I hung in our cool room before our opening in August last year was an exciting and nerve wracking day. It was when I first put my theory into practice and did something I had never seen done before. I received a bit of flak on social media from people who didn't think it would work, but I am pleased to say it has been an amazing addition to the way we think about fish storage and preparation."
Over the past year, Josh has experimented with ageing different fish for differing periods of time to determine when each species is at its peak after the process.
"On the menu, we preface our fish with how many days it has been aged, many customers find this very interesting and enjoy the intensified flavour ageing brings."
Josh met, fell in love and married wife Julie after working together at Est and now they are focussed on making their own restaurant dream come true.
"It has been a great experience for both of us. We have quite complementary skill sets and this is important for our time together at the restaurant."
So where does this revolutionary, innovative Chef see himself in five years' time?
"I hope to still be running a successful business and cooking Australian fish."
Josh is sure to be at the forefront of Australian restaurant culture, pushing the boundaries of seafood culinary evolution, for many years to come.