Vibrant and intensely colourful, Indian cuisine has found an ever-increasing Australian fan base after baby boomers took to overseas travel in the 1960s and 70s. Backpacking through India was on the bucket list of most born in this generation and along the way, many picked up a love of all things curry.
Each region of India has its own style of cooking and distinct flavours – from the tandoori and korma dishes of the North to hot and spicy Southern fare, all teamed with rice and naan bread. Delve into coconut and seafood offerings from the Western side of the country, while the Central region is a mixture of everything India puts on a plate.
Goans are known for their use of vinegar and fiery chillies and it is from here hot vindaloo curry hails from, the name actually deriving from the Portuguese words for vinegar and garlic.
Spices are the cornerstone of Indian cooking – cardamom, cloves, peppers, chillies and turmeric - add colour, flavour and punch to dishes that can sometimes bring a tear to the eye and sniff to the nose, with the intensity of heat.
As Indian nationals prepare for Independence Day on August 15, we've put together a hit list of the best restaurants around Australia.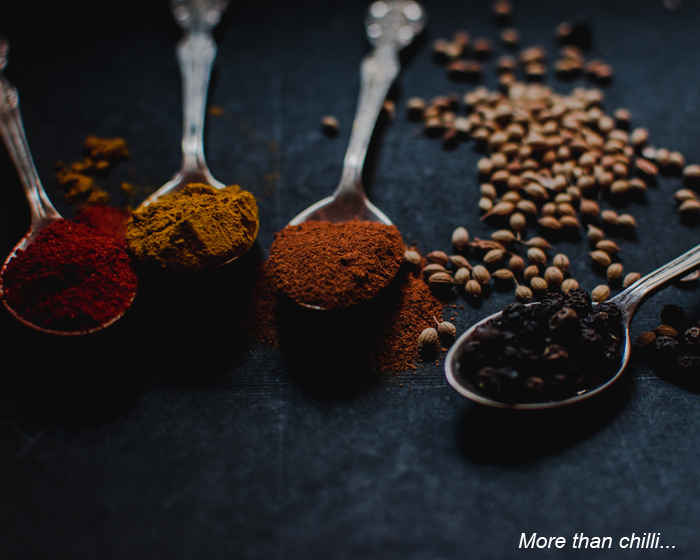 Victorian Vindaloo:
A modern and progressive menu awaits guests at Shompen Dining Room on Rathdowne Street in the bohemian Melbourne suburb of Fitzroy. Enter from the tree lined street curb and discover a colourful interior of bold geometric murals and dark timber seating, while white table linens and wide front windows create a relaxed, warm space to watch the world go by while savouring flavoursome Indian fare.
Spice up your meal with soft shell chilli crab, eggplant crisps and Shimla mirch chutney; a signature dish like beef short ribs Madras-style, with fennel fresh coconut, orange and kale, or perhaps classic honey glazed and char-roasted chicken in a silky butter sauce. For a sweet sensation, be enticed by saffron yoghurt ice cream, cardamom ripple and pistachio soil.
Venture through the red chiffon curtain draped archway, towards a tapestry of the Taj Mahal and into the family-friendly dining room at Food O'Clock Café & Indian Restaurant on Mollison Street in Bendigo. Fulfil cravings for tantalising dishes and join the locals in this restaurant, where artwork adorning the walls adds warmth and an extra splash of colour to a clean design.
Bite into delicate housemade pastry samosas, filled with spicy potatoes and peas, served with tamarind chutney; then contemplate King prawns marinated in tandoori garlic masala and cooked in the clay oven for a mouth-watering taste, teamed with green salad and mint chutney. Vegetarians will delight in deep fried diced pumpkin, swimming in coconut creamy sauce and green coriander, paired with sides of lemon rice and Kashmiri naan.
Step into a world where a black and white embossed bar, polished wood floors and theatrical light fittings set an elegant dining ambiance, at Memories of India on Robinsons Road in Ravenhall. Relaxed guests ponder a menu of distinctive recipes reflecting the taste of North India, savouring starters like deep fried crispy battered mushrooms stuffed with feta and onion; or crunchy cauliflower, coated with sweet chilli sauce and pan sautéed with shallots capsicum and coriander.
Move on to tongue-tickling delicacies such as Goan style chicken curry, cooked in fresh roasted spices and coconut, or an authentic Patiala style goat curry in an onion and cashew sauce; teamed with saffron rice and cheesy garlic naan. Don't forget a sensational sweet of Heavenly Gulab Jamun – sweet dumplings in honey, sugar and rose syrup, with mango kulfi ice cream.
For an easy-going vibe, where St Kilda locals can share time together, laugh loudly and indulge in sumptuous Indian fare, head to Babu Ji on Grey Street. Located in The George Building, Babu Ji presents a contemporary space with hints of gold brightening black and white décor and high ceilings adding a touch of elegance to modern dining, well suited to both intimate occasions and spirited groups.
Opt for street food plates such as batata vada (we've actually got their recipe... so click through) – potato and lentil parcels, dipped in yoghurt and pineapple sauce, with radish salad – or Bengali Atlantic salmon, marinated in mustard and fennel seeds, with lime and chilli mayo; while from the pot come temptations like Royal style lamb curry, cooked with nutmeg, mace and asafoetida. Those dining in groups, may choose the tasting menu, including rice, naan and dessert.
Educating Malvern diners in Punjabi and Sindhi fare, Kailash Parbat Melbourne dishes up a rich legacy of taste and tradition. This Glenferrie Road venue is an Australian link in an already worldwide Indian restaurant chain, serving up delightful flavours and aromas in stylish surrounds. Chill out in a rustic wooden and stone ambiance, with blond furniture and maroon accents teamed with hanging black globes, creating an ideal vibe for lingering over lunch or dinner.
Kick start your culinary adventure with a chaat platter of several street food inspired bites to share, before tastebud tempting main dishes such as bhugal bhee aloo – a mixture of steamed potato and lotus root in an earthy, cumin-infused tomato masala. For a decadent dessert, don't go past hot chocolate brownie with vanilla ice cream, or sweet and syrupy gulab jamun dumplings and malai kulfi ice cream.
Rich in vivid colour, plush carpeting and friendly attentive service, Machan Indian Restaurant on Main Road in Eltham, has been a solid, local favourite for more than a decade. This enticing restaurant draws guests in with an inviting setting of warm lanterns, creating an ideal spot to relax and dine from a menu of Indian favourites, such as aromatic curries, tender meat dishes and vegetarian delights, all infused with delicately blended spices.
Spinach and onion pakoras - crisp fried in chickpea butter - make an ideal starter, along with lamb chops tenderly marinated in ginger and garnished with fresh coriander; followed by house specialty fish Malbari, in tomato and onion sauce with mustard, curry leaves and coconut. For a classic curry, don't go past chicken korma, with crushed almond and cashew nuts, seasoned with a blend of spice, served with roti, raita and chutney.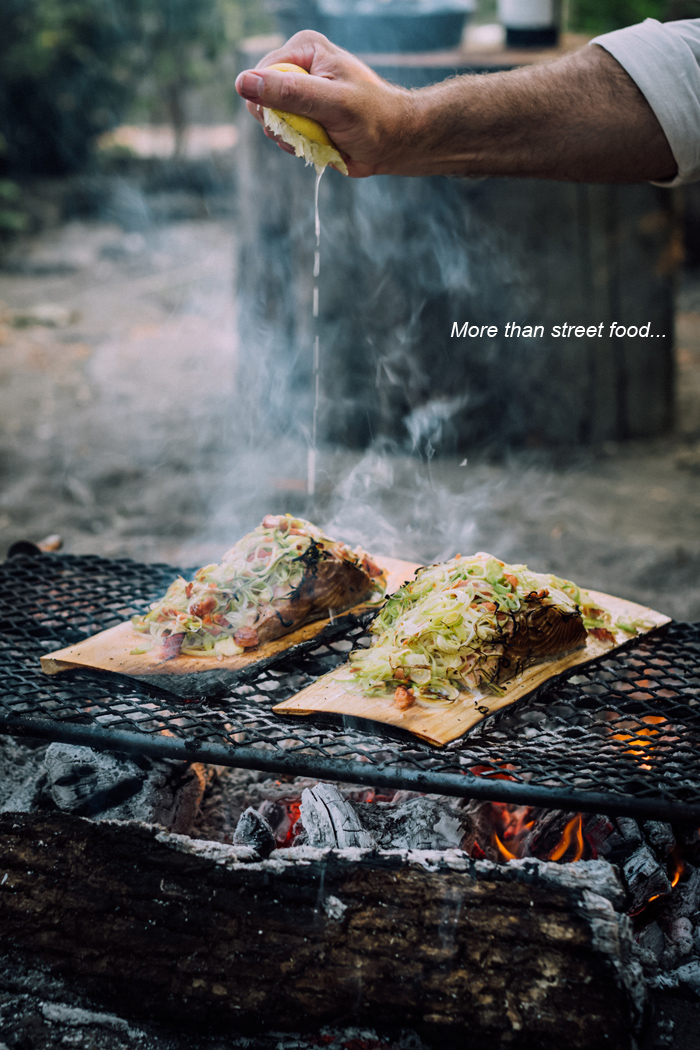 Capital Curries:
Wanniassa locals curb hunger with a feast of Indian flavours at Barbeque Nation restaurant on Gartside Street. Rich polished wood, softly glowing lights and a harmony of deep brown hues and cream walls, create a warm and welcoming ambiance where friends and families enjoy time together in a relaxing vibe. Expect a menu to excite the tastebuds as delicate aromas of exotic herbs and spices fill the dining room, kick starting your experience with mouth-watering cardamom flavoured lamb cutlets, cooked in the tandoor.
For the main affair, expect temptations such as traditional North Indian tender goat curry, cooked on the bone; or house special Bombay mild beef curry, with potatoes and a hint of fenugreek leaves and cream, teamed with coconut basmati rice and papadums. Cool things down with a housemade special dessert of mango or pistachio kulfi ice cream.
Enter a vast, vibrant and contemporary interior as well as a high standard of service, Blu Ginger Indian Restaurant adds a dash of exotic spice to Canberra's lively dining scene on Bunda Street. Boasting an impressive wine list, this restaurant promises distinctly modern Indian dining, blending local produce with spices imported from India in a tantalising mixture of classic and new age creations.
Mouth-watering morsels of Pan Asian fusion deep fried chicken, tossed in house special chilli sauce with spring onion and assorted peppers may entice to start; or spice battered fried fish from the streets of Amritsar, served with mint and coriander chutney. For a taste of Northern India, opt for a main of Murgh Kashmiri Kofta – minced chicken kofta, marinated in fresh and ground spices and finished with Chef's special brown onion sauce.
Tasmanian Tandoor:
Celebrate all things from the Subcontinent at Cinnamon Indian Gourmet on Hunter Street in Hobart city. Located in the MACq 01 Hotel, this restaurant delivers walls the hue of smoky spices and colourful abstract artwork, mixed with intricate screens and softly glowing chandeliers, to set the scene for a burst of vibrancy in both flavour and culture from a diverse menu.
Send the senses into overdrive with an entrée of fiery birds-eye chilli marinated chicken breast, roasted in the tandoor oven; moving onto gourmet main offerings such as diced beef, sautéed with onions, garlic, coriander and ginger, seasoned with pepper and lemon juice. Team your choice with a Southern Indian specialty like golden crisp dosa, with slow cooked aromatic lentils and coconut chutney.
Serving modern Punjabi cuisine in elegantly, casual surrounds Pickled Evenings on George Street, transports diners to India without leaving Launceston. Projecting an energetic vibe of wood floors, chandelier lighting and robustly coloured feature walls, this restaurant is dedicated to plating up authentic dishes that will take tastebuds straight to the land where the flavours were born.
Begin with morsels of chicken marinated in Greek yoghurt and tandoori spices, cooked until tender in the clay oven; or for the vegetarians - crumbed and deep fried corn, potato and bell pepper balls, stuffed with cheese and served with a side of mango chutney. Pickled's signature main of special beef curry, braised in Tasmanian red wine and cooked with bell peppers may entice, along with spice marinated lamb shank, simmered in rum and finished in a smooth gravy.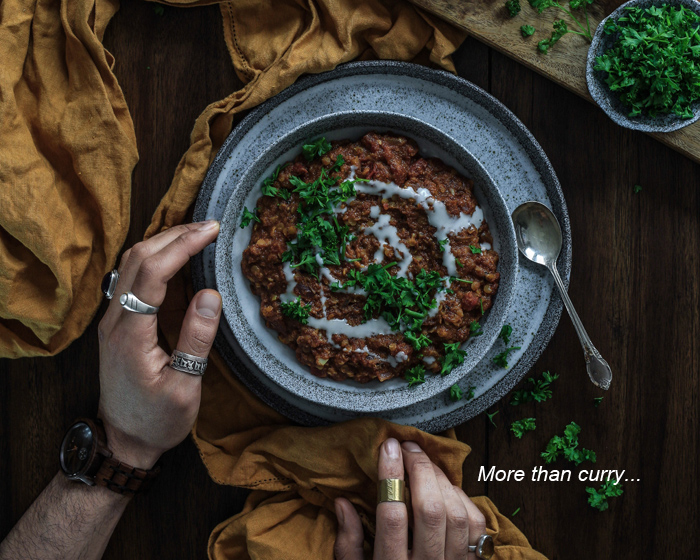 New South Wales Naan:
An earthy interior partners well with a heartfelt welcome at Nithik's Kitchen on Darling Street in Rozelle. Take a seat at intimate dark wood tables, or upon the pillow laden banquette and select from sumptuous offerings, contrasting an array of textures and tastes from an impressively sized menu, focussing on authentic Indian cuisine made with fresh Australian produce.
Opt for specials such as a lamb brain entrée, roasted with shallots, garlic and pepper, served with Ceylon-style paratha; or King prawns, marinated in Chettinad chilli paste, crispy fried and served with bitter melon salad. Mouth-watering mains abound - perhaps delve into slow cooked lamb trotters in chilli, coconut and poppy seed sauce, with a side of rice string hoppers; or fresh barramundi fillets, simmered in a sauce of green mango, coconut and chilli, tempered with mustard and curry leaves.
Mosaic tiled windows and carved archways set an Eastern-inspired vibe at Andaz Indian on Terminus Street in Castle Hill. Take off on a flavoursome flight around the regions of India, while relaxing over traditional dishes cooked with fresh, local produce, in moody surrounds of maroon hues and softly glowing geometric light fittings.
Entrees such as slow cooked lamb cutlets, with a classic rub of garlic, ginger, yoghurt and Andaz's special tandoori spices, may tempt; or perhaps for the vegetarian – cauliflower florets marinated in spices and coated with spice butter. Succulent seafood mains like barramundi fillets, mustard seed, fenugreek, curry leaves and fresh chillies in butter milk, are best accompanied by sides of rice and soft green peas, seasoned with onion and cumin seeds.
Satisfy hunger and the taste for punchy flavours at Bombay Bloomers on Perouse Road in Randwick. Rusty red walls adorned with tapestries from abroad, tall front windows bringing the outside in along with communal seating, create a warm and relaxed dining space for Eastern Suburbs locals. Share a conversation while enjoying dishes combining traditional fare with contemporary style, like tandoor baked baby octopus marinated in black pepper, mustard seeds and Kashmiri chillies.
House specialty mains such as Malayalee prawns, simmered in curry leaves, black pepper, chillies, ginger and tamarind sauce may entice, alongside goat Malabar – marinated, diced goat, with mint coriander and green chillies; best enjoyed with basmati rice infused by saffron strands and herbs and flaky paratha wholemeal bread.
One of Sydney's longest running restaurants along Spit Road in Mosman, A Taste of India combines a fresh, modern dining space with creative fusion dishes as well as traditional fare. Styled with plush carpet under foot, white table linens and authentic wall hangings of native characters, this restaurant is an inviting space to meet friends for a meal and drink shared; starting with tandoori Tiger prawns marinated with yoghurt and green cardamom and served with mint chutney.
For a satisfying main with a taste of modern times, try braised lamb shanks with tempered baby vegetables, tapioca and lotus seeds; or choose a Kashmiri classic plate of lamb rogan josh, cooked in yoghurt, green cardamom and fennel seeds, mopped up with garlic cheese naan. Dessert delights include lychee and coconut pudding, served with cardamom candy floss and caramel swirl ice cream.
Queensland Quest:
A black and white mural detailing the imposing serenity of the Taj Mahal temple greets guests at Curry Leaves Indian Cuisine on Nicklin Way in the coastal town of Warana. Fast becoming a local hot spot for innovative Indian fare, the space inside this contemporary restaurant provides plenty of room for couples to enjoy an intimate ambiance and large groups to mingle over a feast together.
With a dash of Sri Lankan influence, choose options such as fish curry braised in coconut cream with aromatic roasted spices and Singhalese style lentils cooked with onions, tomato and curry leaves; go for everyone's favourite butter chicken and lamb rogan josh, or try an exotic house specialty with steamed rice and garlic naan.
Relax by a large glass window and take in a feast of flavours at Indian Empire on Oxley Drive in Runaway Bay. This charming family-friendly restaurant, just up the road from Gold Coast's outlet shopping mecca Harbourtown, caters to all needs whether a high chair for little ones, or recommendations for those unable to decide between mouth-watering dishes on offer.
For a taste tempter to start, try Empire's trio of Indian dips served with roasted papadums and salad; or tandoori chicken wings, marinated in traditional yoghurt and spices, cooked in the clay oven. A main affair of house specialty goat curry with potatoes and spices may appeal, or delve into the likes of sweet fish curry with mixed tropical fruit and a creamy sauce. A cooling finish of mango, cashew nut and pistachio kulfi ice cream is an ideal sweet treat.
Still looking for an Indian hot spot near you? We've got your covered with 65 more recommendations.