Many of us would have started the year with some kind of goal to change the way we eat or exercise.
Clean, green and whole eating is one way of keeping track of your dietary habits, focusing on consuming whole foods that are minimally processed and as close to their natural form as possible. Many restaurants around the country have their own gardens and use local growers and suppliers in an effort to dish up the freshest produce possible onto your plate.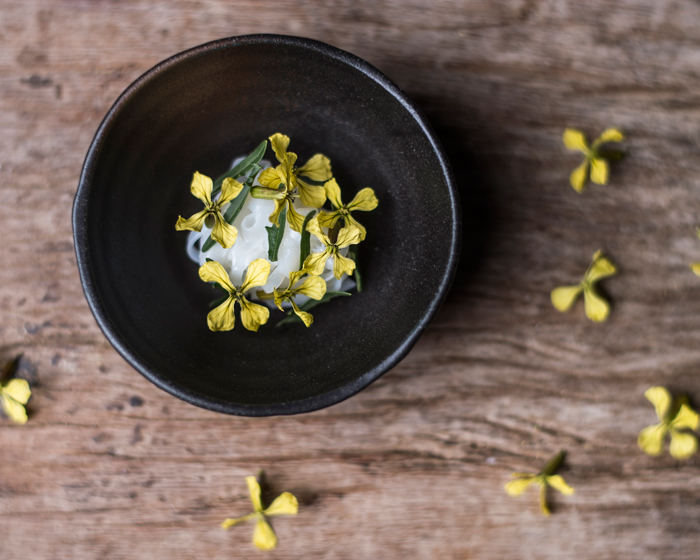 Squid noodle with fresh rocket flowers at Hentley Farm, SA.
Here are eleven restaurants that will make clean, wholesome eating easy in 2020:
Green Eating in Inverloch:
Knowing where your food comes from, how it was grown and harvested is at the core of what Inverloch restaurant Seasoned by Green Heart delivers to local and visiting diners. Nestled on William Street, this land and sea eatery delivers an unforgettable dining experience, putting their heart and soul into every plate – believing in what they serve and only serving what they believe in.
All fresh fruit and vegetables used in the kitchen are certified organic, at the peak of their season and sustainably produced, as seen in dishes such as rockling fillet, pickled fennel salad, charred asparagus and citrus; or grass-fed lamb short loin, duck fat chips, caramelised onion tartlet, grilled mushroom, red wine jus and garlic butter.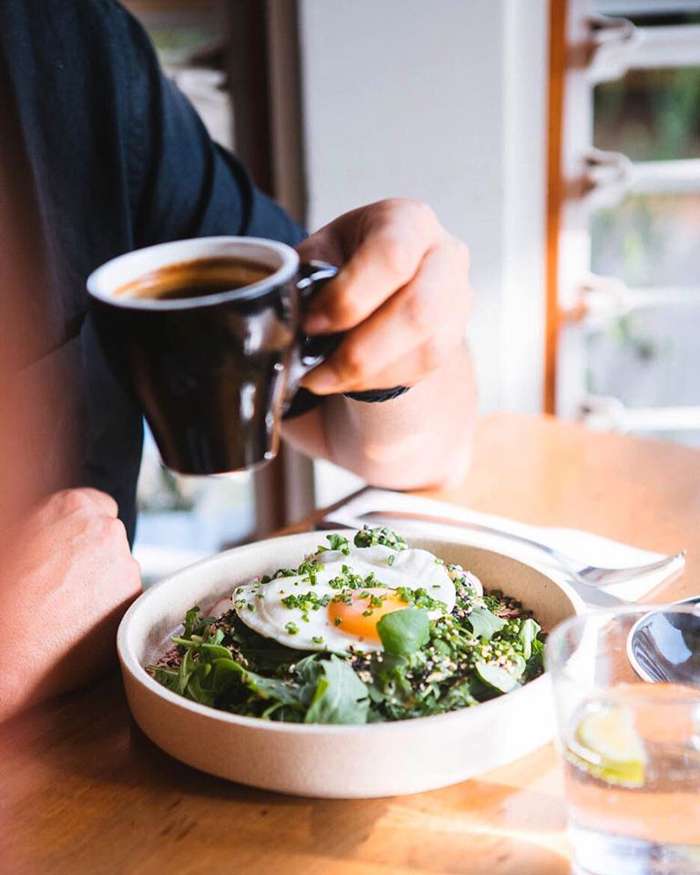 Salad of watercress, radish, ricotta and beetroot with sesame and a fried egg at Harvest, NSW.
Clean, Green Dining in Miranda and Byron Bay:
Fuel your body the right way at Bodyfit Eats/Stonegrill Dining on Kingsway in Miranda. This café by day and stone grill by night is located in the Bodyfit Fitness Centre, dishing up fresh fare to complement a healthy lifestyle from light meals and snacks to superfoods, in trendy surrounds of gold wire chairs, neon lighting and cabinets overflowing with mouth-watering morsels.
Lunchgoers can wrap their hands around a roast mushroom burger – with or without a bun – iceberg lettuce, cheese, crunchy onion ring, tomato confit and beetroot relish; while those dining at night can stone grill their choice of protein, along with sides of garden salad, grilled vegetables, sweet potato mash or steak chips.
Showcasing fresh, organic produce, with most of it grown in the kitchen garden, Harvest on Old Pacific Highway in Newrybar is equal parts of historic country charm and urban sophistication. A widespread verandah circles this airy weatherboard cottage, where a stylish bar and rustic wooden furnishings combine to create an inviting vibe for any occasion, from weekend brunches to weddings.
For breakfast, try a green omelette of ricotta, fermented capsicum and sourdough, or perhaps asparagus, grilled taleggio and poached eggs; while dinner guests delve into a wild harvest menu inspired by Harvest's forager and Chef and what they have gathered from the land, local farms and sea. Expect dishes like kangaroo, charred leeks, tomato and quandong; or Coopers Shoot zucchini, squash, spiced pistachio, sunflower seed and buckwheat.
Queensland Clean, Green Dining Destinations:
Every dish on the menu at View by Matt Golinski has a story to tell about where its ingredients have come from and the people who made it possible. Nestled in the treetops on the second floor of Peppers Noosa Resort & Villas, View champions local producers in a quest to source sustainable ingredients for Matt's seasonal menus - from free range eggs to honey and finger limes.
Soak up Noosa sunshine while delving into heirloom tomatoes, potatoes, beans, olives, soft boiled egg, anchovies, salmon and grilled sourdough; followed by handmade tofu, miso roasted eggplant, sautéed oyster mushrooms, bok choy and soy-sesame dressing. For a sweet finish, try Matt's wattleseed and macadamia tiramisu.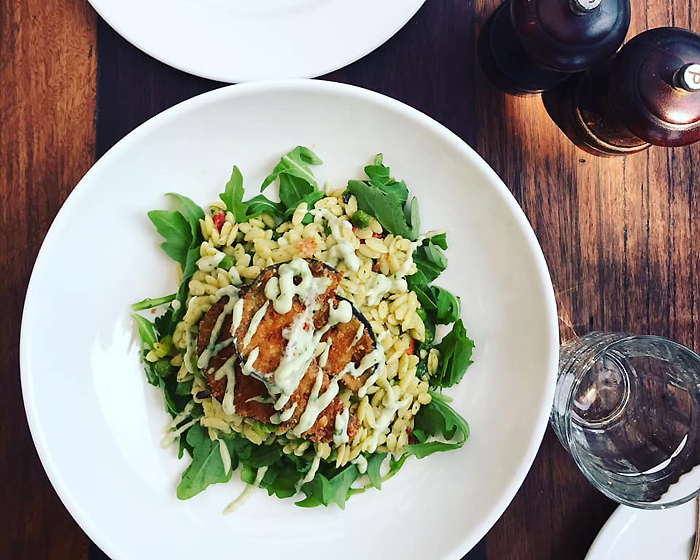 Risoni salad bowl with Parmesan panko eggplant and basil pesto cream at BKA Vegan, QLD.
Delicious and innovative plant-based food, prepared with love is on the menu at BKA Vegan Restaurant & Bar on the Gold Coast Highway in Burleigh Heads. With an acronym name meaning Be Kind Always, this restaurant is all about a healthy vegan lifestyle, changing the world one meal at a time, from its rustic venue where alfresco dining under a beamed patio sees balmy breezes from the nearby beach.
Grab an organic kombucha to wash down dishes like spinach and rocket salad, roast beetroot, sweet potato, capsicum, caramelised onion, seeds, crunchy polenta and rocket cashew cream; or a BBQ plate of fried pulled jackfruit, tortilla, crusted mushroom, potato salad, slaw, BBQ sauce and spicy mayo.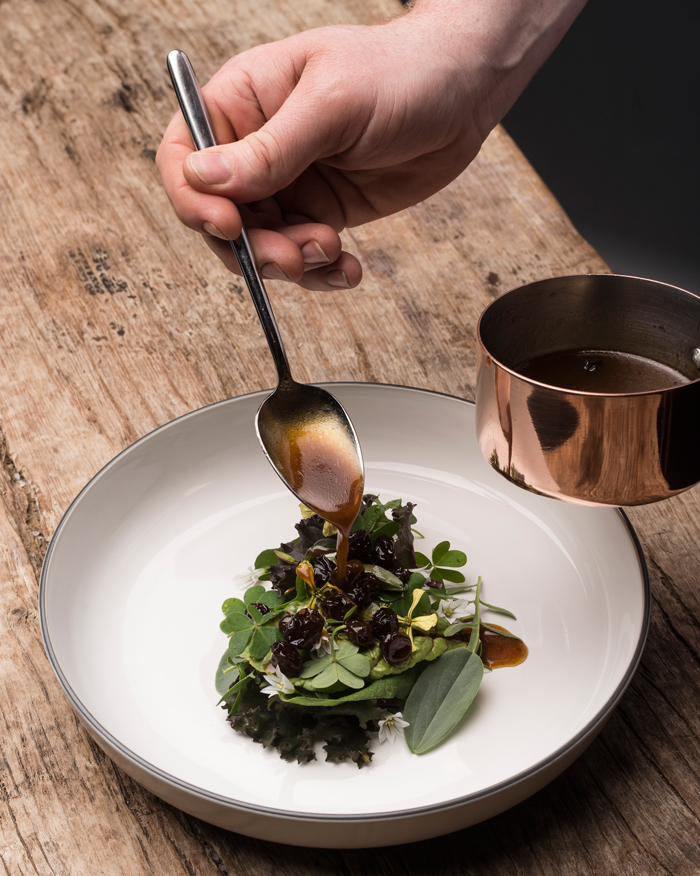 Farm greens and lamb salad at Hentley Farm, SA.
Eat Clean and Green in the Barossa Valley and Sevenhill:
Expect to taste produce wild grown on the estate, caught in nearby waterways and grown in the restaurant's own garden at Hentley Farm in Seppeltsfield. This award-winning establishment on the corner of Gerald Roberts and Jenke Roads, spoils guests with picturesque views, while the interior reflects the landscape with charming stone walls and timber logs, contrasted by glossy furnishings and a sleek bar.
With a choice of two set menus, guests are treated to a surprise selection of dishes each day – think plates like broccoli, razorfish, trout roe and kohlrabi; quail, artichoke, rhubarb and mint, or perhaps raw kingfish, Linke's mettwurst, almond cream, purslane and puffed wild rice.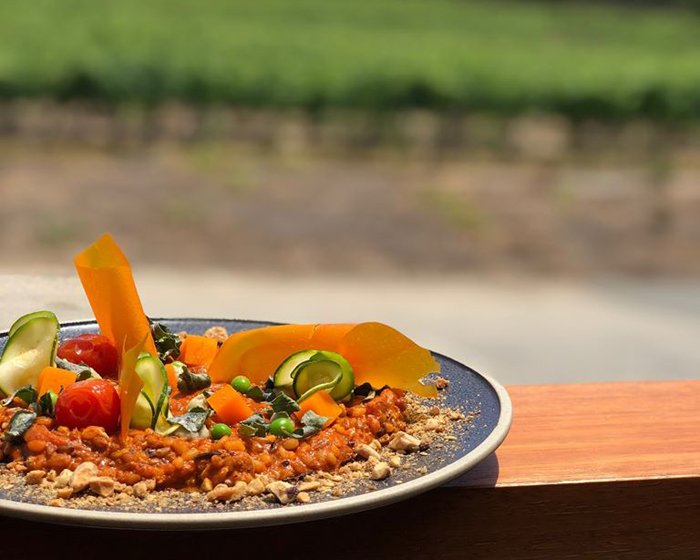 Ancient grain tagine risotto with tomato, pumpkin, broad beans, spiced nuts and fried saltbush at SLATE, SA.
At the heart of everything the Clare Valley has to offer, SLATE Restaurant on Polish Hill Road in Sevenhill delivers the taste of produce straight from the garden accompanied by Pike Wines. Boasting a contemporary design with traditional materials and colours of the historic vineyards, Slate creates a linger-worthy dining experience with views over vines from a full glass frontage.
Head Chef Max Stephenson – ex-MONA in Hobart – brings a farmer-to-Chef philosophy to dishes such as ancient grain tajine risotto, tomato, pumpkin, zucchini, spiced nuts and eggplant; or lamb collar, pumpkin, miso, sprouting broccoli, pencil leek, buckwheat and black garlic sauce. To finish, try apple tarte tatin, candied nuts and local blue gum honey gelato.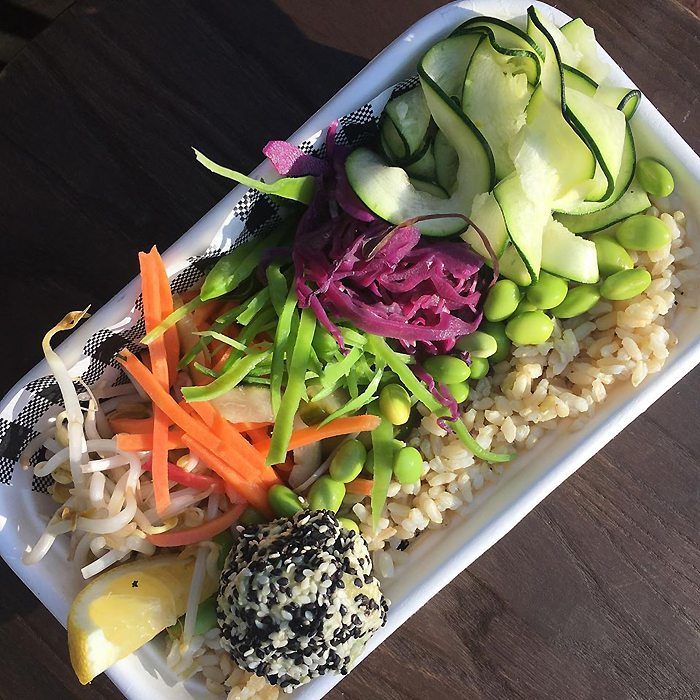 Buddha Bowl at Social Manna, WA.
Try These Clean, Green WA Eateries:
Forget the outside world and enjoy brunch fare with flair, created by Social Manna on Albany Highway in Victoria Park. Fun and quirky with a shabby chic interior, teaspoon collections, a gramophone and old kitchen beaters on the counter, this café encourages lingering over a coffee and oat and rice porridge arancini, saffron poached dwarf pears, rhubarb, pistachios and natural housemade yoghurt.
Opt for a lean and clean turkey focaccia with cranberry, baby kale, light mayo and Swiss cheese; or delve into the likes of a crispy chickpea coated cauliflower bowl, with beetroot hummus, labneh, herb salad and dukkah spiced puffed quinoa.
A designed system from paddock and fields directly to your plate ensures only the finest, healthy and sustainably sourced ingredients are served at Kapitol Kitchen on Wanneroo Road in Wanneroo. Newly opened, Kapitol is Western Australia's first gluten and refined sugar-free restaurant with dairy-free and vegan-friendly options also available, in industrial surrounds with warm textures and eye-catching interior pieces.
Lunchgoers may be tempted by a pulled pork and brown rice bowl, salsa, cucumber, black beans and celery; or a veg halloumi salad of zucchini, eggplant, peppers, sun-dried tomato, spinach, pesto aioli and sweet potato fries. Those with larger appetites may decide on grilled barramundi, potato rosti, quinoa, lentils, tabouli, mint and garlic yoghurt.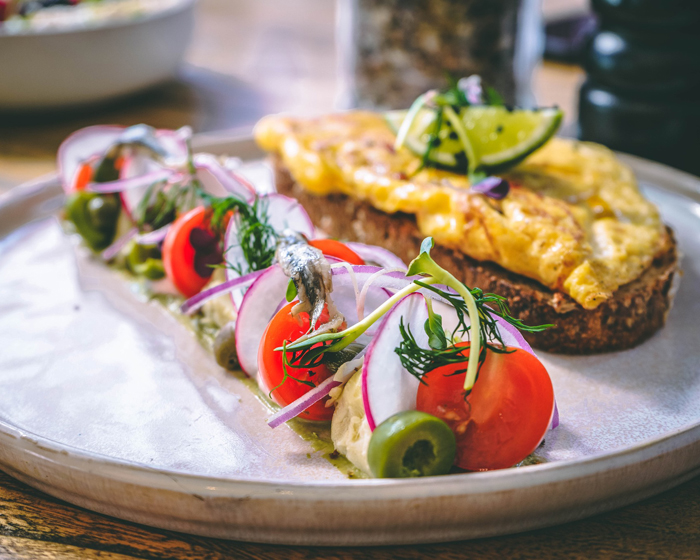 Mediterranean Blue Swimmer Crab omelette at Gather, ACT.
Green Eating in Braddon:
A café by best friends for best friends, Gather on Mort Street in Braddon is an expression of freedom, a place of culture and a mecca for clean eating. Gather with friends and family to catch up over a specialty coffee at this lively café, where dusky pink walls, trailing greenery and white subway tiles set a casual vibe for chilling out.
With a sustainable, local, healthy and community-driven menu, tuck into all-day dishes like a Spring bowl of fermented cabbage, asparagus, hummus, brown rice, quinoa, pumpkin, edamame, poached organic eggs, crispy corn kernels and tahini lime dressing. Perhaps a veggie quesadilla stack of black beans, pumpkin, avocado, jalapeno salsa, cashew cheese, pomegranate and herb coyo, salsa fresca and coriander will tempt those with larger tastes.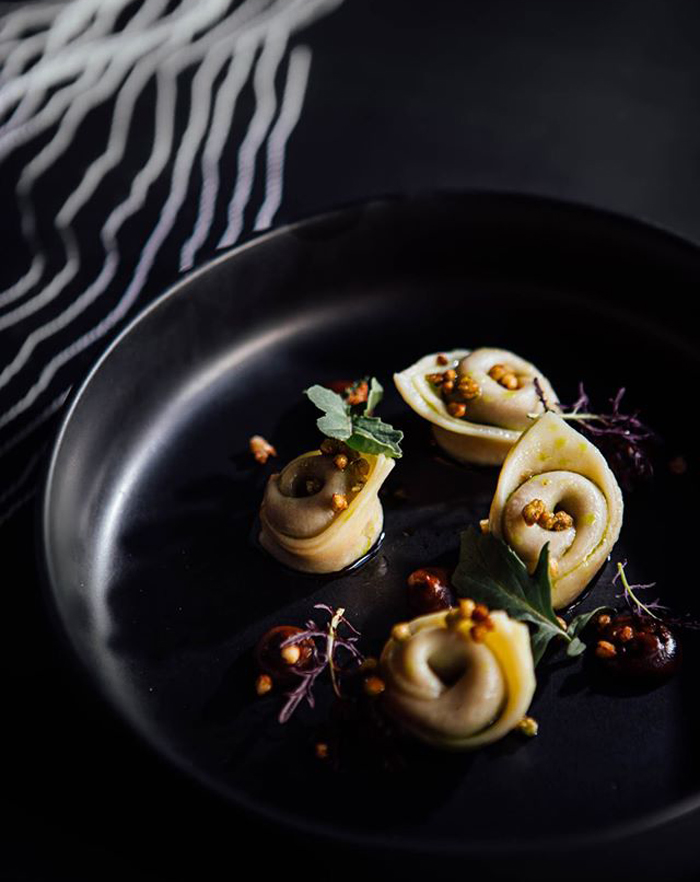 Super mushroom ragu at Bitten Goodfoods, ACT.
Good food for good times – everything from a smoothie to a Sri Lankan curry – is what you will find at Bitten Goodfoods on Lonsdale Street in Braddon. Upgrade your mind and body through food at this new generation supermarket, located on the ground floor of the Palko building, where the Bites Bar has a clean, bright vibe of green tiles and ruby-red couches, ideal for relaxing out with a kombucha in hand.
Early diners may choose a Bitten bowl with seasonal organic vegetables, avocado, macadamia feta, kraut, hemp dukkah, quinoa and wild rice falafels; while those dropping by later can delve into a super mushroom ragu bowl with black rice noodles, black garlic oil, cashew Parmesan, chilli flakes and a soft poached egg.