By Leigh O'Connor.
"At the very heart of Tassie's appeal and success lies the wonderful people who call this place home. Their friendliness and charm are noticeably different from what you would encounter in the bigger cities of Australia and their dedication and passion towards their niche interests is total." – Philip Kuruvita.
When Philip Kuruvita left Sydney to move to Tasmania more than three decades ago, people were perplexed as to why he and wife Vicki would relocate to such a remote place.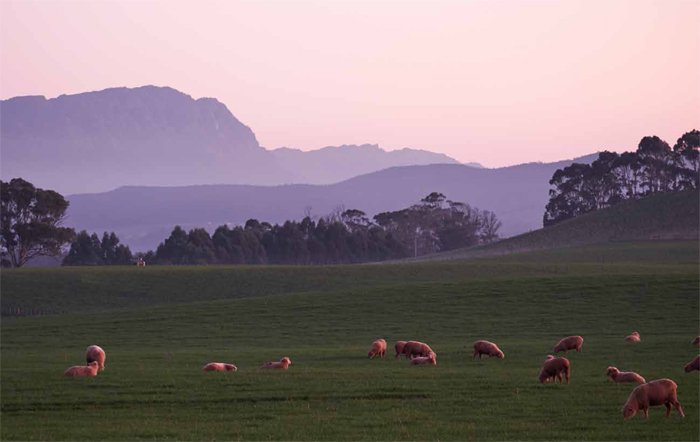 Sassafras, Tasmania.
They were told by friends they would never be able to afford to move back to the mainland and the world would pass them by. In fact, nothing could be further from the truth and in their 10th book, Eat Drink Love Tasmania 2 the couple presents a travel and food guide to all things the island state has to offer.
"Whether they are growing the best oysters in the state or foraging for the best bush tucker available in season, each of the people involved in this book shares one thing in common: they are dedicated to producing the best possible experience for their customers," Philip explains.
"In the the first edition, I said my aim was to produce a book that would act as a field guide to an awesome trip around Tassie. If you get to experience, taste and enjoy half the things in the book, you will have a trip to beat all others."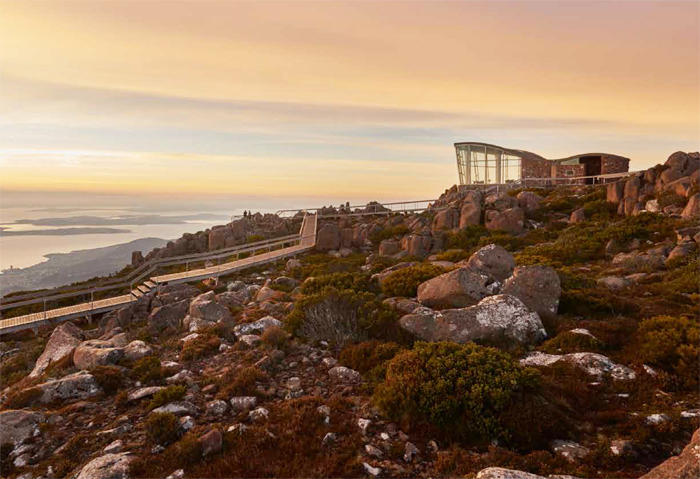 Mt Wellington, Hobart.
Philip says the new edition has the same aim – for the Tasmanian traveller it offers places to visit, who to talk to and what to try.
"There are beautiful beaches in many places around the world, there are great mountains, idyllic villages and historic towns all over the globe. There are also great restaurants and dedicated farmers, but there are few places anywhere that have all these things, plus unspoiled wilderness, clean air and stunning scenery, all within a couple of hours' drive of each other.
"You can visit great mountain ranges one day, spend the night in a luxury apartment in the city complete with fine dining restaurants and then the next day be on pristine white beaches, where it feels like you are the only person there (often because that is exactly what you are)."
Philip says the book is an eloquent answer to all the questions as to why he and Vicki relocated to Tasmania and why they would never move back to a large city.
"It shows exactly how the world, rather than pass us by, has come to visit and enjoy, just for a short time, the benefits of this place we now call home."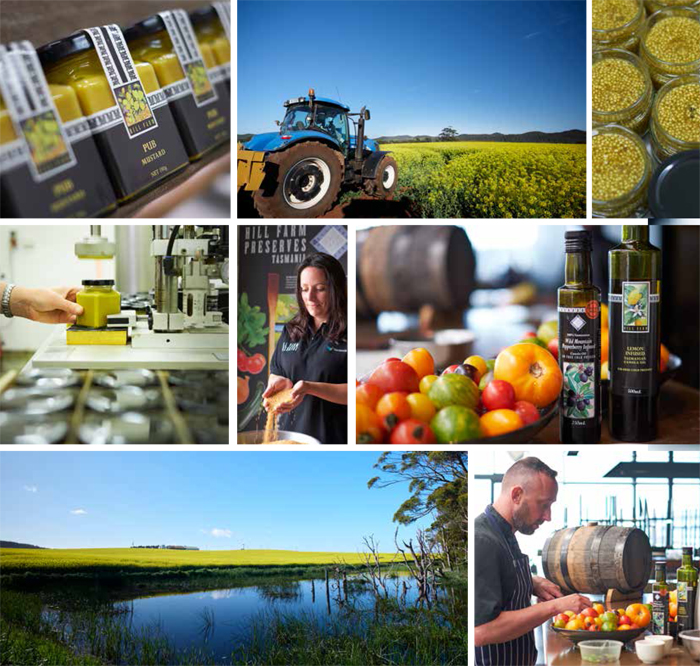 Hill Farm Preserves.
Let's start on the North-west coast of the state at Hill Farm Preserves, located at Sisters Creek this company makes artisan condiments and preserves from natural ingredients, without artificial colours, flavours or preservatives.
The Hill Farm Kitchen sits in the middle of the farm, which grows GM-free canola and Tasmania's only yellow mustard seed crop, which features heavily in the product range.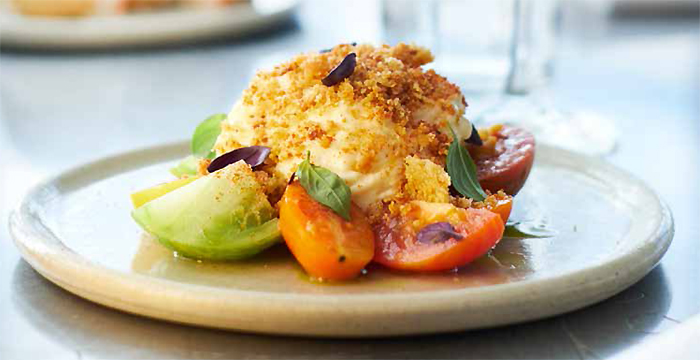 Heirloom tomatoes with Pyengana foam, pub mustard and pangrattato at The Glass House.
One restaurant to use Hill Farm products is Chef-hatted The Glass House, perched at the end of Brooke Street pier in Hobart, commanding stunning water views over the Derwent River. Their recipe combines quartered heirloom tomatoes with Pyengana foam, pub mustard and pangrattato to create a light and delicious salad.
Just 10 minutes from Devonport, The Berry Patch is a café and berry farm where you can experience both culinary perfection from the seasonal menu, as well as an authentic berry farm experience. Dine in and taste locally sourced ingredients such as pink ling fillet with butternut mash and beetroot sauerkraut; before heading out to 'pick-your-own' produce in the fields.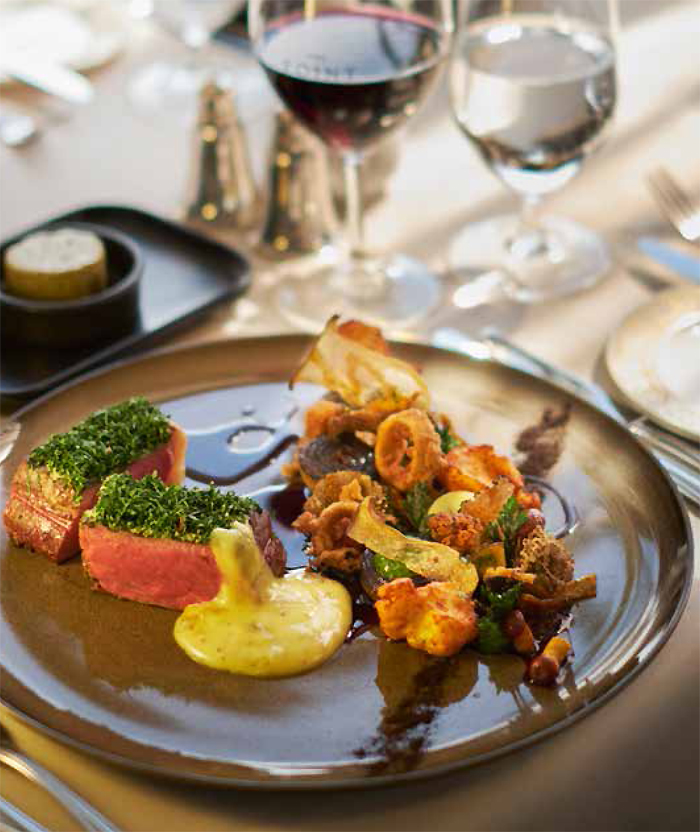 Aged Cape Grim Sirloin at The Point Revolving Restaurant.
Creating some of the most memorable dining experiences in Tasmania, The Point Revolving Restaurant has captured the hearts of thousands of diners, time and again. Sitting atop Hobart's tallest building with unbeatable views of the waterfront, this restaurant is well-known for classic signature dishes such as flambe prawns and this recipe for aged Cape Grim sirloin a la Diane with housemade onion rings, salsa verde, stuffed mushrooms and truffled Dauphin potatoes.
With beautiful photography by Philip accompanying each page of this book, Eat Drink Love Tasmania 2 achieves exactly what the Kuruvitas promised – a step by step guide to the best spots to enjoy all that the island has to offer.
The recipes are achievable for competent cooks to reproduce in the home kitchen, harnessing some of the finest produce that Tassie is known for and showcasing every inch of the Apple Isle – this book will take pride of place on the kitchen shelf.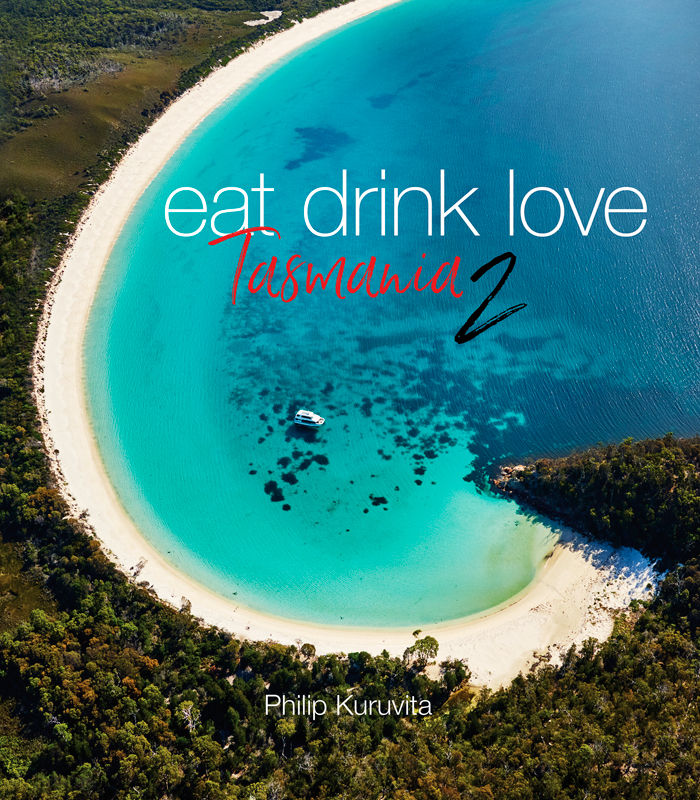 Recipes and quotes extracted from Eat Drink Love Tasmania 2 by Philip Kuruvita, published in 2019 by Philip Kuruvita Photography. RRP $49.95, available online at www.kuruvita.com.au.