"Bundaberg on a Plate" launches Bundaberg's inaugural Winterfeast event, July 4 at MODA.
Winterfeast Bundaberg runs July 8 – 18, 2016 showcasing a Gate to Plate philosophy.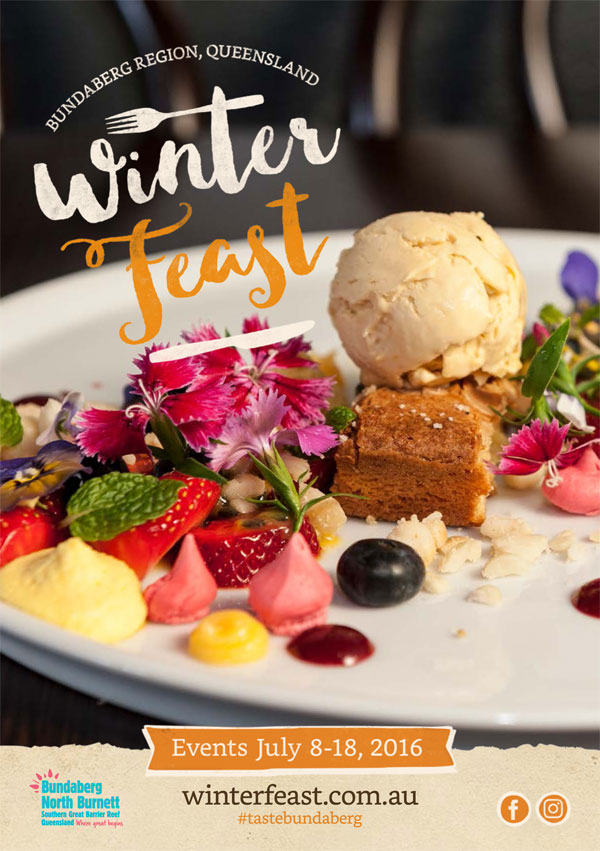 Passion. Love. Excitement.
Three little words that are rarely felt in their entirety. Although these words are an identifier of emotion, we scarcely feel such emotions at a festival launch, especially when one is "media."
Originally the thought of a Spanish focussed restaurant launching a farmer focussed event like Bundaberg's Winterfeast was 'eyebrow raising,' it wasn't until we were at the event that we saw why MODA had been chosen. Chef hatted Javier Codina absolutely loves fresh produce, it reminds him of his home town, his way of life and the way we should all lead our lives. So when Amanda Hinds (chef and owner of Bundaberg's Indulge restaurant and innovator of Winterfeast) carted down three fresh suckling pigs to MODA – Javier just couldn't resist.
The restaurant was full to the brim with farmers and producers as well as media, public guests (foodies), Bundaberg government representatives and tourism agents. A collection of people all together for one thing: to showcase the fresh and delicious produce of the Bundaberg region. Between each course we heard from the farmers that produced what we were about to eat; from Simpson Farms (avocado), to Brent and Julie Attard (zucchini flowers and sweet potato) all the way to Lino and Wendy Brillante (Bullhorn Chillies).
We'll say it again, Passion. Love. Excitement. It rang out between each word spoken, it was felt enigmatically between the crowd and it was tasted bite after bite. It truly was Bundaberg on a Plate and for all those in attendance it was a faultless insight into Bundaberg's Winterfeast.
Check out what we ate on the evening below and make sure you make your way to Bundaberg this July! There are a number of events across the eleven days, see them here: www.winterfeast.com.au.
Course One: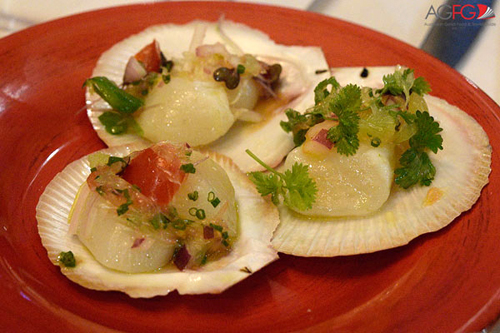 Scallops in 'Bundaberg Citrus Sauce Vierge.' Producer: Grunskes.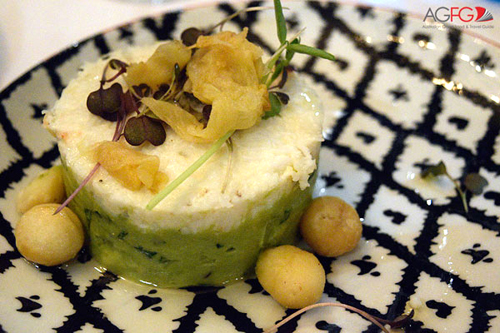 Avocado and Spanner Crab Rillette, Macadamia and Pickled Ginger. Producers: Simpson Farms - Avocado. Zadro Family, Pacific Gold - Macadamias. Ocean Pacific - Spanner Crab. Anthony and Kate Rehbein, Bunda Ginga - Pickled Ginger.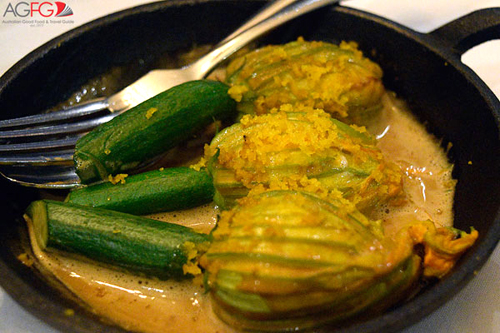 Zucchini flowers, Tiger Prawns, Mantis Shrimp and Bottarga. Producers: Brent and Julie Attard - Zucchini Flowers. Janette and Jo Tu, Bundaberg Prawn Farm - Tiger Prawns. Ocean Pacific - Mantis Shrimp. Grunskes - Bottarga.
Course Two: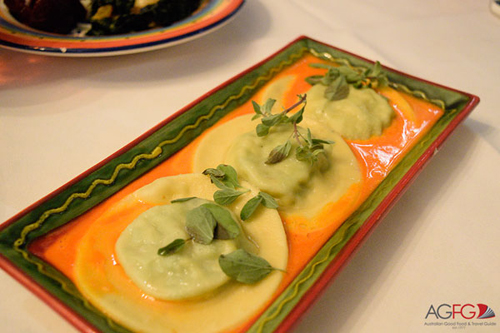 Green Pea and Mint Ravioli with Bullhorn Chilli Coulis. Producers: Dave and Meg Gelati, Rosengal - Green Peas. Lino and Wendy Brillante - Bullhorn Chillies.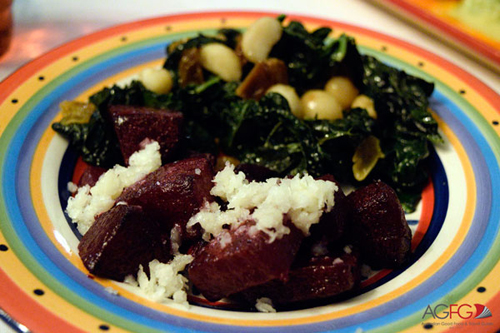 Caramelised Beetroot, Pecan Nuts, Tuscan Black Cabbage and Golden Sultanas. Producers: Darren and Julie Pratt- Beetroot and Tuscan Black Cabbage. Boyd and Michelle Chicken - Pecans.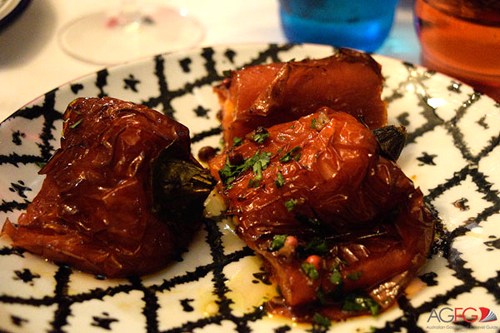 Fried Bullhorn Chillies with Anchovy Essence. Producers: Lino and Wendy Brilliante.
Course Three: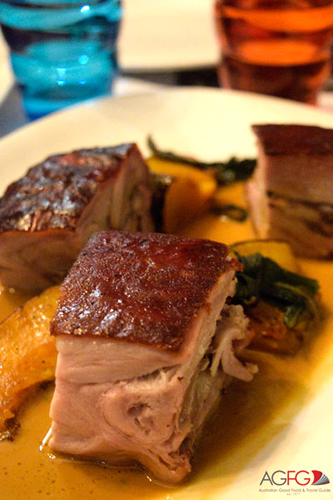 Roasted Suckling Pig with pumpkin, honey and sage. Producers: Chop Shop - Suckling Pig. Darren and Julie Pratt - Pumpkin and Honey.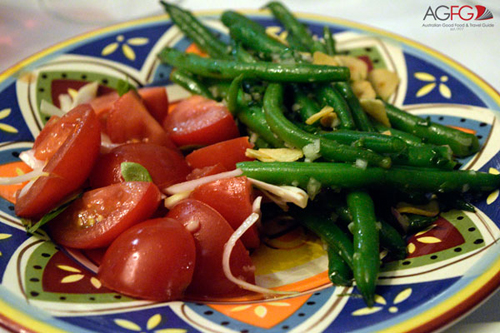 Amoroso Tomato Salad. Producers: Bill Shouten, Hestron - Bill's Beauties Tomatoes. Dave and Meg Galati, Rosengal - Green Beans.
Course Four: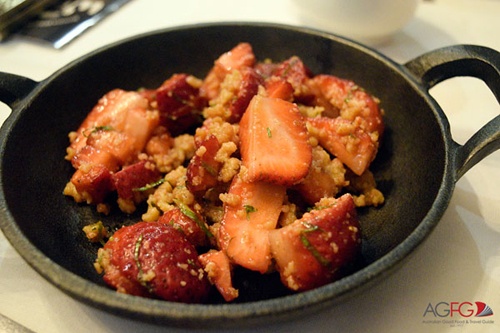 Strawberries and Vanilla Crumble. Producers: Tina and Bruce McPherson, Tinaberries - Strawberries.
Experiences by the AGFG Foodies. Photography by AGFG. AGFG was a guest of Bundaberg North Burnett Tourism and MODA restaurant.