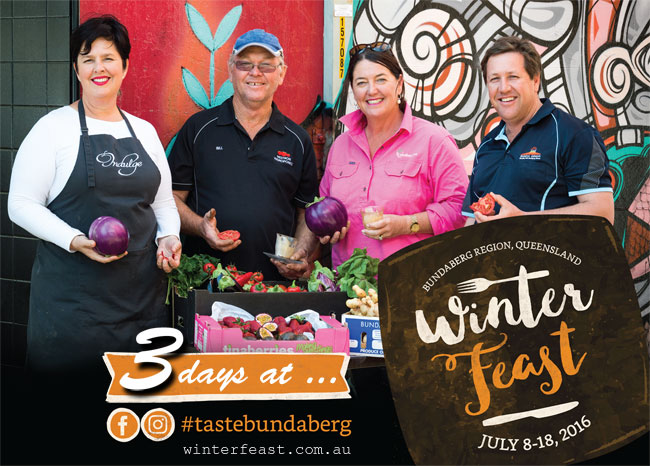 Follow AGFG as we spend 3 days in the bountiful region of Bundaberg for their inaugural 10 day food festival, Winterfeast. We'll be taking you direct to the farmers and producers behind the produce we eat at numerous events throughout our culinary journey. We'll be posting as regularly as possible, more can be seen on our instagram and facebook. For now, check out our article on Winterfeast's launch at MODA Brisbane.
Can't wait? Then check out Winterfeast's event list at: www.winterfeast.com.au
FUN FACT: Did you know 25% of Australia's food comes straight from Bundaberg?
Friday 2:00pm:
First stop on our whirlwind foodie journey is Bargara Brewing Company, one of the few breweries using rainwater caught straight from their tanks, this 9-month old craft brewery has blossomed into a drive to keep beer profits in Australia. Co-owner andagronomist Jack Milbank is taking the opportunity to teach all who listen that 86% of Australia's beer market goes straight into the pockets of Japanese brewer Kirin and British-South-African company SABMiller, which in Jack's words "just doesn't make sense." Currently, independent craft breweries like Bargara Brewing Co only own 3% of the market.
"We got to see that change, we should keep it Aussie, regional using regional produce so that the money stays in our communities and goes back into employing staff in our communities," said Jack.
There's a lot of chemistry that goes into brewing beer, right now Jack and his team are working on identifying individual strains of yeast from local macadamia farms so they aren't under the crippling monopoly if yeast strains from Belgian producers (who, mind you have been taking care of some of their strains since the creation of beer). This may take three to four years to form a usable product, but it will then separate Bargara Brewing Co from the rest of the craft beer market and give drinkers and dabblers more insight into not only the process but the way yeast can transform the taste of their beer.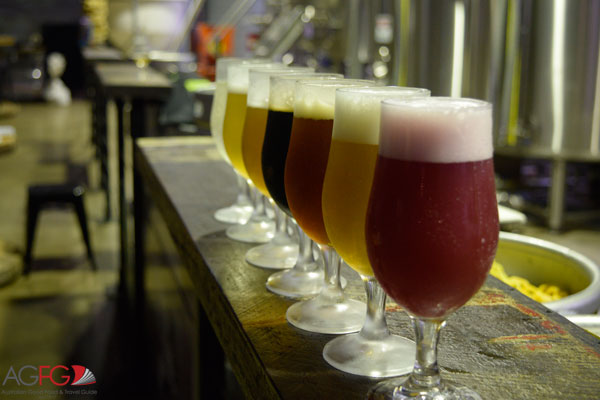 Bargara Brewing Company line up: blueberry beer (using local producers), sweet potato beer (using local producers), convict English IPA, Black Tail, Drunk Fish (pale ale), Thirsty Turtle (a favourite of Pete Murray's) and pineapple cider. Check out their stockists near you.
Friday 7pm:
From brewing to Parisian Chic, AGFG is off to Indulge Cafe's 'Midnight in Paris' event at Fairymead House. Tantalising guests with Pissaladiere, goose and croque monsieur to the largest zucchini flowers you've ever seen, no expense was spared by Amanda and Larry Hinds in creating a one off night to remember - much like the movie with the same name. If we could remain in the utter indulgence and frivolity of the night we would have - but alas back to The Point Resort for a good nights rest before a full on day at the farms tomorrow.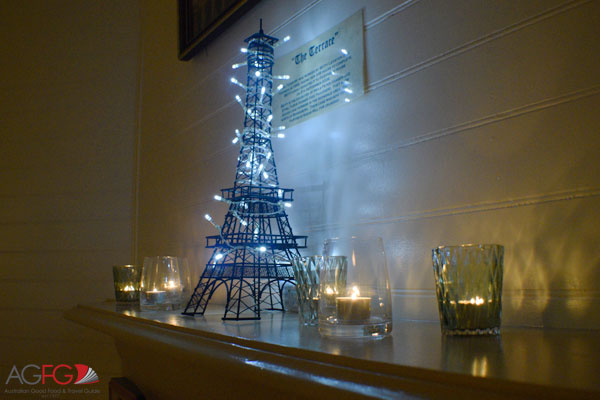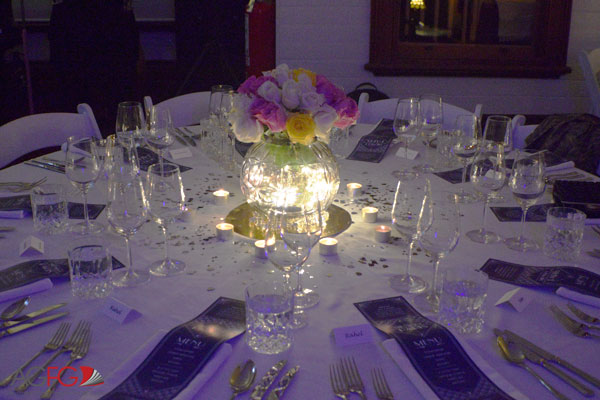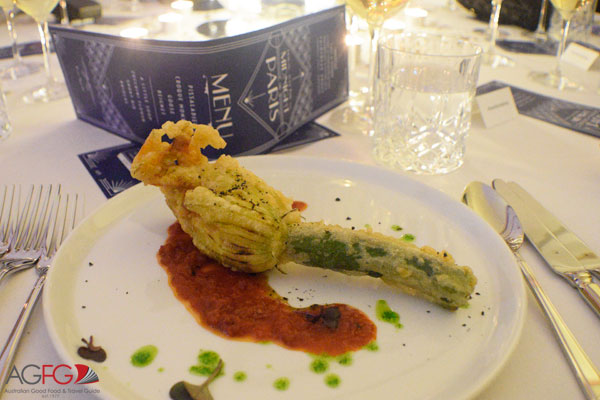 Zucchini flowers grown by Brent and Julie Attard, battered with Bargara Brewing Company beer, filled with a Bundaberg black Tiger prawn mousse and a Bill's Beauties amoroso tomato ragu.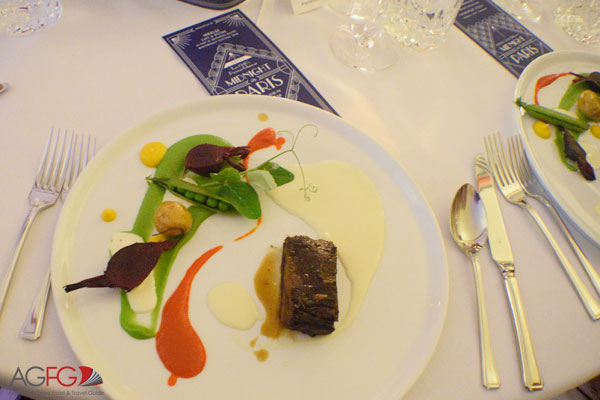 Short rib beef from Burnett beef, with Rosengal beans, Hummock potatoes, beetroot and a buttermilk reduction, beautifully plated in a true representation of the Bundaberg region.
Saturday 9am:We began our day at Saskia's, a cafe nestled in behind a gift and homewares shop - it's a one stop shop for coffee, fashion and food for Bundaberg's locals and on a Saturday morning, there was barely enough room for all the excited patrons. We filled up on a hearty breakfast before hitting the road to Windhum Farms, where Darren, Linda and Ethan Zunker proudly grow Bundaberg Gold sweet potatoes. Bundaberg Gold's sweet potatoes aren't cured like most on the market, they're delivered fresh to the consumer and hold up well in all methods of cooking - check out their site for a number of recipes from salads to carbonara.
FUN FACT: Did you know that Bundaberg is Australia's largest producer of Sweet Potato?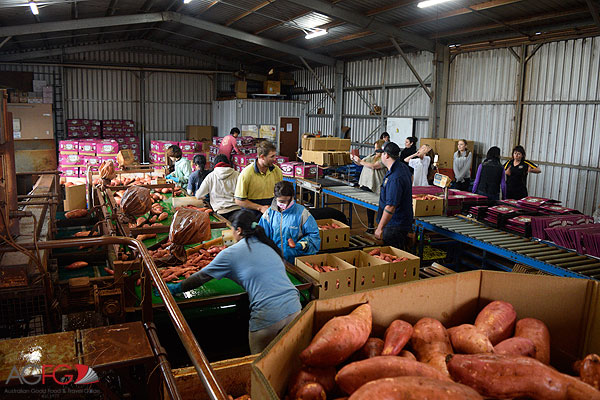 All hands on in the warehouse on a Saturday morning - trying to get as much fresh produce out to consumers before the rain in the region begins to affect the quality of the sweet potatoes.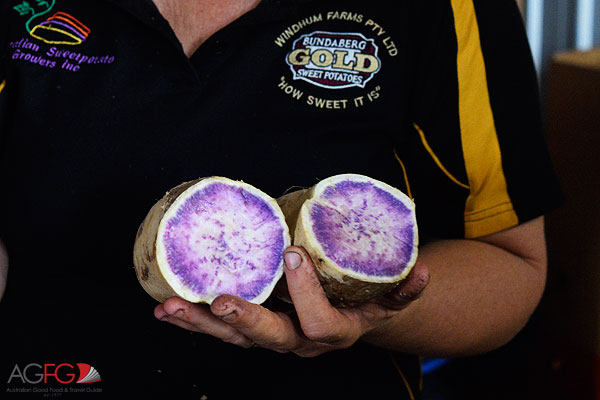 Linda Zunker holding a sliced "purple-white" sweet potato.
11am: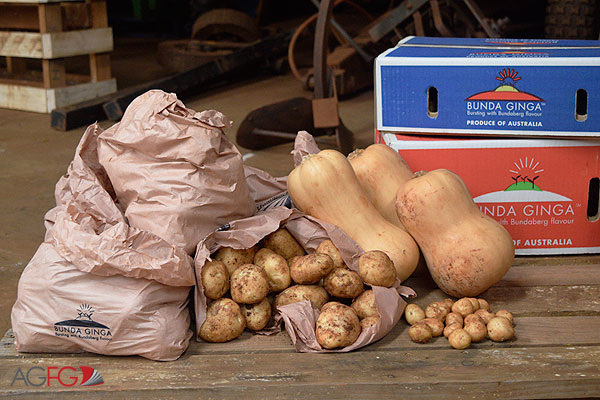 Hummock Produce.
From sweet potatoes to Bunda Ginga, we meet with Anthony and Kate Rehbein who also own Hummock Produce. Anthony is a fourth-generation farmer that traditionally produced watermelons, pumpkins, potatoes and sugarcane before he decided to embark on a trial plot of ginger in the early 2000's. Anthony has been the President of the Ginger Association of Australia for the past three years and earlier this year he stepped into the role of Chairman of Research and Development.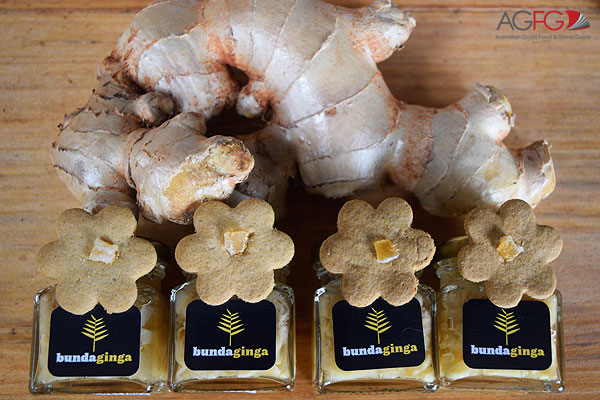 Bunda Ginga: ginger, pickled ginger and ginger cookies with ginger bites.
Bunda Ginga asks all Australians to taste the difference of home grown ginger in comparison to the numerous imports coming into the country, as they are hand grown, hand picked, hand packed and hand crafted right in the rich, fertile soils of the Bundaberg region. The Rehbein's have been so successful in their pioneering of the Bunda Ginga brand that they've been able to pursue it full time with the recent sale of their farm. Anthony is seeking the path of cultivating his ginger in a nursery so he can fully control the quality of Bunda Ginga as well as pursue alternative routes of production with products such as pickled ginger, ginger bites and ground ginger. Check out Anthony and Kate's story here and be sure to seek out Bunda Ginga for your next ginger fix.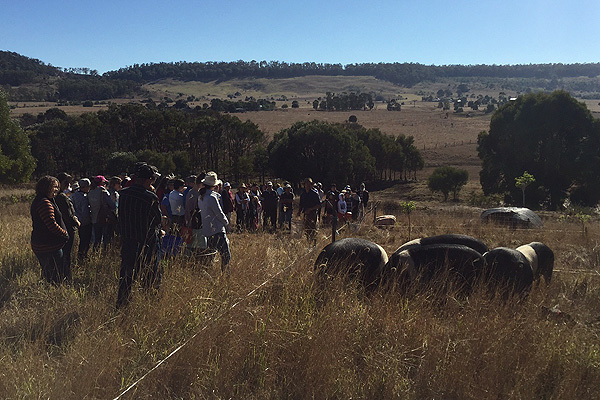 Gleneden Organic Farm.
Then from ginger to Gleneden Organic Farm and The Gleneden Bullock Team for an organic farm tour and a working bullock team display - matched with cooked on site dampers flavoured with local Boyne River Pecans and spread with Lava Valley Fig Jam from Ban Ban Springs. Nestled in the picturesque valley near Gayndah, Gleneden Organic Farm was started by brother William Valentine and Ernest James Morris over 100 years ago and four generations on, Rohan, Fiona, Eden and Jethro Morris are still practicing family-friendly, multi-generational, multi-species, locally focussed ethical farming on the same land. Valuing traditions of farming heritage Gleneden incorporates innovative sustainable and regenerative methods with the latest modern technologies as they grow, value add and direct market a wide variety of high quality food and fibre.
As the name states, the farm is chemical free and ethically produced with a gate to plate and farmer to consumer philosophy in mind. Not only do they produce nutritious food from well cared for and healthy animals, their food has a story and is directly available to the local and regional community. Focussing on quality rather than quantity of produce has allowed the Morris family to develop a sustainable farming model, regenerating the fertility and beauty in their rural landscape and ensuring that future generations will be able to work the land productively and with reward.
Re-establishing connections between urban consumers and rural producers is an important part of daily life at Gleneden Organic Farm. The property hosts family campers, grey nomads, tour groups, backpackers, schools and clubs for organic farm tours, working bullock team and bush skills displays, farm and kitchen craft workshops, bush adventures and on farm produce sales. Gleneden Organic Farm is open daily for camping, farm tours and group bookings for displays. The farm hosts a Working Bullock Team Display and Organic Farm Tour with Camp Oven Damper and Billy Tea on each 2nd and 4th Saturday afternoon from Easter until the end of October. Check out their website for more information and bookings.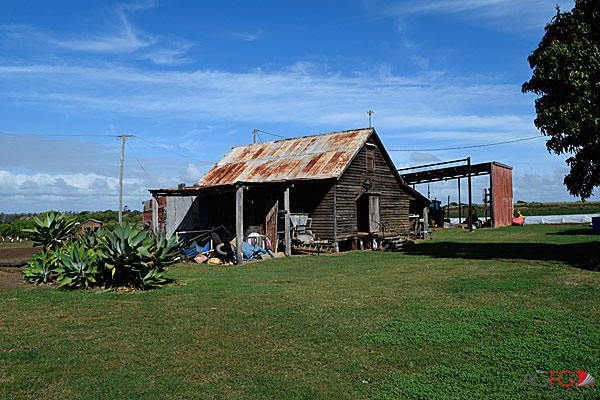 Tinaberries.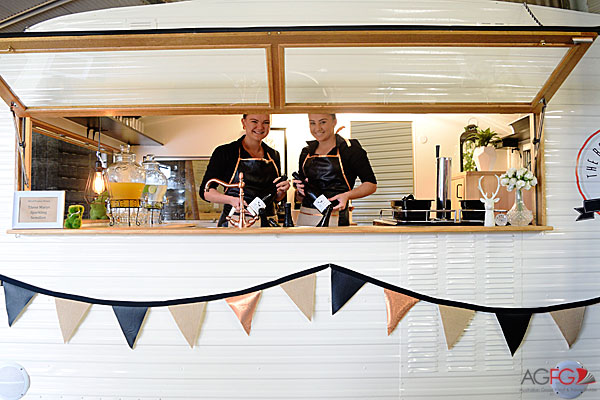 The Roll 'N' Banks Bar.
Straight from the farm into Tinaberries' packing shed for Women of Winterfeast, a celebration of the women behind the produce presented at numerous events across Winterfeast's 10 days. From strawberries, to dragon fruit, to limes, avocados, macadamias and sweet potatoes, caterer Tracey from local café Alowishus Delicious incorporated everything the region has to offer into a light lunch paired with Hill of Promise Winery's sparkling wine from local entrepreneurs Belinda and Cortney, who transformed a mobile vintage caravan into a bar on wheels.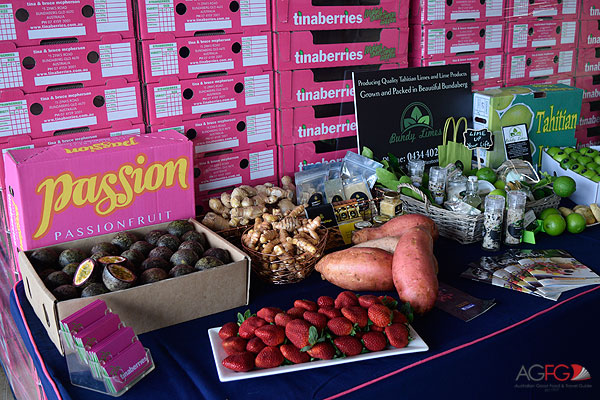 Produce on display from Linda Zunker, Windhum Farms, Linda Vickers from Bundy Limes, Anthony Rehbein from Bunda Ginga, dragon fruit from Bruce and Carol's Prickle Patch, strawberries and passionfruit from Tina McPherson from Tinaberries and one of the best XO sauces you've ever tasted from Bundaberg Prawn farm.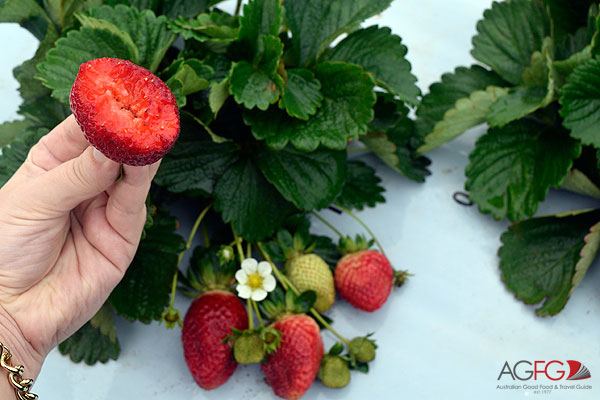 Pick your own Strawberries at Tinaberries during September.
6pm:
We arrived at Grunske's by the River for a Taste of the Bundaberg Coast with six courses highlighting the fresh seafood caught off of the Coast of Bundaberg, on the Southern Great Barrier Reef. Grunske's pride themselves in using the whole fish with as minimal wastage as possible and boasts that 98% of their stock is from local fisherman, while they do step outside of the region to seek out a few products such as mussels.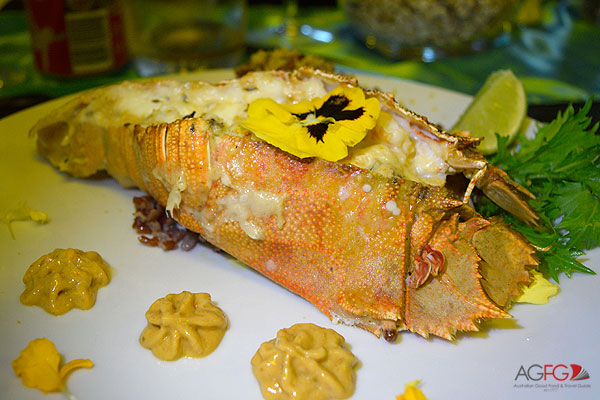 Local grilled Dijon Mustard whole bug on mustard leaves with a fresh avocado salsa, red cargo rice, bottarga and tomalley.
Ranging from the delicate flavours of mud crab and oyster mushrooms as well as whole shell scallops with white wine mornay and puff pastry through to the robust character of iron bark hot smoked Coral Trout and fresh squid ink seafood lasagne; there was something for all tastes and appetites during the evening.
Sunday 11am: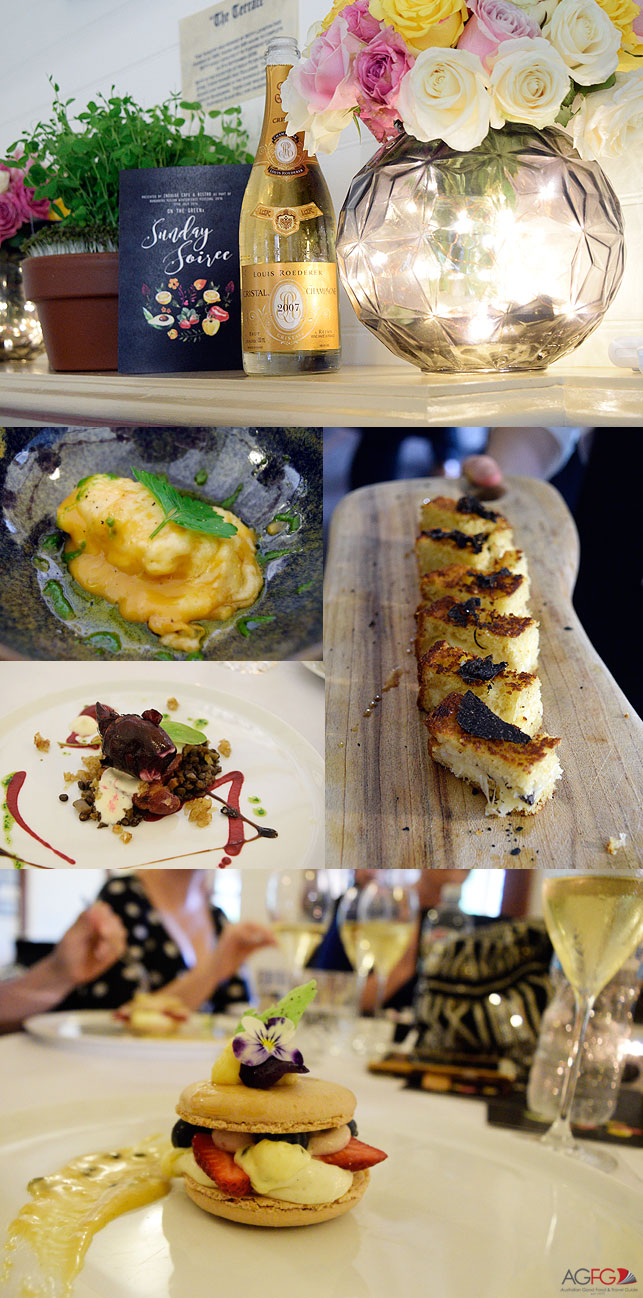 (Top to bottom, left to right): Louis Roederer, Cristal 2007. River prawn quenelle with prawn shell bisque. Truffle toastie (appetiser). "Beetroot" from Darren Pratt with Bundy Chop Shop speck and Boyne River pecans. "Berries" filled with Hestron Hydroponics (Bill's beauties) strawberries, Perfection Fresh blueberries, Tinaberries' passionfruit and topped with two-year-old black honey from Darren Pratt and a green poppy seed snap.
A leisurely sleep in was had before venturing back to Fairymead House for Indulge Café and Bistro's Sunday Soiree – the premiere event of Winterfeast. Owner/Chef Amanda Hinds presented a five course menu showcasing local produce alongside Louis Roederer champagne and words cannot describe the utter luxe and decadence of the day. Visionary of the Winterfeast festival, Amanda truly incorporated local producers not only in the culinary creations that were served but also through testimony between courses; AGFG happened to sit next to the Galati family who own the Rosengal label and specialise in handpicked beans and peas whose produce was served during course four and matched with a handmade duck pie. We were not alone however, with many locals and guests sitting among producers, speaking first hand between courses about life on the farm and the dedication that goes into producing fresh, quality produce.
It's likely that those who attended Sunday Soiree will leave the Bundaberg region with new-found rejuvenation and commitment to locally farmed and owned produce and Winterfeast will be the catalyst for a growing trend of educated diners.
Monday 7am: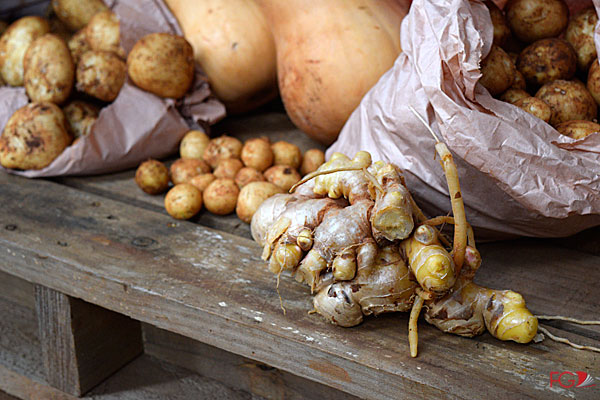 Late season ginger from Bunda Ginga.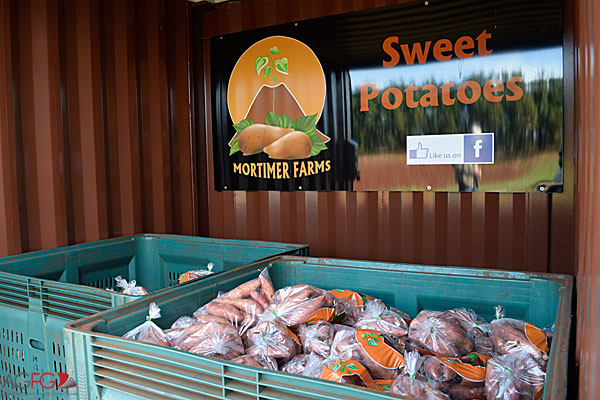 Mortimer's Sweet Potato.
Our last morning was spent on Suzie Clarke's Bundaberg Cooks Tour where we visited local producers, businesses and big-brand farmers in the area. It was Suzie's inaugural tour and it garnered a lot of attention from locals and tourists alike who were interested in meeting the farmers and to sight see the Bundaberg region. The gate to plate tour encompassed the businesses listed below and was a wonderful send off to our whirlwind tour of the Bundaberg region. Keep Winterfeast in mind for your 2017 travels!
Bruce & Carol's Prickle Patch Dragon Fruit Farm.
Water Street Kitchen (run by ex-BSKT chef Alex Cameron).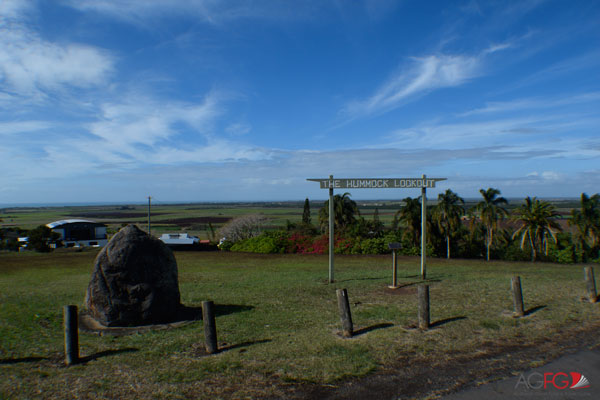 Check out our recommended restaurants in the area.
Experiences by the AGFG Foodies. Photography by AGFG. AGFG was a guest of Bundaberg North Burnett Tourism.