The chill is rapidly dissipating and our thoughts are turning to warm nights, best spent with friends over a barbeque and brew, with Saturday and Sunday mornings calling us back out to brunch.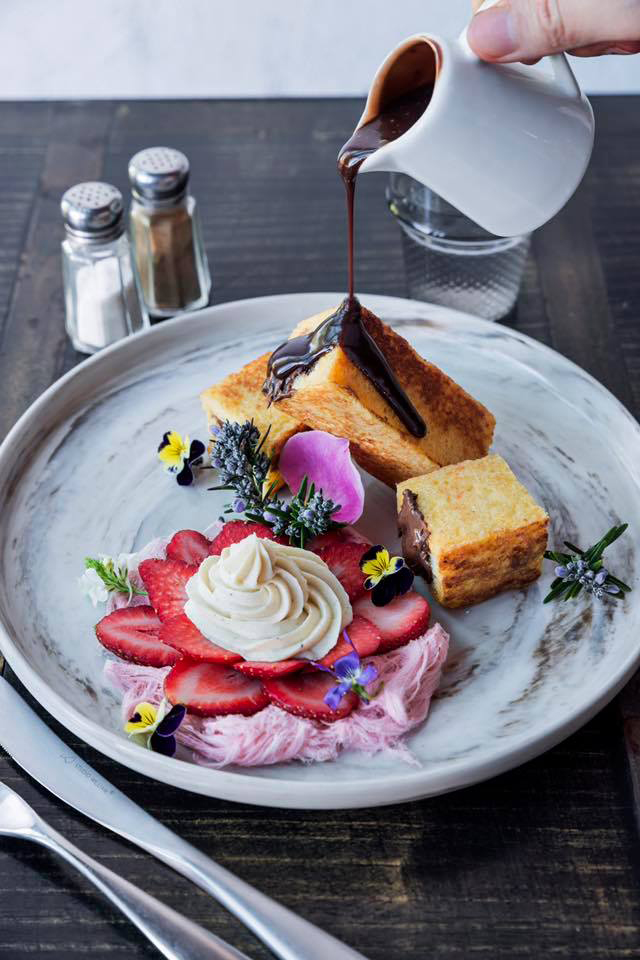 The Nutella Nest at The Local MBassy.
Spring is finally in the air, it's time to think of balmy days at the beach, or poolside with a cocktail in hand – we recommend a classic like an Aperol Spritz. It's also the time to venture out to your favourite restaurant now that months of Winter hibernation are behind us.
We're celebrating the change of season at these 16 restaurants with the promise of a long, hot, Australian Summer not too far off either!
Spring Spots to Dine in Toowoomba and Mt Coot-tha:
As Toowoomba's iconic flower gardens burst into Spring bloom, there is no better time to soak up rural views across the countryside and vines while enjoying great food, music and wine at Rosalie House Cellar Door Restaurant on Lavenders Road in Lilyvale. Housed in an old railway building, this country-style cellar door and restaurant oozes a relaxing vibe for chilling on the verandah with a glass of Rosé.
Mid-rare local lamb, pickled beets, quinoa, beans, mint, hazelnuts and Awassi labneh is an ideal dish to start a leisurely lunch; or perhaps Szechuan calamari, cabbage slaw, black garlic and lemon will tempt tastebuds. As for the sweet stuff, indulge with Nutella mousse, chocolate soil, hazelnut, raspberry and Persian floss.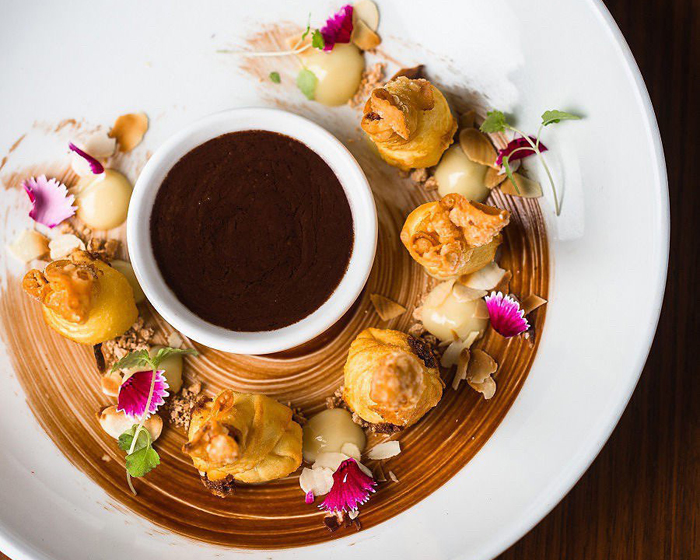 Crispy dessert wontons, filled with banana crepe anglaise and served with a chocolate dipping sauce at Summit Restaurant and Bar.
Panoramic views across Brisbane to Moreton Bay make Summit Restaurant and Bar well worth a Spring trip up Mount Coot-tha. Terraced indoor seating and an outdoor deck ensure every seat in the restaurant – set within the iconic Brisbane Lookout – captures stunning vistas during the day, while at night tables glitter with candles and the distant city lights.
Be enticed by starters of Hervey Bay scallops, oven-roasted in the half shell with goats' chevre, crisp prosciutto, olive oil and balsamic; moving on to mains like sticky slow-braised Black Angus short rib, with house hickory barbeque sauce and crunchy slaw. Steak lovers can slide their knife through perfectly cooked char-grilled Scotch fillet, with rustic fries and red wine jus.
Sydney and Berry, Spring Dining Destinations:
A maze of metal pipes, converted wine barrel tables and quirky vintage seats set the scene for Spring dining at The Local Mbassy café on Wattle Street in Ultimo. Drawing influence from an era gone by that charms crowds who meet and mingle over a bite in this bright and lofty venue, whether indoors or alfresco there's a spot to enjoy a red velvet latté or mint chocolate cream frappe.
Brunchgoers are treated to the likes of crab meat Benedict - poached eggs, fresh baby spinach and smoky tomato Hollandaise, on brioche bread; while crispy skin salmon, shaved fennel, orange zest and strawberry basil salad sounds like an ideal light lunch hunger buster. Don't forget a signature sweet treat like their Nutella nest with brioche, strawberries, crème fraiche and Persian fairy floss.
Perched along Queen Street in a quaint cottage with an alfresco atrium dining space, Hungry Duck Restaurant is a must-visit foodie destination in bustling Berry. With its own organic herb and vegetable garden on site, a seasonal menu is on offer in chic surrounds of polished wood, deep green walls graced with duck artwork and drop globes casting moody shadows over table settings.
Crispy duck spring rolls with honey sesame sauce and chilli ketchup are a given as a starter to set the tone for a Spring dinner to remember; before sashimi of Ora King salmon, mustard leek and nasturtium oil, while vegetarians opt for tempura zucchini with aged soy and citrus. Kaffir and Tahitian lime tart impresses as a cool dessert perfect for Spring.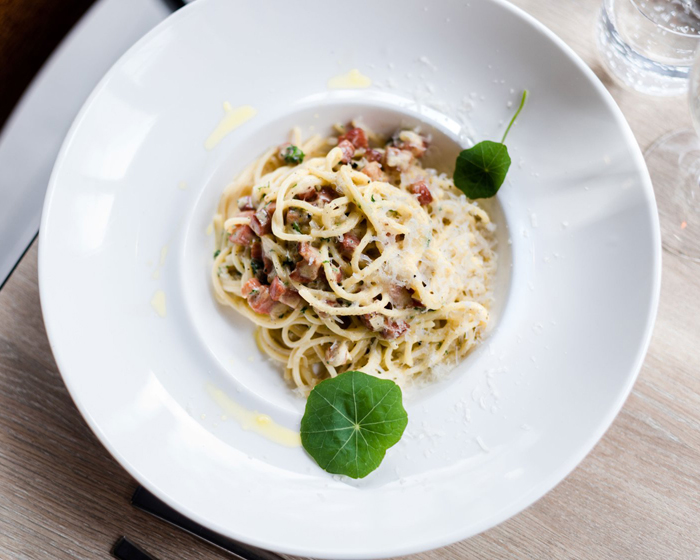 Trecento's famous carbonara.
Spring into Melbourne and Seymour Restaurants:
Launching the second bespoke cocktail bar and restaurant in her collection, interior decorator and designer Jane Gorman delivers The Advocate to discerning Balwyn winers and diners. Located on Whitehorse Road, this venue embraces the traditional English architecture within the community and is inspired by Jane's son Christian, who is in his final year of law school.
Guests can expect chic elegance such as black velvet high backed bar stools, dark walls, arched windows and subtle mood lighting setting a romantic ambience. Embark on a culinary journey with foie gras parfait, apple chutney and toasted brioche, before delving into kingfish, horseradish, fennel, apple, squid ink and sea herbs; while for the main, opt for chicken Ballotine, sunflower, Jerusalem artichoke and chickweed.
Just an hour from Melbourne and tucked into Seymour's picturesque Somerset Crossing Vineyard, The Winery Kitchen has quickly become a gourmet food destination. The vine-covered alfresco area is a balmy spot to enjoy a Mediterranean-inspired meal in the Spring sun, while sipping a glass of estate wine and contemplating the paddock-to-plate menu.
A starter of tomato bruschetta, topped with Spanish onion, basil and extra virgin olive oil sets the mood for larger plates to follow, such as warm gnocchi salad, kale pesto, crispy quinoa and seasonal vegetables. Pizza lovers can pick up a slice of Nduja – crumbled spicy Italian sausage, capsicum, San Marzano tomato, rosemary and mozzarella; or for the sweet tooth, Nutella pizza with Chantilly cream.
Canberra and Tharwa Spring Time Restaurants:
On warm Spring days in Canberra, perch alfresco at high black wire tables and chairs next to rustic wine barrels as big, bold Italian flavours waft from the kitchen at Trecento Restaurant on Flinders Way in Manuka.
Enter a simple, yet polished interior where a shiny white-tiled bar runs down one side of an almost open kitchen and large wood-fired oven, while authentic Italian is on the menu with antipasti offerings like truffle spaghettini, with tomato, basil and shaved grana Padano. For a main to remember, delve into linguine frutti di mare – a mixture of seafood, lemon, basil, cherry tomato, garlic and chilli.
Encompassing the historic Lanyon Homestead and rustic outbuildings to suit any occasion, The Barracks Espresso Bar & Eating House is a comfortably quick 30-minute drive from Canberra city, nestled among the lush greenery of country town Tharwa. Set within a working property, drop by during Spring for a cup of tea and scones in picturesque gardens, or choose something more substantial from a modern, yet colonial-inspired menu.
Delve into mains such as turkey breast roulade with pistachio, provolone and cranberry glaze, alongside beef sirloin, mustard and thyme jus. The Barracks is open for breakfast, lunch and coffee, while dinner is by appointment from Thursday to Saturday.
Spring Dining in Tasmania:
Fine Spring dining on Launceston's waterfront awaits at Mudbar Restaurant on Seaport Boulevard. Take in harbour views through sleek floor-to-ceiling windows, while sinking into dark chocolate toned cushioned seats under warm mood lighting or opt for aperitifs at the elegantly designed bar before perusing an innovative menu of Euro-Asian fused creations.
Dive in with an entrée of white fish ceviche, with lime, soy and chilli dressing, yellow curry and black sesame custard; before hooking a main of crisp Scottsdale pork belly, bok choy, roasted peanut sauce, Thai basil, herbs and cucumber salad. Orange miso curd, with mango, strawberry, mint and scorched meringue sounds like an ideal sweet finish to a memorable meal.
As the sun sets over the canal, take time to relax and soak up water views at Driftwood Restaurant on North Terrace in Lauderdale. This elegant restaurant is all about sleek lines and a trendy vibe – think wood floors and ceilings matched with grey furniture and dark walls to create a calming ambience, whether stopping by for weekend brunch, or a romantic dinner.
An ever-evolving menu which changes almost as often as Tasmania's weather features fresh local and seasonal produce, as seen in dishes like steamed Spring Bay mussels, white wine, garlic, chilli, tomato, parsley and a slice of bread. Apricot and white chocolate cheesecake with apricot coulis may entice as a divine dessert to end a meal to remember.
Oysters at Maxwell Restaurant.
Mandurah and Joondalup Spring Dining Destinations:
Sprawling water views across the harbour invite diners to say ahoy to Spring at Quarterdeck Dining on the Palladio in Mandurah. Named after the designated reception area on a ship, Quarterdeck is a place for friends to meet and enjoy a light-filled modern dining and alfresco area, while enjoying innovative Mod Oz fare from morning to night, from a menu filled with locally sourced ingredients and produce.
Perhaps drop your anchor with a seafood plate for two – garlic prawns, smoked salmon, seared scallops, pickled octopus, Kuro prawns, ciabatta toast, lime and aioli dressing – before a warm beef salad of marinated sliced and grilled steak, mesclun, cherry tomatoes, cucumber ribbons, capsicum strips and red onion, tossed with Thai dressing and rice noodles.
Unwind on a warm Spring day on the breezy alfresco area and take stock of tranquil views of the lagoon-style pool at Bistro 38 nestled inside Joondalup Resort Hotel on Country Club Boulevard. Surrounded by lush greenery and bushland, expect to taste exciting dishes in a sophisticated, elegant setting alongside an extensive wine list of Western Australian varieties.
A seasonal menu boasts a selection of traditional and contemporary plates, in the form of seared scallop and pancetta pops, pear and vanilla puree and chilli cashew crumble; while mains present like char-grilled eye fillet, truffled mushroom cream sauce, fries and steamed greens, or Coca Cola pork ribs, apple and chipotle slaw, with battered onion rings.
Spring into these McLaren Vale and Flat Restaurants:
An ideal place to enjoy a lazy Spring weekend lunch after a morning spent exploring McLaren Vale, head for Maxwell Restaurant on Olivers Road. Located in the Maxwell Winery estate, perch yourself on the deck and admire the luscious green vineyard views with a glass of award-winning Shiraz in hand, while pondering a menu of dishes effortlessly matched to cellared estate wines.
From the cellar door menu perhaps choose torched sardines, tomato, pickled onions and barilla, or barbequed Port Lincoln octopus, burnt butter, spring onions and soy; while restaurant offerings include beef cheeks, celeriac and hazelnut, or chicken, lime cave mushrooms and paprika. Raspberry parfait, coconut sorbet and macadamia nougatine will satisfy sweet tooth cravings.
Encompassing Mod Oz dining amid a quintessentially native Australian backdrop, Woodstock Coterie Restaurant sits among towering, century-old gum trees on Douglas Gully Road in McLaren Flat. The semi-circular building creates the feeling of an ambient atrium, while inside earthy tones walls and glass doors add to a rustic, yet modern setting as diners admire surrounding gardens and shrubbery.
Indulge in small plates of Southern King prawns, grilled with cultured miso butter and sambal, served with puffed rice, mandarin and a garden herb salad; while larger dishes of confit free range pork belly, scallop, Jerusalem artichoke, onion shoots and chicken glaze will satisfy ravenous cravings. If room to spare, try chocolate and miso fudge, chewy pear, sesame crisp, wattle seed mousse and parsnip ice cream.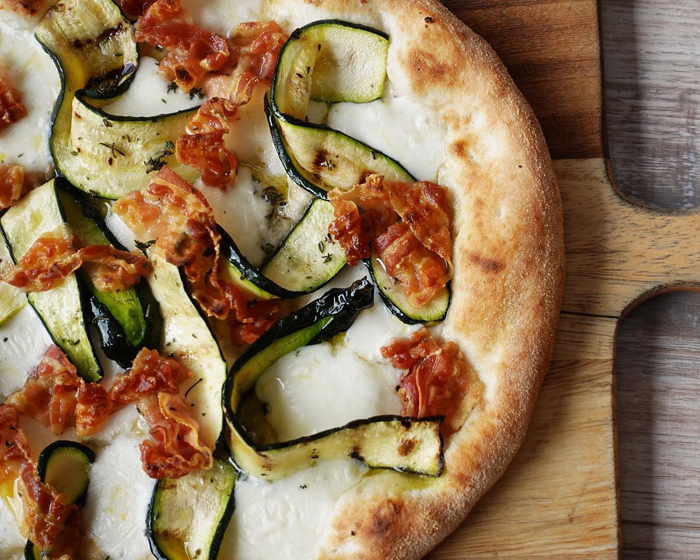 Crispy pancetta with grilled zucchini, mozzarella and thyme at The Winery Kitchen.
Spring Dining in Darwin and Casuarina:
Dazzling Spring water views of the lagoon and harbour create an ideal ambience to unwind in sophisticated surrounds at Darwin's Wharf One Food & Wine on Kitchener Drive. This contemporary waterfront establishment offers a haven from the humidity and heat that is the Northern Territory, with an impressively stocked bar tempting those with a thirst for tantalising beverages.
Specialising in wood grill cooking using the freshest seasonal local and Australian produce, expect small plate temptations such as gin-cured Atlantic salmon, lemon crème fraiche, flying fish roe, nori and fennel; while those with larger appetites can delve into the likes of a seafood platter to share – bay bugs, prawns, barramundi, local market fish fillet, wood grilled squid, tartar and a choice of two sides.
Discover the hidden gem of Le Bistro Rakuya on Trower Road in Casuarina, where something a little different awaits on the plate. Located in Casuarina Shopping Centre, this modern French and Japanese fusion restaurant has been styled in a simplistic and contemporary fit-out, using a palette of soft grey tying in with blond timber furniture, potted natural greenery and colourful cushions for an idyllic Spring dining destination.
Street bites like Takoyaki crisp octopus balls, lime mayo, seaweed and bonito entice to start, or perhaps salt and pepper calamari on a tropical salad of cabbage, carrots, cherry tomato, fresh herbs and tartar sauce. For a more substantial dish, chow down on a Rakuya bowl of teriyaki Wagyu beef rice with wasabi slaw, pickled ginger and sesame.