By Leigh O'Connor.
You know the scenario… a glass of vino in one hand and a tempting array of goodies on the table to get through. The question is how do you juggle eating and drinking with some form of decorum?
You need food you can eat with one hand! Finger food, also known as canapes, are tasty morsels that don't require a fork – and because of their size, you can taste a variety of food in one meal.
Finger food originates from the 1920s when during Prohibition in the United States, many Americans hid their drinking habits. When bars were shut down, they gathered together in basements to drink; to ensure people didn't leave inebriated – drawing attention to the secret saloons – hosts would serve small amounts of food throughout the night.
While we don't have to drink in secret anymore, the custom of serving finger food at bars and at parties at home is more popular than ever.
5 stellar recipes you need to try this party season: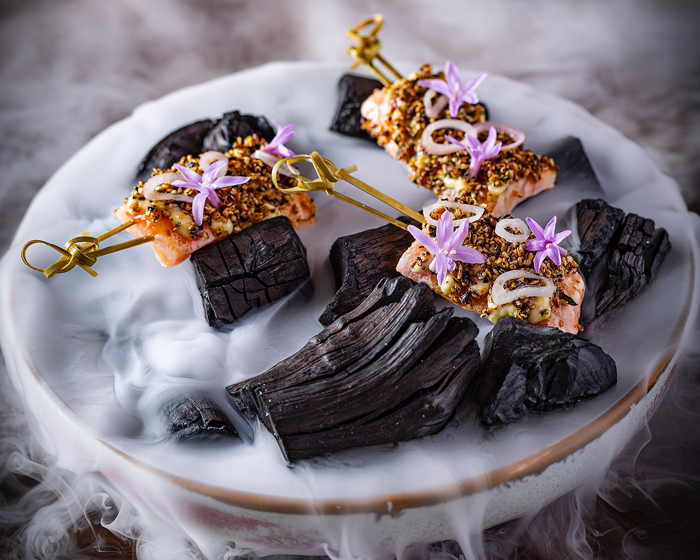 A colourful dish with Asian flavours that are as tempting on the plate as the palate,
char-grilled salmon belly
can be served as a canape or main. Embracing Japanese fusion ingredients of salmon, kale furikake, miso caramel and ginger mayo, this enticing finger food comes from newly opened
Miss Moneypenny's Broadbeach
.
One of the most anticipated restaurant debuts on the Gold Coast in some time, Miss Moneypenny's delivers cutting edge style and atmosphere driven dining from architecturally designed premises, taking inspiration from the original Noosa venue of the same name. Expect modern Mediterranean coastal ambience with a menu to match, plus house-crafted cocktails.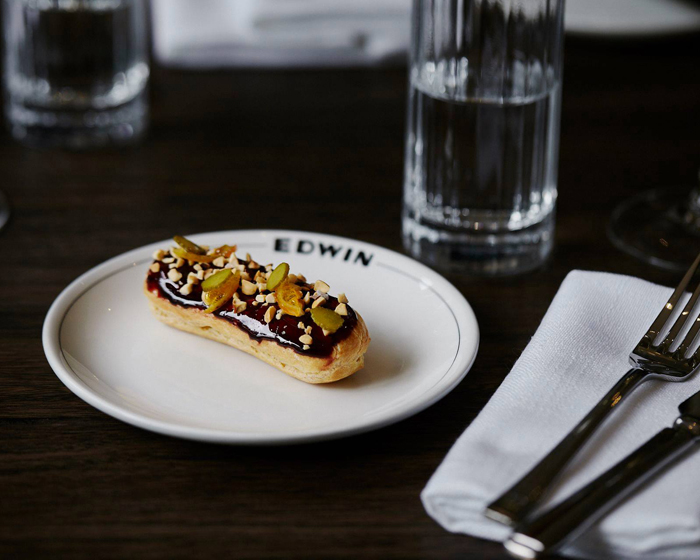 This is not your average éclair! Try these delicious
chicken liver parfait eclairs
with hazelnuts, cornichons and a Port wine glaze at your next dinner party and watch them disappear in front of your eyes. Don't be put off by making your own choux pastry, it's not as hard as you think, and the results are light, fluffy eclairs that can be filled with both savoury and sweet ingredients.
Edwin Wine Bar and Cellar
on City Road in Southbank, Melbourne offers this recipe as an example of what's on the menu at this fun and funky wine bar, which offers an escape from the chaos of the city with a warm welcome extending into the timeless and elegant cellar room – an ideal space for intimate dinners and corporate events.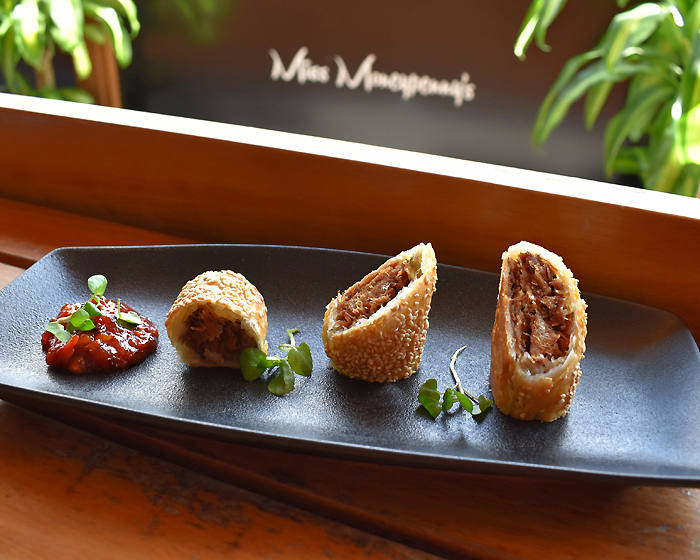 A distinctly Australian take on the humble sausage roll and sauce – using Brisbane Valley
quail and native bush chutney
- this is definitely the ultimate food you can eat with one hand. Quail is an acquired taste and could be substituted with chicken for those who are not fans, but be adventurous and try this version from
Miss Moneypenny's Noosa
.
The bush chutney is relatively easy to make and can be used as an accompaniment to any finger food, think a cheeseboard and crackers, or perhaps homemade party pies. Miss Moneypenny's on Hastings Street is the place to see and be seen in Noosa Heads, as diners lounge at leisure inside this semi-alfresco venue, in search of coffee, cocktails and tapas.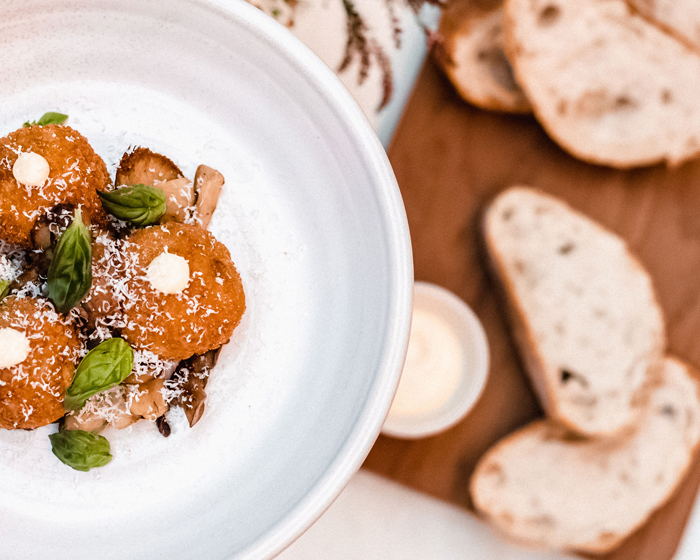 This
mushroom arancini
recipe is great as an entrée with mushroom ketchup and garlic aioli, or serve as finger food on a large plate, finished with grated ricotta salata, sautéed mushrooms, torn basil leaves and extra virgin olive oil. With mozzarella hiding in the middle of the golden fried rice, bite into these balls of goodness and be transported to Italian bars where food and wine go hand in hand.
A creation from Ballarat's grand dame, historic
Craig's Royal Hotel
presents a diverse collection of restaurants, bars and lounges to be enjoyed in a magnificent package of Victorian grandeur, whether relaxing with a paper, coffee and hearty country-style meal, or retiring for a drink in the Foyer Lounge.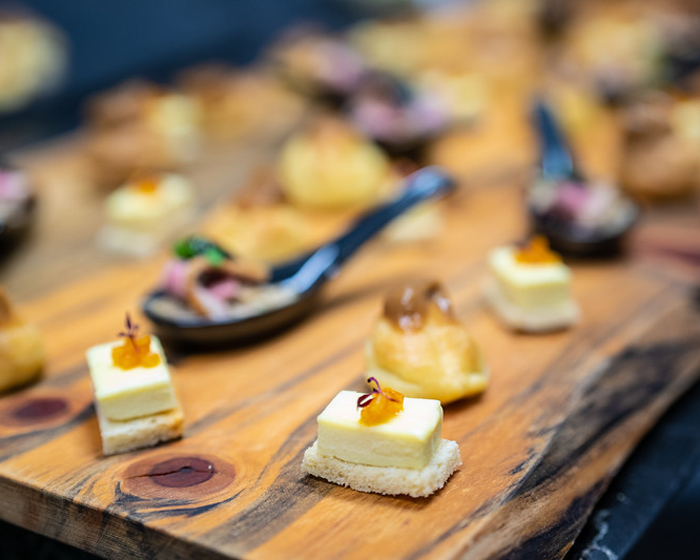 Creamy
goats' cheese panna cotta
with saffron candy apples, served atop crunchy croutons, are sure to be a talking point at your next dinner party or cocktail event. The texture of the panna cotta, combined with the crunch and sweetness of the cubes of apple, makes this an irresistible food to eat with one hand.
Sydney-based caterer and cooking school
Passion Ate the Chef
brings us this recipe from their extensive menu, showcasing food from canapes to sumptuous mains; whether you are planning a wedding, party, dinner or reunion, Passion can tailor a feast for you. With more than 20 years' of industry experience, personalised service is the core ingredient for your next event's success.