Come February 14, love is in the air and everywhere you look around.
Those crazy in love will truly, madly, deeply celebrate their feelings with champagne, hot air balloon rides, or just hanging out at home together on the couch.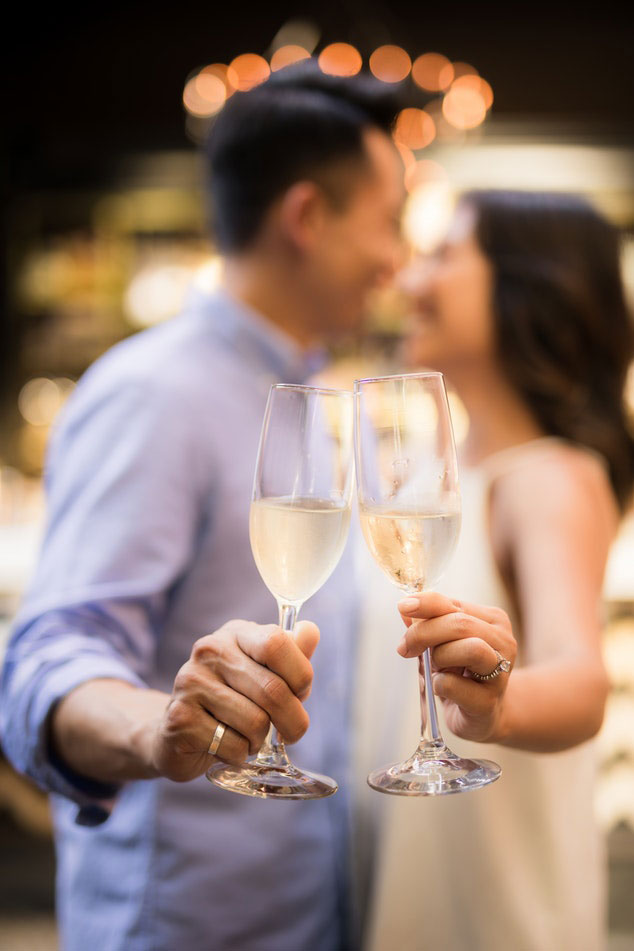 Valentine's Day with live music at Nostimo.
For those that want to make a statement this year with a romantic night out, don't just go anywhere, pick one of these intimate restaurants to get you in the mood this Valentine's Day.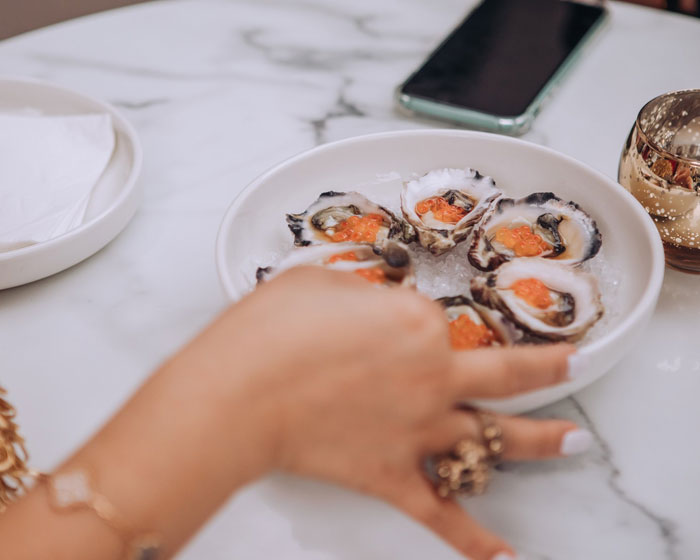 Oysters at Sergeant Lok.
Celebrate Love in The Rocks and Baulkham Hills:
Vow never-ending love to your partner in old Sydney Police Station, Sergeant Lok on George Street in the prestigious The Rocks precinct. Choose your cellmate for life in surrounds of red, moody tones embracing the building's rich past, while a central corridor leads to single and double holding cells from the 1900s, making for one of the most unique dining venues in Sydney.
Offering a special delivery from Cupid on February 14, indulge in a five-course Modern Asian menu with a glass of bubbles on arrival. Expect aphrodisiacs like Pacific oysters, salmon roe and black vinegar; before medium cooked Wagyu sirloin with fermented oyster mushrooms, while dark chocolate mousse and mulberry is sure to set hearts aflutter to finish.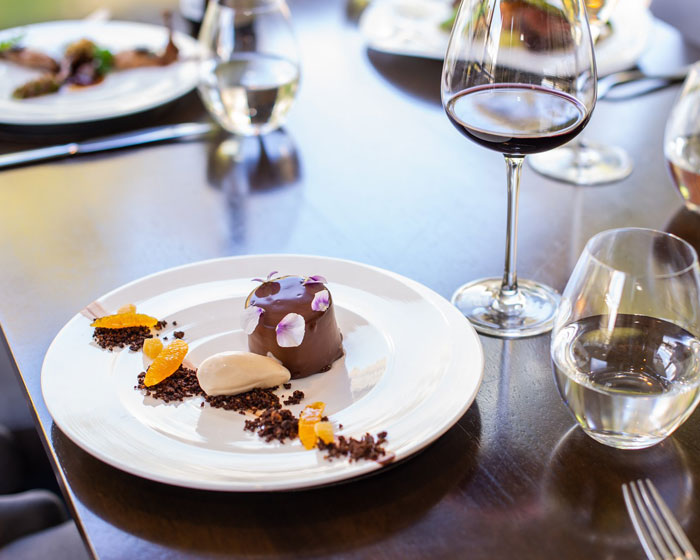 Chocolate and orange dessert flavours at Quoi Dining.
Elegant dining in moody surrounds fits the Valentine's menu at Quoi Dining on Century Circuit in Baulkham Hills. Located in the rapidly expanding Bella Vista restaurant precinct overlooking Norwest Lake, Quoi is a quaint destination with golden-hued lighting and understated simplicity, creating an intimate and romantic ambience.
Sip a glass of sparkling wine on arrival along with bread and ricotta, followed by entrees such as pork, crab and carrot, or scallops and cauliflower; while meat lovers will salivate over eye fillet and mushrooms for the main. Classic flavours of chocolate and orange ensure dessert will satisfy all those with a sweet tooth.
Queensland Romantic Spots for Valentine's Day:
Waterfront views and long-stemmed roses await at A Touch of Salt on Ogden Street in Townsville this Valentine's Day. Perched on the edge of Ross Creek, this classy and romantic venue has an area to suit any occasion and come Friday, February 14, a candlelight table for two has your name on it.
In fact, A Touch of Salt is celebrating love all week from Tuesday to Saturday, with your choice from a three-course a la carte menu, perhaps offering dishes such as baked scallops, bacon and jalapeno jam with garlic crumbs. For the main, a collection of ever-evolving menu delights like charred salmon, sumac roasted prawns and crispy oxtail are sure to hit the romantic nerve.
Nothing says romance more than French food… say je t'aime at Lutece Bistro & Wine Bar on MacGregor Terrace in Bardon. Classically refined, this smartly-set venue regales in a classic French bistro ambience of crisp white linen, crystal vase lighting, dark wood fittings and floor-to-ceiling views of the breathtaking Brisbane city panorama.
Set sail on a delicious three-course meal with a glass of champagne, baguette and truffle butter on arrival on Valentine's Day; followed by dishes such as free-range duck confit, quail and duck foie gras terrine with grilled figs, market fish with black truffle polenta and broccolini. For a sweet finish, try 'chocolat de la Saint Valentin' – hazelnut ice cream, caramel and cardamom sauce.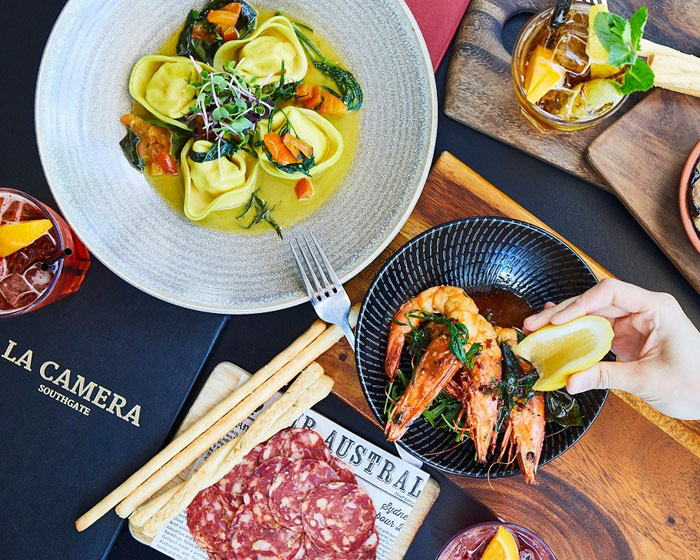 Delve into an Italian spread at La Camera.
Feeling the Love this Valentine's Day in Melbourne:
Food is the ultimate language of love at Lord Cardigan on Cardigan Place in Albert Place. Emanating a moody, romantic vibe after nightfall, this restaurant has a chic, cosy interior adorned with sleek and earthy décor from upholstered leather lounges in mossy tones to embellished fern wallpaper, gleaning under natural light by day.
Choose from two or three-course options from oysters to steak and everything in between, as you romance your special someone with Mod Oz fare with suave European and Asian influences; dishes that are designed to leave flavours lingering on the tongue. Pair your meal with a drop from an extensive wine list or grab a cheeky cocktail to celebrate the night away.
Treat your Valentine to a touch of Italy among riverside treetops in Southbank at La Camera Southgate. With two balconies offering full views of the Yarra River and iconic Flinders Street Station, La Camera's balmy alfresco areas are ideal for pre-dinner drinks with your special someone come Friday, February 14.
Start your night with a rose and bubbles for two, before choosing from a set menu or a la carte options; with dishes such as grilled calamari, seafood risotto and housemade gnocchi with peas, asparagus, pancetta, spinach, garlic, white wine and shaved Parmesan. Pizza lovers can pick up a slice of classic margherita with mozzarella, fresh basil and olive oil.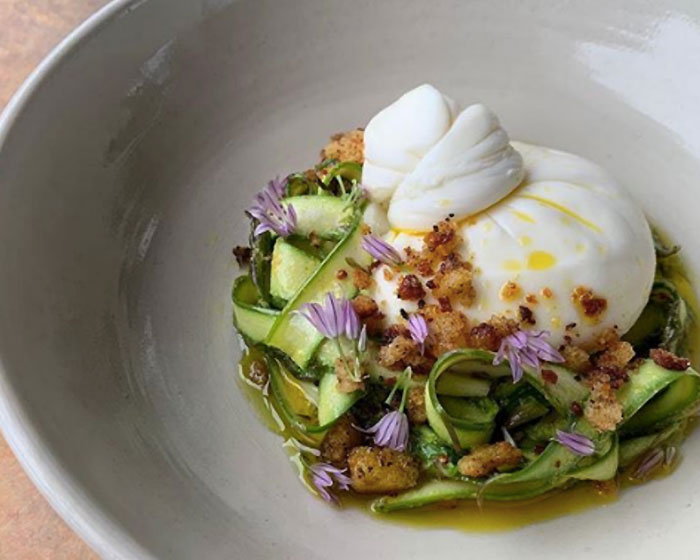 Chef David's Headlam Farm asparagus with burrata, Redbank mustard and brioche crumbs at The Glass House.
Spread the Valentine's Day Love in Hobart:
Glowing like a beacon in the Hobart dusk, The Glass House on Brooke Street Pier has commanding views over the Derwent River, making it the ideal venue for a romantic Valentine's Day dinner. Surrounded by glass on all sides and in the comfort of soft leather couches and frosted green chairs, relax with a Spring Fling cocktail and peruse a menu bursting with fresh Tasmanian produce.
Pimp your oyster to start with grapefruit ponzu, ginger and yuzu; before delving into dishes such as cured ocean trout, sorrel, cucumber, cultured cream and rye, or perhaps lamb tartare, whipped anchovy, green sauce and Jerusalem artichoke. Chocolate ganache cake, butterscotch and crème fraiche will entice any dessert lover as the finale.
Ageless Art Deco style with a modern touch sets the scene for romantic dining at Astor Grill on Macquarie Street in Hobart. This classic venue in the heart of the city, combines white linen clothed tables, passionate red walls and dark timber fittings, to create a setting that is both warm and welcoming to all who dine there.
Settle in on Valentine's Day with a glass of Moet on arrival and a sharing platter of oven-baked oysters, beef cheek, rock lobster and prawn croquettes, buttermilk chicken and twice-cooked pork belly; before a choice of main like spiced duck breast, pea puree and sweet jasmine rice. Chocolate crème, toffee shards, chocolate soil and mocha cream sounds an indulgent way to say, 'I love you.'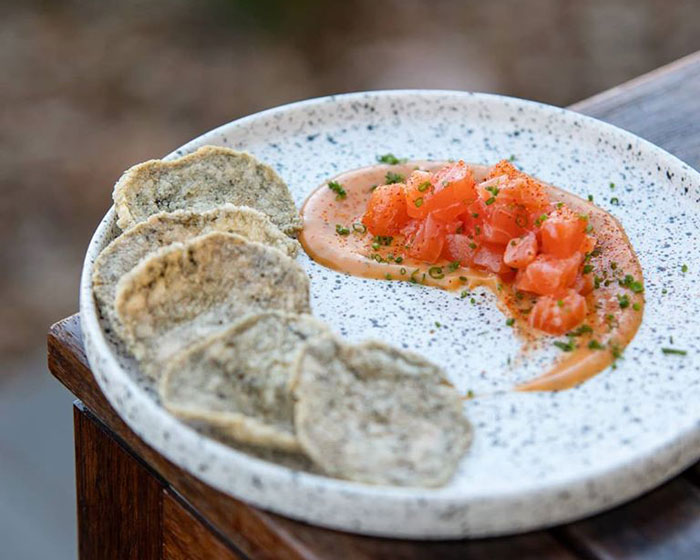 Salmon tartare with Jasmine rice cracker, tom-yum aioli and kaffir lime.
Capital Places to Celebrate Love in Canberra:
With a name meaning 'kiss, kiss' in Chinese slang, is there a better place in Canberra to celebrate romance than Momoda on Northbourne Avenue? Traditional Chinese street food with an unexpected, modern twist is on the menu in moody surrounds of red neon lights, high stools and plush carpeting, perfect for sitting back with a Pink Lady cocktail and chilling out.
A seven-course degustation menu is on the table for Valentine's Day - starting with bunbun toast and pandan kaya butter, before moving onto lobster salad, scallop dim sum, Peking duck, Humpty Doo Barramundi, char siu duck breast and cheese tart with blood orange gelato and kaffir lime to finish.
Love is in the air at Wild Duck Fine Asian Cuisine on Giles Street in Kingston. Nestled on the Kingston Foreshore, this restaurant fuses the vibrant flavours of the Orient and delivers them on the plate in warm, elegant surrounds of golden-hued lighting, white linen tablecloths, plush beige chairs and teardrop lanterns ideal for intimate dining.
This Valentine's Day, Chef has created a special menu for two, beginning with basil chilli squid and Wagyu beef dumplings; followed by pork and prawn siu mai, crispy xiang su duck and pickled Nashi pear and a sizzling hot pot-style seafood basket of scallop, squid, prawn, Chinese greens and Shanghai rice cake. A dessert platter for two is the ultimate romantic ending.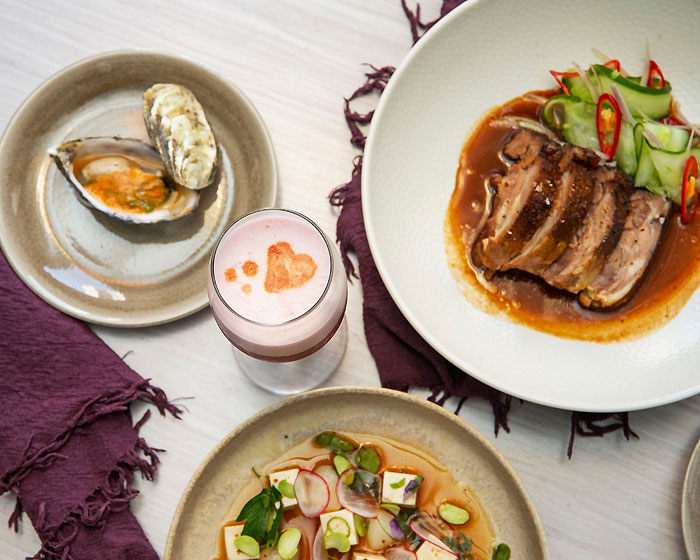 Intimate three-course dinner with matching wines also on offer at UMA Perth.
Valentine's Day WA-style:
Celebrate all things love with Bar Uma's 'Lovapalooza' high tea on Valentine's Day weekend. Unwind with a Pisco Sour cocktail at this trendy venue on Adelaide Terrace in Perth, where a warm and inviting vibe makes for an intimate dining spot to spoil your loved one come February 14 or indulge in a high tea on Saturday and Sunday.
Enjoy free-flowing sparkling, Champagne or house cocktails before delving in freshly shucked oysters, smoked salmon finger sandwiches and the prettiest of housemade sweet delights, such as blueberry love heart scones and strawberry meringue kiss lollipops. Immortalise the day with a selfie in front of one of the loved-up selfie boards and make it a love fest to remember.
Dynamic waterfront dining to suit any romantic occasion awaits at The Reveley on Elizabeth Quay's Eastern Promenade in Perth. Spanning three spacious levels connected by a sweeping spiral staircase, dine at the ground floor bistro, first-level dining room, or take in sweeping city views from Henry's Rooftop Bar.
Give your special someone exactly what they want, come Valentine's Day with an intimate four-course dinner, including a glass of Veuve Clicquot on arrival; then head up to Henry's for a tempting Valentine's edition Giant Cocktail – sure to fire up any date night!
Romance the One You Love in Adelaide, Glenelg and Port Adelaide:
Take your tastebuds to South America this Valentine's Day at Antojitos Latinos on Main North Road in Pooraka. Vibrant mosaic tiles and terracotta coloured walls set the vibe for relaxing Latino-style on couches adorned with eclectic cushions, while potted greenery and a mural of a woman eating nachos, add an interesting touch.
Live music from El Trio Latino will get you in a romantic mood while a menu so authentic that it's in Spanish, will have you salivating over shrimp ceviche, baked cheese empanadas, salmon cancato with roasted quinoa salad, rice and mixed vegetables; finishing decadently with flourless coffee torte and special surprises on the night.
Treat your loved one to three courses of uniquely South Australian, sustainable and seasonal produce, with the option of matching organic wines, at The Banksia Tree Café on Vincent Street in Port Adelaide. A recycled timber counter and polished wood floors set a natural ambience for leisurely romantic dining from dishes boasting native herbs, fish, nuts and fruit.
Expect Valentine's Day offering like fresh glazed figs to start, followed by pan-roasted duck breast, carrot and orange puree, crispy potato fondant, greens and red wine glaze; or dry-aged sirloin, garlic and lemon myrtle mushrooms, scorched shallot and beef jus. Dessert presents as chocolate mousse, Davidson plum gel, honeycomb, almond and lemon myrtle sponge.
It's time to celebrate love at Bracegirdle's with either a delicious three-course dinner at the Blackwood and McLaren Vale venues, or stop into Jetty Road in Glenelg and pick up a specialty Valentine's Day chocolate box with loved-up creations, such as 'I Love You Latte' and 'We're so Mint to Be'.
Expect a glass of bubbles, Geddes Shiraz or Goodieson beer on arrival for your romantic meal of housemade sourdough bruschetta to share, followed by mains like crispy skin Atlantic salmon with white chocolate infused mashed potato, grilled asparagus and Bearnaise sauce; finishing with Bracegirdle's specialty Belgian chocolates, or meringue berry surprise.
Still looking for a romantic restaurant to celebrate? Click here.
Please note, the images used are suggestive of the food at the restaurants and are not necessarily the offerings of set course Valentine's Day specials.