By Leigh O'Connor.
"This book stems from my experiences as a former farmer and Chef. My goal is to share what I've learned and practised so that you feel empowered to shop for, store and cook vegetables every day and in a variety of ways." – Abra Berens.
There is a line in this cookbook that sums up the culinary style of author Abra Berens – 'it is cabbage I come home to, she is a reliable and hard-working friend.'
Ruffage is a practical guide to vegetables with more than 100 recipes and 230 variations, tackling the questions that home cooks ask themselves about vegetables. Co-founder of Bare-Knuckles Farm in Michigan and now Chef-in-residence at Granor Farms in the USA, Abra trained under Darina Allen at The Ballymaloe Cookery School in Ireland.
"I was a young cook, only a year and a half out of cookery school, but knew I wanted to make food that was representative of a place," Abra explains. "Seemed like the best place to start was by growing it. My friend Jess Piskor's family graciously let us take up residence in a frost valley between two of their cherry orchards. We gave it a go.
"At the end of my first year of farming, I was as poor as I've ever been, having plunged my savings into starting a business."
Abra had two weeks before returning to Chicago to a job that paid green backs instead of leafy greens; in an attempt to save pennies, she ate the last of the farm's vegetables that hadn't been sold at market.
"I was broke as hell, but eating some of the best meals of my life. Each night was something new from the same primary ingredients – roasted carrots with cumin and a hard-boiled egg; shredded carrot and kale slaw with scrambled eggs," she says.
"I was more than satisfied but still dreaming of all the meals I would eat back in the city. I pictured cakes and pies and meat and fish and great big pieces of cheese and salami. I packed up my stuff and moved back to Chicago to work in a pie shop for the holidays – gobbling slices of pie and free coffee with abandon."
After two weeks, Abra 'felt like garbage' and craved the carrots and kale she had been eating out of austerity.
"I went to the store, feeling a little silly for not having packed up some of those perfect (and perfectly free) carrots and bought a basket of vegetables. I ate a big bowl of leafy greens and root vegetables, dressed in lemony garlic mayo, and I felt whole again."
Ruffage stems from these experiences as a former farmer and Chef, organised into 20 short chapters by vegetable, including a good balance of those best used fresh and those that store well, this is a book that both seasoned and new cooks will turn to time and again.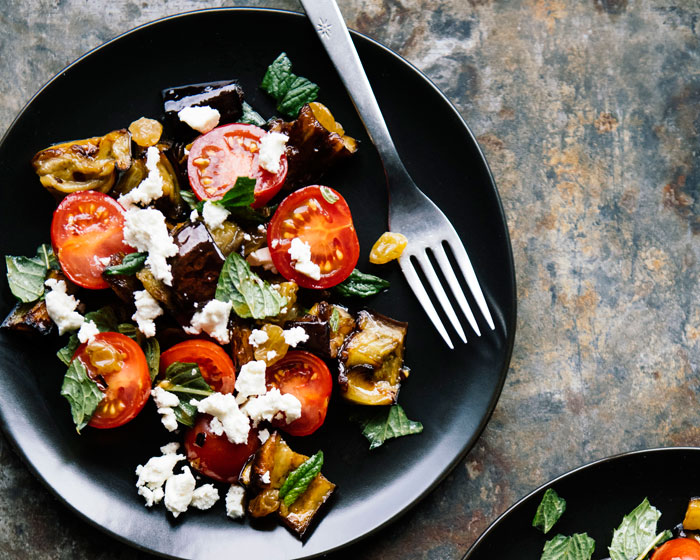 Cooking eggplant in pieces makes for crispy skin and tender, creamy flesh as seen in this recipe for Crispy eggplant with fresh mozzarella, tomatoes, pickled raisins and mint.
Make this with hot eggplant, or eggplant that has been roasted and cooled. Room-temperature eggplant has the same allure as takeout food the morning after, it is slightly greasy and incredibly satisfying. Plus, a room-temperature dish means that you don't have to be in the kitchen right up to the moment that the food is served.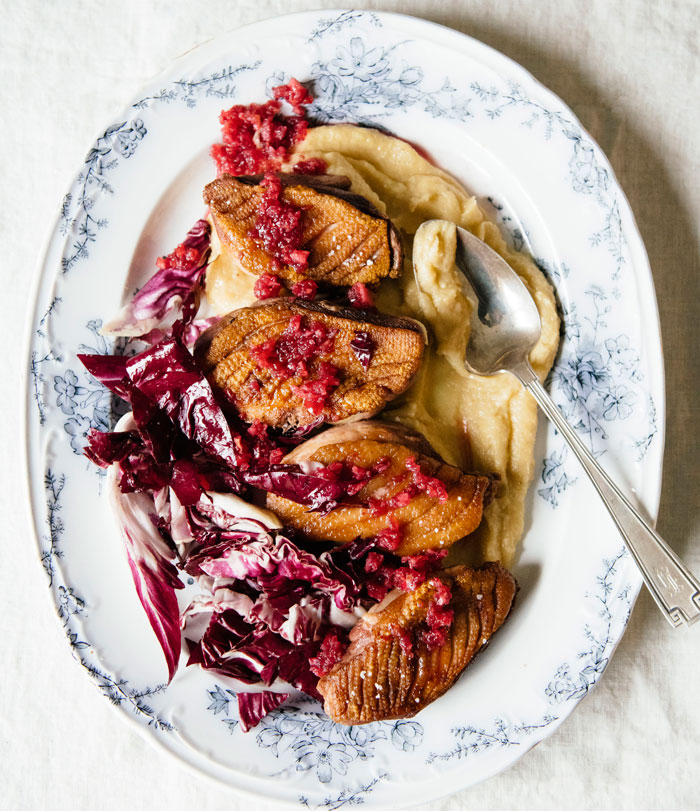 Parsnip puree with duck breast, radicchio and cranberry relish is one of Abra's favourite dishes to make about a week after Thanksgiving, when there's still some cranberry relish and we are all ready for some seriously Christmassy flavours.
"Feel free to substitute a cup of leftover relish if you have it, if you don't, follow these instructions and know you can scale the recipe up as needed; this relish keeps for weeks, so don't be shy. If you can't find duck, substitute chicken breasts, thighs, or thick pieces of salmon."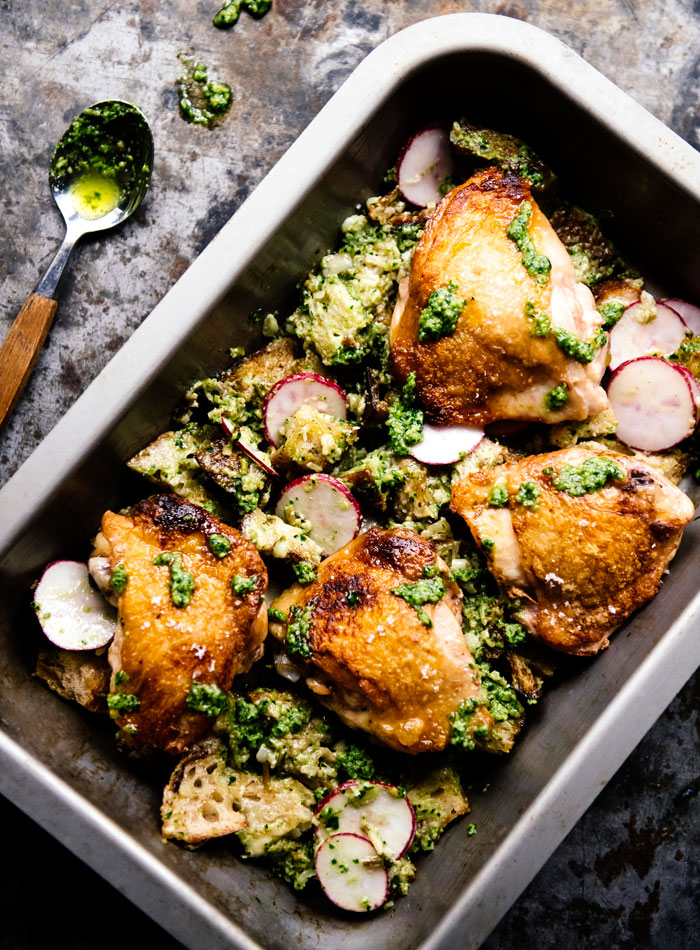 Ramps are a North American species of wild onion, sometimes referred to as wild leeks, that taste like garlic and onion with a very pungent flavour. In this recipe for ramp pesto with seared chicken, radish and bread salad, this sought-after vegetable is used instead of basil.
You can add garlic or cheese to this pesto if you like, but don't let not having those things prevent you from making the pesto. If you only have ramps, oil and salt, you have enough to make a very flavourful sauce.
"Everything else is an optional ingredient. There is really no point using olive oil in this pesto, because the ramp flavour will obliterate any flavour nuance the olive oil brings – might as well stick to a cheaper neutral oil," Abra says.
This comprehensive and beautifully photographed vegetable cookbook looks at simple techniques and provides information to help any cook prepare a variety of delicious dishes in several ways.
It is sure to hold pride of place in any kitchen, with its pages dog-eared and covered with splatter, as recipes turn into family favourites.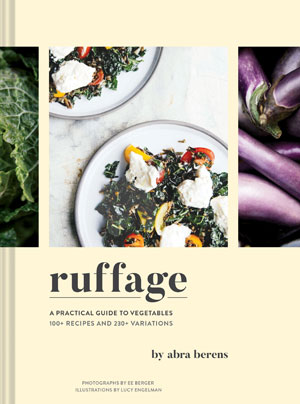 This is an edited extract from Ruffage by Abra Berens, published by Chronicle Books $65 and is available where all good books are sold. Photo Credits: Photographer: © EE Berger.