From Bolognese to pizza, Australians love nothing more than twirling a fork around a bowl of pasta, or picking up a slice of goodness, oozing mozzarella and olives. We crave the smell of wood-fired ovens, garlic and authentic tomato sauce, all best enjoyed with a drop of red, at trattorias and pizzerias all over the country.
Italians comprise the third largest ethnic group in Australia, with the highest concentration in Victoria, and no doubt they will all be celebrating Festa della Repubblica come June 2. This national holiday commemorates the day Italians voted to abolish the monarchy in 1946 and is considered the birth of the Republic of Italy.
For the rest of us, we can celebrate any day of the year with a meal and a good time at our local Italian restaurant. Let's say arrivederci to hunger at some of our favourites: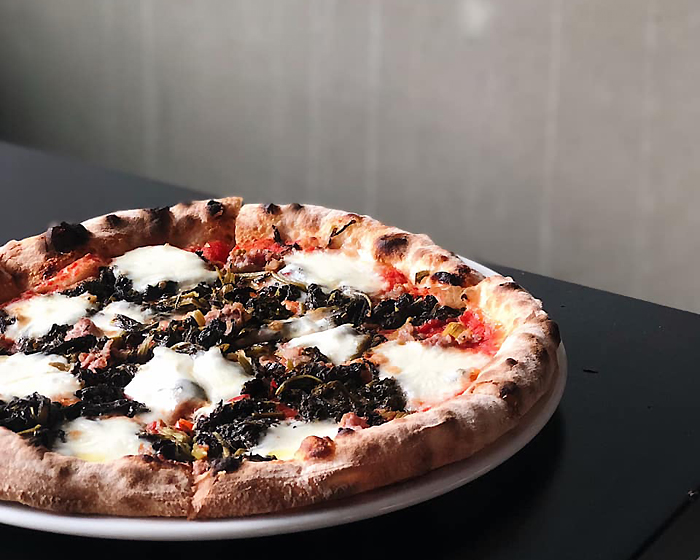 Tipico's Salsiccia Pizza.
Eat Italian in Victoria:
A Milan-inspired menu and vibe awaits Windsor diners at Tipico on High Street. This modern Italian bistro is all about sleek lines and suave sophistication, with a monochromatic edge to table settings, while slate grey walls, a marble bar and neon sculpture in the front window, add a chic touch.
Settle in with a starter of snapper crudo with puttanesca dressing, before pasta temptations like spanner crab tagliolini with cherry tomato and chilli; or a hearty main of saltbush organic lamb rump with Jerusalem artichoke. Pizza lovers may be enticed by Gamberi – with Italian tomato, marinated prawns, zucchini, chilli and rocket.
Trendy Brunswick West locals meet friends for a drink before an Italian feast, at Cirelli & Co on Albion Street. Take a seat beside a creeping vine and unwind with a glass of vino in warm and rustic surrounds, while perusing a menu offering antipasti delights to share, such as prosciutto crudo, mozzarella, olives and gnocchi fritti.
Say buon appetito to mains of buffalo, ricotta and spinach ravioli, served with mushroom cream, or perhaps porcini mushroom risotto with truffle oil and Parmesan; while vanilla bean panna cotta, mixed berry coulis, pistachio and orange zest entices guests with a sweet tooth.
Giro D'Italia's Spaghetti Allo Scogolio.
Nestled in an Edwardian terrace building in Carlton North, Giro D'Italia takes its name from the famous Italian cycle tour. This Rathdowne Street ristorante pairs cuisine and ambiance as thoughtfully as food and wine, with dark timber panelling and deep green walls adorned with framed black and white photos of Chef Domenico De Marco's cycling heroes.
The seasonal menu explores texture, colour and taste with starters like mussels with sugo, Napoli and focaccia and pasta choices such as gnocchi with duck ragu and pecorino dolce; while mains may include crumbed pork, filled with ham and fontina cheese with patate fritte. Finish with affogato – gelato vaniglia espresso and your favourite liqueur.
Crafting Italian fare with passion, knowledge and memory, Pizzeria Romana on Market Street in Nunawading sets a cheery vibe as diners join the lively buzz of conversation and the pizza oven roars to life in the kitchen.
The aroma of wood-fired delights sends the senses into overload at the thought of slices like pepperoni, with tomato, mozzarella, capsicum, goats cheese, green Sicilian olives and parsley; or patate, topped with kipfler potatoes, mozzarella, rosemary, sage, zucchini, artichokes Romana and pecorino. Don't forget to try the dessert special of crema caramellata con Americana - crunchy candy, cream and cherries.
Hobart's Italian Offerings:
Say ciao bella to great Italian food and wine at Hobart's oldest restaurant Don Camillo on Magnet Court in Sandy Bay. This destination-worthy diner maintains a tradition for classic Italian fare done well, in surrounds of softly glowing lights, red and white bedecked table settings and walls adorned with beautiful prints of Italy.
Slow-cooked veal osso bucco arancini balls, served with aioli, rocket and Parmesan may appeal to begin, moving on to a rich braise of duck shank, Sangiovese and Italian vegetables, with mash and pancetta crisp. For an indulgent dolci, try Mamma's cassata ice cream cake with Galliano, cocoa, vanilla, nuts and glace cherries.'
Italian Fare in Perth:
Diners are transported to a classic Italian 'alimentari' at Cucina on Hay in the heart of Perth's CBD. Share traditional fare with family and friends at this Hay Street restaurant and bond over the language of good food, under a full-ceiling skylight in a cheery courtyard, awash with sunlight and greenery, within the Mercure Perth hotel.
Ponder dishes just like Nonna makes, starting your flavoursome journey with crispy calamari, arborio, spice dust, lemon aioli and capers; or grab a slice of hot salami pizza with fresh tomato sauce, buffalo mozzarella, black olives and green onions. Mixed pumpkin, basil and potato gnocchi, served with blue cheese sauce and cherry tomato, appeals for those looking for a pasta fix.
Adelaide Italian Hot Spots:
Enzo's Ristorante, just a short 10-minute tram ride from Adelaide's CBD, is the place to treat yourself to a traditional Italian dining experience. Located next to the Entertainment Centre on Port Road, this authentic restaurant boasts three separate areas dedicated to a la carte formal dining, a wood oven pizzeria and café and an intimate bar for friends to meet pre-meal and share an aperitif.
Those dining in can delve into a menu created by passionate Chef Enzo, starting with grilled Portobello mushrooms on toasted bread, with melted taleggio cheese and rocket pesto; before delving into a main affair of deboned quail, wrapped in pancetta, oven roasted and served with braised baby blue lentils, spinach and quail jus.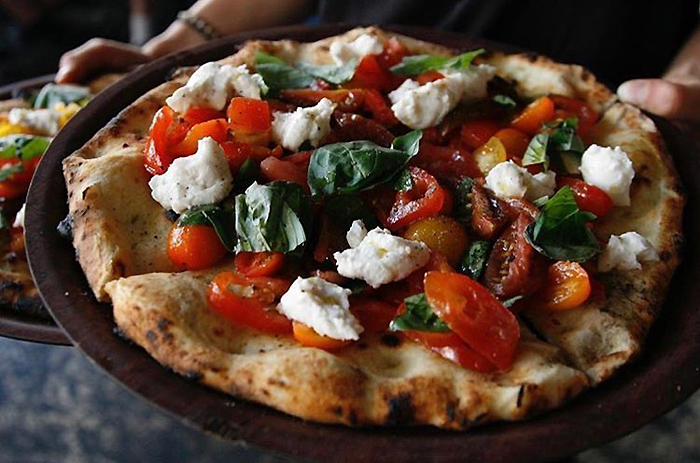 Gigi's Pizza Primavera.
Eat Italian in Sydney:
Exuding an effortlessly cool, modern street style, Gigi Pizzeria on King Street in Newtown takes food seriously – with a trademark Italian smile. Widely praised in Sydney as having 'the best pizza outside of Italy', Gigi is one of only a handful of Australian restaurants to receive a prestigious AVPN award from the True Neapolitan Pizza Association.
Join the lively vibe of exposed brick, concrete floors and warm glow from the wood-fired oven and choose from a range of 100% plant based mouth-watering pizza options, such as Patate – thin sliced roasted potatoes and kipflers, garlic, rosemary, black truffle pate and extra virgin olive oil. Chocolate custard cannoli tempts as a sweet finish to a memorable meal.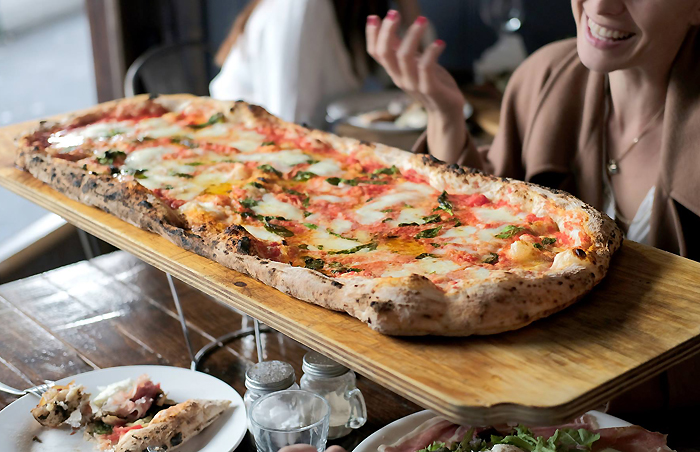 Pizza to share at Pizzeria Da Alfredo.
Guests are invited into a little slice of Italy with art deco murals on the walls, exposed brick, hanging globes and grapevines, at Pizzeria Da Alfredo in Glebe. Original wood-fired pizza and fine Italian fare keep locals coming back to this Glebe Point Road family-owned restaurant, where sipping on a glass of red while pondering a menu brimming with authentic flavours, is considered the norm.
Salivate over starters of fried zucchini flowers, stuffed with ricotta cheese and served on a bed of salad; then share a one metre Diavola pizza, with San Marzano tomato, fior di latte, hot salami, Parmesan, basil and black olives. Pasta lovers won't go past scampi linguine, cherry tomato, olive oil, chilli, garlic and fresh parsley.
Plating up dishes from the roots of old Italy with a modern twist, Entrata on Glenhaven Road in Sydney is all rustic charm. Settle in with a glass of red in surrounds of exposed coloured brick walls, pale green velvet bench seats and dark wooden furniture, while glowing pendent lights create a moody dining experience.
Expect offerings such as ricotta dumplings, basil butter, caramelised cherry tomato, silver beet crème and ricotta salata; or perhaps veal cooked in white wine, mushroom, garlic and parsley sauce, served with seasoned vegetables and baked potato Parmesan cheese millefoglie. Traditional tiramisu will tempt dolci lovers.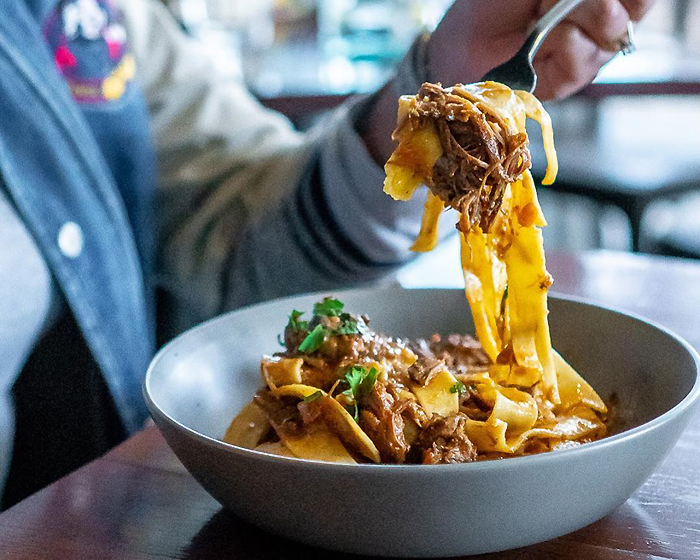 Verace Pizzeria's Pasta Ragu.
Crowds gather as a huge wood-fired pizza oven releases a stream of mouth-watering aromas, at Verace Pizzeria on Khartoum Road in Macquarie Park. Delivering the authenticity of Neapolitan pizza to Sydney's northern suburbs, this widely popular Italian restaurant garners a loyal following as guests of all ages mingle together in a lively dining space at tiered tables, specially designed for sharing.
Kick start an Italian feast with an antipasto board of salami, mortadella, prosciutto di Parma, provolone and grana Padano, housemade wood-fired bread and extra virgin olive oil; before moving on to handmade egg pappardelle with slow-cooked lamb ragu. Pizza lovers can pick up a slice of Maialina – San Marzano tomato, fior di latte, ham, salami and salsiccia.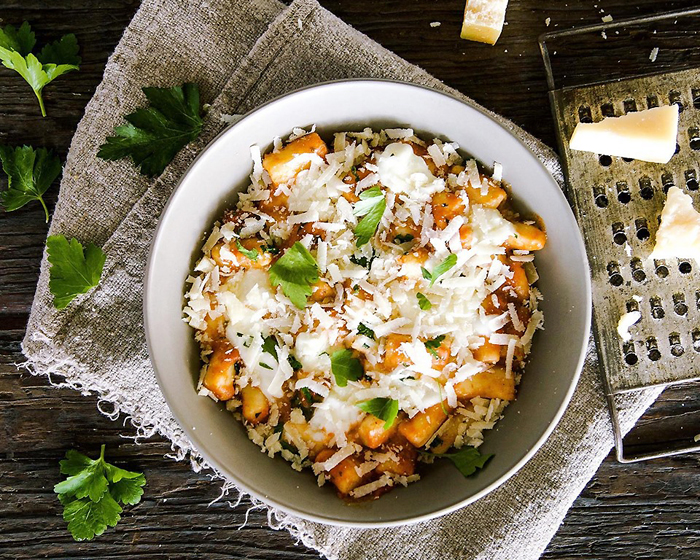 Mezza Via's Gnocchi alla Sorrentina.
Family owned and operated for more than a decade, Mezza Via on North Road in Denistone East, is the home to the infamous two-metre long pizza. A casual ambiance is suited to both families and friends dining together inside this cosy restaurant, filled with the chatter of conversation and appetising aromas wafting from the kitchen.
Veal fillets, topped with sautéed mushrooms, white wine, garlic and parsley, in a Parmesan and cream sauce, may tempt discerning palates; while a two-metre Italian sausage pizza, with onion and marinated mushrooms, is ideal for those looking to share.
Soak up a warm and welcoming atmosphere while enjoying a contemporary mix of both modern and traditional Italian food, at Terrazza Restaurant & Pizzeria on The Concourse in Chatswood. This Victoria Avenue establishment is just a short walk from the Chatswood Interchange, making it an ideal spot to stop for a bite to eat and drop of vino, at any time of the day.
Delivering contemporary twists to Italian classics using only the finest ingredients lovingly prepared in-house every day, expect starters like Sicilian risotto balls, filled with mozzarella and Parmesan, topped with Napoletana sauce. For the main, penne Geonvese with creamy pesto sauce, sun-dried tomatoes and chicken may hit the spot, or opt for a slice of frutti di mare pizza, with calamari and prawns.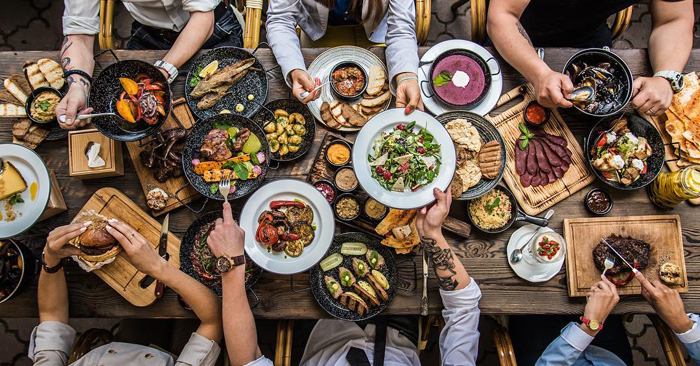 A feast of choices at hundred acre bar.
Brisbane and Gold Coast Italian Eateries:
Enjoy vistas of an immaculately kept golf course and expanses of lush greenery, at hundred acre bar on Carawa Street in St Lucia. Tucked away in St Lucia Golf Links, this venue offers five dining levels from cosy lounge nooks, bar seating and intimate tables in front of the fireplace, to leather sofas ideal for a casual drink, making it a great place to meet friends or family to celebrate any occasion.
Delve into the likes of housemade gnocchi, roast pumpkin, sage, pine nuts and crumbled ricotta; or perhaps spaghetti with chilli garlic prawns, heirloom cherry tomatoes and basil; before chicken parmigiana, with shaved leg ham, Napoli sauce, mozzarella, thick cut chips and witlof salad.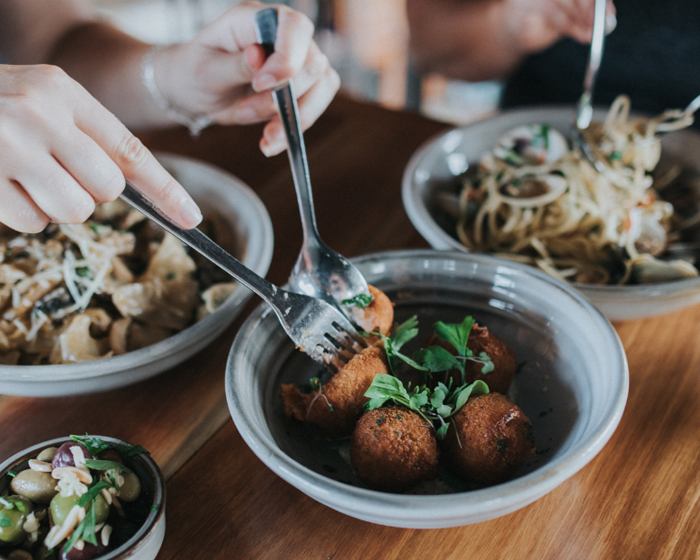 Arancini and spaghetti at Balboa Italian.
Modern luxe meets industrial charm at Balboa Italian restaurant, perched alongside Gold Coast Highway in Palm Beach. Guests are greeted by a towering red brick building, fitted out with charcoal black finishings, while inside hanging chandeliers, overflowing greenery, grand high ceilings and intimate nooks, create a moody vibe.
An eclectic menu showcases classic Italian techniques and unique dishes, such as seared sea scallops, Parmesan cauliflower cake, roasted pumpkin puree and Sicilian salsa. Try a slice of Montanara pizza, with New York-style pastrami, caramelised onion, roasted capsicum and fontina cheese; or a plate of pasta like fettuccine, with prawns, tomato, garlic, chilli, parsley, lobster essence and squid ink.
Still looking for an Italian fix near you: click here for more restaurant recommendations.