By Leigh O'Connor.
'On top of spaghetti all covered with cheese, I lost my poor meatball when somebody sneezed. It rolled off the table and onto the floor and then my poor meatball rolled out the door.'
Like unrinsed spaghetti noodles, great friends stick together! Who will you celebrate National Spaghetti Day with on Monday, January 4?
Usually made from semolina flour, spaghetti has been a worldwide favourite for all ages and loved by millions. The word spaghetti is plural for the Italian word spaghetto, which is a diminutive of spago – meaning 'thin string' or 'twine'.
Here are five fun facts and restaurants to celebrate all pasta-bilities:
•On April Fool's Day in 1957, the BBC made everyone believe spaghetti grows on trees. At the time spaghetti was considered an exotic delicacy and the spoof program explained how severe frost can impair flavour and how each strand of spaghetti always grows to the same length.
•The world record for the largest bowl of spaghetti was reset in March 2010, when an LA restaurant successfully filled a swimming pool with more than 6250 kg of pasta.
•In the year 2000, more than 590,000 kg of spaghetti was sold in American grocery stores. If all those packages were lined up, they would circle the Earth nine times.
•Italians never use a spoon and a fork to eat spaghetti, they simply twirl a fork against the dish.
•Tomato sauce came later…people had been eating spaghetti for thousands of years before anyone ever thought to add tomato sauce.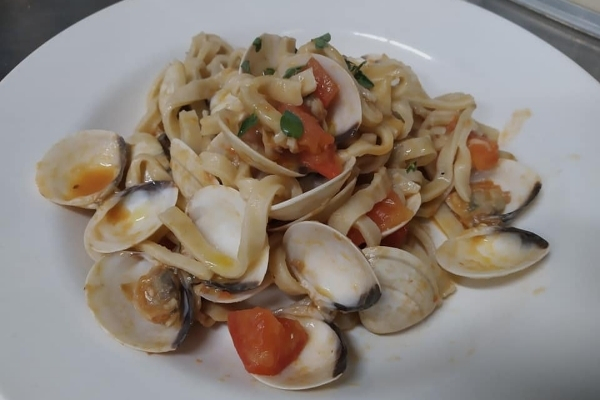 Umbria Rustic Italian's spaghetti alle vongole.
Celebrate with a glass of vino and plate of spaghetti alle vongole at
Umbria Rustic Italian
on Main Street in Clare. This evergreen Italian dish of housemade thick spaghetti, tossed in a refined cockles, chilli, Riesling and cherry tomato sauce is the perfect choice from a menu of pizza and pasta temptations; along with local produce such as porchetta, baby, goat, venison and kangaroo.
Embracing traditions and methods from the heart of Italy, this restaurant boasts exposed brick, wine barrels, wooden beams and a stunning staircase to the mezzanine level, creating an earthy and welcoming vibe for memorable dining, paired with a drop from a wide range of Clare Valley wines.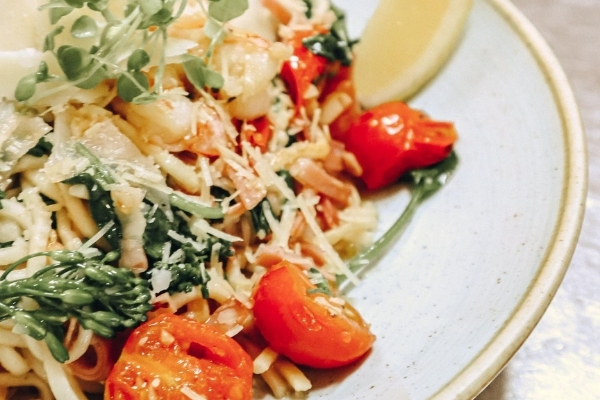 All' Antica Farmers Pasta with marinated garlic prawns.
South Australian blue lip mussels cooked in a chilli, tomato seafood broth with fresh spaghetti is the ideal way to mark this National Day at
All' Antica Italian Restaurant
on Point Cartwright Drive in Buddina. There's also a Farmers Pasta dish on the menu, with fresh spaghetti, broccolini, pan-seared prosciutto, cherry tomato, spinach and basil, topped with prawns and shaved grana Padano cheese.
Keeping true to tradition since opening in 1990, All' Antica has maintained its reputation for serving classic Italian cuisine in a welcoming vibe of sleek dark furniture, stylish ceiling lamps and brick feature walls – the perfect setting to delve into a feast of mouth-watering pizza and pasta plates, fresh seafood and hearty mains.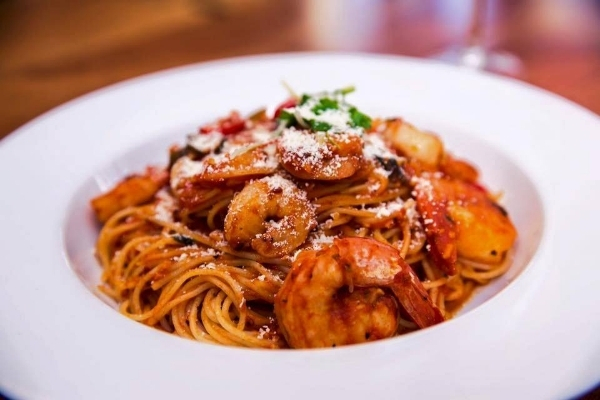 IL Gambero's spaghetti with tiger prawns and fresh chilli.
For more than 40 years,
IL Gambero
has been an icon of Lygon Street and a favourite along Melbourne's famous dining precinct in Carlton. Revamped yet maintaining the rusticity of a traditional Italian eatery, indoors boasts a compilation of exposed brick, round textured glass lampshades and dark furnishings, paired with the modern touch of large glass windows.
Il gambero – tiger prawns, garlic, fresh chilli, parsley, olive oil and a touch of Napoli sauce – served on spaghetti, is one of the classic pasta dishes from an extensive menu; along with traditional spaghetti Bolognese and marinara, with clams, mussels, prawns, calamari, scallops, olive oil and garlic.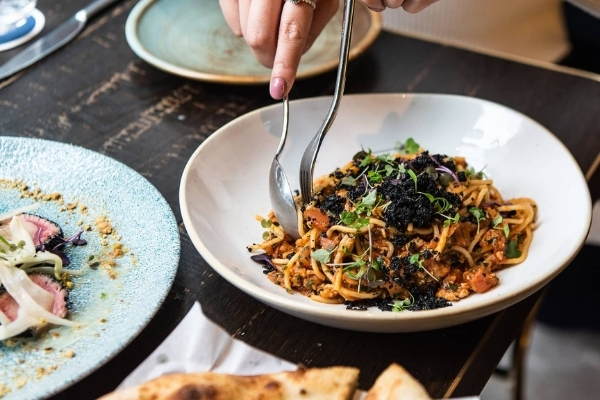 Pretty as a picture…Corso Brio's spanner crab spaghetti.
Bringing the nostalgia of exclusive supper clubs to the heart of Sydney,
Corso Brio
on Barangaroo Avenue presents an intimate space with walnut panelled walls, plush armchairs and plenty of side booths, seductively designed for a romantic rendezvous with your special someone to celebrate National Spaghetti Day.
Serving traditional Italian with a focus on fresh and seasonal ingredients, supplied from the restaurant's own farm on the Central Coast, twirl your fork around spaghetti, spanner crab, fresh tomato, herbed charcoal bread crumb and chilli. Finish with a divine dolci of hazelnut tiramisu and wattle seed macaron.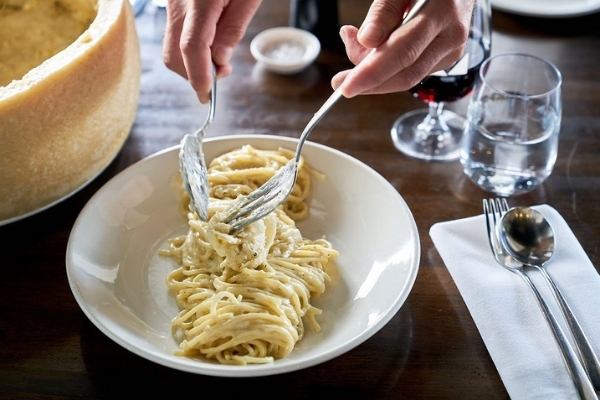 Cacia e Pepe…served piping hot to the table at Molto Italian.
Spaghetti Cacio e Pepe couldn't be more indulgent as a celebratory pasta dish, served piping hot straight from a giant wheel of pecorino cheese it is a must-try at
Molto Italian
on Eastlake Parade in Kingston. This Canberra seaside trattoria boasts modern interiors of high ceilings, dark wooden table settings, an open kitchen and bar, alongside a wood-fired pizza oven for relaxed dining.
Best enjoyed with family and friends, Molto's menu reads like a romance novel where hand-cut pasta and an extensive stuzzichini menu beckon to be loved and shared; other housemade spaghetti dishes include al gamberi – fresh prawns, garlic, chilli, anchovies, mint, lemon and pangratatto.
What would you get if you cross pasta with a snake? Spaghetti that wraps itself around the fork…pasta la vista baby!