Compiled by Sean Melrose.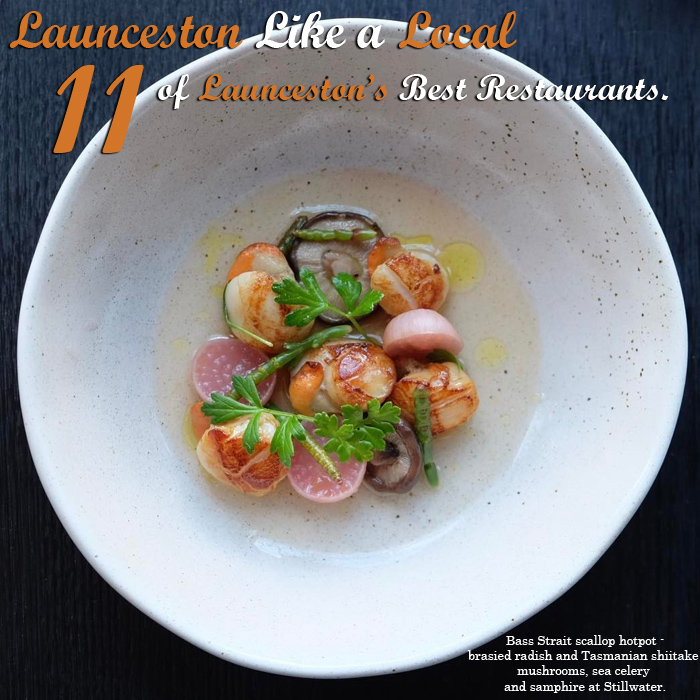 Tasmania's tastiest will again be on show at this year's Festivale in Launceston. Seeing as mainlanders and islanders alike will be converging in the thousands, napkins tucked in to their shirts, we've compiled a list of the most attractive venues in one of Australia's oldest cities. Paving the way for hungry travellers out to explore Launceston, like a local.
Geronimo Aperitivo Bar and Restaurant
At Geronimo, a simple, sophisticated interior in deep hues is furnished with recycled timbers of the old Seaport boardwalk, adding history to the hand-crafted décor. A paddock to plate philosophy ensures fresh Tasmanian produce is always on the menu alongside an offering of 25 gins from around the world and an extensive wine and whisky selection.
Enjoy fine dining on Launceston's waterfront at the Chef Hatted Mudbar and Restaurant, situated at the charming Old Launceston Seaport. Patrons gather around the bar, enjoying views of the harbour through sleek floor to ceiling windows, while esurient guests sink into Mud toned cushioned seats under warm moody lighting. Opt for aperitifs at the elegant bar, or go straight for an innovative menu sporting a range of Euro Asian fused cuisine to awaken the senses.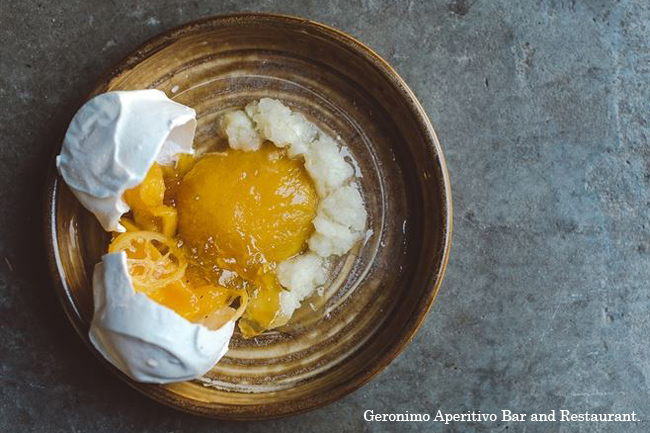 Step inside a romantically set dining room, where an open fireplace, red carpets and dark timber furnishings tie in with a rustic inspired colour scheme of deep reds, greens and beige to create a warm and inviting atmosphere. A modern European menu offers dishes like pan roasted Moreton Bay bug with lemon, chilli and vodka risotto, a tasty appetiser to enjoy before Tasmanian Wild Clover lamb rump served with potato and garlic puree with a baby beetroot, port and thyme reduction.
Hallam's Waterfront Seafood Restaurant
Experience glorious views of the Tamar River and sumptuous Mod Oz cuisine at Hallam's Waterfront Seafood Restaurant in Launceston. Reconstructed from an assortment of Tasmanian timbers, Hallam's elevated cottage design is fitting to the wholesome, traditionally homey feel that seems to resonate throughout the Apple Isle. True to name, Hallam's specialises in freshly caught seafood, evident in dishes like slow cooked abalone with mushroom broth, green tea soba noodles and chilli oil.
The award-winning Pierre's Brasserie & Wine Bar is a classic European restaurant with a modern twist, remaining popular with Launceston locals for more than half a century. A dramatic, ultra-modern design of rich reds and monochrome, transformed the look of Pierre's in recent years, but the restaurant has never lost its charm. With a mouth-watering selection of traditional Gallic dishes to choose from and a gargantuan display of vintage French wines, this is a dining experience not to be missed.
In a country mansion setting of arched windows, spires and flourishing gardens dating back to 1886, travellers sit beside the fireplace planning their Tasmanian adventure with a closely held Infuse coffee and some tasty French crepes. In the Summer, guests relax alfresco, sharing signature pizzas, souvlakis or designer platters like the ploughman's platter, paired with a choice from a succinct wine list. Delve into seafood pasta with prawns, scallops, salmon and capers in a wine reduction cream sauce, or instead celebrate with a Holey Lamb Pizza, with mint yoghurt on a spiced hummus base.
Situated next to Launceston's Brickfield Park, Dynasty Chinese Restaurant has a majestic, upscale ambiance and much sought after location for enjoying Launceston's dining scene as a couple or group. Friendly, efficient and knowledgeable staff help make Dynasty both an ideal leisurely luncheon location and elegant dining experience. The ever changing menu cleverly combines Cantonese and regional Chinese cooking methods with a focus on Tasmanian seafood and meats.
Providing a taste of authentic Indian cuisine to the locals of Launceston is AAJ India Restaurant and Café tucked into Charles Street, not far from the green gardens of Princes Square. Emanating a smart casual ambiance, diners are welcomed into a timelessly furnished space fit out in warming tones of ruby red and burnt orange. Peruse banquet options and mouth-watering platters like a Tandoori platter with prawns, lamb Seekh kebab, fish Tikka, chicken Tikka and lamb chops served on a sizzler.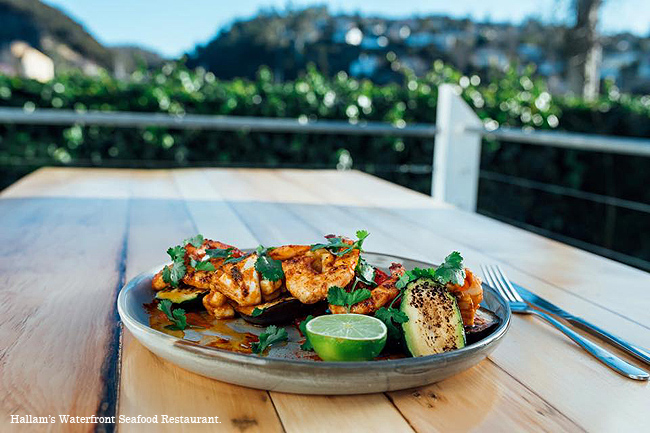 An elegantly restored 1830s flour mill on the beautiful Tamar River is home to Stillwater, one of Launceston's finest restaurants. Original Oregon beams and blond timber floors bring warmth to Stillwater's already majestic setting, comprising of an original bluestone wine cellar, a Georgian miller's cottage for private dining and a courtyard for alfresco drinks and snacks. Varying with the seasons, Stillwater's menu has a strong focus on fresh Tasmanian produce and wine.
Cataract on Paterson brings a unique and modern dining experience to Launceston's city fringe, oozing sophistication via a blend of classic interiors with a modern twist. For the ultimate interactive dining experience, try the Stonegrill: your steak, prawns, scallops or salmon, cooked to your liking on a 400-degree volcanic stone on the table. A la carte options such as the chicken breast stuffed with sundried tomatoes, spinach and brie on a bed of sweet mash and seasonal greens with a pesto sauce are also available.
Breathtaking scenery, exceptional wines and a menu to match, await at Josef Chromy Restaurant, located in Relbia just 10 minutes outside of Launceston. The seemingly endless views of vineyards and a picturesque lake, are viewed from a warm, elegantly, simple dining room crowned by a stunning vaulted ceiling. All in perfect tune with the menu, which complements the estate's award-winning wines with dishes crafted from the finest local ingredients.