By Freya Ensbey.
Making a sea change is often on the mind of those who are submerged in a city lifestyle, yet few follow through with making this dream a reality. This wasn't the case for husband and wife duo Vicki and Philip Kuruvita who made the transition from Sydney to Tasmania in 1988, without looking back. Since then, they have created a stable of 6 stunning books, pairing Philip's talented photography with Vicki's artistic direction, working again together as a powerhouse to bring us the latest and 7th addition, From the Menu Hobart.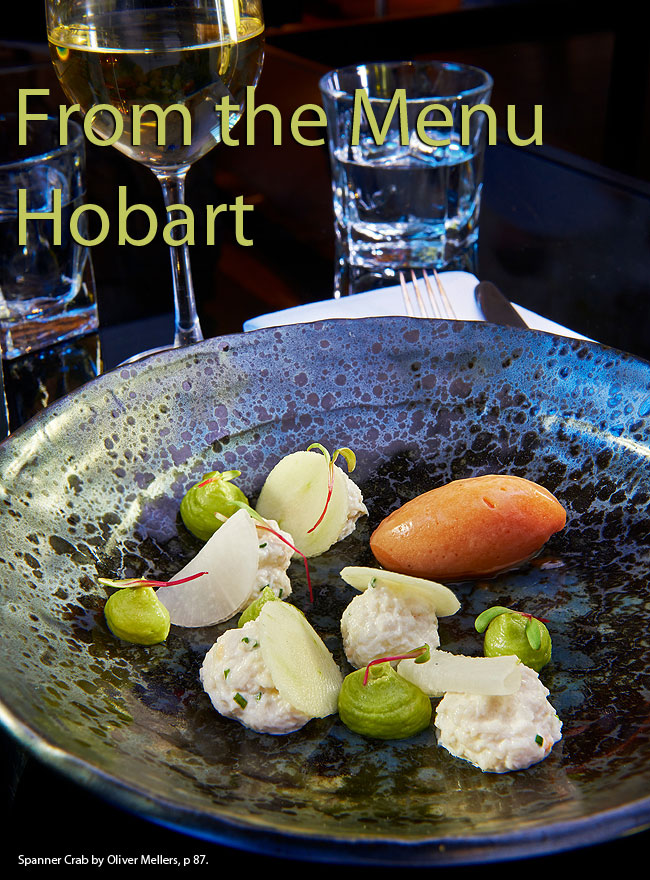 This cookbook takes you on not only a culinary, but visual journey through Hobart, highlighting iconic landmarks, scenery and must-see places along with the reputable restaurants along the drive, owners, Chefs and their favourite recipes, packing a whole tour of Tasmania's culinary scenery into a 238-page hardback.
Speaking fondly of Tasmania's hospitality scene, Philip describes its bespoke restaurants, specialty farmers, producers and hipster coffee shops, as all working together to create a foodie destination that is drawing people in from all over the world.
The hardback cover of From the Menu opens to a view synonymous to what Tasmania is best known for, its fishing industry and fine seafood, with a capture of a mirrored sunset reflecting on the glassy waters beneath the boats of Hobart harbour. The visual degustation continues with breath taking photography of Cascade Brewery, the oldest continually operating brewery in Australia, a sunrise at Mt Wellington with 360 degree views of Hobart and the Tasman Bridge, illuminated at night, in all its glory.
This book serves as an ode to the Chefs of Hobart, their expertise, innovation and depth of experience, like that of Executive Head Chef Oliver Mellers, from The Henry Jones Art Hotel, Australia's first dedicated art hotel which was opened in the original IXL jam factory, who has created a menu specifically to cater for the fresh produce that Tasmania is known for. Try his Spanner Crab with avocado puree, pickled daikon and bloody Mary sorbet. A stunningly plated dish sure to impress your guests at a dinner party.
In the heart of Hobart's Harbour is iconic Mures restaurant. Offering casual takeaway options of fresh seafood in the lower deck and fine dining on the upper deck, Mures is a restaurant must when visiting Hobart. Take advantage of an insight into their menu with the crusted Blue Eye Trevalla with pumpkin puree, sautéed greens and steamed scallop mousse. A fresh dish, perfect for warmer nights or a gourmet lunch with hollandaise sauce and the smooth flavour of pine nuts, paired well with a Tasmanian crisp white wine.
For a hearty comfort food recipe to feed the soul, try Waji Shiby's, (owner of well-known local catering company) Waji Food, Pulled Lamb Shoulder on potato and egg terrine. Waji moved to Australia from Bangladesh when he was 8-years-old and resided in Melbourne before taking up cooking as a passion, which saw him travel the world working in top restaurants before choosing to settle down in Tasmania, to operate his catering business from a mobile food truck.
Flicking through this cookbook, it's obvious that Tasmania plays host to a vast diversity of cuisine options, from Chinese to Italian, Modern Australian to Indian, Japanese to Thai; there really is a lifetime's worth of sampling to be done in the not so humble state of Tasmania. Making for a perfect tour guide, this book is a must for anyone considering travelling to or already residing in the great Van Diemen's Land.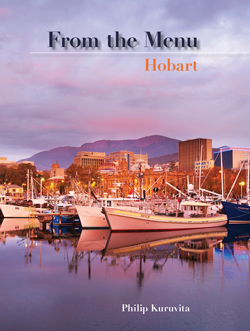 From the Menu Hobart by Philip Kuruvita can be purchased here. All recipes and images have been supplied.