"My idea of Christmas, whether old-fashioned or modern, is very simple. Loving others." – Bob Hope.
Christmas is a time of family ritual and tradition. Children wake early in anticipation of what goodies Santa has left, while parents contemplate the festive fun ahead and reflect on the year that is coming to a close.
At Christmas, all roads lead home… it's a day of meaning, spent in the warm circle of family and friends. What better way to celebrate than serving up a perfect lunch like an expert? From canapes to dessert and cocktails – we've got you covered!
Here are seven recipes guaranteed to make your Christmas Day a success: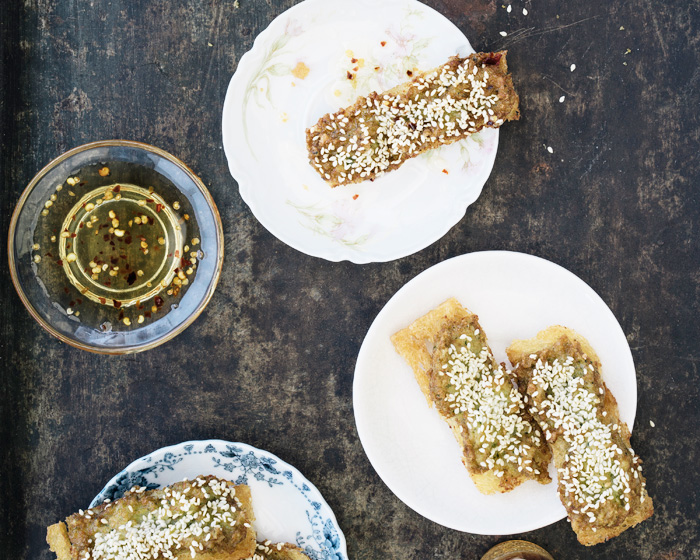 After a mad present opening session, there is nothing better than to relax before Christmas lunch with a chilled drink and canape like this recipe for sesame prawn toast with sweet chilli sauce from Curtis Stone.
Seafood is always an important part of any Australian celebration and Christmas is no exception, this versatile starter can be used at any time of the year and is sure to impress.
"I like to kick back and enjoy these tasty toasts with a cold beer, but they are also a great appetiser. Throw them on top of a simple spinach salad, which will wilt from the heat in a most delicious way. Here's another idea, make bite-sized squares and serve them as a casual hors d'oeuvre," Curtis says.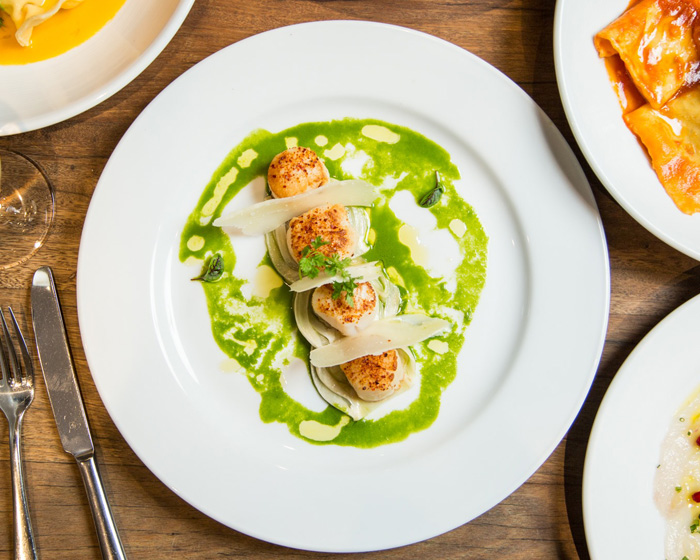 Plump juicy scallops are hard to pass up on any dinner table and Machiavelli Restaurant in West Sydney brings us an entrée of wild Canadian scallops with salsa verde, which will set the scene for a memorable feast come December 25.
Hidden away just beneath Clarence Street down a set of flagstone steps, Machiavelli showcases the rich history behind a traditional Italian menu, which journeyed from Naples to Sydney with Giovanna Toppi and a suitcase of lessons from her mother.
"This healthy, flavoursome dish using Canadian scallops with a Mediterranean twist is an ideal entrée to kick start your Christmas lunch," says Chef, Laurent Cambon.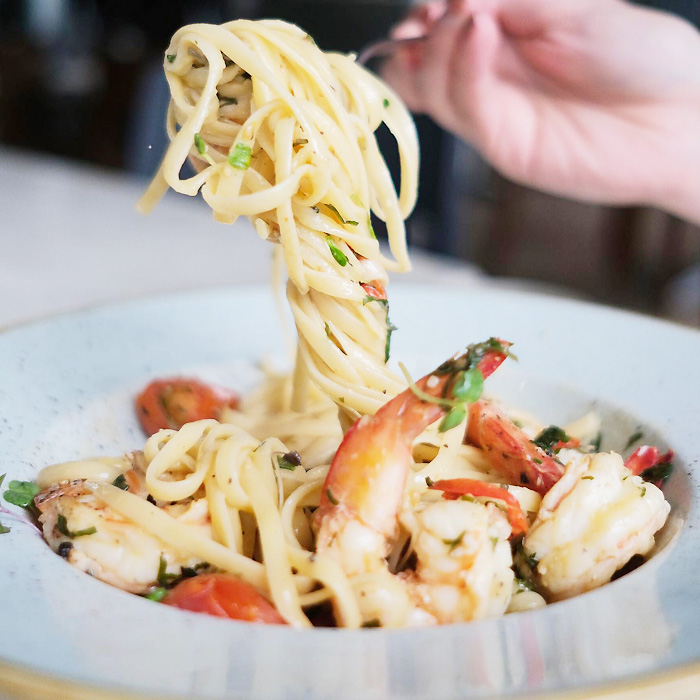 Everyone loves pasta, so why not for Christmas lunch? This light and enticing dish of linguine ai Gamberoni - Mooloolaba King prawns, cherry tomatoes, chilli, linguine and white wine - is as pretty on the plate as it is on the palate and sure to satisfy festive appetites.
Calling Mooloolaba's vibrant Esplanade home since 1983, Bella Venezia is a popular hotspot at Pacific Beach Resort. Chef Bobby Singh is behind an Italian menu championing premium local Sunshine Coast produce, including fresh prawns from Mooloolaba Port as used in this dish. Recently refurbished this restaurant radiates a charming warmth, while high backed bar stools make it an ideal spot for after-work drinks with friends.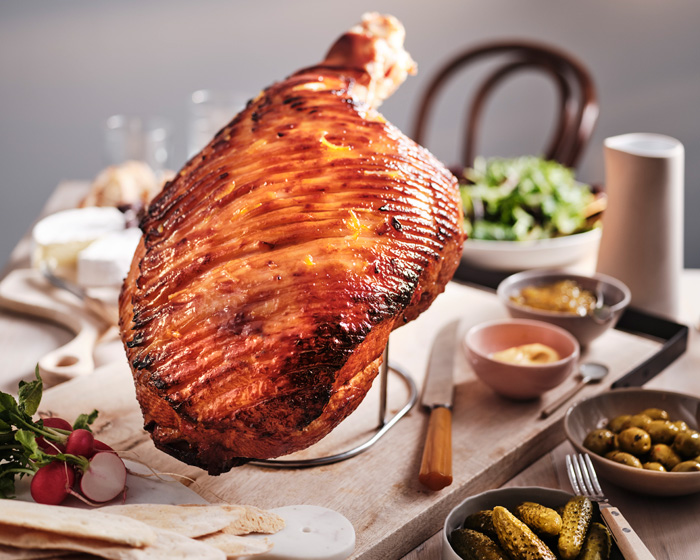 Otway Pork has been farming pigs for the last 20 years from its seven farms across Western Victoria and is 100% Australian owned. Offering everything from fresh pork cutlets to sausages and smallgoods, the company was founded by leading agricultural experts and is one of the first large-scale outdoor pig production systems in the country.
For those who aren't naturally gifted in the kitchen, Otway Pork shares tips and tricks they've mastered over the years, to prepare, score, glaze, cook and store the perfect Christmas ham. It all starts with the Otway Pork Glaze, make sure to be liberal basting this mixture over the ham after you have removed the skin and scored the fat, to achieve the perfect result.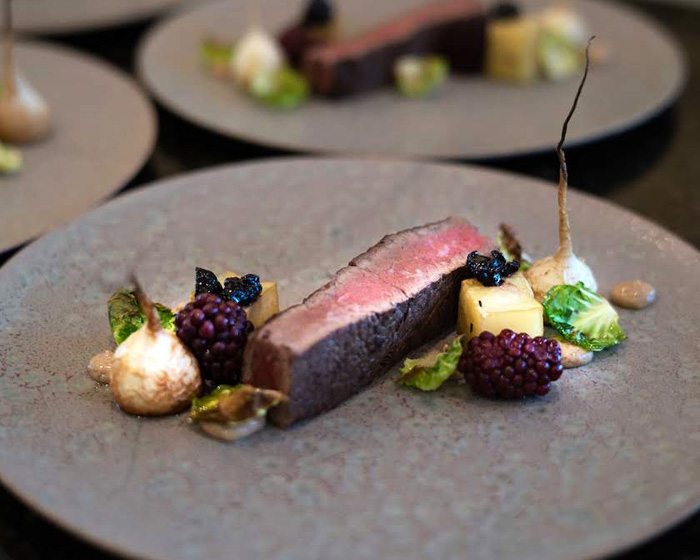 Photo by Jimmy Wong.
Sydney-based caterer and cooking school, Passion Ate the Chef can manage any sized event from 4000 guests to an intimate dining experience for 10 in your home. An extensive menu showcases Chef Jason Ludwig's passion and flexibility, with dishes such as Wagyu sirloin with cherry compote, black garlic, micro bush turnips and smoked blackberries.

This taste tempter may take a little longer and is a little more complicated with the Wagyu sous vide, before being roasted in the oven; but the results are well worth the effort as you serve melt-in-the-mouth slices of sirloin, enhanced with flavours of cherry compote, smoked blackberry, crisp potato cubes and black garlic.
Larissa Takchi was just 11-years-old when MasterChef Australia premiered on our screens in 2009. More than a decade later, Larissa – affectionately known as Larry – became the youngest contestant to take out the top spot in the cooking competition.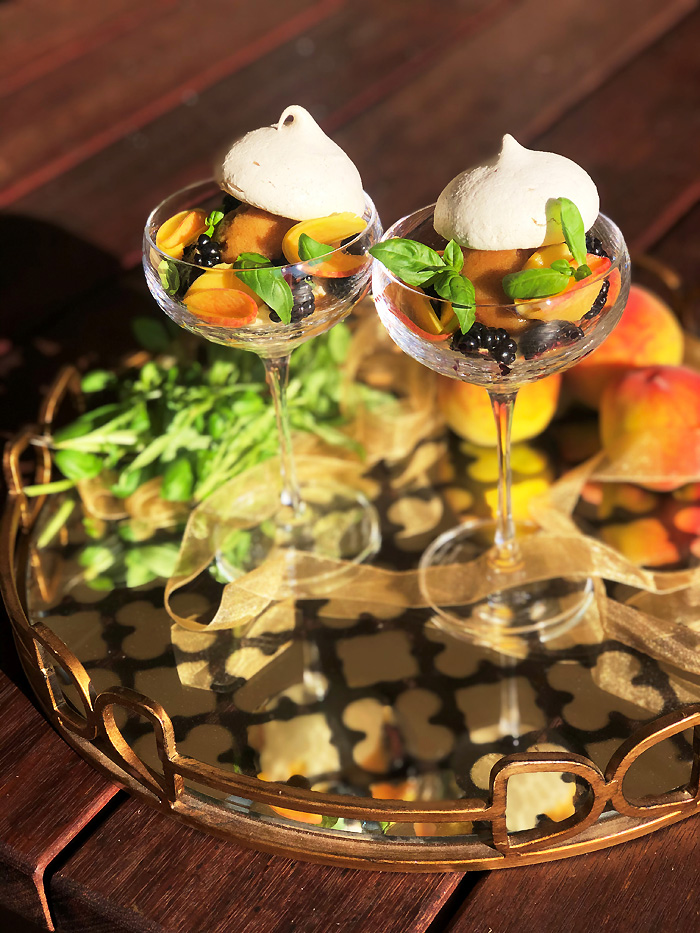 It was her dessert skills that came to the fore with unusual flavour combinations and ingredients setting the benchmark for taking out the title and her recipe for Christmas peach sundae has been specially created for us to enjoy this festive season.
"Christmas Day cooking can be stressful, that's why I've come up with this really quick, simple yet delicious dessert! The best part about this recipe is that all the elements can be made in advance and only need to be assembled on the day – easy as Sundae!" says Larissa.
"Our Aussie Christmases are hot and peaches are in season, this recipe celebrates hot Summer days and seasonal produce to suit festivities. Merry Christmas to you all."
It wouldn't be Christmas without a special cocktail to accompany the indulgent array of festive food adorning our tables. Fortitude Valley bar Proud Henry offers a variety of intimate spaces to chill out with friends under the watchful eye of the bar's resident peacock, while sipping one of more than 250 gins and boutique wines offering something to suit all tastes.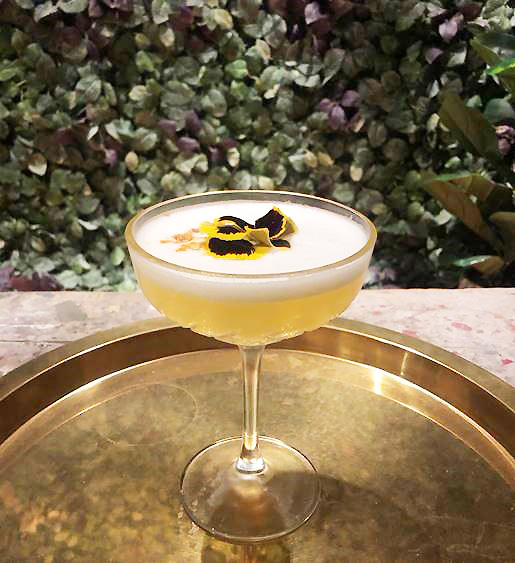 It's no surprise mixologist Ashur's liquid pavlova cocktail contains gin, alongside Chartreuse, elderflower liqueur and egg white, to create festive fun in a glass. Having dessert as a Christmas aperitif? Why not? This cocktail is sure to refresh on a hot Summer's day, with a slice of grapefruit adding a citrus element.
Just remember Christmas calories don't count, so treat your tastebuds these holidays.