Keep up to date with everything Festivale here! We will be updating our travels as we go, remember to also follow us at our instagram and twitter.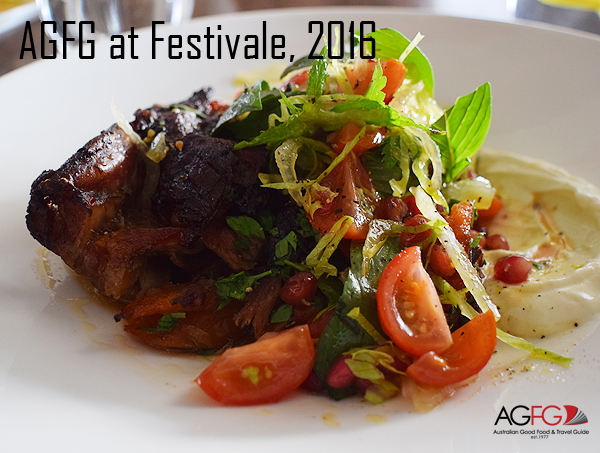 This delicious morsel was devoured at Mud Bar & Restaurant in 2015. Slow braised Driver's Run Lamb with celeriac purée, roast red capsicum, tomato, sherry, Laban, mint and parsley.
Thursday 5pm Update:
We've just landed in Launceston and we're on our way to Festivale's Opening Ceremony. Photos coming soon!
Thursday 10pm Update:
Did you know that Festivale has been in operation for 29 years? Experience, longevity and enthusiasm was all that could be felt tonight at Festivale 2016's opening ceremony; where guest were treated to an endless supply of scrumptious canapes, Jansz sparkling wine and James Boag beer (along with quite a number of red and white options and further beers at the bar). A truly memorable night was the perfect start to 3-days of foodie fun at Festivale.
Here are some of the delicious morsels guests were given:
Goat's Cheese, Savoury Cheesecake.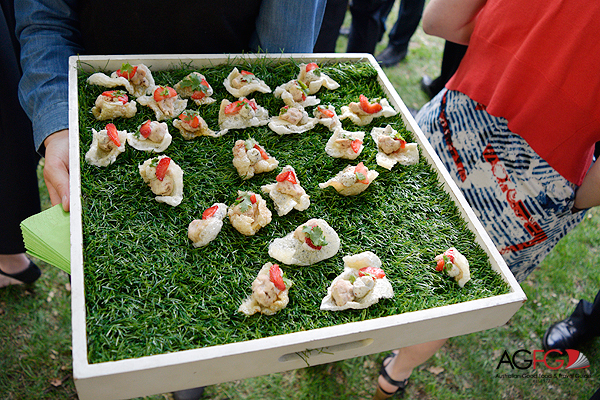 Pork Crackling with Strawberry Puree.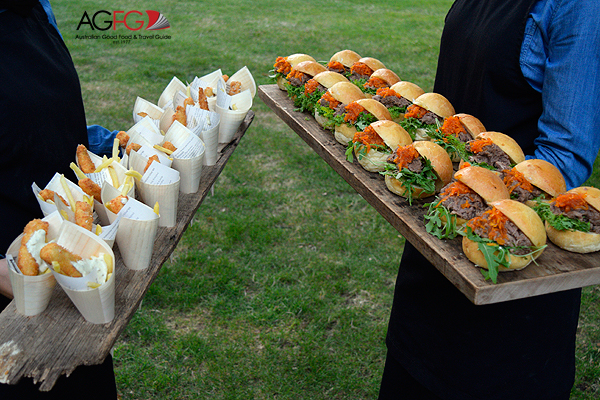 "Fish and Chips," and Pulled Pork Sliders.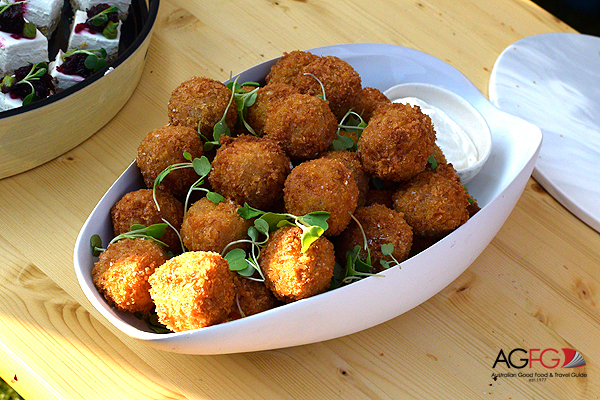 Barley Arancini.
Festivale's Cider Awards have been announced! Best Dry Cider: Red Brick Road Cox's Orange Pippin.
Best Perry (Pear variety): Red Brick Road Perry.
Best Other Ciders (blends and sweets): Pagan Small Batch Quince Cider.
Friday 11am Update:
AGFG will be attending the Festivale Lunch at Stillwater, this year hosted by the one and only Greg Malouf. Greg will be working with Stillwater's Executive Chef Craig Will to showcase his Middle Eastern cuisine using Tasmanian produce. We will be posting live via our instagram, photos will be added here after the event.
Friday 3pm Update:
What an absolute feast! Greg and the Stillwater team really outdone themselves at Festvale's lunch with a decadent array of Middle Eastern cuisine served share style in what can only be described as a King's feast. We're going to let the photos do the talking:
Entree: Bread with a palate cleanser of mint, onion and dukkah. Tasmanian salmon 'kibbeh nayee.'
Entree: Pickled smoked ox tongue, saffron labneh and silverbeet.
Main: Flinders Is. Lamb Shoulder, slow roasted with lemon, cardamom and oregano.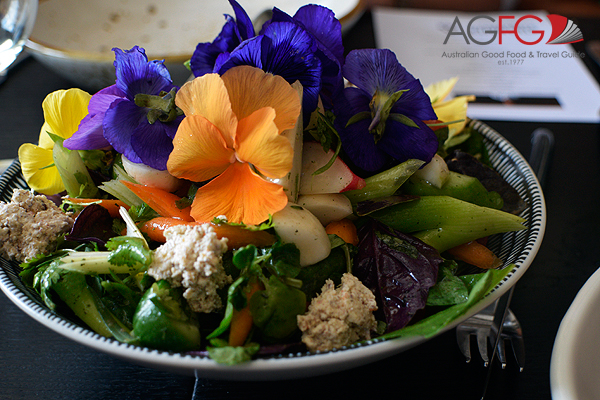 Main (side): Salad-e Shiraz with homemade shankleesh and violas.
Main (side): Sultans 'eggplant' delight.
Dessert: Lemon posset with orange blossom, peach caramel and caramel wafers.
Saturday 5pm Update:
Festivale's Wine Awards have been announced:
Sparkling: Jansz Premium Rose NV
Riesling: Ghost Rock 2015
Chardonnay: Goaty Hill 2014
Pinot Noir: Ghost Rock, Two Blocks, 2014
Best Other White: Springvale Gewurztraminer 2015
Best Other Red: Ghost Rock, Pinots, 2015
Judges Award: Tamar Ridge, Single Block, 2014
AGFG's Ling Qian and Best Taste Plate Stall Award Winner, Mahasti Tapas + Pintxos.
Saturday 9pm Update:
Greg Malouf and the Festivale judges have tried, tested and deliberated.
Festivale's annual stall awards sponsored by AGFG are in!
If you haven't yet been to Festivale, you still have a chance as City Park will be open from 10am -4pm on Sunday. Get tasting (and drinking) at these award-winning stalls:
Best New Stall: Sweet Brew (stall 71)
Best Dessert: Josef Chromy Wines (stall 54)
Josef Chromy Best Dessert the "Jelly Cup," of green tomato jelly, cultured milk sorbet, cucumber and mint.
Best Taste Plate: Mahasti Tapas and Pintxos (stall 27)
Best Environmentally Friendly Stall: Sweet Brew (stall 71)
Best Wine: Spring Vale (stall 29)
Best Other Beverage Stall: Lost Pippin (stall 61)
Accessibility Award: Willie Smith's Cider and Grandvewe Cheese (stall 49)
Chairman's Award (Judges Award): Henry's Ginger Beer (stall 6)
Best Overall Stall for 2016: Lost Pippin and the Lamb Baa (stall 61).
Saturday 10pm Update:
Wendy Matthews was fantastic and so was the crowd tonight at Festivale! A night to remember, not to mention the array of food, wine, beer and cider on offer. We've only got a small snippet for you this evening with a few photos, more to come tomorrow - but please don't admire from a distance see for yourself tomorrow.
Black Mountain Ice Cream - Chocolate and Raspberry & White Chocolate Ice Cream Sundae with Chocolate Brownie, Caramel Sauce, Berry Compote and Fresh Cream (stall 14).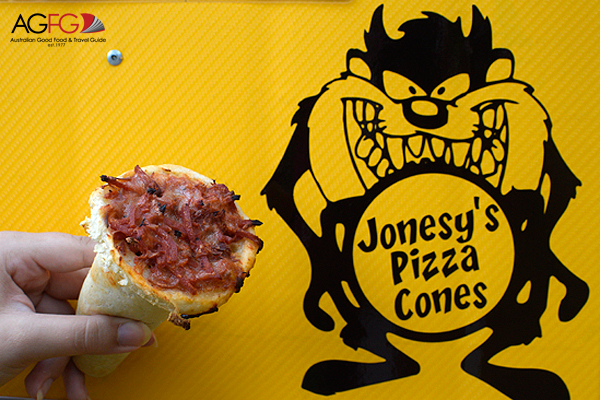 Mint Lamb Pizza Cone (Tassie Gourmet Cones stall 86).
Spice infused Confit Apple, Summer Berry Parfait and Fresh Berries, a Delicious Dessert at Pierre's.
Sunday 10 am Update:
Festivale is awake and buzzing! Make sure you head over today or you won't get a chance until next year. Yesterday we did a quick trip to Low Head Lighthouse, just past George Town - make sure you walk down to the water behind the lighthouse as there are penguins!
Monday 2pm Update:
What a fantastic event! Festivale was an absolute foodie success this year, if you weren't able to make it, perhaps think about making a special trip next year, as Festivale will be celebrating its 30th year! On our last day in Tasmania, we did some quick touring to Mole Creek Caves, in particular, a tour of the Marakoopa Cave, which was a magnificent sight to see.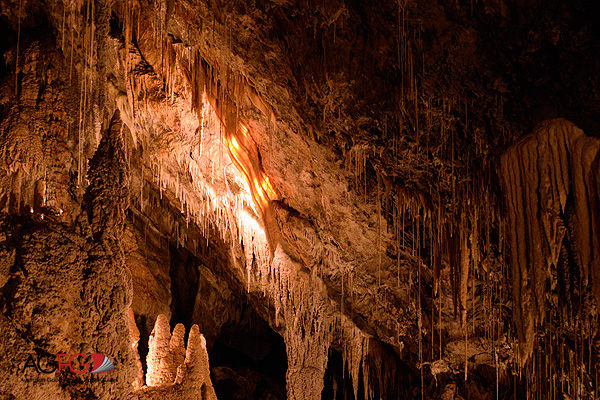 A decorated chamber in the Marakoopa Cave at Mole Creek Caves.
After the caves we just had to stop back in at Festivale for Wendy Matthews and some lunch (well more like oysters and dessert)!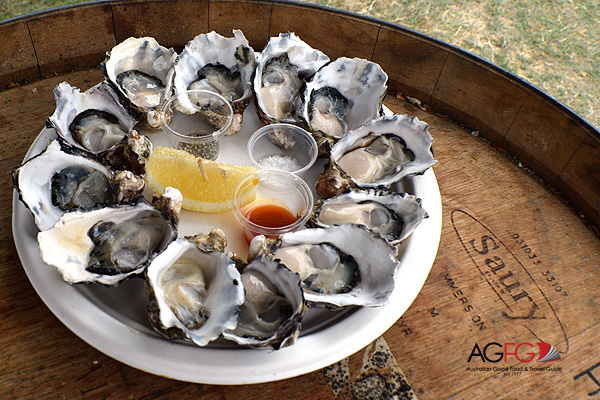 Natural Oysters from the Clover Hill Sparkling Wine Oyster Seafood Bar (stall 80).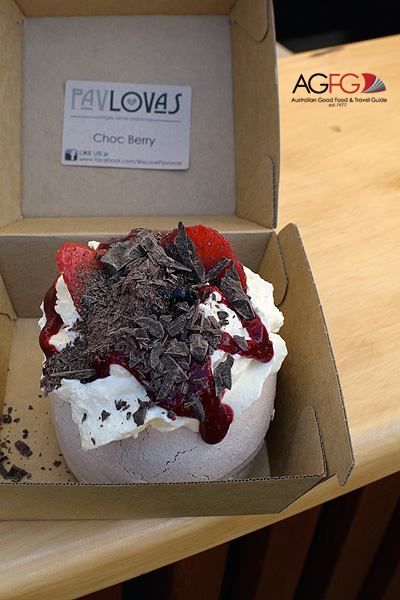 Choc Berry Pavlova - the Festivale Pav from Pav Lovas (stall 4).
Over our time at Festivale we were also able to fit in dining at a couple more restaurants, before we jetted off back to the office. For a romantic, well-presented, wholesome and delicious meal - Novaro's hit the mark in every way. Here are just some of the dishes we enjoyed: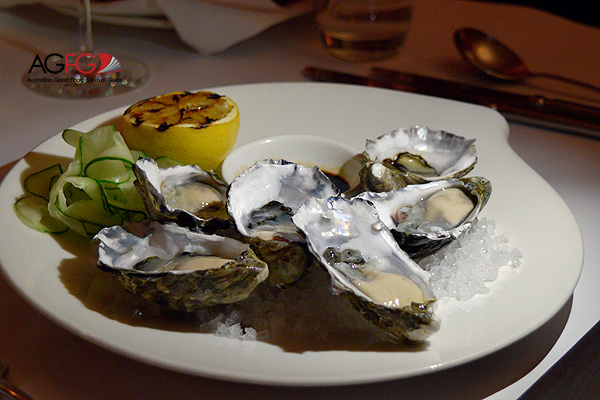 Freshly Shucked East Coast Oysters, Natural.
Filetto di Manzo - 220g Black Angus Eye Fillet of Beef, served with Roasted Garlic and Thyme Potatoes, Spice Onion Marmalade and a Beetroot, Pear and Sunflower Salad.
We heard from quite a few locals that Geronimo was THE place to check out, and so we did. Definitely worth a visit if you're in the area.
Confit Salmon, Oyster Creme and Asparagus at Geronimo.
Prawn and Squid Ink Tortellini, Pinenuts and Fresh House Curd at Geronimo.
Cocoa Rolled Pork Fillet, Rhubarb and Savoury Chocolate at Geronimo.
Overall, Launceston is a fantastic foodie destination - so mark it down on your 'to do' list.
Photography by AGFG and experiences by the AGFG Foodies.