By Leigh O'Connor.
A love of food, family and friends is the essence behind time spent together and meals shared around the table – the foundation of the Italian tradition of antipasto.
While many of us are struggling right now with not being able to spend quality time with loved ones, family and friends, we know at some stage in the not too distant future a gathering to celebrate the end of this pandemic will happen.
Setting the stage for the meal to follow, or as a shared platter to serve with drinks, antipasto is an artful presentation of contrasting colours, textures and flavours that are as pleasing on the eye as the palate. In addition to grilled and pickled vegetables, a traditional antipasto platter will include an assortment of dried, cured meats, olives, semi and soft cheeses and seafood.
An antipasto course can vary from an abundant display brimming with Italian delicacies to a simple plate of a few topped crostini and cured meat. We've put together six great dishes, with wine pairings, to make sure when you can celebrate, your aperitivo session is a success.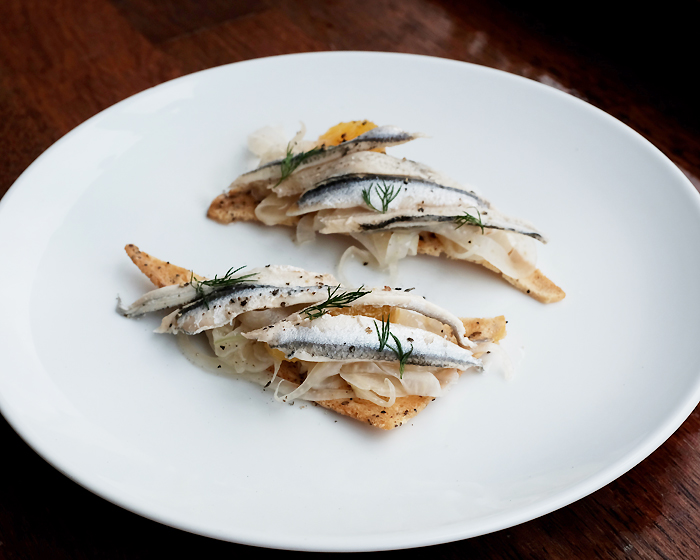 Di Vino Byron Bay on Fletcher Street is well-known for rustic Italian fare with flair that has locals and visitors coming back for more. This wine bar and restaurant invites wining down with a glass from a carefully curated list of Italian and Australian varietals, while delving into an antipasto plate such as Sicilian white anchovy crostini.
The dish uses ingredients typically found on the southern Italian island of Sicily, such as oranges and white anchovies and would traditionally be garnished by finocchietto selvatico – a Sicilian type of fennel. Chef Bruno Conti has used dill as a substitute, which works just as well to balance the strong fish flavour and crunch of the crostini.
Based in Margaret River, Skigh Wines' Coda Chardonnay – with aromas of Bramley Apples, pears and nectarine and palate of stone fruit, strudel, fresh bread and toffee apple – is an ideal foil for the oily and salty anchovy taste.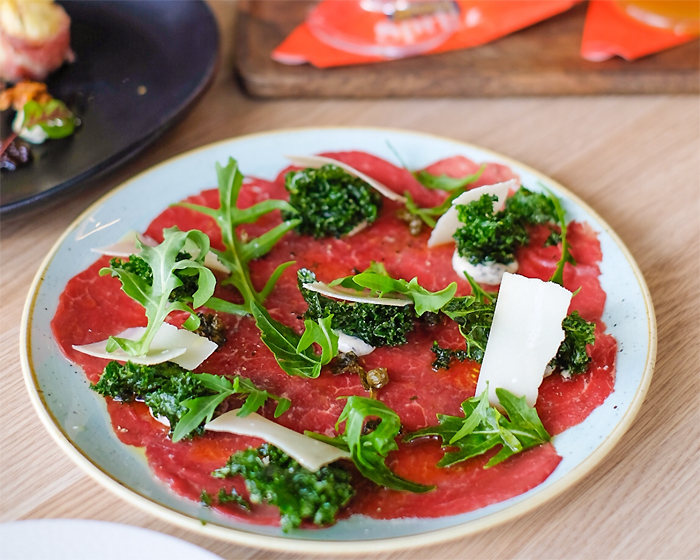 Photo credit: Eats with Marie.
Beef carpaccio has a very delicate texture and when drizzled with truffle oil is hard to beat as an antipasto delight. La Favola's recipe for carpaccio rucola and Parmigiano matches well with a drop of 2018 Jack Rabbit Pinot Noir.
The wine's dense red colour, fading to rose on the rim and pronounced characteristics of ripe blackberry and cherry alongside warm, earth aromas, complement the thin slices of Black Angus fillet, topped with truffle mayonnaise, fried capers, fried kale and rocket.
Chef Fabio Stefanelli's tip to enclose the beef tightly in plastic wrap and freeze for 30 minutes, makes the fillet easy to slice with a sharp knife.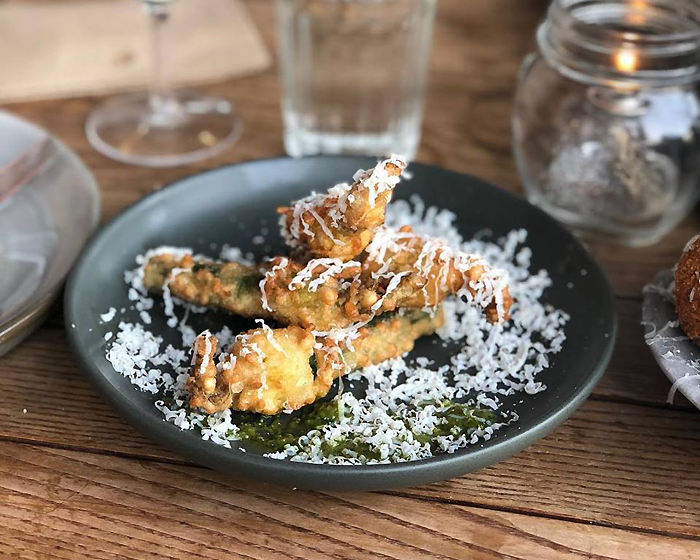 Grab a glass of 3drops 2017 Sauvignon Blanc to enjoy with this crispy zucchini flowers with goats' cheese dish from Locale Pizzeria Deakin, where Chef Kevin Rhind is behind a team passionate about eating, celebrating and socialising with family and friends from a menu of pizza and pasta, made with love.
A great drop to accompany the creaminess of the goats' cheese and the salty tang of the basil pesto, lively passionfruit and gooseberry aromas jump from the glass, giving a rich and generous front palate, while the finish is long and lean.
Boasting prime views of Sydney Harbour Bridge, La Capannina in Milson Point hand picks produce daily from local markets including seafood, served up in antipasti offerings such as Chefs Francesco D'Aurai, Alessio Narduzzi and Marco Di Giovanni's recipe for Tataki di Ricciola - Hiramasa kingfish tataki – a perfect accompaniment for Jane Brook Sparkling Blanc de Blanc.
With its Granny Smith apple, tropical fruit and biscuit nose and clean, long, fresh and balanced finish, this sparkling wine balances the zing of lemon and orange in the tataki, while the slightly char-grilled texture of the kingfish is sure to appeal to discerning diners.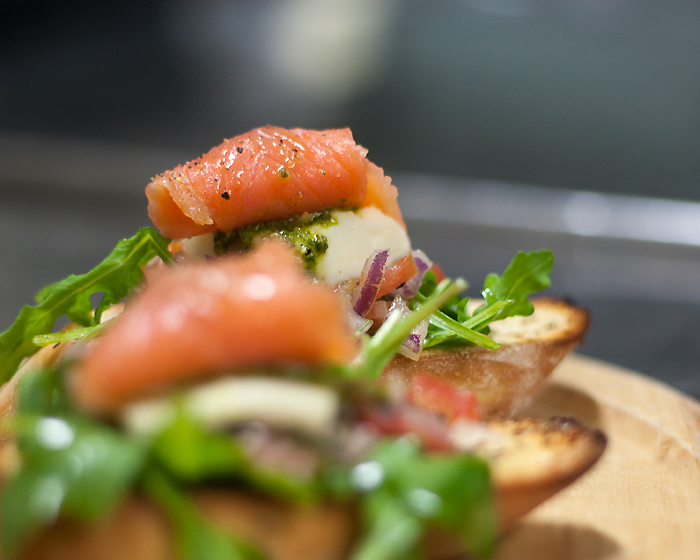 From Buddina restaurant All' Antica Italian Restaurant & Pizzeria, Chef Shane McNally brings us his recipe for Bruschetta con Salmone, best teamed with a glass of Montalto Single Vineyard 2016 'The Eleven' Chardonnay with hints of lemon, lime, tangerine and grapefruit, combined with floral and mineral notes by way of slate and flint.
The combination of smoked salmon, bocconcini, basil, Parmesan and Roma tomatoes makes this a bruschetta your guests will be devouring in no time - it is also just as good with smoked trout.
Doncaster's Brunelli Bar Restaurant Cafe is a trusty local favourite that pleases everyone in the family and Chefs Gary Farah and Andrew Wilson are happy to share their antipasto plate of Straccetti di Manzo.
The straccetti is made from thinly sliced eye fillet, roasted red peppers and Napoli sauce, sitting pretty next to a mixed leaf, tomato and olive salad and wood-fired bread. Try it paired with a glass of Mino + Co's 2017 Sangiovese Rose Signor Vino, with its bright and vibrant ruby red appearance, mouth-filling fruit flavours and dry, crisp and refreshing finish.
For more antipasto suggestions for your next dinner party, click here.