By Leigh O'Connor.
Fish has always been considered the family dish and Down Under we are blessed with an abundance of seafood - as Easter approaches, thoughts turn to what to cook for Good Friday as a traditional non-meat, eating celebration.
People have written of fasting on Fridays as early as the first century and there are numerous fishy tales as to why the last day of the working week is considered a no-go zone for meat.
Sounding like the plot from a thriller, the story goes that a powerful medieval pope made a secret pact to prop up the fishing industry, which ultimately altered global economies and resulted in millions of Catholics around the world eating fish on Fridays.
This theory has never been proven, but as fish are cold-blooded they are considered fair game for those who want to observe religious holidays such as Good Friday, Advent and Lent. In fact, reptiles would also be acceptable, but not many Christians developed a hankering for snake meat.
At first, herring satisfied the meat fast day as it was plentiful, but also dry and tasteless when smoked or salted. Preservation was a must in medieval times, as there was no good way for fresh fish to reach the devout masses.
Eventually, cod became the fish of choice as it tasted better when cured and lasted longer. The Vikings were masters at preserving cod and used dried and salted fish as a form of beef jerky on their ocean voyages.
Today, with an abundance of fish and seafood on our doorstep and an emphasis on sustainable management of our oceans, the choice of dish for Good Friday is as varied as the number of chocolate eggs devoured on Easter Sunday.
We've put together five Chef-inspired fish recipes for you to try this Easter. Read on and be hooked…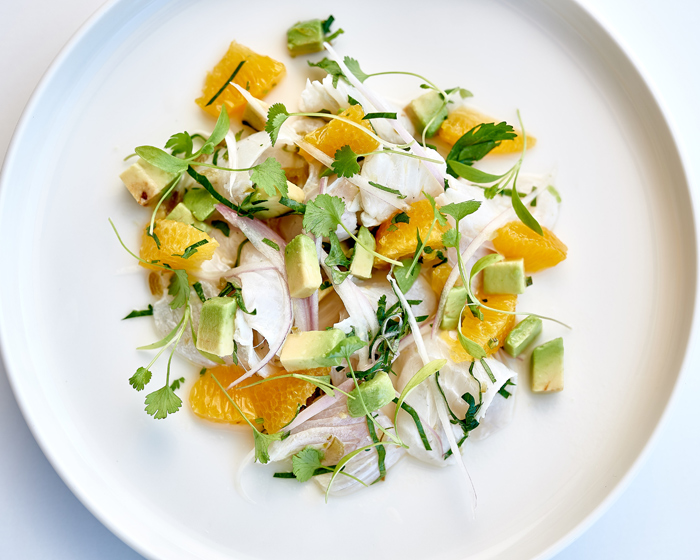 Rick Stein at Bannisters' Ceviche. Photo: David Griffen Photography.
From Rick Stein at Bannisters restaurant in Mollymook comes this recipe for Abraham's Ceviche of Eden swordfish and prawns with avocado, tomato and chilli. When it comes to seafood, few do it as well as Head Chef, Paul Goodenough and Executive Chef Rick Stein at this waterfront venue, located within the grounds of Bannisters Point Lodge.
Rick explains to AGFG readers that Abraham was a fisherman he met at Progreso, on the Yucatan Peninsula of Mexico. Abraham and his young apprentice filleted the fish they had just caught on board and made the ceviche straight away, only leaving the fish to marinate in the lime juice for as long as it took to prepare other ingredients.
Rick and Paul have added prawns for sweetness and avocado for a little richness to Abraham's original recipe, with a hint of habanero chilli for a splash of heat. Served with crisp and crunchy corn tortilla totopos, this ceviche is sure to be a hit with family and friends this Easter.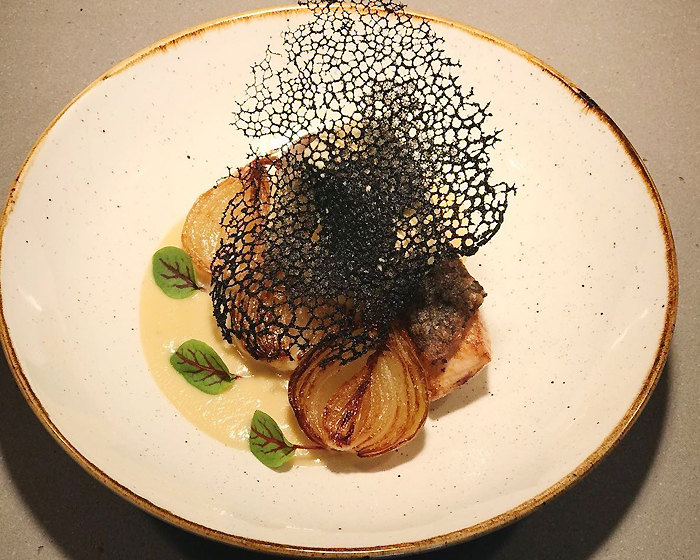 Bill's Fishhouse + Bar's crisp skinned Blue Eye cod.
Bill's Fishhouse + Bar at Port Macquarie is a mix of maritime décor and succulent, fresh seafood. Textured timbers, white walls and moody, coastal tones set the scene as guests mingle over premium wines and cocktails, before delving into seafood platters - abundant in oysters, crabs and clams from the local region.
Bill's Chef Pete Cutcliffe brings us his recipe for crisp skinned Blue Eye cod with soubise, French onion and mustard sabayon as an Easter offering. The firmness of the cod, combined with the classic old-school onion flavour of the soubise sauce and unusual but delectable mixture of mustard sabayon, brings a whole new dimension to a humble fish dish.
Garnished with fresh dill, parsley and baby basil leaves, this is an ideal meal for Good Friday, perhaps accompanied by some crusty bread and a green side salad.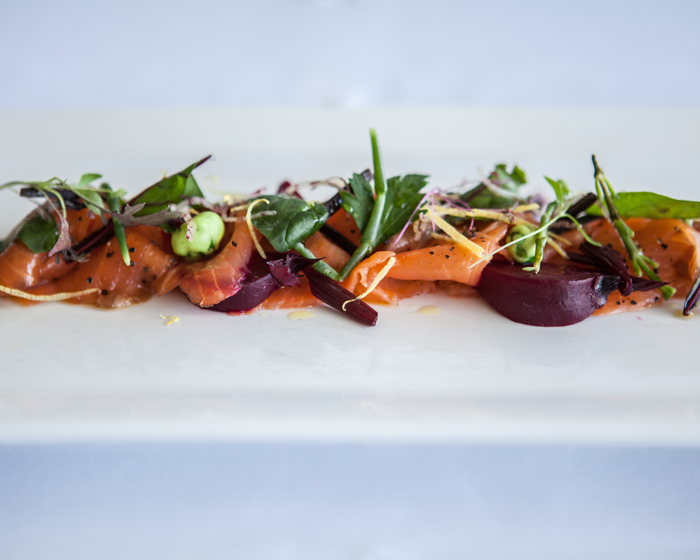 2 Fish Seafood Restaurant's house cured gravalax.
Award-winning 2 Fish Seafood Restaurant is a quintessential Port Douglas dining experience, from its breezy alfresco area and chic interior of white linen, blond wood and vivid blue glass panelling, to an innovative menu that caters for all appetites. Showcasing the clean, fresh flavours of the ocean and tropics, this restaurant embodies both simplicity and elegance.
Chef Adam Ion shares his creation of house cured gravalax with wasabi peas, pickled beets and samphire with us, best served with horseradish cream. While the curing process does take a couple of days, the recipe is simple and worth the wait, as melt in the mouth slices of Atlantic salmon are enhanced by the sweet and sour flavours of pickled beets.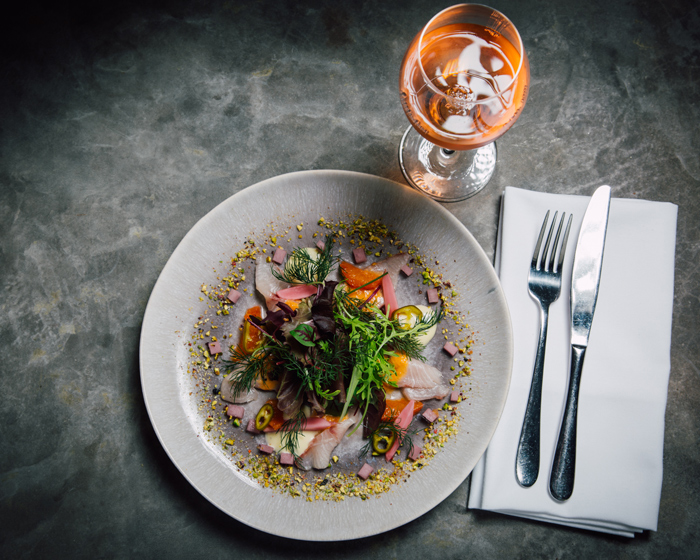 Cod's Gift's Hiramasa kingfish sashimi.
Embracing everything from the sea, Cod's Gift in Dural presents a sleek interior décor of aqua tones and softly glowing wall lights, creating a chilled out vibe to enjoy a menu swimming with ocean delights. This latest restaurant from the team behind Wolfe & Co, also offers alfresco dining on cane chairs with nautically striped cushions, ideal for relaxing with a drink in hand.
Their Easter suggestion is Hiramasa kingfish sashimi, a colourful plate of thinly sliced raw kingfish, topped with pickled vegetables and jalapenos, wasabi mayonnaise, sun-dried tomato vinaigrette and pistachio salt. With a hit of wasabi and dried chilli flakes, the soft texture of the fish is brought to new flavour heights and the addition of orange segments as a garnish, brings a tangy, citrus finish.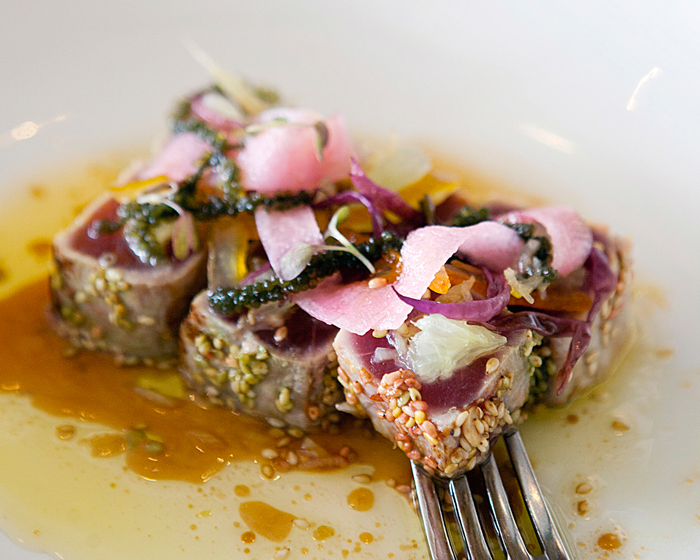 The Fish House's tuna tataki.
Making a splash with tourists and locals alike, Chef-hatted The Fish House restaurant in picturesque Burleigh Heads serves fresh seafood from a Southern European-inspired menu. Awarded the Gold Coast Bulletin's 'Best Fine Dining Restaurant,' this contemporary space has been styled with a coastal theme of timber seating, exposed brick walls, white table linens and bi-folding front windows, leading to sparkling ocean views.
From Chef Damien Styles' vast repertoire comes tuna tataki – with soy and ginger dressing, pickled daikon and a garnish of sea grapes, candied yuzu, red coral seaweed and red shiso leaves. Loin pieces of tuna are cut into bricks, gently seared and then sprinkled with four different types of sesame seeds to create a crunchy coating.
Now that we have whet your appetite for tasty Easter fare, click here for more inspiration.