Tasmania is well known for its abundance of fresh produce, seafood and meat – along with fine wines, beer and cider. While in and around Launceston for Festivale this weekend, why not take the opportunity to wine and dine at some of our favourite spots…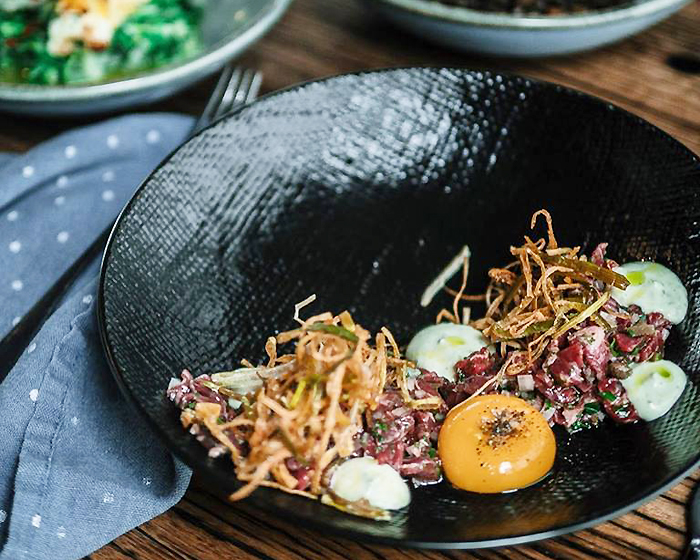 Beef tartare at Geronimo.
Bringing a unique and modern dining experience to Launceston's city fringe, Cataract on Paterson is an ideal place to unwind on a Friday night. Oozing sophistication via a blend of classic interiors with a modern twist, the menu focuses on fresh Tasmanian produce, while for the ultimate interactive dining experience try the stone grill where your steak, prawns, scallops or salmon are cooked to your liking, on a 400-degree volcanic stone.
For heritage listed charm and a lively atmosphere, head to The Clarendon Arms Hotel in the leafy Tasmanian town of Evandale. Stop off in the spacious bar for a quick pre-dinner drink, or chill out in surrounds of wooden floors, dark walls and low ambient lighting, while on balmy February days the beer garden appeals for a family gathering. Delve into the likes of smoked duck breast, before mains such as slow roasted pork belly and crackle dust.

Take a culinary journey through the seasons at The Terrace Restaurant in Prospect Vale. Nestled in the Country Club Tasmania, this fine diner pleases the senses in every way, from the aroma of freshly baked bread to crisp white table linen and cylindrical softly glowing pendent lighting, setting a sophisticated ambiance. The devil is in the detail and The Terrace's gastronomic team is committed to excellence using the very best Tasmanian produce for a la carte and signature table d'hôte dishes such as Tasmanian sea scallops with Paris butter and salmon roe.

A majestic, upscale ambiance and much sought after location await festival-goers at Dynasty Chinese Restaurant. Situated next to Launceston's Brickfield Park, Dynasty's three metre high ceilings are adorned with dragon and phoenix murals, while the dining room is decked out in traditional red and gold, setting an authentic vibe. Opt for mouth-watering mains such as abalone with oyster sauce, or perhaps Cantonese style beef, teamed with deluxe fried rice.
Offering a menu embracing a paddock-to-plate philosophy, Chef-hatted Geronimo Aperitivo Bar and Restaurant is a must-visit dining spot during Festivale. Located on Launceston's Charles Street, relax in a simple yet sophisticated interior furnished with pieces handcrafted from recycled timbers from the old Seaport boardwalk and start your journey with a glass of one of the 25 gins on offer, teamed with beef tartare to share; or char-grilled skirt steak, wombok and chimichurri.
Traditional tapas pub Greenwood Bar on George Street is where locals and tourists alike gather for foaming pots of Boags Draught and fare with flair. Not too far from Launceston's North Esk River and the festival hub of City Park, Greenwood has classic old English pub style with highly polished wood, gleaming bar taps and hanging bulbs. Team a drop of choice with plates such as a Juicy Lucy burger – a beef patty wrapped around a block of cheese, served with caramelised onion and béchamel sauce.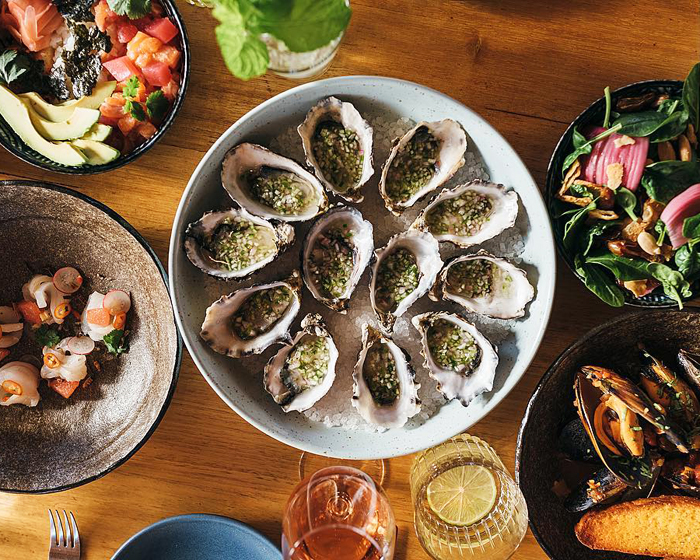 Oysters at Hallams.
True to their name, Hallams Waterfront Seafood Restaurant offers stunning views of the Tamar River and sumptuous Mod Oz cuisine. This Launceston venue has been reconstructed from an assortment of Tasmanian timbers creating an elevated cottage design, in fitting with the wholesome, traditionally homey feel that resonates throughout the Apple Isle. Devour freshly caught seafood dishes such as pan fried salmon, chorizo spiced pork and potatoes, olives and caramelised onion; or perhaps share a hot and cold seafood platter for two.
With an outlook to the mountains, Le Café on St George provides an array of fresh, seasonal flavour from Tasmania's bountiful countryside to Launceston locals and visitors. Located in a prime position opposite St Georges Square, deep red walls adorned with vibrant paintings and framed period postcards of Paris, greet diners as they admire the view and sip a smooth coffee; while tucking into a house baked gourmet chicken, leek and camembert pie, or salami, sun-dried tomato, olive and cheese panini.
Those seeking a feast of tangy flavours and heady aromas won't go past Mekong Vietnamese Restaurant on George Street in the heart of Launceston's York Town Square. Adorned with bamboo screens and a splash of green, the restaurant interior is a contemporary take on elements of traditional Vietnamese style creating a welcoming venue, ideally suited to intimate dining. Delve into the likes of spicy satay beef, or stir-fried chicken with lemongrass, chilli and vegetables, best enjoyed with special fried rice.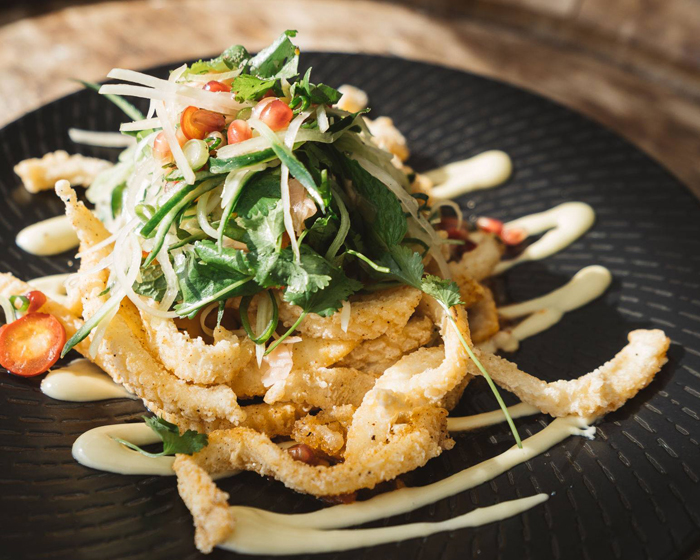 Crispy Szechuan squid at Mudbar.
Sip an aperitif at the elegantly designed bar, while enjoying harbour views at Chef Hat awarded Mudbar and Restaurant, at the Old Launceston Seaport. Guests sink into dark chocolate toned cushioned seats under warm mood lighting to enjoy fine dining on the waterfront, from an innovative menu of Euro Asian infused fare. Begin with mirin tempura battered oysters with ginger, chilli and lime, before a main affair like Scotch fillet steak from the charcoal grill, with layered potato, leek and Dijon dauphinoise, pecorino and dressed greens.
Embark on an Indian taste adventure without leaving Launceston at Pickled Evenings on George Street. Serving modern Punjabi cuisine in elegantly casual surrounds of polished wood floors, chandelier lighting and earthy tones reminiscent of Indian spices, start with chicken tikka – morsels of chicken, marinated in Greek yoghurt and tandoori spices, finished in the tandoor. Salivate over Chef's special Pickled beef curry, braised in Tasmanian red wine and cooked with bell peppers, with sides of rice, raita, mango chutney, naan and pappadums.
Located just 15 minutes north of Launceston, Rosevears Hotel effortlessly combines old world charm with dazzling waterfront vistas overlooking the pristine Tamar River. Suited to both casual, leisurely luncheons and romantic evening dinners, Tasmania's fresh produce is incorporated wherever possible to create a contemporary Mod Oz menu, bursting with tantalising flavours. Freshly shucked oysters with lemon and champagne vinaigrette may appeal to start, followed by crispy skin Huon salmon, tomatoes, pecorino, basil and olive oil.
One of Launceston's finest restaurants housed in an elegantly restored 1830s flour mill, Chef hatted Stillwater plays host to Festivale's signature and sold out lunch – this year featuring Matt Preston. The restaurant is also open for normal trade during the festival and welcomes guests into a majestic setting of original bluestone wine cellar, private dining room and a courtyard for alfresco drinks and snacks. Stillwater's menu changes with the seasons, but expect offerings like Tasmanian black lip abalone, burnt butter ponzu and fermented black bean.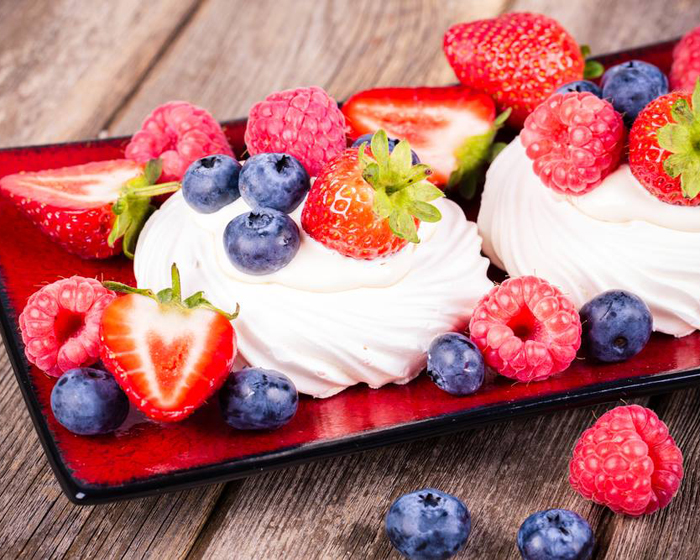 Pavlova at Tailrace Cafe.
Dedicated to fun, food and family dining, Tailrace Café is spacious, fresh and contemporary in layout making it an ideal spot for parents to stop and relax, while the kids play at nearby Kids Paradise. Situated within the Tailrace Centre, this café's menu features mostly what is grown on site, in diverse plates influenced by Asian and Mediterranean flavours. Perhaps start the day on the outdoor deck with a coffee and classic breakfast of eggs Benedict with smoked salmon, while guests stopping by later may choose a chicken burrito with Mexican rice and guacamole.
Those seeking to inhale the aroma of wood fired pizza wafting from the kitchen, head to The Metz Café Bar on St John Street in Launceston. Popping greenery and a zesty gin menu provide a Summery vibe for relaxed dining and while renowned for pizza, there are six menus to choose from including afternoon snacks and late-night options. Share a large plate of signature calamari salad, spinach, roasted pecans, sweet potato, feta, Spanish onion, sweet soy dressing and aioli – with a glass of Australian or international wine from an extensive range.
Lovingly refurbished retro pub, The Ringwood Hotel on Main Street in Cressy is the place to go for great Tasmanian service and fine fare, whether enjoying a cold one on the front deck or dining indoors among polished wood and cream walls. With a menu showcasing local and regional produce, expect starters like beetroot risotto, asparagus, red capsicum and shaved Parmesan; followed by Cape Grim beef spare ribs, smoky BBQ sauce, cheesy potatoes and sour cream.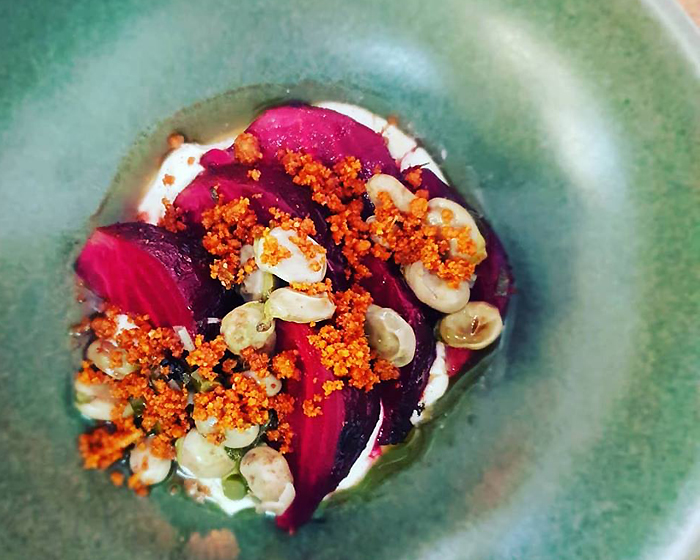 Smoked beets and yoghurt at Timbre.
Soak up a panorama of pastoral lands and vineyards at Timbre restaurant on West Tamar Highway in Legana. Nestled between some of the Tamar Valley's oldest vineyards, Timbre finds popularity among locals and tourists alike, sitting beside Velo Wines; where the art and aromas of wood fire cooking combine with local produce to create a constantly evolving menu. Share in tasting plates like smoked quail, preserved peach and fattoush style onion; or bigger offerings like olive braised lamb shoulder, anchovy butter and spinach.
Got more time to explore the Apple Isle? Click here for more of our Tasmanian dining recommendations.