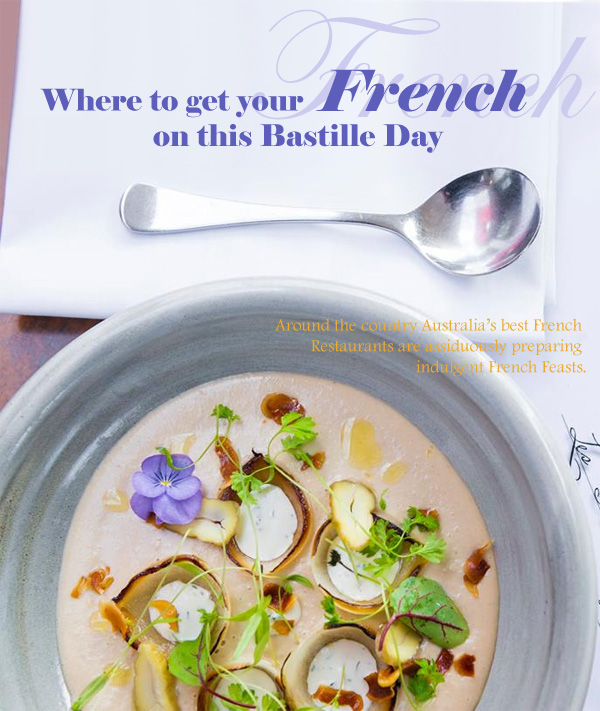 Winter Chestnut Soup from Les Bistronomes, Braddon ACT. Photo: Edge Light Photography.
Our fast paced lives leave little time to enjoy food like Manu, with slow cooking and soufflés more a delicacy than anything else. However, French cuisine is still a classic in this ever contemporary world, a cuisine that is the basis for all others and one that will never truly die. Rich. Rustic. Refined. These are the simplistic elements behind French cuisine and the reason why there's a little bit of French in everything, from macarons, cronuts and croissants to charcuterie boards, French cheese platters and crème brulée.
All around the country, French restaurants are assiduously preparing French feasts for you to enjoy and we've got a quick snap shot for you below.
For all other Bastille Day events and specials, check out our What's On Guide.
Chef hat awarded Bistro Guillaume, in Crown Perth will transport you to the neighbourhood bistros of Paris this Bastille Day with a three-course menu rich with French classics such as leg of duck confit, French onion soup, twice-baked cheese soufflé and escargot persillade. To book, please call 1800 556 688 or visit crownperth.com.au.
Chef hat awarded Felix, nestled in Sydney's Ash Street laneway is an elegant bistro which has been affectionately designed as a romantic homage to the quintessential French brasserie. Merivale's Felix will be hosting a three-course choice set menu, with numerous options to appease any palate.
Those within the glittering city lights of the Sydney Harbour Bridge and Opera House don't have to look far for sumptuous French cuisine.
Sofitel Sydney Wentworth proudly upholds its French heritage and culinary influences and they'll be exploring French classics through a three-course Bastille Day dinner in the Garden Court Restaurant.
In Crows Nest, Le Bouchon will be hosting a five-course $90 Bastille Day Degustation dinner, featuring the likes of escargot, French onion soup with Gruyere croutons and Le Bouchon Cassoulet with braised pork and fennel sausage.
In Sydney's East, right in the heart of Darlinghurst, Claire's Kitchen at Le Salon will be entertaining guests with a four-course dinner, live accordionist and French Can Can dancers.
In the outskirts of Capital Country, Bungendore, Le Tres Bon will be hosting a four-course feast, including a truffle dish for only $65. Le Tres Bon is run by French Chef, Christophe Gregoire, along with the restaurant he also hosts tours and cooking classes which makes Les Tres Bon the epitome of provincial France in a village setting.
The Snowy Mountains will even be getting their French on this Bastille Day at Thredbo's Cuisine Restaurant where you can enjoy a five-course French inspired menu.
Moving south to Melbourne…
South Yarra, Bonbeach, Prahran and Footscray are putting on a spectacular French dining show, with The Botanical Dining Room hosting a Tour De France with live entertainment and a six-course menu that will be journeying through six regions: Normandie, Loire Valley, Longuedoc-Roussillon, Rhone, the French Alps and Paris.
A La Bouffe will be hosting a Bastille Day five-course Degustation menu that also journey's through five French regions from the first stop Bourgogne to the fifth stop Bretagne, be sure to check out their interactive menu map and upgrade to matching wines direct from France.
Chef hat awarded France Soir will be offering their normal a la carte menu with an array of entertainment from Can Can dancers, duo musicians, a restaurant decorated in 300 balloons (red, white and blue) as well as their full entourage of staff in costume. It will be a night to remember!
Tu Restaurant and Bar will be proudly presenting a seven-course Degustation menu which will take you on a gastronomic trip around France and its wine regions including Provence, Bordeaux and Alsace.
Bonbeach's The Little French Deli will be hosting a three-course Bastille Day dinner menu for Thursday July 14 as well as Friday 15 and Saturday 16 July, be prepared as they ask you to come dressed for the occasion, from super chic to super cliché.
Prahran's Chez Olivier will be hosting a "Marie Antoinette" Bastille Day dinner menu, with a la carte options for $85 pp, featuring the likes of Boeuf Bourguignon, Soufflé au Chèvre V and Tarte Tatin.
Footscray's Small French Bar will be offering a special four-course menu with dishes such as Raclette, Pot Au Feu, Petit Tartare De Boeuf and Tarte Tatin.
Up in Queensland...
Lutece Bistro & Wine Bar in Bardon, Brisbane will be entertaining guests for Bastille Day lunch and dinner with live Jazz entertainment by Leo La Spina and Kelsey Giarola. Lunch is a three-course menu with matching French wines and dinner will see the likes of a five-course menu along with matching French wines and Champagne.
Lakefront Bistro will be hosting a three-course choice set menu for Bastille Day dinner, featuring the likes of tarragon egg with sugar cured Atlantic salmon, beef cheeks Bourguignon and a trio of French inspired chocolate desserts.