It's time for the best dressed to come out and play for the 2017 Melbourne Cup. All around the country, fascinators are being donned, champagne is flowing and talk turns to the race that stops the nation.
Horse racing fan or not, most Aussies have a flutter on the Cup – it would be un-Australian not to! It has fast become an unofficial holiday for many businesses as staff gather for lunch and bubbles, sweepstakes and creative hat competitions.
Steeped in history and tradition, the first Cup race was in 1861 in front of an estimated crowd of 4000, when Archer took line honours and punters began a long running obsession with thoroughbred racing. In those days, Victoria was in the grips of a gold rush with people flocking to Melbourne, Bendigo and Ballarat in the hope of finding yellow treasure.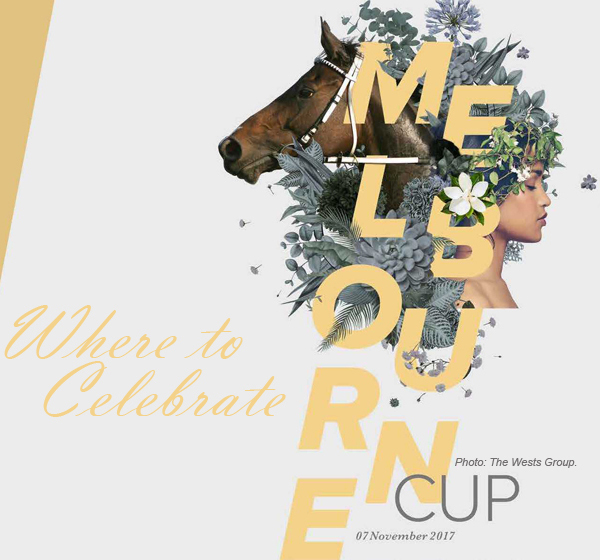 By 1880, more than 100,000 people would make the journey to Flemington for the Cup – an extraordinary number of spectators considering Melbourne's population at the time was only 290,000. These days attendance numbers for the Cup are around the same levels, while the combined attendance for the four-day Spring Carnival sits around 350,000.
Whether trackside or watching from a restaurant, bar or couch at home, Melbourne Cup is a celebration of Australian culture, fashion, food, wine and of course horse racing. So frock up, suit up and step out in style… at one of these great venues around the country:
New South Wales:
Gallop on in to The Gallery Restaurant and watch the action in front of the big screen at Baulkham Hills Sports Club. This bright and cheerful restaurant is hosting a buffet lunch including a glass of sparkling wine, along with sweeps and prizes for the best dressed. Don't be a late scratching, make sure you book a table close to the rails to catch all the action.
Listen to the sound of hooves drumming down the straight while enjoying idyllic bay views, at The Galley Kitchen Anchorage on Corlette Point Road in Port Stephens. Celebrate a Cup experience that rivals being at the track with special guest Kirstie Clements, former editor-in-chief of Vogue Australia, a three course lunch and unlimited bubbles. An oyster tower is sure to be a front runner in the food stakes, so put on the silks and trot on down.
Back a winner and enjoy a two-course lunch at TBones Tex-Mex on Munibung Road in Cardiff, along with a glass of bubbles on arrival, sweeps and prize giveaways. Expect to fill the feed bag with tempting dishes like 18-hour slow-roasted sirloin with grainy mustard potato puree, baby carrots, spinach and jus; followed by salted caramel cheesecake, while watching hoops handle their mounts with ease on the race to the finish post.
Add a classic French twist to an iconic Aussie event with a trip to the birdcage at LoLuk Bistro on Bourke Street in Surry Hills. This bistro, inspired by the south of France and family recipes, offers up a three course Melbourne Cup lunch, featuring citrus king fish tartare, Provencale mussels with housemade truffle fries and a sweet finish of lavender crème brulee. Teamed with a daily double glass of champers or beer, it's bound to be a winner.
Queensland:
Sprint into Mykies by the Bay on Grand Parade in Kawana Island and score a trifecta, with a three course lunch and fun-filled race day. The fillies can frock up and win with door prizes, best dressed and best hat competitions, along with delicious dishes such as marsala veal escalopes, with field mushrooms and seasonal steamed greens and traditional Italian tiramisu, soaked in coffee and rum and layered with mascarpone cream.
Take a place at the starting gate at George's Paragon on Eagle Street Pier in the heart of Brisbane's CBD. Dine in style by the water's edge and enjoy a decadent a la carte lunch with glass of champagne on arrival, sweepstakes, prizes and Fashion on the River competition for best dressed, best hat and most outrageous. Don't put on the blinkers… or you will miss the start!
A red carpet cup luncheon awaits guests at The Fish House on Goodwin Terrace in Burleigh Heads. In partnership with Ruinart Champagne, punters can enjoy bubbles and Sydney rock oysters on arrival, followed by a divine six course lunch, all across the road from the iconic sands of Burleigh Beach. Keep the tips under wraps to make sure of a winning bet.
Join race fans and fashionistas at Miss Moneypenny's VIP Canape and Champagne Marquee, on Hastings Street in Noosa Heads. Enjoy three hours of roaming canapes, pizzas and bar bites, in addition to a sumptuous three course luncheon and legendary after party. Pick up the pace with a live oyster bar, freshly shucked to order, before a fashion parade presented by Rip Curl Australia.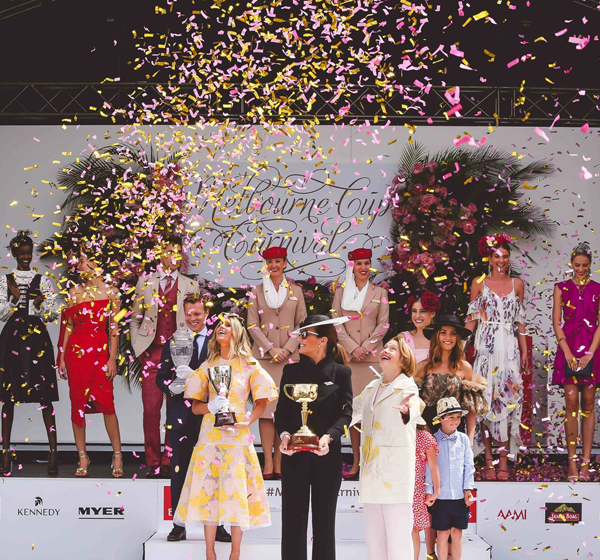 Flemington Racecourse launches the 2017 Melbourne Cup on October 30.*
Victoria:
Dress to impress and enjoy live music, cash sweepstakes and big screens at Republicaon Jacka Boulevard in St Kilda. Experience Melbourne's most glamorous day at the beach, with a set menu of breads and dip, plus choice of main and glass of bubbles, sure to shorten the odds for a good time. Located in the Sea Baths complex, overlooking Port Phillip Bay, Republica ticks all the boxes for a home straight victory.
The spirit of Flemington comes alive at Jack Rabbit Vineyard on McAdams Lane in Bellarine. Frock up and mingle, stroll or sit and take in sprawling ocean views in the background, while sipping premium wines and dining by choice from an a la carte menu. Keep an eye on the big screen and have a flutter in the sweeps, while Fashions on the Field contestants race for the best hat or fascinator award.
South Australia:
Proudly supporting Beyondblue, Woodstock Coterie Estate on Douglas Gully Road in McLaren Flat, hosts a Melbourne Cup Charity Luncheon to help those affected by anxiety, depression and suicide. With a $10 donation from each ticket and all profits from a mystery wine raffle going to the charity, this three course lunch and three hour drinks package is sure to be at short odds. Join in the racing action with big screen coverage, sweeps and best headwear contest.
Do Melbourne Cup in style with a Modern Asian experience at Level One on King William Street in Adelaide City. With a glass of Pol Roger champagne or Asahi beer on arrival, dine Omakase-style from a sharing menu designed by Executive Chef Jamie Chang, while preparing for the big race in sleek, trendy surrounds of pastel walls and bright blue floors. Giddy up… they're off and racing.
Western Australia:
Become part of the family and share delicious fare, made by hand at Villa D'Este on Outram Street in West Perth. Oozing Mediterranean charm in a terracotta coloured Italian villa, indulge in a three course lunch with complimentary glass of Prosecco on arrival and sweepstakes, door prizes and best dressed competitions on offer. It's bound to be a fast track as the horses round the clubhouse turn on their way to the finish line.
Nestled in the lush greenery and natural bushland of Joondalup Resort, Bistro 38 welcomes Cup goers inside and out in the conservatory, for an ultimate Cup experience. Dine on a four course set menu including a two-hour beverage package, with dishes like beetroot cured salmon, pear and wasabi salad and confit duck with wild mushroom and potato gateau.
Northern Territory:
There's no party like a Meat House Coolalinga party and Melbourne Cup is no exception. Located on Stuart Highway and hosting an exclusive VIP event, guests can expect platters, premium cocktails and wines, along with live music and race coverage. Sit back and watch the action with horse and carriage and acrobatic pizza shows, along with best dressed competitions and sweepstakes, it's sure to be a fascinating experience.
Darwin punters can head to Rorkes Beer Wine Food on the corner of Bennett and Smith Streets, to take in Cup action on the big screen upstairs, with both levels open. Middle distance runners will be happy with a gourmet three course lunch and beverage package, with Jansz sparkling wine and Pure Blonde beer and cider included. Guests are all winners with goody bags for ticket holders, Fashions on the Field, lucky door prizes and sweeps, before partying on at the roof deck with live music and a marquee.
Still looking for a position on the rails at a restaurant nearby, click here for a full events list from our What's On Guide.
Image credit to Flemington Racecourse Facebook, original here.