Sometimes you just don't feel the need for a huge meal, more the urge to snack and share small bites that tempt the taste buds without extending the stomach. These days, wine and tapas bars are extremely popular alternatives for dining out and the fare on offer is truly spectacular, from Asian delights to moreish Mediterranean morsels.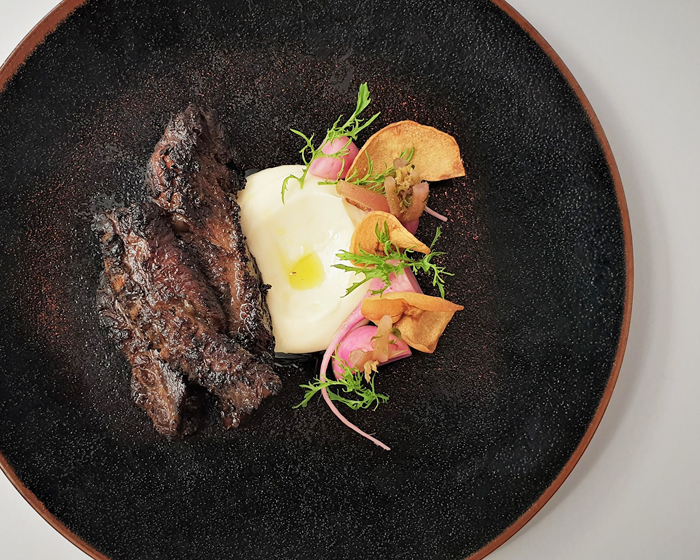 Wagyu kal-bi at Kimchi Cheese Smile.
Dining out becomes a culinary adventure, with so many options to choose from to accompany your favourite tipple; say cheers to some of our favourite small bite destinations around the country:
Talking Tapas in Krowera and Druin:
Graze your way through Gippsland in a relaxed and tranquil setting at The Grove on Uren Road in Krowera. Take in expansive views of Bass Hinterland and the restaurant's olive and truffle groves within this 60-acre farm, where the focus is on real food, strong community, nature and sustainability; with a glass of wine in hand and a starter of spiced cauliflower, herb yoghurt and lemon.
Tapas temptations include gnocchi with pork ragu, greens and fennel; or perhaps delve into a Koonwarra lamb tasting plate of cutlets, braised shoulder and chimichurri, with sides of dauphinoise potatoes, citrus and herb slaw. Opt for a mini patisserie selection of Kiwi custard tart, citrus cake and mini crumble as an indulgent finish to a shared meal.
Survey the lush green vineyard from the wooden deck at Brandy Creek Estate Restaurant on Buln Buln Road in Druin, while sipping a glass of estate wine. This cultural eatery with a South American influence rocks a festive atmosphere every day, whether dining alfresco or in the spacious interior brightened by floor-to-ceiling glass doors, chilling out in a tufted leather armchair by the fireplace.
An a la carte tapas menu serves up plates such as pork and rabbit terrine, with pear chutney and grilled bread slices; while seafood lovers salivate over grilled scallops, pickled beetroot and basil sauce. Pan-seared Spanish chorizo in red sauce, capsicum, chickpea and red wine entices, alongside caramelised lamb ribs, served with chimichurri mayo.
Brisbane Tapas Destinations:
Punchy Korean flavours served in fun and funky surrounds are on offer at Kimchi Cheese Smile on Stanley Street East in Brisbane. Putting a smile on your face with contemporary cuisine for weekend brunch, take a seat by the picture window and people watch on the busy city streets while devouring miso pork belly Benedict, poached eggs, spinach, caper berry, chilli Hollandaise and smoked paprika oil.
Evening diners share small plates of crispy school prawns, with furikake salt and gochujang aioli, or octopus tartare, red cabbage, tobico, sesame leaf and melba toast; before satisfying larger tastes with confit duck pasta, perilla cream, Spanish onion, cherry tomato and thyme. Room left? Cherry sorbet, pecan soil, lime granita and basil oil should take care of sweet tooths.
Artwork, fine wine and great fare fuse together at Fusion Art Bar & Tapas on Spence Street in Cairns. An industrial, upcycled and vintage vibe is evident in a relaxing ambience of exposed red brick walls and high concrete ceilings, while old furniture and timber combine with handmade cutlery and ceramic ware to blend modern and old-world charm in effortless style.
Black garlic butter scallops and crusty bread, or sardines with croutons, Romesco sauce, blistered tomatoes and salsa verde, kick start a taste adventure; before larger offerings such as Moroccan spiced lamb rump, couscous, Greek yoghurt, beans and Pedro Ximenez dates. Those with a hankering for dessert delve into orange and poppyseed curd tart, almonds and macadamia ice cream.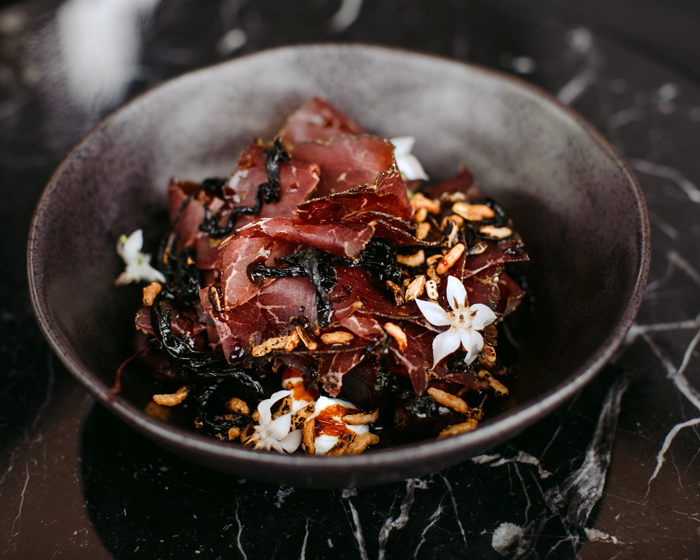 Air-dried beef with salt-baked beetroot at Faro.
Tasmanian Tapas Spots:
Linger over a stunning cocktail and small plates on luxurious couches at Faro on Main Road in Berriedale. Part of the Museum of Old & New Art and jutting out over a cove on the River Derwent, this isn't what you would call a traditional dining destination, residing in the Greek Pharos wing where a white ball the size of a small bus dominates the ambience.
Slate tiles, contemporary seating and tables set the scene for sampling house specialties such as Manchego and leek croquettes with Romesco and pickled chilli, or seared koji wallaby, pickled walnuts, cherry and Pedro Ximenez; while larger appetites opt for seared Wagyu, asparagus, XO and grilled gem lettuce.
Hobart diners seeking a steamed dumpling fix head to POT STICKER Dumpling House on Collins Street. This unpretentious venue projects a warm and inviting vibe of red accented walls, wooden table settings and an eclectic mix of light fittings from chandeliers to exposed Edison bulbs, as guests peruse an extensive menu of small and larger bites.
Start with a little something like barbeque pork buns or wasabi prawn dumplings, moving on to crispy battered chicken bites, tossed in a sweet and savoury honey glaze; while honey soy pork back ribs, deep fried to order, are sure to provide finger lickin' satisfaction. Seafood lovers salivate over garlic prawns, wok stir-fried with fresh cut vegetables, a side of combo fried rice and spring rolls.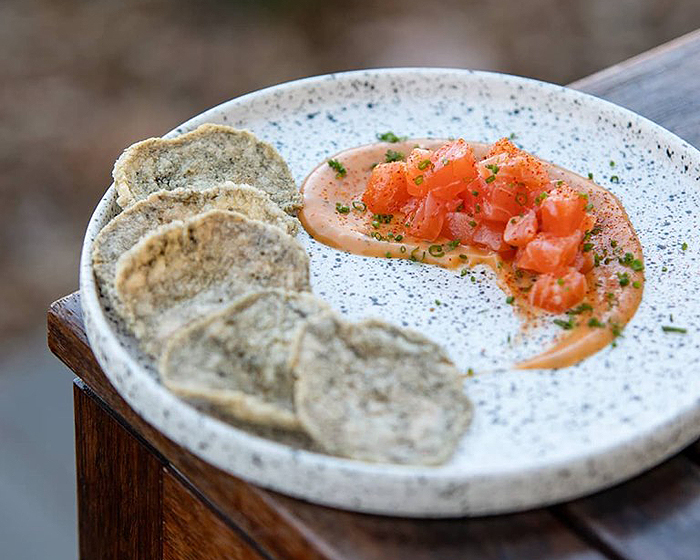 Salmon tartare with jasmine rice crackers and tom yum aioli at Momoda.
Seek Out Tapas in Sydney:
Tasty traditional tapas served with vigour just as you would expect in Spain, is on the plate at Miguel's Tapas Bar on Victoria Road in Gladesville. Embark on a taste journey to the streets of Madrid without leaving Sydney at this colourful and trendy venue, with geometric print mosaic tiled stairs, playful murals and an alfresco area in the back garden lined with greenery, pallet tables and a feature bar.
With a glass of Grenache Tempranillo in hand, devour moreish morsels like spicy tomato chicken wings, pork and veal meatballs and chicken and mushroom croquettes; or share a tasting plate of calamari, meatballs, ham croquettes, patatas bravas and a side salad. Churros with chocolate, strawberries and ice cream are sure to entice as a decadent finish to a fun night out.
A warm touch of an exotic colour palette and intimate table settings make for lingering lunches and late dinners at Tapas Tapas Bodega on Pacific Highway at Turramurra. This authentic Spanish restaurant and deli specialises in Catalonian and Basque-style tapas and pintxos, from a menu boasting diverse flavours and traditional ingredients.
A regional Spanish wine list goes hand in hand with signature plates like smoked swordfish carpaccio, crepes filled with smoked salmon, artichoke, onion and capers; alongside spatchcock roasted Catalan-style with apricots and prunes. Finish with poached pear, red wine and crème Chantilly, or a selection of Spanish cheese and quince paste, washed down with a glass of Sangria.
Awesome Adelaide Tapas Spots:
Celebrate all things gin and tapas at Prohibition Liquor Co on Gilbert Street in the heart of Adelaide's CBD. Combining the world's finest botanicals to create a sophisticated and premium end result, Prohibition serves liquor and gourmet bar food to those looking for after work catch-ups with friends in surrounds of reclaimed timber, copper and glowing pendent globes.
Grab an Espresso Martini to team with a sourdough toastie of sopressa, provolone, sun-dried tomato and olive tapenade and rocket; or perhaps a shroomy halloumi slider with pesto, hummus and spinach. Those dining in a group may opt for a gourmet grazing platter of charcuterie, ciabatta, feta, bocconcini, pesto, Romesco, pickled onion, cornichons, olives, snow pea sprouts and muscatels.
For small bites with an Eastern European bent head to Kaffana on Gilbert Place in Adelaide city. Separated into three different areas, this sophisticated yet relaxed venue welcomes you indoors to a casual lounge, leading to a bar with formal dining at the back. Presenting a myriad of unique flavours, the menu showcases hearty, rustic Serbian fare such as stuffed cabbage leaves and char-grilled quail.
Chef Nenad's specialty char-grilled baby back pork ribs, dry rubbed in Kaffana spices and an aged parsley and garlic glaze, will impress those wanting to eat with their hands; while the Kaffana Feast of proja, stuffed peppers, rump steak, karadjordjeva schnitzel, chicken skewers, quail, housemade bread, potato and cabbage salad will suit those looking to share.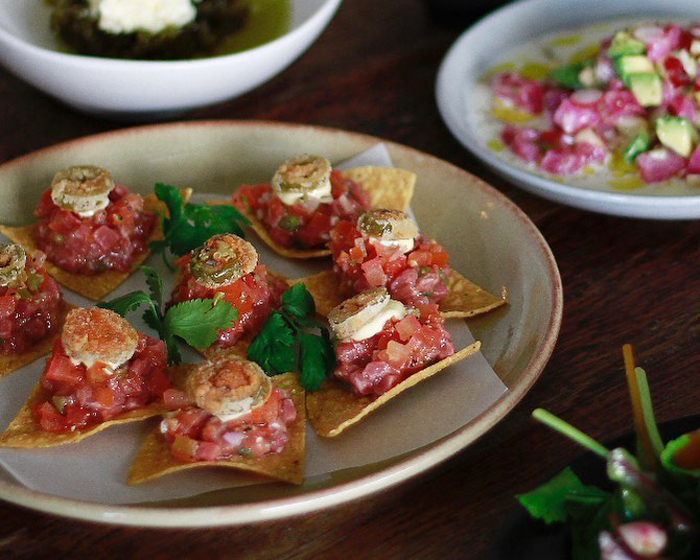 Beef chop chop nachos at Young George.
West Australian Small Bite Restaurants:
Globally inspired share plates are on the menu at Young George in Fremantle, along with craft wine, beer, cider and spirits. Nestled in a beautiful heritage building on George Street, this unique neighbourhood bar with a serious focus on food, is the ideal space to settle in with friends as the buzz of lively conversation adds to a rustic ambience of stone walls and brick feature archways.
Housemade charcuterie like duck prosciutto and beef bresola are specialties, served with house mustard, cornichons and chow chow; then tuck into beef chop chop nachos tartare, with tortillas, salsa fresca and fried jalapenos. Charred mutton neck, pastrami spices, white bean cream, kraut and mustard may tempt, or perhaps baby roasted squid, escabeche, smoked lardo, saffron and bread pudding.
Socialise over inventive cocktails with a view of the city skyline at The Stables Bar on Hay Street in Perth CBD. Featuring two levels of dining experiences, including a sophisticated outdoor bar, cobblestone courtyard and landscaped oasis, a rich past seamlessly blends with modern styling at this laneway establishment.
Sip on a Rocketman cocktail of gin, elderflower, peach, aloe vera, lemon and whites, as you graze over braised beef cheek tacos, jalapeno salsa, sour cream and coriander; or perhaps charcoal prawns, avocado, cucumber, radish, chilli and pea shoots. Pineapple tarte tatin, mint ice cream and candied pineapple makes for a decadent dessert.
Capital Tapas Venues in Canberra:
Every mouthful is created to taste, love and share at Momoda on Northbourne Avenue in Canberra. If you are looking for traditional street food with an unexpected, modern twist head to this unconventional eating house exuding a moody vibe of red neon lights, high stools and plush carpeting; while the punchy menu is a little cheeky.
Mongolian-style kangaroo spring rolls, wombok and ginger, or pulled duck buns and caramel ginger reduction set things in action; followed by Long Beach-style black pepper softshell crab and brown butter. Typhoon shelter fried rice, Hokkaido scallops, shrimp, garlic and chilli will satisfy larger hunger pangs, finishing with fried ice cream, black sesame, charcoal bamboo and freeze-dried strawberry.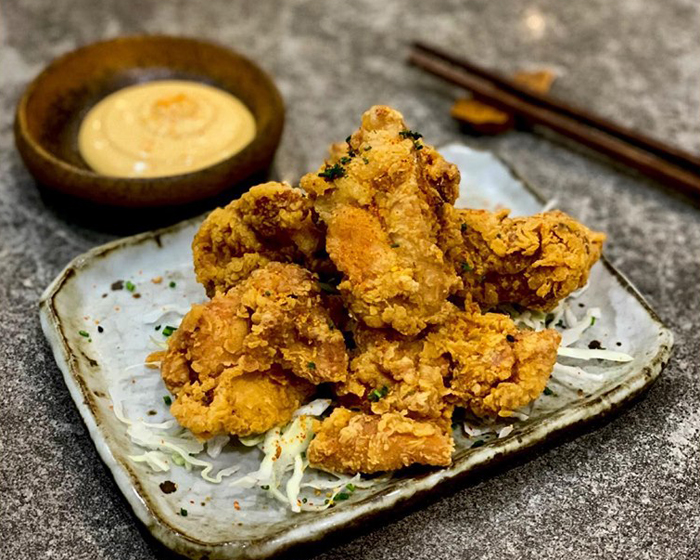 Le Bistro Rakuya's fried chicken.
Small Bites in the NT:
Modern French and Japanese fare fuse together at Le Bistro Rakuya on Trower Road in Casuarina. When the acquired taste for something a little different makes itself known, make your way to Casuarina Shopping Centre to discover this hidden gem, styled with a palette of soft grey, blond timber furniture, potted greenery and colourful feature cushions adding a pop of colour.
Choose from street bites like pan-fried pork dumplings with kombu yuzu dressing, or crispy octopus balls, okonomi sauce, lime mayo, seaweed and bonito; juicy beef sliders on mini brioche, tasty cheese, lettuce and housemade pickles will entice burger lovers, ideal with a side of Rakuya chips, seaweed seasoning and creamy aioli with a spicy kick.