By Leigh O'Connor.
As the world switches on to organic practices and the necessity to look after our environment, the production of organic wines is growing in leaps and bounds.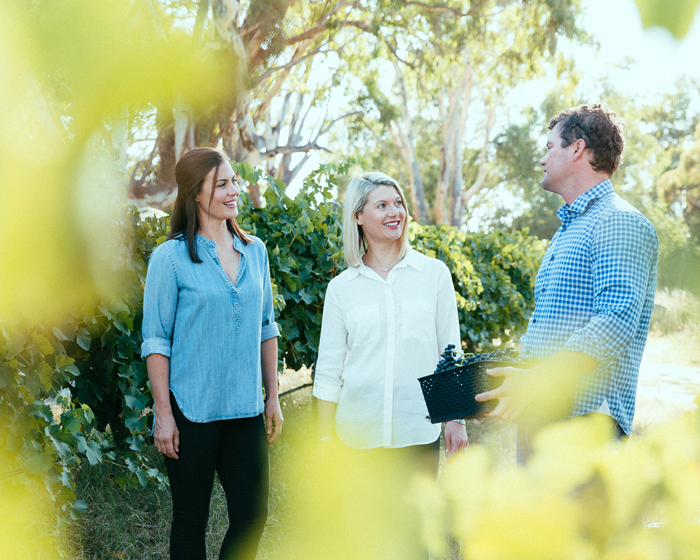 Sophie, Victoria and Richard Angove at Warboys Vineyard.
At the forefront of the industry in Australia, fifth-generation winemakers Angove in McLaren Vale are dedicated to crafting super premium and single vineyard wines, under the supervision of siblings Victoria and Richard Angove.
As we celebrate Australian Organic Awareness Month during September, this 133-year-old multi-generational company has joined forces with Australian Organic Ltd as the official wine partner for the third year running.
Currently, worth $2.6 billion, the organic market is booming in this country and wine accounts for 1.5% of the total organic market in Australia, with production increasing by 50% between 2018 and 2019.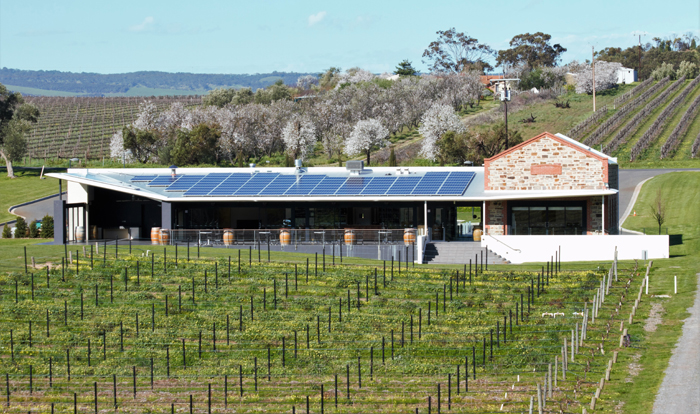 Angove Cellar Door in McLaren Vale.
Nestled in the heart of the family's historic, organic and biodynamic Warboys Vineyard – home to some of the oldest Shiraz and Grenache vines in McLaren Vale – Angove has recently committed to converting all remaining 45 acres of the vineyards to Certified Organic by 2020.
We talk to Victoria and Richard to find out what this commitment entails and why organic wines have a deeper colour and richer flavours, slightly lower alcohol levels and are able to mature and age gracefully.
"This is such an exciting time for organic wines and for consumers," Victoria says. "We are very lucky to have an incredible team, who are very focused not only on maintaining our certification, but crafting truly delicious wines."
So, what was the catalyst for Angove Wines to change from chemically sustained viticulture to certified organic wines?
Richard says long-time friend David Bruer started them down the organic garden path.
"He convinced us to trial certified organic viticulture and see the result for ourselves. Through the conversion process, we saw vines better balanced and with great fruit flavour," he says. "At the end of the day, our soil and its health are key to our survival and we want to leave our vineyards and their soils in a better position than when we inherited them."
Richard says it didn't take long for Angove's first organic wine to be on the market, using grapes from one of their certified growers and the conversion process of the vineyards began.
"That was more than a decade ago and now all of our vineyards are certified organic and we are the leading organic grape grower and winemaker in Australia."
Angove is starting to sense a groundswell of support in the export market for its wines, but Victoria says it has been tougher than they thought domestically to get started.
"There are definitely some green shoots starting to emerge. We have needed to work extremely hard in each and every market we are in, adjusting packaging and in some cases wine styles to suit the different markets in order to gain entry.
"Finding and working with like-minded partners on the ground in each market is a key to having success – if they do not believe in why we are committed to organic viticulture and winemaking it will not work."
Victoria says Australians are becoming more educated about organic wines, with more conscientious consumers understanding and respecting how important sustainability issues are.
"They seek out products that meet their ideals around protecting the planet and ensuring sustainability is at the heart of everything they do. They see organic wines (and produce) as being cleaner and greener, containing no harmful pesticides or herbicides and being better for the planet.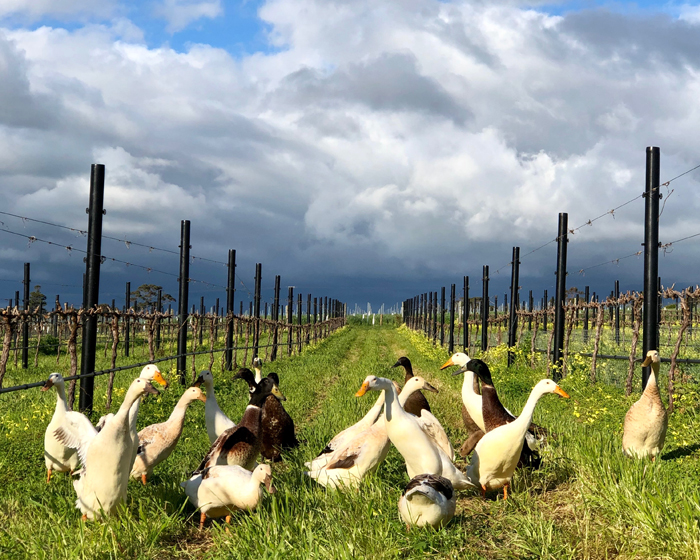 Angove's Indian Runner ducks.
Speaking of pesticides, Angove's answer to controlling pests in the vineyard are Indian Runner ducks, who fit the bill with their ability to enthusiastically hunt and devour pests, both on land and in the water. They are rotated throughout the McLaren Vale vineyard and can be seen roaming the vines by guests visiting the cellar door.
Weed control is another issue that is hard to undertake in an organic vineyard – Richard says by using special mowers developed by their inhouse maintenance crew, they are able to keep on top of the weeds.
"We are unable to use synthetic fungicides and pesticides, so we needed to find alternative ways to control this aspect of grape growing. One of the ways to do this is to get off the tractor or quad bike and walk amongst the vines, observing any issue early and remedying them quickly, using naturally occurring products."
The proof as we all know is in the taste…Richard says the organic taste difference is most pronounced in red wines, where the grapes have thicker skins, which is where the colour and flavour comes from.
"The physiological ripening occurs at lower sugar levels, which then leads to wines with deeper colour and richer flavours, slightly lower alcohols and the ability to mature and age gracefully."
At AGFG we decided to put this to the test at our weekly staff lunch sampling Angove's Organic Rose, which recently collected a trophy for Best Wine of Show at the Riverland Wine Show in South Australia.
"As the weather warms up, this wine is just perfect to have on a lazy Sunday afternoon at a barbeque with family and friends," Victoria says. "Made from 100% Shiraz grown on our family's Nanya vineyard, it is bursting with bright cherry, watermelon and blueberry flavours – Summer in a glass."
We have to agree… pale salmon pink in colour, with a palate of cherry and red berry and a clean fresh finish, this rosé is delicious chilled and served with your favourite Summer salad or smoked salmon bruschetta.