By Freya Ensbey.
As the silly string cobwebs are sprayed around the house, the cardboard tomb stones are erected in the front yard and the family pulls on their costume, the celebration of Halloween begins with a boo!
However, one eerie element, which can be hastily overlooked as a holiday novelty, are the spectacularly spooky sweet treats which make for frighting fun when serving your guests. We have clawed up our pick of favourites for this haunting, so all you have to do is go ahead and pick your poison, but good luck resisting the urge to dig into these desserts before the corpse company arrives.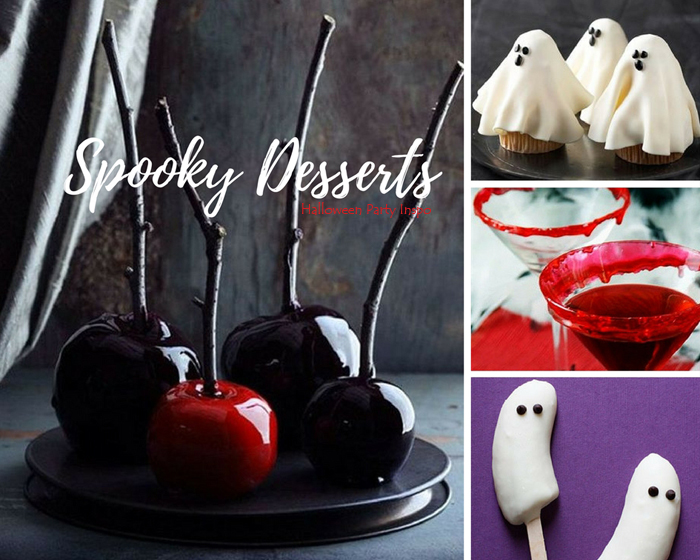 Do the monster mash, the monster teeth mash, that is with these spooky teeth treats. Also making for a great recipe for any parent to keep on hand as a quick and healthy snack for the kids to enjoy.
Death in the Afternoon Cocktail
For a drink to have you seeing double, try this Absinthe heavy cocktail mixed with refreshing ice-cold champagne, perfect to mix up for the adults of the haunted house.
These scarily addictive Halloween treats are sure to be a hit with both the kids and adults. Starting with a base of popcorn, Reece's pieces and white chocolate chips, the addition of pretzels and salted peanuts bring a savoury and oh so moreish element to this recipe.
They say an apple a day keeps the doctor away, but these terrifying toffee apples will keep the whole neighbourhood away resembling snow white's given poison ending.
Serve these martinis with rims dripping in red blood to vamp up even the sourest of guests. While you're making the fake blood, why not add some to your own skin to serve up a scary surprise.
Grab the kids to get involved in this screaming recipe and whip up these surprisingly easy ghost cupcakes in less than half an hour.
Unlike America, Halloween falls in Australia during Spring which can still be humid and balmy. So in preparation why not whip up these Boo-nana pops to keep the crowds cool. A simple banana has never tasted so good, completely coated in white chocolate and brought back to life as a ghost with chocolate chip eyes.
So, for this year's Halloween, dress up more than just yourself, by serving up a fierce dessert sure to work a spell over your guests.