By Freya Ensbey.
It is believed by many gourmands that there are three distinguishing cuisines in the world; French, Chinese and Turkish. The reasons behind these three, reigning supreme are said to have stemmed from the availability and variety of ingredients to the area, along with a royal kitchen providing meals to please the king or emperor throughout a long dynastic reign, ensuring the perfection of these dishes over centuries and enduring the test of time.
Originating from the Ottoman Empire as a continuation from Greece, The Balkans, the Caucasus and Middle East, Turkish cuisine has made its own transformation with the influences of many regions and sub-cultures.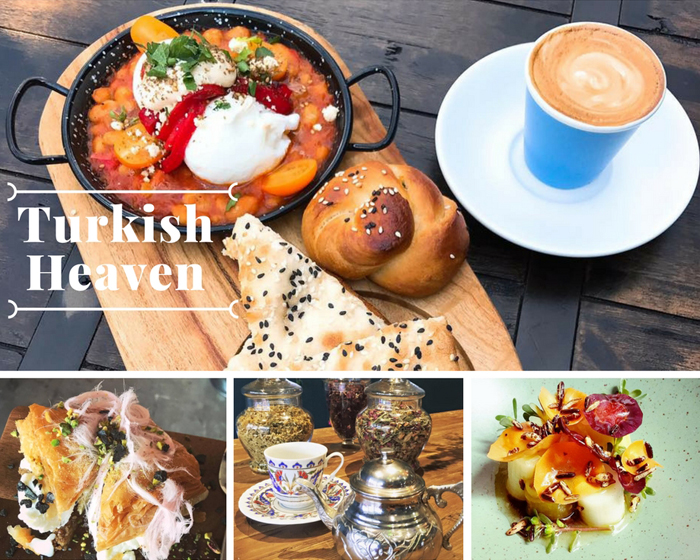 Clockwise, top to bottom: Anatolia Clemton Park, Tulum Restaurant, Turkish Tea House | VIC and Cuppa Turca | VIC.
From the days of herdsman, the Turkish have been avid consumers of meat and dairy products, seeing yoghurt used in most meals throughout the day. Turkish dishes are usually prepared using simple cooking methods and fresh ingredients with the addition of cinnamon, cumin, coriander, dill, garlic, mint, mustard and onion.
However, you needn't travel for hours overseas to sample the flavours this cuisine has to offer. So why not whip up a glass of Ayran to sip on as we take you on a Turkish tour across our country.
Turkish Delight Restaurant | ACT
Known as the original Turkish restaurant of Canberra, Turkish Delight Restaurant set in Belconnen offers locals an insight into the Turkish way of living with an authentic food hall styled with traditional tapestries, high arched cathedral ceilings and communal dining tables. Offering a menu filled with takeaway options, start with an entrée of walnut and roasted capsicum followed by chargrilled options like the lamb and beef kofte balls with onion and herbs.
Sultans Café and Restaurant | QLD
Sultans Café and Restaurant brings a taste of Turkey to the locals of Maroochydore. Take a seat in the breezy alfresco area and relax on the comfortable couches as you take in the stunning harbour views and dine on creative Turkish fare seen in dishes like lamb shish – tender marinated lamb skewered and served with creamed potatoes, Turkish rice, grilled tomatoes and whole green chilli.
The Sultan's Table | NSW
For those ravished by hunger, head to The Sultan's Table in Sydney's sought after suburb of Enmore to dine on dishes of royal proportions. Take a street side seat to people watch as you tuck into wholesome plates of hand chopped Adana lamb Kebab cooked over charcoal on a flat skewer or perhaps the stuffed cabbage roll with rice, special herbs and spices. Be sure to take away the housemade baklava to enjoy at home for days to come.
Tulum Restaurant | VIC
For a finer dining experience, take to Balaclava in Melbourne's southern suburbs to discover Tulum Restaurant. Guests are greeted with a modern interior designed with potted greenery, fresh white walls and turquoise scallop tiling, making for a relaxed and stylish space to enjoy shared mezze plates like Kuzu Salata with lamb and eggplant salad, finished nicely with a night cap of Turkish coffee and pumpkin candy with smoked Tahini and cinnamon walnut mousse.
Sephardim | NSW
Take a tantalising food journey along the ancient trading routes of the Sephardic and Moors at Sephardim restaurant, tucked just around the corner from The Esplanade in Warners Bay. Be seated in the stylish dining room with geometric blue tiling and dark timbers, creating the perfect atmosphere to share in mezze plates with friends with options like the chargrilled lamb kofte balls or halloumi with roasted pepper and tomato salsa.
Anatolia Clemton Park | NSW
Follow the neon red sign into Anatolia Clemton Park to discover a trendy space creating a jazzy vibe with sleek black furniture, black wall tiling and a feature wall portraying an airbrushed monotone mural of Istanbul. Book yourself in for a Shisha session and puff your way to Turkey as you dine on Mercimek (lentil soup) with a side of dolmades and yoghurt dipping sauce or perhaps a plate of savoury, buttery gozleme.
So why not embrace the Turkish style of living by eating in season, eating local and eating together. For the inspired who want to give Turkish cooking a go at home, visit here for our top Turkish recipes.