As pale pink blossoms appear on cherry trees, it is hard to think of Spring in Japan without taking in the annual festivals celebrating this nation's iconic symbol.
The entire country turns pink as televised cherry blossom forecasts count down a petal-by-petal analysis of each area and when the trees are likely to burst into vibrant life. When the blooms finally appear – between March to early May – it is time to indulge in one of Japan's all-time favourite past-times, Hanami.
Literally translating as 'looking at flowers,' Hanami is usually celebrated with picnics under the blooms, honouring the floral embodiment of Japan's most deep-rooted cultural and philosophical beliefs. Since 1951, teams of meteorologists have monitored the advance of the cherry blossom front – sakura zensen – as trees burst into life around the country.
Blossom season is declared officially open when at least five or six flowers have opened on a sample tree in any given area. Sadly, the flowers only bloom for about a week, before the 'sakura snow' effect starts and they float off the trees.
While Down Under it is the opposite season and beginning of Autumn, diners can still get in the cherry blossom mood at Japanese restaurants around the country, sampling delights ranging from sushi to teppanyaki and beyond.
For those turning Japanese… check out these venues and say konnichiwa to this season.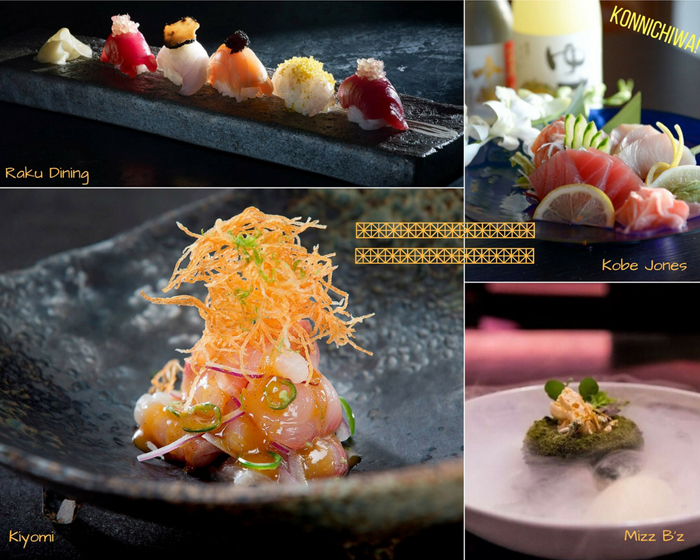 Queensland:
Kiyomi restaurant graces The Star Gold Coast with a sleek décor of mutual tones and plush leather booth seating, enveloping guests in a calm atmosphere as subtle panelling divides tables to ensure an intimate dining experience. Kiyomi celebrates a shared dining experience with an exciting menu of traditional cuisine including soups, tempura, sushi and sashimi dishes, a wide variety of Japanese beers and whiskies, sake and shochu cocktails, along with an indulgent seven course degustation menu - Omakase.
NSW:
Spicing up Sydney waterfront dining, Wharf Teppanyaki is one of the largest teppanyaki tables in Australia. Situated on King Street Wharf, this chic and charming restaurant features an impressive 12 cooking stations to watch talented Chefs carefully prepare and cook innovative dishes before guests' eyes. For a unique experience order one of the set menus, such as chilli crab and Wagyu and delve into the likes of crab salad with avocado, wrapped in Hiramasa kingfish and flamed on the teppan, with secret sauce; or seared and chilled tenderloin steak, served rare with garlic, ginger and ponzu sauce.
Showcasing a menu of Pan Asian influenced cuisine, Mizz B'z Food & Wine on Elizabeth Street in Sydney, dishes up diverse, aromatic flavours on the plate. Whether shopping, working or playing in the CBD, guests are surrounded by a sleek, modern and warm ambiance, where fusion fare such as tuna zuke with snow pea sprouts and finger lime entice as a starting point. Salivate over pork belly, garlic mash and fresh kimchi, or delve into the likes of smoked chilli beef short ribs; while those with more ravenous tastes can opt for a Chef's creation of eight sharing plates.
Victoria:
Melbourne diners arrive in droves for sophisticatedly served Japanese cuisine on the banks of the Yarra, at Kobe Jones on WTC Wharf. Eastern and western food influences create a top-quality taste experience at this restaurant, divided into a variety of sections, including small plates, sashimi, teppanyaki, salads and signature dishes, designed for sharing. Start with edamame, steamed and salted baby soy beans in the pod, before moving on to mains like furikake encrusted Atlantic salmon – seared medium rare – with tomato relish and roasted ratatouille. Those diners in NSW can check out Kobe Jones in Sydney.
Tasmania:
Greeting guests with a bow and sassy red décor, Komatsu Japanese Cuisine delivers a taste of the Orient to South Hobart locals and tourists alike. This traditional restaurant emits a calming zen vibe, accented by artwork, bonsai trees and splashes of green, where taking time over sushi and sake is a must. Settle in with a starter of takoyaki – fried octopus balls with Japanese barbeque sauce and mayo – followed by mains such as pan-fried teriyaki salmon fillet served on rice, or perhaps stir fried sliced beef in yakiniku sauce. Bento box and noodle options are also available.
Styled with an eclectic mix of artwork set against an industrial fit out, Kosaten Japanese Restaurant on Castray Esplanade in Battery Point, is an ideal space to share meals with ease. Set in the trendy Salamanca Market precinct in the heart of Hobart, Kosaten combines overhead pendent lighting with moody deep-toned walls and intimate booth seating, to create a chilled-out vibe to enjoy modern dining. Diners are offered iPads to order tempting dishes bursting with colour and refined skill, such as aburi lightly torched squid and fresh lemon juice, on a bed of sushi rice, or salmon lobster salad rolls.
ACT:
Combining the precision and art of Oriental cuisine with the vibrant energy of Mod Oz fare, Raku Dining on Bunda Street in Canberra serves up a chic and trendy ambiance to enjoy tastebud tantalising dishes. Raku is all about sleek lines, pale wood tables and stools, mixed with glossy tiles and floor to ceiling windows, ideal for delving into starters such as rhubarb salted edamame, or seared Angus beef strip loin, black truffle dressing, pickled onion and garlic chips. Be enticed by mains like honetsuki ramu niku – lamb short ribs with chilli miso and sweet soy, or Alaskan black cod, saikyo miso and pickled cucumber.
Fast becoming a hipster haven for Canberra locals seeking steaming hot bowls of hearty and healthy ramen noodles, Ramentic on Lonsdale Street in Braddon, delivers modern Japanese fare with a Korean influence. New kid on the block, Ramentic has a slick fitout of black tiles, pale wooden benches and stools, creating a relaxing vibe for hungry guests to enjoy the likes of a pork bun, stuffed with chopped chashu, hoisin, cucumber, spring onion and sriracha. Dip a spoon into spicy pork bone broth, with wood ear mushrooms, takana and menma, or perhaps opt for a tuna and rice dish with pickled radish.
Western Australia:
Mouth-watering Japanese cuisine is on offer at Itoshii Restaurant on the corner of Collier and Walter Roads in Morley. Enjoy the best of both worlds in warm and contemporary surrounds, whether seated at the sushi train to grab small morsels as they travel by or opting for a table by the window and dining a la carte. Itoshii creates delectable plates of sashimi and sushi through to bowls of steaming udon noodles and succulent meaty mains, such as grilled Wagyu steak, served with grilled asparagus, onion, pumpkin salad, whole garlic and fresh salad.
Ready for Japanese? To find more restaurants near you, click
here.