Best Known For
Miso Citrus Lobster: whole baby lobster, lightly cooked in a wafu thermidor sauce, drizzled with miso citrus and served with steamed vegetables.
About Kobe Jones Melbourne
Japanese cuisine unlike any you've had before is sophisticatedly served riverside by the unique and creative Kobe Jones Melbourne. Diners seek out the simplicity of the Kobe Jones experience – located at WTC Wharf right on the Yarra with easy access by road, foot or water – which allows the eastern and western flavours within the food to define top quality dining by taste. Divided into a variety of sections, including small plates, sashimi, teppanyaki and signature dishes, the menu is designed for sharing, with pre-suggested options for those who can't decide. Pass around plates like tuna tartare sushi, chipotle mayo, avocado and ponzu sauce; or Russian black cod, seared on a teppan, basted with buttered macadamia crush, garnished with white radish and served with steamed spinach.
A few words from Kobe Jones Melbourne
THE KOBE JONES PHILOSOPHY

Food is a staple of life and at Kobe Jones we live by the philosophy that food should be easy to eat and always shared with friends and family.
Kobe Jones's food is designed to bring the simplicity and beauty of Japanese cooking and meld it with nuances and surprising flavours of the west. Our chefs have created an array of flavours to suit every palate–for the first timer to the most adventurous diner.

We are often asked where our name comes from....well, Kobe is an ancient fishing village in Japan and Kobe beef is world famous, so Kobe was chosen as part of our name to represent the best of the Japanese food ethic epitomised by freshness and quality. Jones is a typical western name which represents the western influence and
flavours in our dishes. This combination led us to the name Kobe Jones.

Our teams in service and the kitchen hope you enjoy your experience at Kobe Jones and we invite your reviews
and feedback, because you are the reason we exist!

HOW TO ORDER

Our menu is in sections–small plates, large plates, signature dishes, rolls, tempura, hot rocks, sushi and sashimi and dessert. At Kobe Jones we believe in 'graze dining', which means our dishes are served share style with dishes designed to be shared by three people.

We think the best way to dine is to choose from each section of the menu at two dishes per person. Of course, seasoned Kobe Jones patrons will have their favourites but don't forget to explore with your taste buds.

Because our menu is so extensive, we have designed some suggested menus to make it easier for you and give you a balance of flavours and textures.

If there are just two of you, we have a special Perfect for Two menu which lets you savour our complete range of flavours.

Our staff are trained to help you get the right balance of flavours, so if you choose to dine a la carte, do not hesitate to ask for assistance.
WTC Wharf, World Trade Centre (Riverside), 38 Siddeley Street, Melbourne CBD 3000 VIC - See Map
More From Kobe Jones Melbourne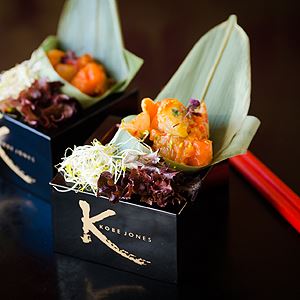 Recipes
Payments Accepted: Visa, Mastercard, Diners, Amex, Eftpos
Seats: 80 Chef: Ben Rotella
Kobe Jones Melbourne provides a perfect location, and great food riverside to offer to any evnt a unique experience. As all our food is prepared on our teppanyaki table in front of the guest, an event at Kobe Jones will be interactive full of inspiration and interest, and will be as we like to say Japanese like you have never had it before. With a vairety of sit down or stand up options as well as the wharf side location and boat access we can ensure an event to remember.
Other options around Melbourne CBD