Europe is the home to some incredible food - from pizza and croissants to Wiener schnitzel, pasta and Belgian waffles. There is something to tempt all palates, including eastern European delicacies like cevapi and Hungarian goulash.
Find more of our recommended European restaurants here.
European Eats in Melbourne's CB, South Yarra and Carnegie:
With an art deco approach to a traditional dining hall, Hophaus Euro Bar Bistro on Melbourne's Southgate Promenade is ideal for groups looking for hearty delights. A glazed polychrome brick centrepiece bar and open rotisserie fired kitchen set the tone for tucking into classic European favourites with a contemporary twist.
Think dishes of house-smoked meats, wood-fired oven pleasures and rotisserie-style delicacies such as the Haus share platter with bretzel rolls, lamb koftas, Walma's sausages, olives, pickles, chicken wings, polenta fingers, bacon and mac 'n' cheese croquettes, pork ribs and leberwurst – washed down with a Heineken or Pilsner beer.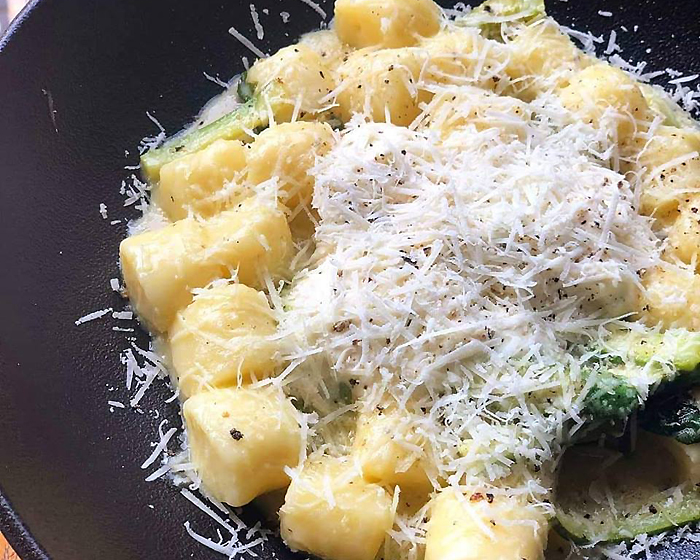 Gnocchi at Caffe e Cucina.
Turning 31 this month, Caffe e Cucina on trendy Chapel Street in South Yarra has been a standout on the Melbourne restaurant scene since 1988. Attention to detail and a passion for Italian culture are the hallmarks of this venue, where small tables, dim lights and high-end service are all part of the charm and guests are greeted with freshly baked bread on arrival.
Start with beef carpaccio, oyster mushrooms, truffle mayo, beef croutons and micro herbs; followed by mains such as slow-cooked pork belly with braised Savoy cabbage and liquorice demi-glaze; or twirl a fork around housemade beetroot tagliolini with gorgonzola cream, leek and mushrooms. For a divine dolci, try traditional tiramisu.
A taste of Europe in Sunny Queensland:
With a menu that changes with the seasons and where produce is constantly changing around them, The Long Apron restaurant at Montville's picturesque Spicers Clovelly Estate aims to highlight the best of the best in their region.
This intimate restaurant feels instantly inviting and once seated in the elegant yet comfortable dining room, with its black French provincial style chairs and white tablecloths, or out on the terrace gazing over the Sunshine Coast Hinterland, you'll find it hard to leave. Most alluring is Chef Chris Hagan's seasonal European-inspired dishes, which blend classic technique and the finest local produce with elegant results.
Find more of our recommended European restaurants here.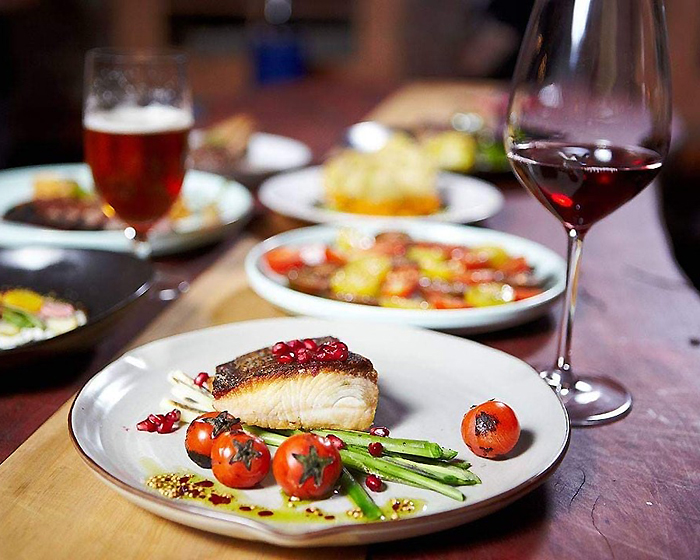 Mulloway with charred leeks, vine tomatoes, pomegranate and verjuice at Red October.
European in Adelaide:
Bringing vibrancy and Russian heritage to city laneways with an outdoor area and indoor ambience of stonework, concrete and timber, enjoy after-work socialism at Red October on Gilbert Place in the heart of Adelaide's CBD. Returned to its 1890s roots with painstaking care, guests can perch on a stool at the bar and order a cocktail like the Trans-Siberian Espresso – vodka, coffee and popcorn – while salivating over Beluga caviar, bread and sour cream.
Team a Russian Baltika Breweries pale lager with pressed pork, golden cauliflower, red currant, crackling, horseradish and mustard cream; finishing with cold berry soup, sweet cherry doughnuts and melted ice cream. Still ready to party? Head downstairs to check out speakeasy-style bar Suzie Wong for one last drink.
Find more of our recommended European restaurants here.
Dine European Style in Gerringong and Manly:
A panoramic view of rolling hillsides and thriving vineyards will take diners to Tuscany at Crooked River Restaurant on Willowvale Road in Gerringong. Nestled in Crooked River Wines Estate, enjoy culinary refinement at this restaurant in charming, warm country surrounds, just minutes from picturesque, south coast beaches.
Plates of European gastronomic delights are crafted from an abundance of local, fresh produce as seen in entrees of housemade chorizo, seared scallops, paella rice with peas and fermented chilli; while main dishes present like juniper berry duck Maryland, smoked beetroot gel, ash goats' cheese, cacao glaze and wood sorrel, paired with a glass of estate wine.
Styled with an eclectic mix of timber tables, vibrant interior, fireplace and relaxed heated alfresco dining, Ground Zero Café on Sydney Road in Manly will have you settling in for hours. This trendy spot to meet friends for warmth and comfort alongside European comfort fare tempts early risers with corn fritters, smashed avocado, bacon, poached egg and tomato relish.
Dine in the evening and begin with tomato and basil pesto soup to warm the soul, followed by mains such as chicken Provencale, braised with olives, red peppers and tomato served with a black rice, quinoa and cauliflower rice mix; or perhaps melt-in-the-mouth tender lamb shank on creamy mash.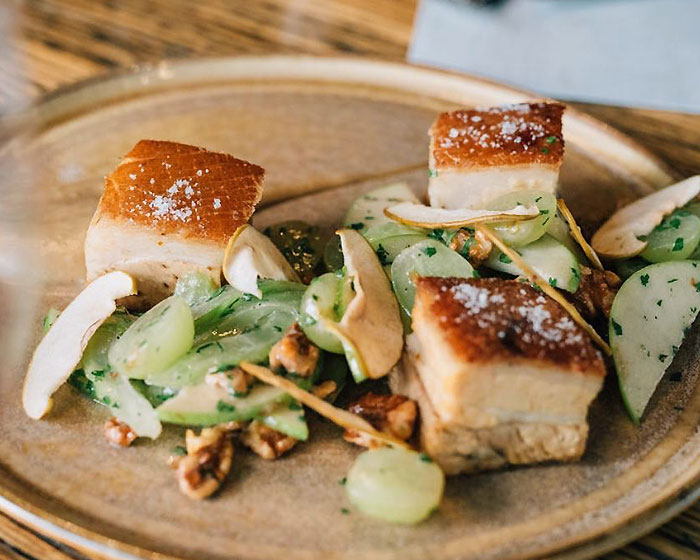 Pork belly with grapes, apples, celery, walnuts, apple puree and apple crisps at Geronimo.
Launceston European Fare:
A simple, yet sophisticated interior in deep hues and furnished with pieces handcrafted from the recycled timbers of the old Seaport boardwalk, adds history to the refined décor of Geronimo Aperitivo Bar and Restaurant on Charles Street in Launceston. For a fresh take on traditional European dining, embark on a flavoursome journey from a paddock-to-plate menu of Tasmanian produce.
Sip one of 25 gins from around the world, while feasting on entrees such as beef tartare, fried leek, egg yolk, leek oil and caper mayonnaise; then share a larger plate like lamb rump, chickpeas, harissa, cucumber, mint and yoghurt. Pizza lovers can pick up a wood-fired slice of pork belly, pancetta, smoky tomato sauce, red onion and chilli.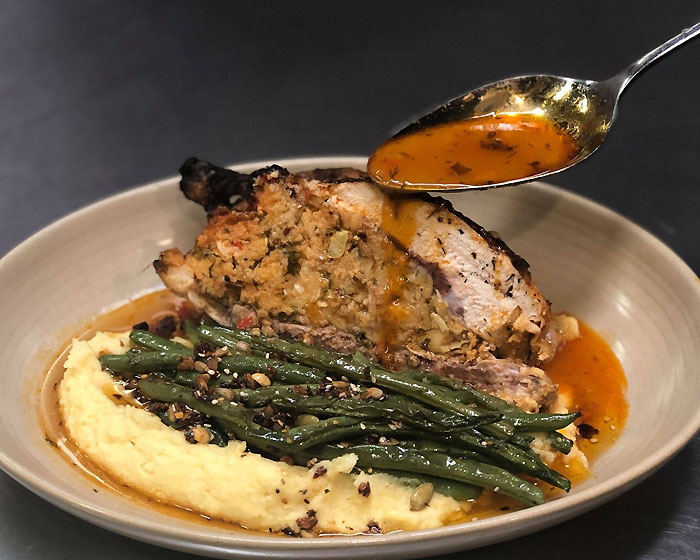 A classic Sunday roast at Hophaus Bistro.
Find more of our recommended European restaurants here.