Trek amongst the tingle trees
Home to more than 70 national parks, Western Australia thrives in natural beauty, spread across the state to cover a selection of diverse terrain. Take a walk through the state's scenically stunning parks and forests and discover a delicate display of plant and animal life unlike any other.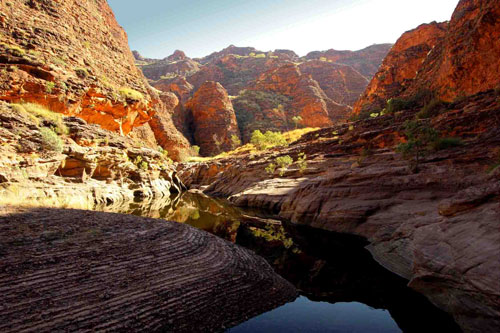 What are some of the best national parks in Western Australia?
One of Western Australia's most popular tourist destinations is that of Purnululu National Park, home of the world famous Bungle Bungle Range with the world famous black and white striped, beehive like rock formations. Along with the beauty of the Bungle Bungles, Purnululu also has a range of gorges and pools, indigenous rock art and several rare animal species throughout the region.
One of Western Australia's most unique attractions, Nambung National Park is home of the famous Pinnacles Desert, where thousands of huge limestone pillars are situated on shifting yellow sands. Complete with beaches for swimming and snorkeling, Nambung National Park is perfect for exploring at any time of day, with the pinnacles adorned with a golden glow at dusk and dawn.
Contrasted with desert parks, the Valley of the Giants is a lush, work famous forest situated in Denmark within Walpole-Nornalup National Park. Named after the giant tingle trees that dwarf visitors in the forest canopy, the Valley of the Giants has a treetop walk which weaves over the top of the forest, looking down to gullies, treetops and native vegetation.
For a truly memorable national park experience, Wolfe Creek Crater National Park holds within it the second largest crater in the world, 880 metres across and 60 metres deep. Explore the crater from the rim and learn of the Aboriginal Dreamtime story behind the landform.
To see more of Australia's natural beauty, click here