Uncover the essence of outback diversity
Home to two of Australia's best known national parks – Kakadu and Uluru-Kata Tjuta – the Northern Territory's outback splendor is far from limited, with an additional 50 national parks, conservation areas, nature reserves and marine parks throughout the territory. A sanctuary to explore and discover some of Australia's untouched natural environment, the Northern Territory is an area of nature unlike any other, due to its remote, diverse and unspoilt location.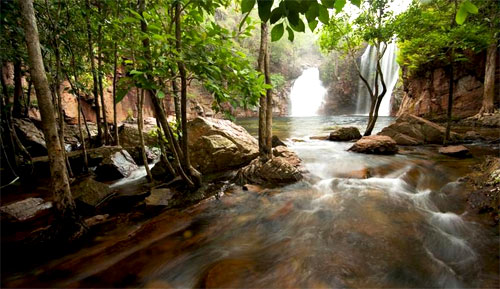 Northern Territory national parks
Litchfield National Park is one of the territory's most well renowned national parks - and for good reason. Attracting over 260,000 visitors a year, Litchfield is full of rich woodland flora alongside a diverse selection of fauna. Thundering waterfalls and spectacular panoramic views are what Litchfield is renowned for with the termite mounds a spectacular sight to see, aligned in a north-south direction and reflecting the creation of a miniature insect city.
Home of the incredible Katherine Gorge, the Nitmiluk National Park boarders Kakadu National Park and is full of white beaches, large sandstone walls and a strong sense of Indigenous culture. An excellent park for hiking and canoeing, you are also permitted to swim in the gorge, but be sure to look out for freshwater crocs which are sometimes spotted in the winter months. If you wish to see Nitmiluk by means other than foot, there are also scenic helicopter tours that take you over the gorges or cruises that casually sail to the gorges, stopping for you to take a dip in the water.
For a red desert adventure in Alice Springs, head to Finke Gorge National Park. Including the desert oasis of Palm Valley, Finke Gorge is known for its Aboriginal culture sites and diverse plant species, many of which are unique to the area like the rare red cabbage palm trees. Finke Gorge is also famous for high red cliffs and one of the largest rivers in central Australia, the Finke River, also supposedly the oldest in the world.
To discover more of Australia's natural beauty, read our article on South Australia's National Parks