What to Dish Out in Winter
It's winter and with the change of the seasons, we couldn't resist reviewing popular nutritionist and cookbook author, Janella Purcell's Eating for the Seasons. Now her second book, Purcell is expanding her private practice and spreading the knowledge about using 'food as medicine' with the media and written word.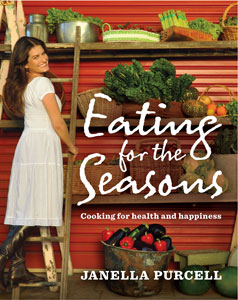 Make no mistake, we flipped right to the winter section of Eating for the Seasons and what leapt out from those pages was the relative healthiness of all her recipes. Knowing the author's background, it's no surprise that this is a nutritious collection with winter recipes such as Warm Red Salad, full of red vegetables, and a well researched Dahl recipe in the mix. Purcell hits home with her healthy and hearty selections, creative choices which come well recommended as her expertise as a nutritionist informs her cookbook, also note that while she was in school her job was cooking at a vegan restaurant.
Cooking for Health & Happiness
Janella Purcell grew up eating her Lebanese families' home cooked food and has since studied naturopathy, nutrition, traditional Chinese medicine, and transformational kinesiology which now inform her work. Vegetarian friendly, seafood lovers will also find her compilation invigorating as her focus is in fact fruit, vegetables, and seafood: There are four main sections, one for each season, and each section includes a breakdown of what's in season within these three categories at that time of year (taking account the climate diversity in Australia).
We love her 'fresh in winter' listing which is a great compliment to the other healthy tips; she includes a basic breakdown of what winter is about, how it effects certain organs (FYI it's kidney and bladder season) and entails the emotional elements that typically ail. Since food is medicine, afterall, you'll be happy to read how flavours and foods can be a remedy, while chosen cooking methods are relevant to the season we're in, and finally, that at certain times of the year, there are foods that best be avoided.
Year-Round Recipes for You
Whether you're new to cooking with the principles of good food in mind, or an old hat in the healthy kitchen, there a few tips of the trade that you'll find as a convenient reference tool: How to cook grains – I've flipped to this page a few times already – and your year-round pantry description, that quite simply just makes sense, are as handy as the staple foods they refer to. As such Eating for the Seasons is not one to store on the bookshelf, rather one to keep in the kitchen for regular use.
Purcell hasn't written a precious book, there's nothing pretentious about her ideas or cooking; on the contrary, the way she's organized her recipes and described the procedures is clear as day. Consequently, one of the challenges for us – as is so often the case – has been choosing which recipes to feature on our website.
Deviating from the winter theme, we had to go with Nasturtium Salad because cooking with flowers is delicious and really pretty. As mentioned, we also went with a few winter picks including the Warm Red Salad, because cooking with a colour theme is always clever, and her Dahl, of ancient origin countless recipes are out there and yet Janella Purcell promises that in all her research this one is the best, and we trust her.
Here's where you can purchase your copy of Eating For the Seasonshttp://www.allenandunwin.com/default.aspx?page=94&book=9781741754087