By Leigh O'Connor.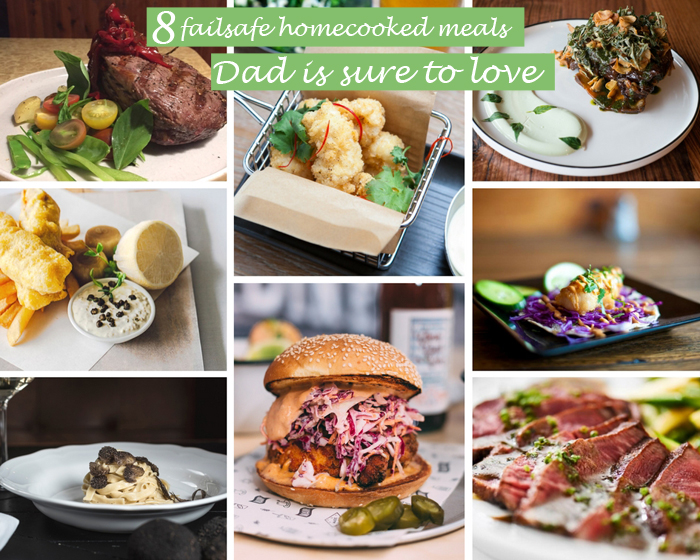 Nothing says 'I love you Dad' more than a home cooked meal with all the family – whether a roast, barbeque or burger. Forget socks, whisky and ties… treat Dad to a dinner he will remember long after Father's Day on September 3.
As a celebration honouring Fathers, paternal bonds and family worldwide, this day is all about fatherhood. In today's society, there is no such thing as a true nuclear family any more - families come in all shapes, sizes, races, genders and combinations.
More than a century old, Father's Day was founded in Spokane, Washington at the YMCA in 1910 by Sonora Smart Dodd, whose Civil War veteran father William Jackson Smart was a single parent who raised six children. Now almost full circle, it is a day when we take stock of what our parents have brought to our lives and say thanks.
Want a sure fire way to put a smile on Dad's face? Try one of our eight easy, failsafe homecooked meals and watch as he savours having all the family around the table, enjoying each other's company.
Char-grilled Rib Eye on the Bone
There's nothing like a good steak to win a man's heart and this recipe by AGFG Resident Chef Shawn Sheather, teams melt-in-the-mouth meat with a warm tomato salad, roast potatoes and capsicum caramel. The result is stunning both visually and taste wise, with the rich red of the caramel offsetting the green salad and adding a sweet burst of flavour to the tender steak. Most of all it is not hard, so treat Dad and watch his plate be wiped clean.
Tempura Fish and Chips with Homemade Tartar and Pickled Onions
Crisp tempura batter is an ideal coating for fresh snapper fillets in this recipe from Shuck restaurant in Main Beach on the Gold Coast. Everyone loves fish and chips, but when homemade they ascend to another taste level and when served with thick cut fries, the combination will have Dad salivating as soon as the aromas start wafting from the kitchen. Tartar is the zesty sauce of choice, with the tang of pickled onions adding extra crunch to munch.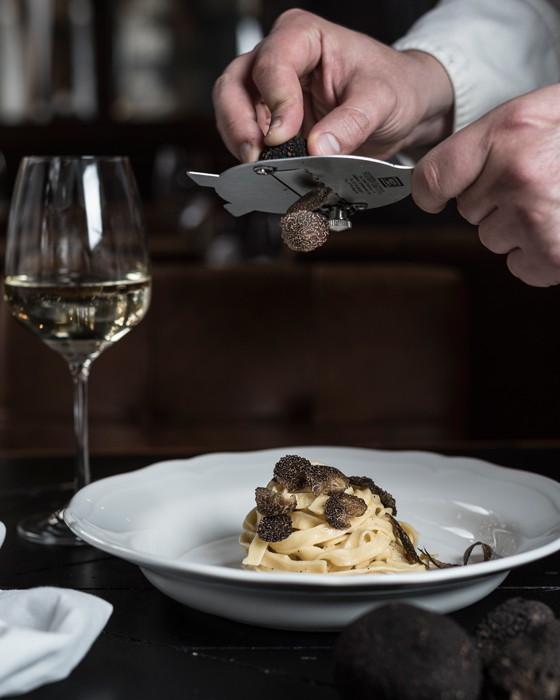 Canberra Black Truffle Tagliatelle
Eating truffles is one of the best foodie experiences you can have! So, share them with Dad this Father's Day with this recipe from Otis Dining Hall in Kingston. The best approach when cooking with truffles is restraint – don't overdo it. This satisfying recipe for a classic tagliatelle uses one of the world's most prized culinary ingredients without breaking the bank, and making your own pasta adds another dimension of love to a dish Dad will ask for time and time again.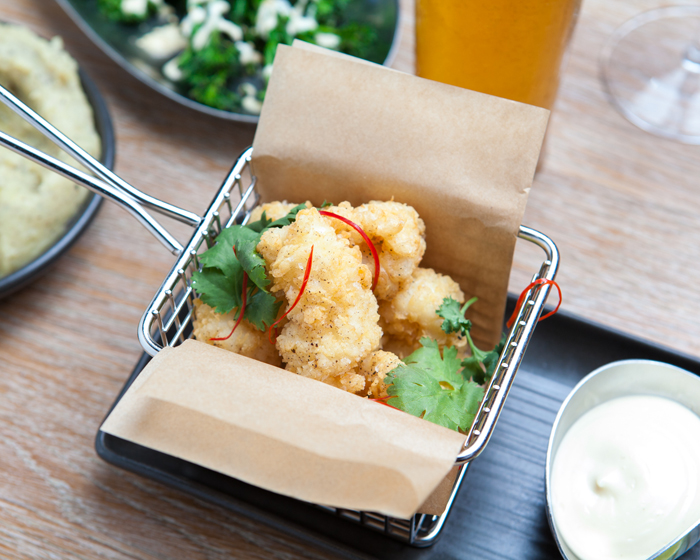 Salt and Pepper Squid with Aioli and Lime
Australia abounds with fresh seafood of all varieties and this recipe from Clifford's Grill & Lounge in Surfers Paradise, utilises local catches straight off the trawlers. Squid is a versatile seafood that can be cooked in many ways, but most Dads will opt for this salt and pepper version without hesitation. Serve as an entrée to the main affair, or a meal in itself to enjoy the tender texture of squid, teamed with the heat of chilli and citrus notes of coriander, creating an easy but totally tasty treat for Dad.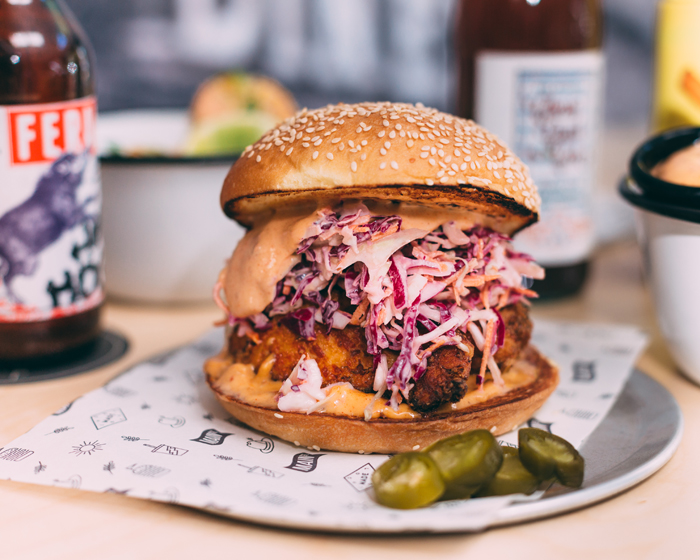 Main Street Spicy Buttermilk Chicken Burger
Who doesn't love a good burger? Especially when spicy buttermilk fried chicken embraces Cajun spice and chipotle mayonnaise, in this offering from Main Street Burger Bar in Broadbeach. This recipe requires overnight marination to achieve the best result, but the extra time is worth the juicy, tender chicken that blends ideally with the smoky flavours of the sauce and crunchy tang of red and green cabbage slaw. Serve this up for Dad with an icy cold craft beer to wash it down.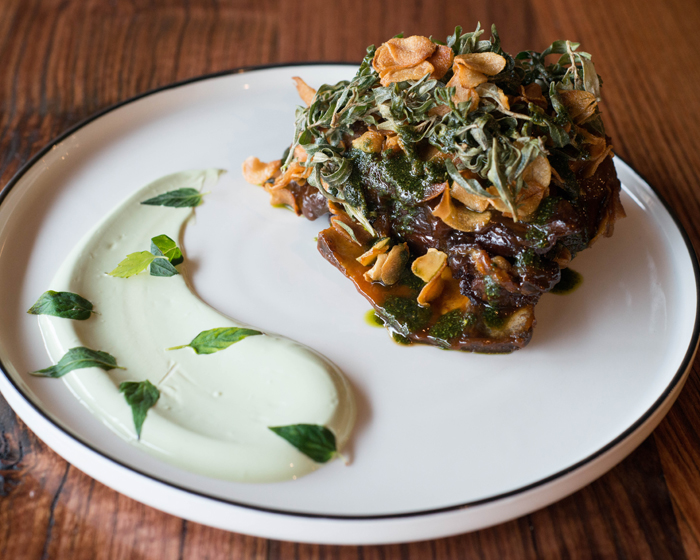 Slow Roasted Lamb Shoulder with Garlic, Saltbush and River Mint
Roast lamb is a classic dish where families gather around the dining table on Sunday for a weekly get-together and catch-up. From Dolly Gray restaurant in Fitzroy comes this version of slow roasted lamb shoulder, using native Australian river mint and saltbush to add a modern twist. Saltbush is a tough shrub which grows over large areas of inland Australia, if it can't be sourced kale is an ideal replacement, while river mint is similar to spearmint, or the regular garden variety can be substituted.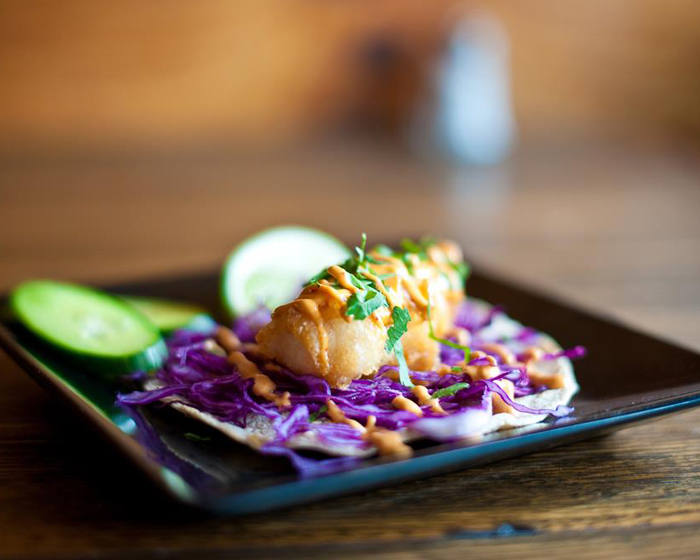 Fish Tacos with Chipotle Mayonnaise
Get Dad's Mexican groove on and tequila the day away with these fish tacos from Los Hermanos Taqueria in Brunswick. Any seasonal white fish such as flake, sea perch, John Dory or sea bass can be used, making this an economical meal that all the family will enjoy with slaw, smoky chipotle mayo and soft tortillas. The secret ingredients for a light, crispy batter are a generous dash of agave nectar, a sweet syrup that Aztecs prized as a gift from the Gods, and a pinch of yeast.
From artisan Japanese restaurant Ocha in Hawthorn, comes this Konbu beef treat of tender eye fillet strips served on a bed of bean sprouts. Konbu is fermented edible kelp and is used in this recipe to add a salty flavour to the butter sauce, along with koji, one of the core ingredients of miso and soy. The buttery blend adds texture and taste to the thinly sliced beef, while the sprinkling of sprouts and chopped chives finishes a divine dish for Dad.
For more Father's Day recipe ideas… click here.