Called by some the last great undiscovered cuisine, Middle Eastern fare is hailed as the new flavour trend and as Ramadan finishes, it's time to think about warming Winter dishes that will send the senses into overload.
We've put together some of our favourite restaurants to spice up a cold evening...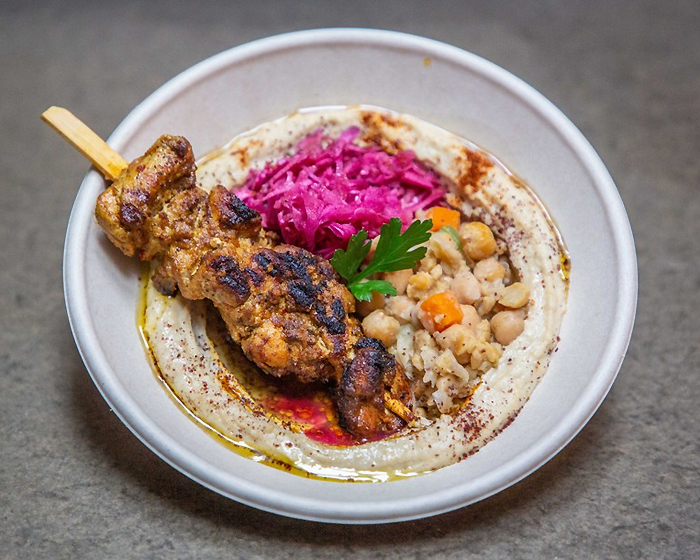 Old City Chicken with hummus, sumac, radish and Persian flat bread at Lillah.
Spicy Sydney Restaurants:
Degustation delights with a Middle Eastern twist await Cromer spice lovers at Coya on Carawa Road. This Chef-hatted restaurant has a happily buzzing interior vibe, with blond wood tables, vibrant yellow pendulum lights and richly toned brown feature walls, setting the scene for leisurely brunch and dinner indulgences.
Take time to savour each dish before eagerly anticipating the next, with entrée offerings like braised pork breast, red cabbage gel and cinnamon pearl apple; before mains such as Baharat spiced slow-cooked beef cheek, jewelled rice and yoghurt. For a divine dessert, try rosewater and Turkish delight crème brulee and vanilla ice cream.
Settle in for a spice-filled evening of fresh, tantalising cuisine at Anater Lebanese Restaurant on Forest Road in North Bexley. Plush booth seating, wooden floors and ebony chairs complement trademark brick archways, making for a stylish space to enjoy authentic Lebanese fare with friends and family – rest assured you won't leave hungry.
Perhaps begin with a mixed dip platter of chilli hummus, baba ghanoush and labneh, served with fried bread; then delve into char-grilled chicken pieces, marinated in the Chef's special spice, served on a bed of parsley and onion with garlic dip. Those dining in groups may opt for one of the banquet options with salad, hot and cold mezze, mixed grills and desserts like baklava or Turkish delight.
Serving up the flavours of many cultures in bright and breezy surrounds, Cook & Co on Auburn Road entices diners to embark on an exciting culinary journey. Wood floors, white walls adorned with hanging plants and large filigree globes casting a warm glow over cosy table settings await guests seeking to spice up their day.
Try a traditional Turkish breakfast of eggs cooked your way, sujuk, pastirma, feta, shanklish, kaser cheese, olives, sliced tomato and cucumber, with bread fresh out of the wood-fired oven; while later, diners can opt for tender charcoal grilled lamb skewers, served with tomato sumac salad, rice, cacik, pickles and tandoor bread.
Celebrate Middle Eastern cuisine at Lillah on Longueville Road, where every table and piece of crockery has been handcrafted to bring a touch of individuality to Lane Cove dining. With a name meaning 'beautiful night' in Arabic, a feature skylight, exposed brick walls and archways create a space resembling a Middle Eastern courtyard at this stylish restaurant.
Take flight on your spice journey with a starter of popcorn chicken shawarma, old school salsa, garlic toum and kohlrabi pickles; then delve into the likes of braised spiced Wagyu, potato cream, roast freekeh and roast onions. For something sweet to finish, be tempted by traditional Mahalabia, with Persian figs, berries, sesame snap and pomegranate sauce.
A contemporary fusion of Moroccan, Middle Eastern and French fare is on offer at Meze Me Grove restaurant, bar and function venue in Annangrove. Nestled in the serene Regal Gardens, this multi-level establishment offers an elegant dining ambiance with a view out to lush greenery, ideal for family dining or to celebrate a special occasion.
Breakfast guests can choose dishes such as Middle Eastern spicy lamb mince with pine nuts, hummus, rocket and pita bread; while those dining later may opt for a vegetable tagine of lentils, preserved lemon, sultanas and tahini sauce served with golden carrot couscous, labneh and harissa. A Moroccan-style doughnut, caramelised cardamom apples, mascarpone and honey gelato tempts to finish.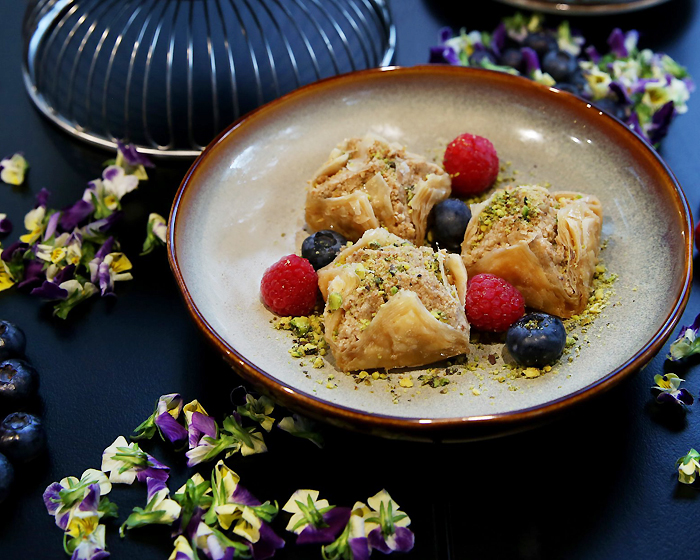 Traditional baklava at Zahli.
Radiating the energy of rich traditions and the custom of mezze, Zahli Restaurant on Elizabeth Street in Surry Hills takes its name from the vibrant culture of an area in Lebanon. Urban Sydneysiders are drawn inside to a bright and sleek setting, where a matte themed interior with a white marble bar and intricately patterned tiles, impart a sophisticated vibe.
Dishes are designed to excite the palate, with hot mezze choices such as traditional Lebanese pastries, filled with minced meat, onion, pine nuts and spices; while for the main, perhaps try char-grilled quails marinated in lemon, garlic and mixed spices, served with garlic dip and chilli bread, or zucchini stuffed with rice and meat, cooked in tomato sauce.
Spice it Up in Eaton, WA:
Take a seat among Egyptian-style artwork, surrounded by soft, red and orange hues as mouth-watering aromas tempt the nose at The Nile Grill & Kebabs, found inside Eaton Fair Shopping Centre on Recreation Drive. A warm interior lures weary shoppers in need of nourishment, as they take time to ponder a menu of traditionally inspired dishes, created from inherited family recipes and spiced sauces made in house.
Egyptian lamb with grilled eggplant, roast capsicum, garlic mint yoghurt and tahini may appeal, or try a marinated and flame-grilled prawn shish platter served with gourmet house salad, Egyptian fragrant rice, hummus and garlic dip. Those with lighter tastes can wrap their hands around a kebab of grilled flatbread, filled with meat, lettuce, tomato, onion, sweet chilli and sour cream.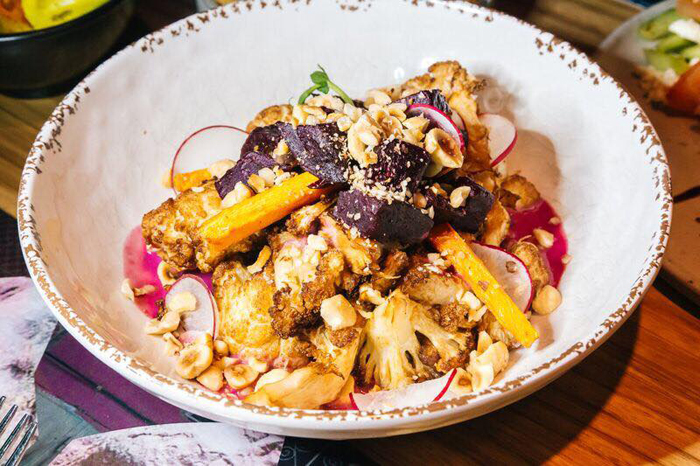 Crispy cauliflower with boiled carrot, beets, rhubarb tahini, hazelnut, buckwheat and mulberry dressing at Souk.
Melbourne Spice Hot Spot:
Middle Eastern flavour meets Melbourne laneway chic at Souk on Bligh Place, off Flinders Lane. The concept of writing backwards is embraced in Souk's logo and décor, with mirrors and reflections offering a glimpse of Arabic style in an interior divided into two levels – a bar downstairs and dining space upstairs.
Sip on an Aladdin's Mistress rum and Moroccan green tea cocktail, while enjoying mezze plates like chermoula octopus, garden greens and walnuts; before larger offerings such as zhoug rubbed barbeque chicken, herb and citrus broth and bulgur wheat rice. Finish a spice-filled evening with Turkish coffee and Nutella ganache.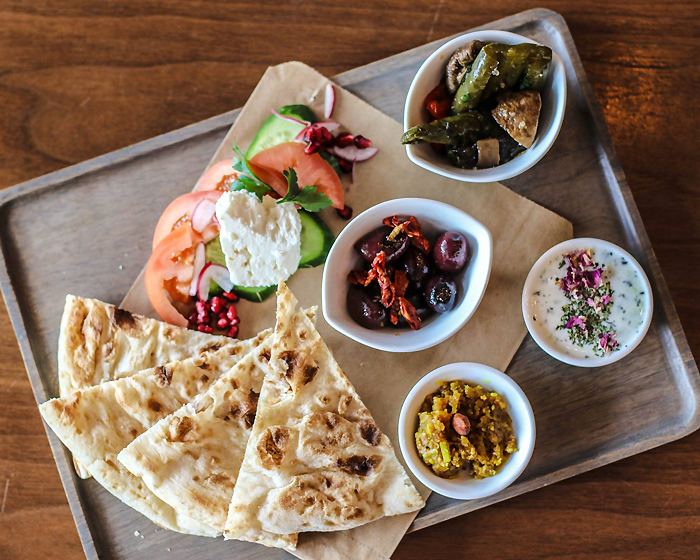 The Little Persian mezze breakfast spread.
A Taste of Spice in Hamilton, QLD:
A celebration of modern café meets traditional Persian tea house, The Little Persian Café on Racecourse Road in Hamilton attracts locals and tourists alike from morning until night. Guests happily sit in colourful surrounds, with an espresso machine sitting pride of place next to a shining, golden Persian teapot, as tantalising aromas waft from an open kitchen.
Early risers may be tempted by a Persian spinach and egg omelette to go with their hot Montville coffee; while those stopping by later in the day can choose from dishes such as sautéed lamb, cooked in fresh parsley, fenugreek, leek and kidney beans, braised lemons and steamed saffron rice. Smaller appetites are satisfied with a charcoal grilled chicken burger, cucumber yoghurt, Persian pickles and lettuce.