By Leigh O'Connor.
Home to one of Europe's most active volcanoes and well-preserved ruins of Greek temples, Sicily is just off the 'toe' of Italy's 'boot'.
The largest and most densely populated island in the Mediterranean Sea, Sicily has been conquered and occupied more than any other, with each of the invaders leaving traces of their presence. Greek, Roman, Arab, Norman and Aragon all left their mark on the culture of this autonomous Italian isle, including deep and lively culinary traditions, which have made it one of the tastiest cuisines in the world today.
Locals say that Sicily is not Italy – and from your first step onto the island, you'll discover what you see is not what you expected - its rich history is reflected in sites like the Valley of Temples, Doric-style temples and Byzantine mosaics.
Here's our pick of the seven must-do attractions on your Sicilian sortie: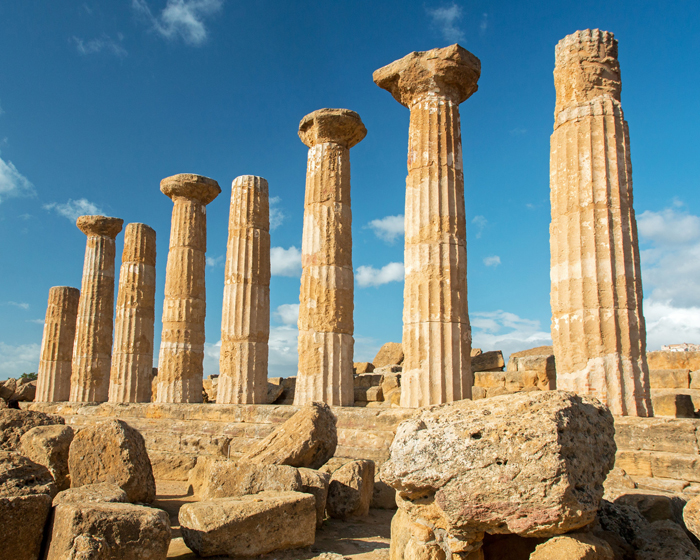 Valley of the Temples. Photo: Andrea Schaffer, flickr.
Valley of the Temples:
One of Sicily's most famous historical attractions located just outside Agrigento, this archaeological park contains eight temples built between 510 BC and 430 BC. Visitors are transported back to the time of ancient Greeks, wandering in awe of a civilisation that built and lived among huge monuments to Gods and Goddesses.
Standing as it did when first built and named for the Roman Goddess of Harmony, the Temple of Concordia is one of the best-preserved Greek temples anywhere in the world, with each of its 78 columns decorated with flutes and ridges.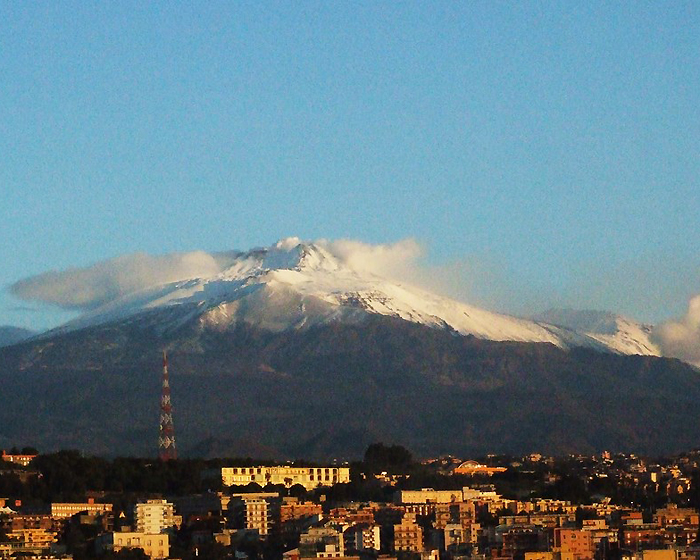 Mount Etna:
This fuming mountain, located in the Sicilian province of Catania, is home to skiing in Winter months and hiking in Summer. It's almost other-worldly scenery reminiscent of a lunar landscape - with black sand, volcanic rocks and oozing lava flows - is as stark as it is beautiful and worlds away from lazy beaches and historic architecture throughout the rest of the island.
Having vented more than 200 times since its first recorded eruption in 1500 BC, Etna's legend and influence are integral to the history of Italy. Despite being the place of some fearsome legends, locals have found many pragmatic uses for the roughly 200 lava-formed caves, as both burial grounds and storage cellars for meat and wine.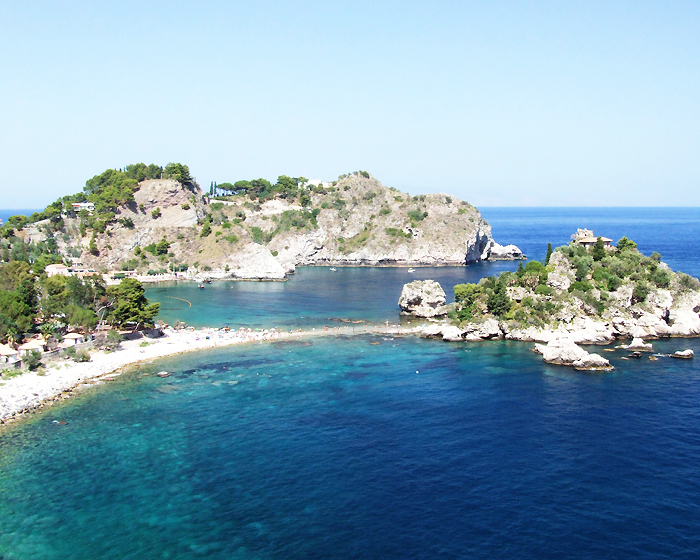 Isola Bella.
Visit the Beaches:
With six months of warm weather from May to October, there is ample opportunity to explore Sicily's sandy beaches, such as Cefalu where the movie Cinema Paradiso was filmed; or the hilltop town of Taormina, which has a cable car that takes visitors to WWF nature reserve Mazzaro Bay.
Nestled on the east coast, Taormina is also known for the Teatro Antico – an ancient Greco-Roman theatre, still used today. Next to the theatre, sheer cliffs drop down to the sea forming coves and beaches, while a narrow stretch of sand connects to the tiny island of Isola Bella, where the nature reserve is situated.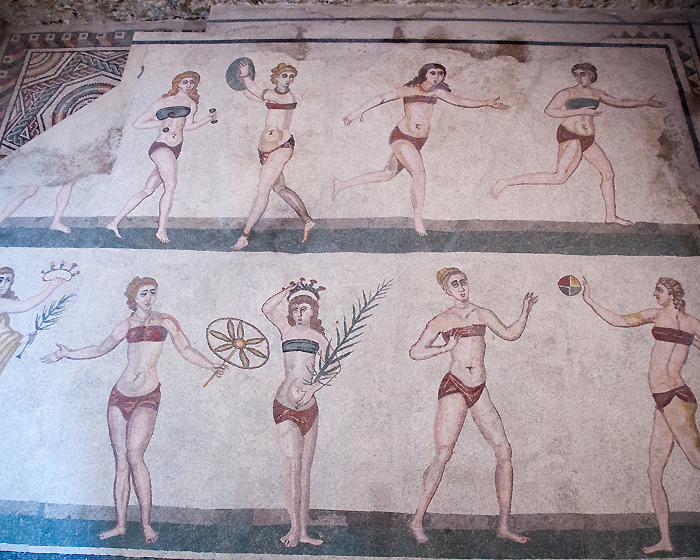 The Bikini Girls. Photo: Paul Asman, flickr.
Piazza Armerina and Villa Romana del Casale:
Another of Sicily's most visited tourist attractions in the town of Piazza Armerina, Villa Romana del Casale houses some of the world's best-preserved mosaics. Built in the middle of the 4th Century as a hunting lodge by a Roman patrician, the villa is one of the most luxurious of its kind, with rich mosaics decorating almost every room and is also a UNESCO World Heritage site.
Many different sections of the villa are open to tourists, such as the monumental entrance with a courtyard in a horseshoe shape, a central courtyard garden, a spa complex and servants' quarters. One of the most well-known mosaics is The Bikini Girls, depicting a group of ancient Roman girls playing sport in bathing suits.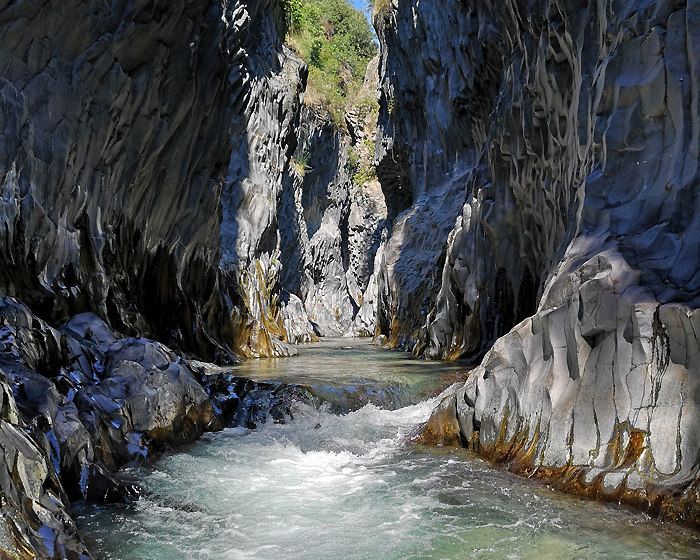 Gole Alcantara:
During Summer, locals and tourists alike flock to this beautiful spot as an alternative to crowded beaches. Gole Alcantara is a botanical and geological park about 40 minutes from Taormina, with spectacular canyons and rock formations up to 50 metres tall, likely caused by Mount Etna eruptions.
Sports enthusiasts and thrill seekers can entertain themselves with group body rafting tours, while the kids play in the spray water park; there is also a restaurant to appease hunger pangs after a full day of activity. But be warned, the water in the river flowing through the canyons is freezing, even at the height of Summer.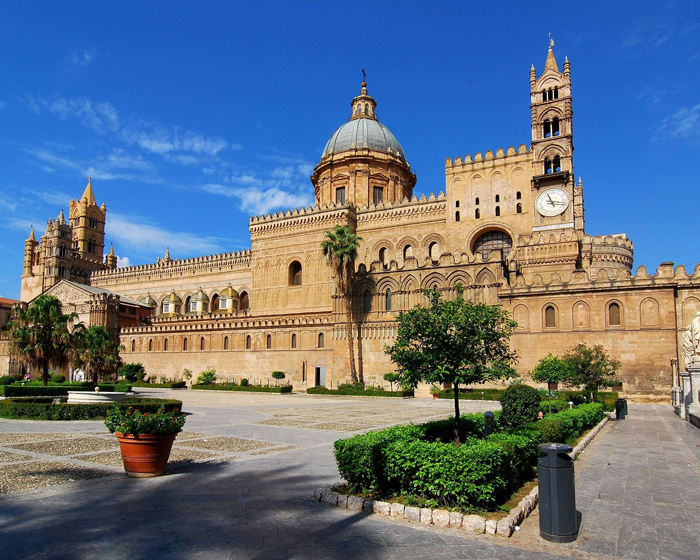 Palermo Cathedral.
Visit Palermo:
Sicily's capital city is nearly 3000 years old and brimming with history and culture. Located in the north-west corner of the island, it is home to the Palermo Cathedral, a Roman Catholic church dedicated to the Assumption of Mary and built in 1185. It has undergone many additions and reconstructions over the years and is famous for its mix of architectural styles and influences.
Known for its puppet theatres, there is no better place on the island than Palermo to experience a puppet show, while the city's vibrant and historic street markets are definitely worth a stroll through the alleyways to take in the sights, sounds and smells.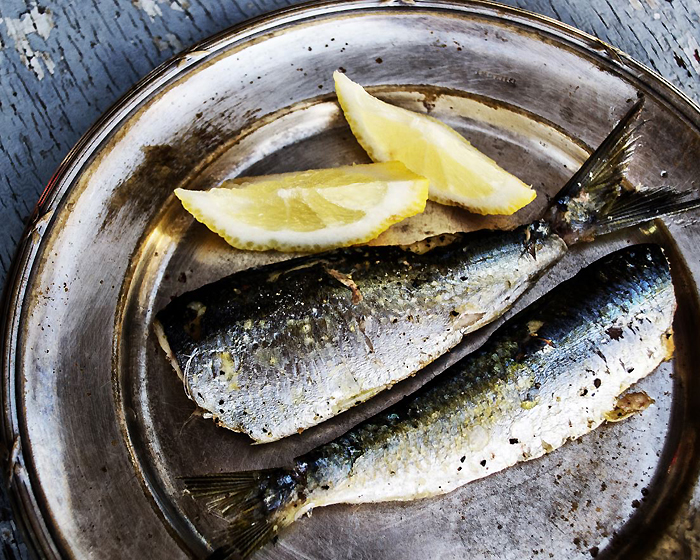 Enjoy Sicilian Food and Wine:
Sicilian cuisine is incredibly unique and one of the best things about visiting this amazing island. While much of it is clearly Italian – pasta, olive oil and seafood – there are some commonly used ingredients that clearly stand out.
A few must-try local specialties are:
Arancini – these delicious, crispy, deep-fried balls of rice usually, have a meat sauce and mozzarella filling and crunchy breadcrumb coating. They can be found piled high in shop windows and are ideal for snacking on while strolling the streets of the island's many towns and cities.
Caponata – arguably Sicily's most famous culinary export, the recipe can change from household to household but always contains aubergines, pine nuts, raisins and plenty of vinegar. Served at room temperature, usually as an antipasto, the fried aubergine is turned into a stew with celery, onion and tomatoes, before being flavoured with capers and olives.
Sardines – Sicily is famous for sardines with big, fat specimens caught off its shores every day. They are prepared in lots of different ways, but one of the most popular is a beccafico, which sees them stuffed with pine nuts, raisins and breadcrumbs before being baked.
Cannoli – one of the island's greatest exports has to be cannoli, little deep-fried pastry tubes piped full of creamy ricotta, which are now sold in bakeries all over Italy. Sweet tooths won't be able to resist these delights, which were once only made during carnival time in Palermo and Messina.
Then there's the wine – Sicily is a wine lover's paradise from reds such as Nero D'Avola and Syrah to whites like Bianco D'Alcamo and Chardonnay, there is something for every palate. The island is also famous for its dessert and aperitif drops, try a chilled Marsala vergine or Passito di Noto, with its hints of honey, to finish a memorable meal.
For more information to enjoy your Sicilian adventure, click here.