Everyone loves Italian…right? Pillow soft gnocchi, al dente pasta swimming in creamy sauce and of course pizza!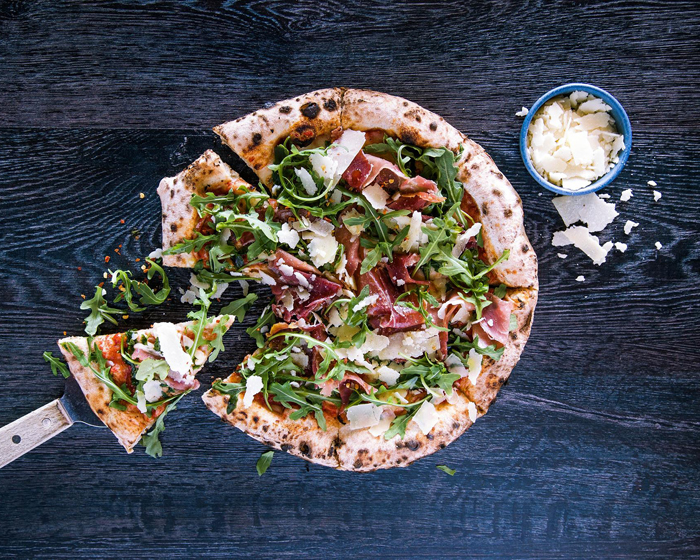 Prosciutto Pizze Italiane at Mezza Via.
Italians comprise of the fourth largest ethnic group in Australia, with the biggest concentration in Victoria, and no doubt they will all be celebrating Festa della Repubblica come June 2. This national holiday commemorates the day Italians voted to abolish the monarchy in 1946 and is considered the birth of the Republic of Italy.
You don't have to be Italian to appreciate the flavours, textures and aromas of one of the most popular cuisines on the planet. Red checkered tablecloths and wood fired ovens epitomise Italian restaurants around the country, where diners flock to get their fill of vino and cibo.
Say buon appetito at some of the best Italian restaurants and providores in Australia.
Queensland:
Sourcing the finest olives from Australian family owned groves, Olive Harvest produces high quality extra virgin olive oil and artisan vinegars, supplied in boutique refillable bottles. Spending time in Italy led to founder Tracey Tyler's passion for olives and her products are available at Gold Coast farmers markets and online.
Choose from a selection of oils such as Truffle Organic Infused, with an earthy flavour combined with grassy notes of extra virgin, ideally paired with beef carpaccio and shaved Parmesan, or drizzled over mushroom risotto. Try Golden Orange Caramelised Balsamic Vinegar as a sensational salad dressing, a dip for crusty ciabatta or a glaze for pork cutlets.
Good food by name and nature, bel cibo on Macrossan Street in Port Douglas echoes the relaxed, airy feel of its tropical surrounds. Set on the mezzanine level of the Saltwater building, linen-clad tables and blond wood chairs spill out onto an alfresco deck, where guests can soak up balmy breezes and sunsets while perusing a modern sophisticated menu.
Chef/Owner Andy Gray (formerly of ARIA in Sydney and 2 Fish in Port Douglas) creates simple, yet intricate dishes to tempt any palate, such as seared scallops with truffled cauliflower puree, pancetta, burnt butter and chives. Try the spinach and ricotta lasagne, with smoked scamorza, Napoli sauce and basil pesto for the main, or perhaps saffron risotto with Moreton Bay bug, spinach, peas and parsley.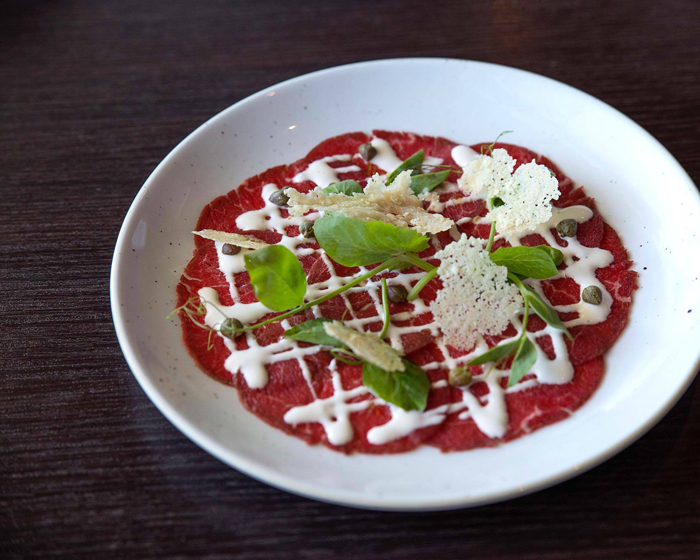 Angus Beef Carpaccio at Spago.
Discover a quirky industrial interior vibe, decked out with splashes of orange furniture and exposed painted piping, at Min & Co on Wellington Road in East Brisbane. A vertical garden wall and open air kitchen allow diners to be part of the energetic buzz, by ordering dishes straight to their table via iPads, at this daytime coffee café and Friday and Saturday night modern restaurant.
Serving up a Mod Oz menu with Italian influences, expect breakfast plates like classic Italian polpette meatballs with Napoletana sauce, baked eggs, potato, pesto, cheese and toast; while evening diners can build their own pizzas by choosing a base and toppings. Pasta dishes include orecchiette with Italian sausage, toasted crumbs and pecorino cheese.
With recipes as old as the Chef, Cinque Terre on Duke Street in Sunshine Beach has real Italians in the kitchen. Salvatore - now 64 - and his family moved to Australia from Sardinia and he still loves to cook every day, at this resort-style open plan alfresco restaurant, with a stone bar set amongst a swaying tropical garden and comfortable bean bags to soak up the sun in while sipping a glass of Prosecco.
Try the Cinque Terre signature pizza with Fior di latte, tomato sauce, tuna, onions and housemade Genovese pesto, or the Sunshine Beach topped with baby shrimps, zucchini and bacon. Those with hearty appetites may be enticed by costolette di'agnello – lamb rack with garlic, fresh rosemary, seasonal vegetables and potatoes.
Urban Italian fare with flair awaits diners at Bombetta on Noosa Drive at Noosa Heads. A trendy vibe of shiny black subway tiles, polished concrete floors and moody charcoal colour scheme makes Bombetta the place to linger over a leisurely dinner, or catch up with friends for an after-work drink.
Dine alfresco and watch the world pass by while contemplating a menu brimming with innovative choices such as crispy skin slow roasted porchetta, stuffed with garlic, oregano and lemon and served with green beans, thyme roasted potatoes and a sherry glaze. Pizza lovers can pick up a slice of Bombetta supreme with hot salami, Italian sausage, prosciutto, wild mushrooms and capsicum.
South Australia:
Bringing Italian inspiration to North Adelaide, Paesano Cucina on O'Connell Street showcases a range of traditional family recipes. A sleek, trendy décor of grey and white marble, hanging chandeliers and whitewashed walls, entices diners to linger over an aromatic coffee and brunch, or a romantic dinner with that special someone.
Delve into a light lunch of pan fried veal pizzaiola, with fresh tomato, olives and basil, served with rosemary potatoes; while evening guests may salivate over a slice of costolette do'agnello pizza, with pancetta, Casalinga sausage, capocollo and prosciutto. For a taste of the ocean, try pesce del giornio alla griglia – grilled fish with buffalo mozzarella, cucumber, tomatoes, Kalamata olives, basil, onion and croutons.
NSW:
From canapes and cocktails to degustation dinners, TERRA Catering brings a taste of authentic Italian cuisine to Byron Bay. Presenting fare with rustic style, using the finest seasonal produce, TERRA dishes up contemporary menus, designed and executed by Chef Bruno Conti, reflecting each client's individual brief for events such as weddings or family lunches.
Delve into tempters such as crostini with goats cheese and anchovies, cured kingfish with capers and blood oranges, before mains such as whole snapper with roasted potatoes, tomatoes and black olives. For an indulgent, sweet finish don't go past traditional tiramisu, or panna cotta with pineapple and amaretti biscuits.
Dedicated to bringing traditional Italian fare to Sydney's northern beaches, de Vita on Darley Road in Manly has a sleek, modern fitout ideal for casual dining. With red bench seating, bifold doors and framed pictures encompassing an upbeat, breezy vibe, de Vita sticks to the classics, specialising in pizza and pasta offerings.
Perhaps begin with scugznizzi – deep-fried pizza dough fingers with cherry tomatoes, olive oil, oregano, garlic, basil and chilli; then tuck into a hearty main of eye fillet with black pepper sauce, served with vegetables, or housemade fettuccine alla boscaiola with cream, Italian sausage and mixed wild mushrooms.
Housemade pasta is the hero on an extensive menu at Spago Sydney on King Georges Road in Beverly Hills. On entering, guests' eyes are drawn to a fresco motif spanning one side of this intimate venue, set with dark walnut chairs and white tablecloths, where friends and family celebrate alongside couples enjoying a romantic evening meal.
Mod Oz fare with a strong Italian slant means diners can expect starters such as creamy lobster bisque, with blue swimmer crab meat and double cream; before delving into a main course like wild mushroom gnocchi, onions, white wine, cream and Parmesan, accompanied by a glass of Australian or imported Italian wine.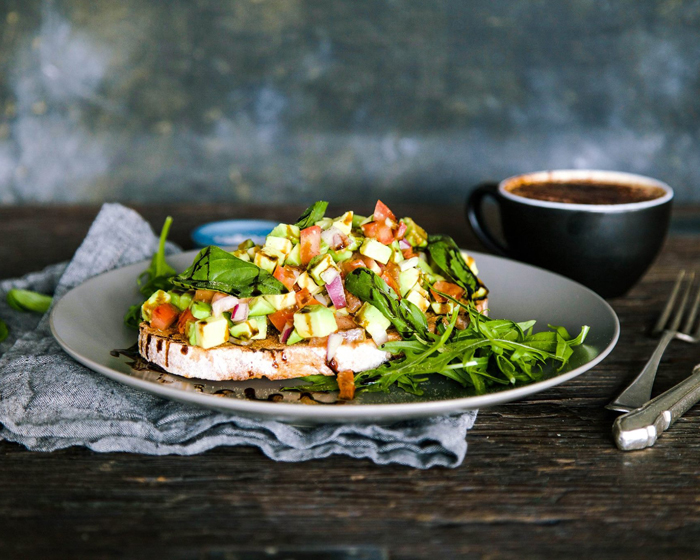 Breakfast Bruschetta with Avocado, Tomato and Spanish Onion on Sourdough at Verace Pizzeria.
Crowds gather at Verace Pizzeria on Khartoum Road in Macquarie Park, as a huge wood fired oven releases a stream of mouth-watering aromas, filling a semi-alfresco dining space with temptation. Delivering the authenticity of Neapolitan pizza to Sydney's northern suburbs, Verace's ambiance of tiered tables is specially designed for sharing antipasto and long pizzas.
Using Italian ingredients such as San Marzano tomatoes and buffalo mozzarella, pizza offerings include tartufata, with mushroom black truffle, Grana Padano and extra virgin olive; or try housemade egg pappardelle with slow cooked lamb shoulder ragu. Traditional desserts like coffee flavoured semifreddo and freshly filled cannoli with ricotta and Nutella, await sweet lovers.
A casual ambiance suited to both families and friends dining together, greets guests at Mezza Via on North Road in Denistone East. Home to two-metre-long pizzas, this warm restaurant is filled with the chatter of conversation and a stream of tempting aromas from the wood fired pizza oven. Family owned and operated for more than a decade, regular diners return time and again for freshly made pizza and pasta.
Choose to begin with garlic King prawns in a traditional hot pot with garlic, fresh parsley and crusty bread, then kick on to penne pesto with chicken and cream sauce; or take the pizza option and tuck into nduja with hot calabrese, salami, mushroom and rocket.
Charming rusticity and traditional Italian fare abound at I Maccheroni on Old South Head Road in Rose Bay. Drawing visitors from near and far to enjoy an authentically styled experience, this restaurant has an elongated centrepiece table and only 25 seats creating an intimate ambiance suited to communal dining, sharing platters of hand-crafted cuisine. Choose to hold a private event or request a hands-on cooking class with Michelin star trained Chef, Marcello Farioli.
An ever-evolving menu is sure to make the mouth water, with all pasta made fresh daily on site and an open kitchen allowing guests to observe practised handiwork. Graze on mushroom arancini balls with truffle aioli, before delving into cannelloni beef brisket with pecorino romano and finishing with a dolce such as ricotta tiramisu with peanut crumbs.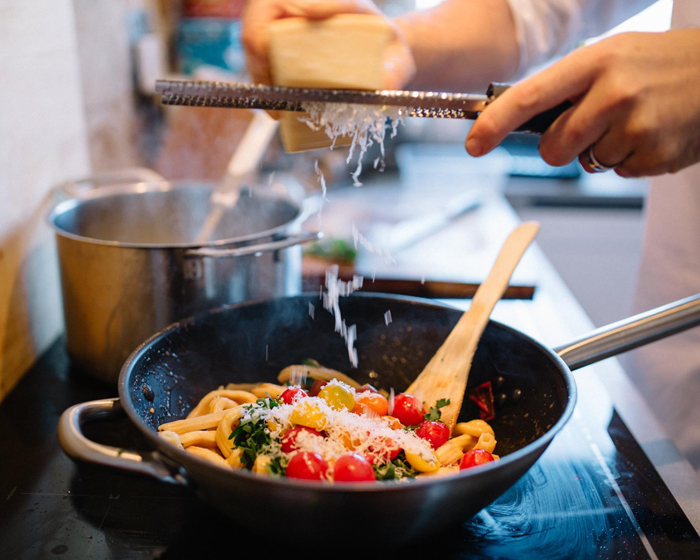 Maccheroni, Cherry TOmato and Pecorino at I Maccheroni.
Victoria:
Italian inspired fare and warm hospitality make for a welcoming dining experience at Scugnizzo on Little Bourke Street in Melbourne city. This casually elegant restaurant offers a calm respite from the busy CBD as locals linger over a drink in classic European brick surrounds, while aromatic smells waft from the kitchen.
Daily blackboard specials feature a variety of dishes such as fresh fish of the day and housemade pasta, while the regular menu dishes up offerings like risotto with scallops and pancetta, in a pea sauce and finished with red capsicum coulis. Pizza lovers may be enticed by diavola, with San Marzano tomato and basil sauce, spicy salami, spinach, roast capsicum, chilli and mozzarella.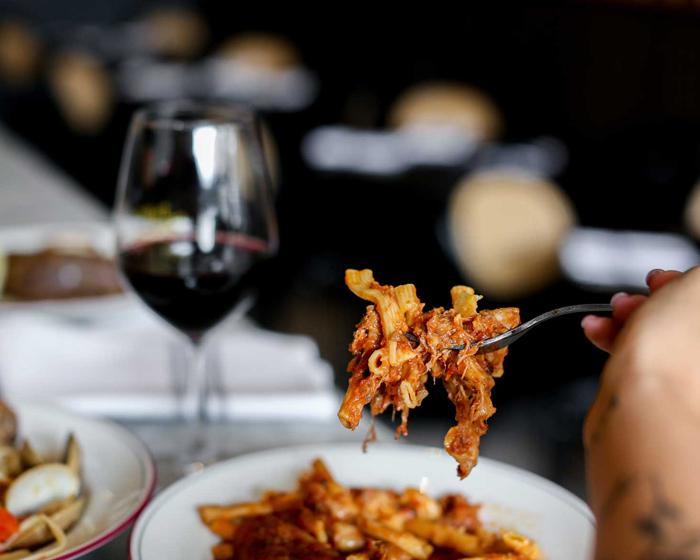 Duck Ragu at Thirty Eight Chairs.
Embark on a journey across Italy's Sicilian region at The Stone Mill 347 – Authentic Italian Kitchen on Lygon Street in East Brunswick. This charming trattoria blends exposed brick walls with polished wooden tables and shelves lined with imported products to create a cosy ambiance, while dangling light bulbs and a constant vibrant buzz, inject a warm, upbeat urban feel.
Kick start a culinary journey with entrees such as sizzling, grilled prawns, served in a terracotta dish with chilli, garlic, saffron and herbs; before moving onto a main affair of pepata di cozze e vongole – pan tossed black mussels and clams, with garlic, chilli, black pepper and white wine. Pasta lovers can twirl a fork around linguine with anchovies, tomato, breadcrumbs, extra virgin olive oil and Parmesan.
For a little piece of the Mediterranean on the Mornington Peninsula, head to Via Battisti on Lochiel Avenue in Mt Martha. Heavy set timber tables and a mosaic tiled coffee bar greet guests street side, while indoors this cosy café is styled in quirky flair with abstract animated characters on the walls and pendent Edison bulb lighting.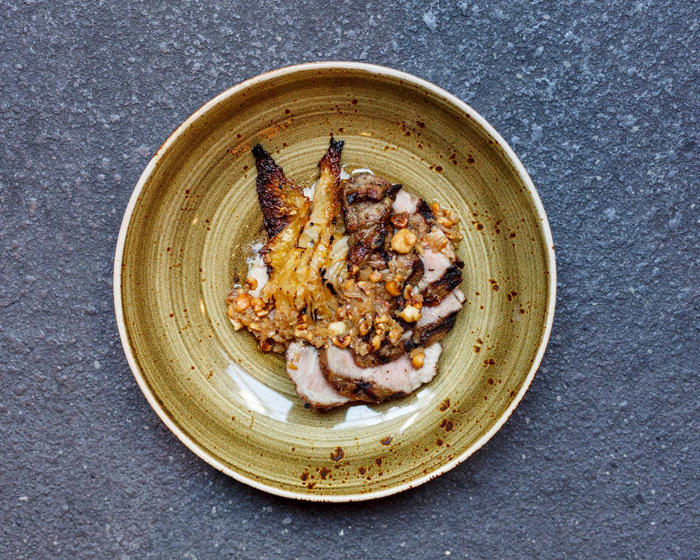 Pork Neck Tagliata, Savoy Cabbage, Smoked Eel and Hazelnuts at Lalla Rookh.
From a menu using locally sourced ingredients and Italian influences, enjoy brunch choices like traditional bruschetta on ciabatta with prosciutto; or perhaps a salami, bocconcini, sun-dried tomato, pesto and rocket panini.
Peruse a menu showcasing Italy's regional diversity at Tamburro's Italian on Keilor Road in Niddrie. Dishing up food with a connection to the past and shaping the future, this trendy restaurant blends shiny black subway tiles with polished wood floors and avocado green walls to create a calm, inviting ambiance.
On balmy days dine alfresco, enjoying a starter of mixed garlic mushroom bruschetta, then delve into dishes such as spaghetti marinara and veal scallopini, served with mashed potato and steamed vegetables. Sweet tooths aren't forgotten with temptations such as red velvet lava cake, tiramisu and panna cotta.
Embark on a taste adventure at Thirty Eight Chairs on Bond Street in South Yarra. Soak up inner urban sophistication and Neapolitan fare, at this sleek and spacious restaurant where guests are welcomed by a chic and trendy dining space with black feature walls and polished concrete floors. Linger over a drink alfresco, among planter boxes filled with colourful blooms and devour a platter of street food such as golden crusted fried mozzarella.
Be enticed by fresh housemade pasta offerings like gnocchi with mushroom, goats cheese and white truffle oil, or perhaps maccheroni with slow cooked duck ragu, porcini mushrooms and shaved pecorino cheese.
Western Australia:
Step inside a sultry dining room, where contemporary chic meets old world charm, at Lalla Rookh Bar & Eating House on St Georges Terrace in Perth city. Leather bench seating, dark timber Bentwood chairs, a honeycomb feature wall and bustling open bar take centre stage, as diners ponder an Italian menu offering tantalising fare.
Alluring starters such as kingfish crudo with pink grapefruit, thyme and peppercorns, give way to creative main dishes such as wagin quail with beetroot, orange, pistachio and chevre; or be tempted by spaghetti with blue swimmer crab, chilli, fennel, soffritto and basil. Dolce offerings include chocolate mousse with elderflower, Prosecco and strawberries.
For more Italian restaurants near you, click
here.