We're celebrating all things Vietnamese this week by taking you on a culinary journey that's full of flavour, colour and flair.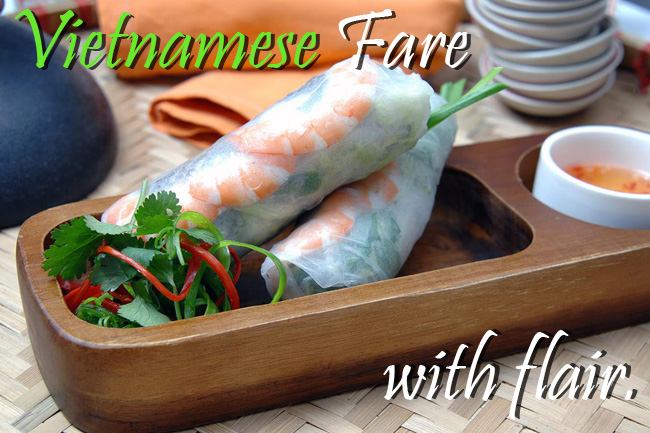 Rice paper rolls with shrimp and pork at House of Hoi An.
Drawing on its surrounds, Vietnam's culinary history is varied and seductive, from the Chinese and Khmer dynasties and the Indian empire as well as the short lived Japanese occupation to the French colonisation of which Vietnam celebrated its independence on September 2.
Although Vietnam is made up of 50 provinces, in terms of food, Vietnam is split into the North and the South – each have their own climate, culture and food traditions.
The Break Down:
North Vietnam is influenced by neighbouring China and is ruled by a cooler climate.
South Vietnam experiences a hot climate and draws its culinary influence from the Khmer people (Cambodia) and Thailand.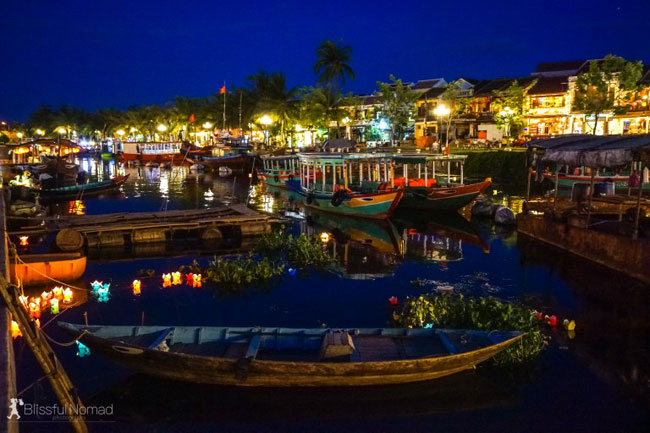 Lantern Festival, Hoi An (Ancient Town) byBlissful Nomad.
Both styles of the North and South centre around mildly spicy dishes with a lighter, fragrant and fresher approach than those that influence them, as most meals are meant to be shared and are an array of dishes such as soup, rice, grilled or steamed meats, vegetables, fresh fruit and salad. Heavy stews with braised beef and red wine don't have any place within the Vietnamese culture– however, the influence of the French can be seen in the ever-popular bánh mì - a crusty baguette filled with pickled carrots, daikon, cucumbers, cilantro, chillies, pate, mayonnaise and mixed meat fillings as well as the ever-classic pho (a mixture of Chinese and French influence).
If all of this is making you hungry for some mouth-watering Vietnamese we have a few suggestions below, if none are close to you, search via your locationhere.
Tran's Restaurant | Mosman NSW
Packed tables and lively nightly diners will attest that Tran's Restaurant in Mosman offers some of the most flavoursome Vietnamese food in Sydney. Opened in 1995, this multi-award winning North Shore eatery has earned itself a formidable fan base.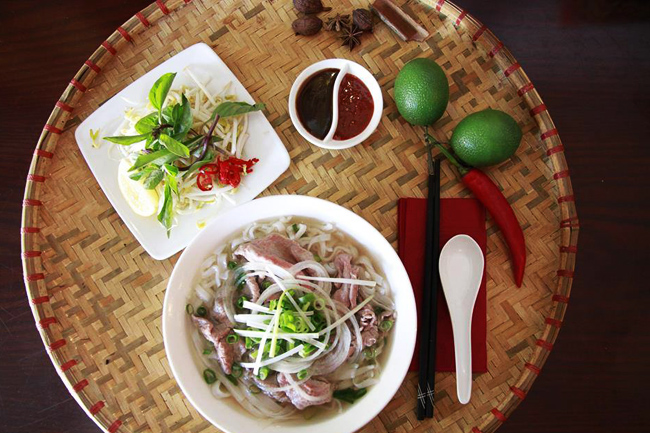 Pho at I Love Pho.
I Love Pho | Crows Nest NSW
It seems Crows Nest has been lured by the simply sweet I Love Pho – tucked neatly in the bustling hub of Willoughby Road – just as smoothly as the broth itself is dished out. Specialising in traditional Vietnamese cuisine, I Love Pho has an impressive menu spoiling diners for choice with more than 100 authentic dishes originating from northern to southern Vietnam.
District 1 | Brisbane QLD
Taking inspiration from Ho Chi Minh City and setting up in the heart of Fortitude Valley is District 1. , a modern, buzzing eatery for spritely Vietnamese street food with a twist. Go for crispy pork dumplings, chicken wings with ginger fish sauce and crunchy Black Tiger prawns before a roast duck soup in an aromatic spiced broth with green vegetables and egg noodles.
Signature Pho Viet | South Wharf VIC
Signature Pho Viet brings Vietnamese flavours to South Wharf, ensuring that Melburnians need not travel to the suburbs for delicious no fuss Vietnamese food. As the restaurant name suggests, the signature dish is the special beef combination pho which is packed with freshly sliced beef, tendon and beef balls.
House of Hoi An | Windsor VIC
For a taste of exotic Vietnamese flavours without leaving Windsor, visit House of Hoi An, a much-loved restaurant found along Green Street. Fresh gourmet ingredients are sourced from nearby as well as spices imported directly from Vietnam to ensure a menu of plates that are sure to make the mouth water.
Hello Auntie | Marrickville NSW
Tucked into Marrickville's bustling streets is Hello Auntie restaurant providing a trendy take on Vietnamese inspired cuisine from a venue on Illawarra Road. High quality ingredients and an array of tantalising flavours are featured in popular dishes such as Pho Dac Biet – a dish of house made Wagyu meatballs served with thinly sliced beef, braised brisket and torched short rib with fresh rice noodles and herbs in a steaming beef broth.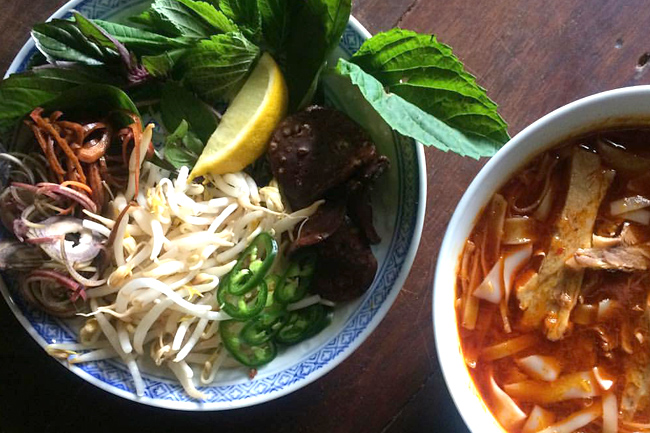 Liberte's Bun Bo Hue.
Liberte | Albany WA
Homed by the historic London Hotel on Stirling Terrace, Albany's restaurant Liberte is a hit among locals and those visiting from afar for mouth-watering fusion cuisine and tastebud tingling beverages. Owner and Chef Amy Hamilton crafts a menu to complement drinks, inspired by a fusion of French and Vietnamese flavours to excite the palate.
Cochin | Melbourne VIC
Tucked into the lively boutiques of Richmond's Swan Street, Cochin restaurant and wine bar provides a fusion of French and Vietnamese cuisine which is showcased in a tapas style menu offering up small bites bursting with vibrant flavours like duck a l'orange and chicken liver pate with pickled carrot; while dishes to share between two or more may present as wok tossed pork with lemongrass and succulent steamed barramundi with ginger broth and Vietnamese herbs.
Yang and Co | Sydney NSW
A fusion of Asian style tapas finds a home in Castlecrag at Yang and Co restaurant, located along Edinburgh Road. The vibrant atmosphere is matched by equally zesty small plates of silken tofu with preserved egg, spicy beef floss, fried eschallots and garlic and organic soy sauce and larger servings of pho beef noodle soup with oxtail, rare sirloin, brisket, herbs, Sriracha chilli sauce and hoisin accompaniments.
Mekong | Launceston TAS
Providing a tantalising taste of Vietnamese cuisine to the heart of Launceston's York Town Square is Mekong Vietnamese Restaurant on George Street. A feast of tangy flavours and heady aromas like chilli, lemongrass and ginger are enough to whisk taste buds away to the bustling food stalls of Ho Chi Minh, where prawn and sweet potato fritters are served with seafood noodles and black sticky rice with coconut milk.
Pho @ Dickson | Dickson ACT
Those craving sumptuous bowls of steaming Vietnamese delight in Canberra need only visit Pho@Dickson restaurant on Woolley Street to satisfy desires. This family owned and run restaurant emanates a welcoming vibe, inviting guests into a bright interior with cream coloured décor that creates an atmosphere of warm elegance.
Pho n Roll | Melbourne VIC
Warm your hands over steaming bowls of Vietnamese inspired comfort with a trip to Pho n Roll restaurant on Bridge Road, Richmond. Take a seat under a warmly glowing lamp and breathe in the mouth-watering aromas of Modern Vietnamese cuisine before perusing a selection of tapas, street food bites, stir-fries and of course, Pho.