The French say that butter makes it better and we couldn't agree more as we don our berets and striped tees to celebrate Bastille Day (July 14th), soufflé-ing our way around the best Bastille Day celebrations and indulging in the rich decadence that makes French cuisine so popular.
Le Bouchon | NSW
While in Crows Nest, make your way along Willoughby Road to discover authentic French café and bistro, Le Bouchon. Be immersed in another world as you enter this quaint French inspired eatery, as the aroma of freshly baked baguettes fills the air and truly decadent dishes like the rabbit and pork roll gratin dauphinois frequent the menu. From July 13 – 15 enjoy a Bastille menu for lunch and dinner.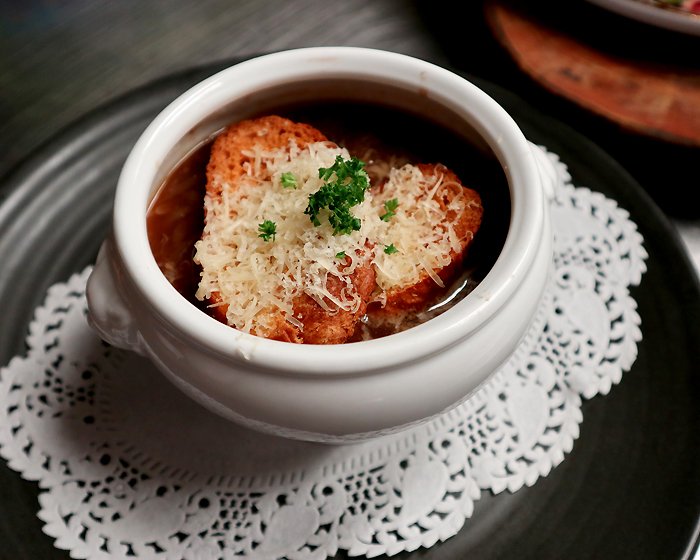 Rosé Royale's french onion soup.
Rosé Royale | NSW
See the world through rose tinted glasses at Rosé Royale on Kellett Street at Points Point. Billed as the world's first rosé wine bar, this elegantly appointed venue oozes opulent charm with a living green wall of ferns and sparkling chandelier lighting, teamed with gilded mirrors and an open fire place, to create a stylish vibe ideal for enjoying a glass from more than 20 wines. Join them on July 14 and 15 for a 3 course Rosé indulgence luncheon or opt for a 5-course dinner degustation.
Claire's Kitchen at Le Salon | NSW
For those after a luxe and intimate setting to enjoy a taste of France, Claire's Kitchen at Le Salon residing in Darlinghurst is the place to see and be seen. Expect to find a chic fitout of lavish wallpaper, sought after antiques, white table linens and black Louis XV furnishings. The Canard En Croute – duck and Pinot noir pie with melted brie under a puff pastry crust is a must try, while the traditional ratatouille topped with a truffled, poached duck egg and crispy Parmesan asparagus never fails to hit the mark. Their Bastille Day celebrations are nearly booked out, but they still have a few spots available for a 4-course lunch.
Quoi Dining | NSW
Sydneysiders experience gastronomical delights at Quoi Dining on Century Circuit in Baulkham Hills. Located in the rapidly expanding Bella Vista restaurant precinct overlooking Norwest Lake, Quoi is a quaint destination offering elegant dining in moody surrounds, with golden hued lighting and understated simplicity creating an intimate ambiance. Join them on July 14 to celebrate Bastille Day with a classic French menu.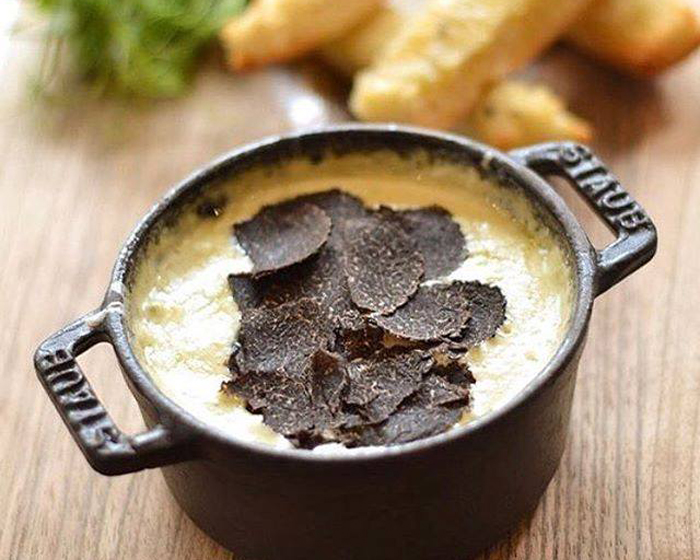 A La Bouffe Bar & Bistro's Oeufs Cocotte with truffle cream, fresh truffles and mouillettes.
A La Bouffe Bar & Bistro | VIC
Set in the prominent area of Melbourne's South Yarra is French restaurant, A La Bouffe Bar & Bistro, owned by renowned Chef Jacky Frenot. Staff fluent in French adds to the charm of this quaint Parisian style brassiere experience, serving up memorable dishes like Escargots a la Bourguignonne – snails in a garlic and fennel butter, and the twice baked Soufflé Fromage with roasted tomatoes and watercress.
Sierra Tango | VIC
Located in the heart of Cheltenham's bustling Charman Road, Sierra Tango serves European inspired cuisine in a bright and cheery venue just around the corner from the Royal Melbourne Golf Club. An interior reminiscent of a country homestead filled with light timbers and clean lines provides a calming place to catch up for coffee with friends and a warm restaurant setting for intimate dinner dates. Celebrate all week long this Bastille Day with your choice of a main dish and a glass of wine for just $25.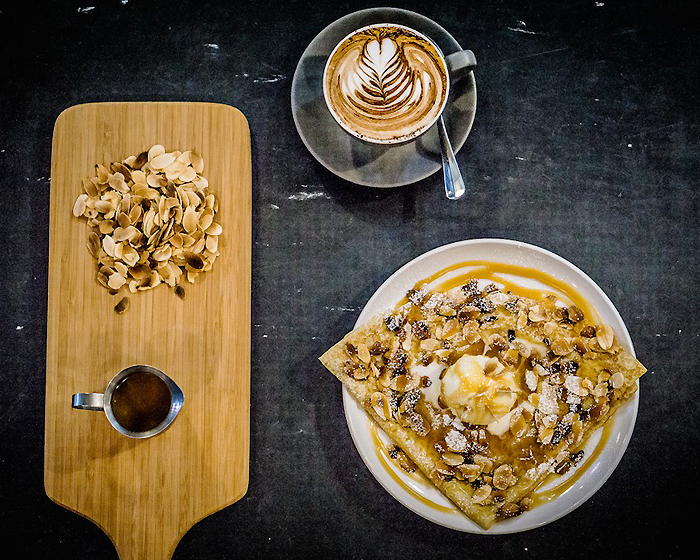 Roule Galette's La Riviera: homemade salted caramel, roasted almonds and vanilla ice cream.
Roule Galette Carnegie | Roule Galette Flinders Lane | VIC
For those wanting to say oui to a little romance, surprise your loved ones with a booking at well-loved restaurant Roule Galette, now in two locations of Carnegie and along Flinders Lane in Melbourne City. As the name implies, this eatery has gained a fierce following and reputation for their galettes - a crunchy buckwheat pancake, offering topping options like the Le Tom Sawyer – egg, Emmental cheese, ham, mushrooms, tomatoes, avocado and green salad and the Camembert with Camembert de Normandie, onion chutney, sliced apple, black truffle oil and green salad.
Small French Bar | VIC
Tucked under the Royal Hotel on Barkly Street in Footscray, just west of Melbourne's city resides a little taste of Paris at the Small French Bar. A petite menu stays on trend with reinvention each season, offering a selection of French delicacies which are made in house from Moules Marinieres – mussels cooked in garlic, parsley and white wine, before diners finish with sinful desserts like rich chocolate fondant. Be sure to peruse the well stocked deli section with freshly baked croissants to take home and enjoy later. Small French Bar will be celebrating Bastille Day on July 15 with a 4-course set menu.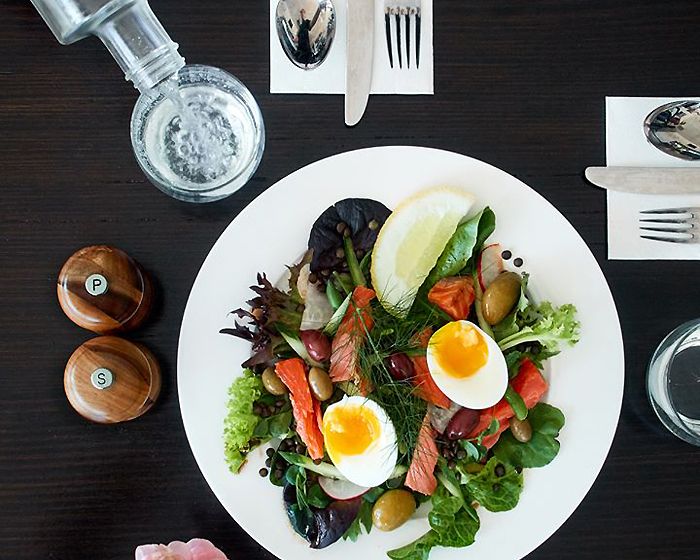 Curly Whiskers' Salad Nicoise.
Curly Whiskers | VIC
Curley Whiskers, residing along Martin Street in Brighton, embraces a popular French philosophy of 'proud to be fussy' when it comes to the menu they serve. Here you will find an open kitchen layout, inviting guests to interact with the approachable Chefs as they prepare a sustainable and ethically focused menu using locally sourced ingredients. Meet with friends for a long boozy lunch and enjoy the likes of Coq Au Vin – a rustic French classic of chicken braised in red wine, using organic Milawa free range chicken, pinot noir, potatoes and brown mushrooms. A week-long Bastille Day celebration awaits – enjoy one of their three specially created menus.
Les Bistronomes | ACT
Take to Mort Street in Canberra's region of Braddon, to experience an honest French themed culinary experience at Les Bistronomes. Step inside to find a warm and welcoming atmosphere, classically furnished in timeless stylings of striped, upholstered high back chairs, booth seating, an exposed cast iron wine rack and worn brick walls. We recommend trying the banquet menu to experience a number of tastes ranging from beef tartare with confit yolk and charcoal chicken cracker to duck liver parfait with pickled cherries and toast. For Bastille Day, Les Bistronomes will be hosting an Eden Road Winer Dinner on July 13 and 14.
For more ways to celebrate Bastille Day near you, check out your local what's on guide.