Those with Greek heritage have a reputation for throwing plates around… it's not because they don't want to do the dishes!
This tradition, commonly linked to Greek wedding receptions and unruly restaurant dinners, is believed to have originated in ancient Greece as a way of embracing good spirits and fun. It is also said breaking plates can ward off evil spirits and bring good luck to newly married couples.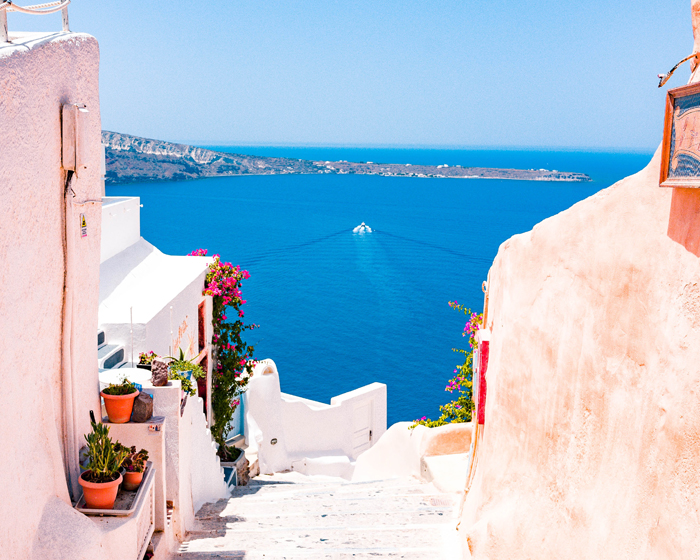 All this plate smashing can be dangerous with shards of crockery flying in all directions, so much so it was outlawed in Greek taverns in 1969. That hasn't stopped the action though, it has just made guests more aware of safety measures.
One thing is sure, come Monday, March 25 more than 400,000 Australians with Greek ancestry will be celebrating their National Day with Ouzo, souvlaki and music. Grab your toga and Grecian goddess headband and let's find the ideal place to celebrate all things Greek.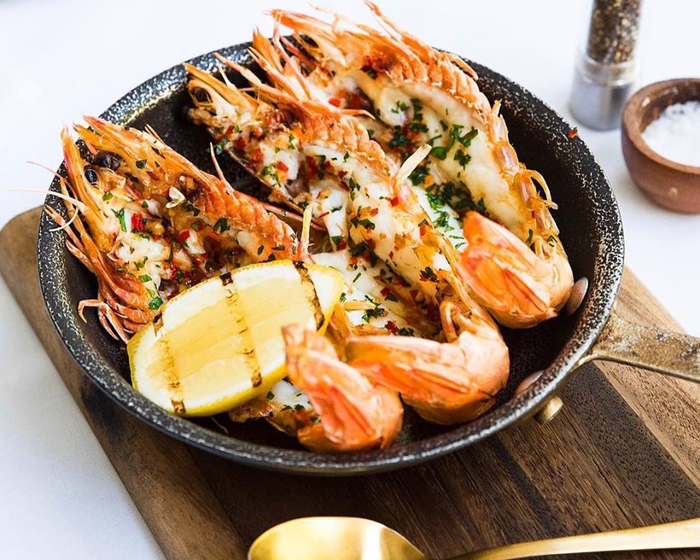 Aristotle's Neutral Bay.
Get Your Greek on in these New South Wales Restaurants:
Named after Greek shipping magnate Aristotle Onassis, Aristotle's Neutral Bay restaurant oozes sophistication with polished concrete, white table linen, mirrored walls and plush booth seating under glowing bronze pendent lights. Expect a traditional menu with a modern twist as seen in plates such as grilled Fremantle octopus, Kalamata olive puree, preserved lemon and aioli.
For a memorable main, delve into the likes of lamb moussaka, with eggplant, potato, tomato and bechamel sauce; before a sweet sensation like Aristotle's cigar box with pistachio custard and chocolate mousse filo pastry.
While toe-tapping to the sounds of Greek blues music, kick back with a tantalising drink and mingle among friends at Koutouki restaurant on Norton Street in Leichhardt. Embrace the vibrancy of Greek culture at this lively venue, where earthy features mix with honeyed timbers and exposed red brick walls to create a warm and welcoming ambiance.
Begin your dining journey with garides saganaki – prawns, olive oil, Ouzo, tomato salsa, herbs and feta – before mains like slow cooked stifado beef, onion, tomato, salsa, salad and hand cut chips. Don't go past traditional baklava with pistachio, walnuts and honey syrup for a delightful dessert.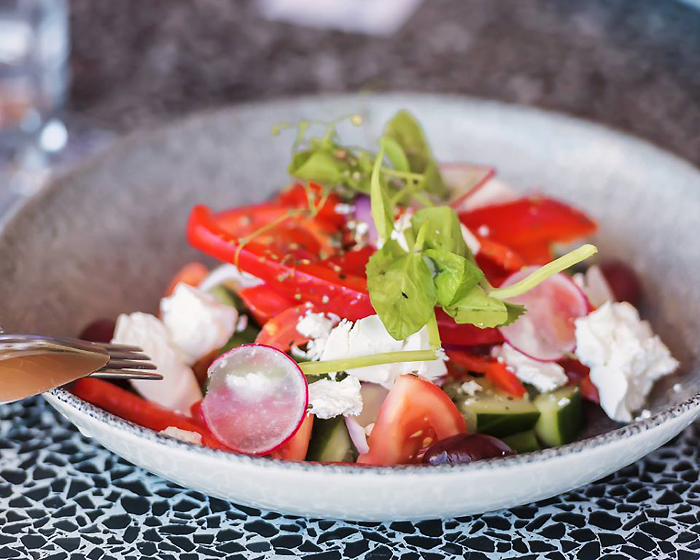 Nostimo Restaurant Bar.
Queensland Greek Restaurant Hot Spots:
Offering the best seat in the house from the famous terrace of The Greek Club, Nostimo Restaurant Bar on Edmondstone Street serves up sweeping views of Brisbane's city skyline, along with authentic Mediterranean flavours. White rendered walls, cascading worry beads, thatched ceilings and terrazzo finishes match renowned Chef David Tsirekas' menu, serving up starters like Greek-style prawn dumplings, carrot puree, candied walnuts and burnt butter currant dressing.
For group dinners, perhaps opt for the Nostimo banquet with mixed dips and pita, saganaki, pork belly baklava, fried calamari and lamb skaras, which are just some of the dishes on offer.
Revel in authentic Greek fare and flirty cocktails in this traditional blue and white themed restaurant, Let's Do Greek on Macalister Street in Mackay. Located underneath Quest Apartments, diners lounge beside a wall mural depicting the beauty of the Greek Islands, with a sleek marble bar, Doric inspired columns and a lively atmosphere to boot.
Whether out with family and friends, or on a first date, raise a glass of Ouzo and celebrate over shared plates of white bait, lightly dusted in seasoned flour, served with fresh lemon and garlic aioli dipping sauce. Meat lovers will salivate over slow baked lamb and herbed root vegetables, or perhaps spicy meatballs in rich herb and tomato salsa, with crispy lemon potatoes and salad.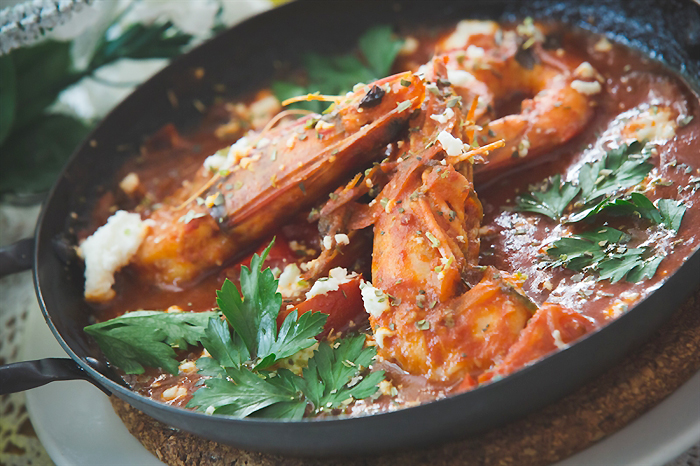 Tsindos Greek Restaurant.
Greek on a Plate at these Victorian Restaurants:
Cosmopolitan restaurant Mamma Pita, on High Street in Northcote, draws inspiration from ancient recipes with dishes cooked over a combination of charcoal and lava for a perfectly smoky taste. Evening diners can follow the brightly glowing neon signage indoors, where a sassy red feature wall with a cartoon belly dancer dominates and the buzz of lively conversation resonates in the air.
Kick start your Grecian feast with calamari, stuffed with spicy feta, red capsicum and tomato, before tucking into bifteki – Greek style oven-baked beef patties with lemon potatoes. Wrap your hands around a chicken gyros pita, with lettuce, tomato, chips and Mamma's sauce; before hot doughnuts rolled in cinnamon sugar.
Those diners wanting to order meals in their native tongue, head to Tsindos Greek Restaurant on Lonsdale Street in Melbourne's CBD. With friendly staff who can converse in Greek, comes a cultural authenticity matched by cuisine full of tempting tastes sure to delight the whole family, along with two banquet-style menus for larger groups.
Think plates such as dolmades avgolemono – vine leaves stuffed with rice and herbs and drowned in avgolemono sauce – or fried Santorini sardines with beetroot, feta, onion, walnuts and spinach salad. Those with hearty appetites may opt for a mixed grill meat platter of chicken gyro, pork skewer, keftedes, lamb cutlet and sausage.
Discover a slice of the Greek Islands at Mykonos Taverna on Portman Street in Oakleigh. Take a seat in the newly renovated dining area and be convinced you are shore side to the Mediterranean, overlooking a life-size mural adorned with soft, whimsical fabrics, sea shell pendent lights, stone flooring and aqua tones evoking visions of the ocean.
Mykonos has created a menu just as visionary as the landscape, with Greek beer and wine accompanying mezze plates such as pickled sardines, lakerda, anchovies, Kalamata olives, giant baked beans, dolmadaki and mixed Greek pickles. For a hearty main, choose slow cooked lamb shanks, vegetables, oven roasted potatoes and Mavrodafni wine sauce.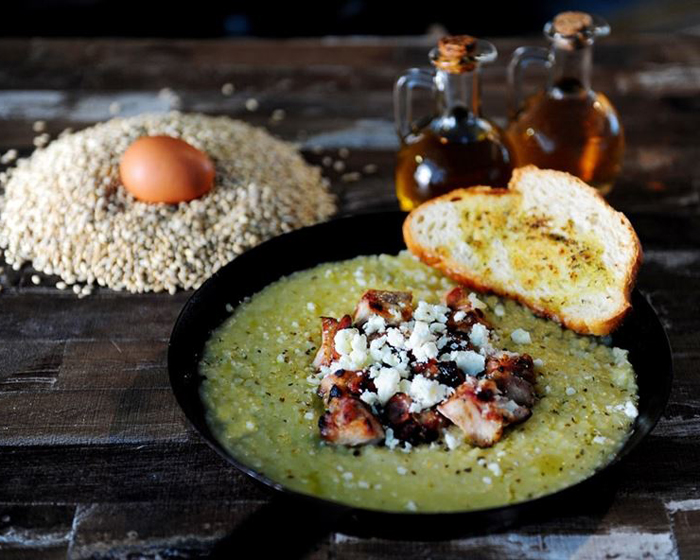 Mykonos Taverna. You can find the recipe for this Trahana with Chicken here.
Northern Territory Greek Restaurants:
Escape Darwin's sultry heat at local favourite Manoli's Greek Taverna on Smith Street, where fine fare and live music await. Images of coastal Greece cover the restaurant walls, while blue and white checked table cloths adorn wooden settings to set a vibrant vibe for dining from a share plate menu, alongside Greek beer, wine, Port and Ouzo.
Be enticed by starters of spinach and feta, wrapped in filo pastry, before tender pieces of veal, pan-fried with onion and mushrooms, deglazed with Manoli's sweet Port sauce. Seafood lovers won't go past pan-fried scallops, tossed with bacon, onion, capsicum and a hint of chilli flakes, flamed with Ouzo; while creamy sweet rice pudding, dusted with cinnamon finishes the meal nicely.
Still looking for a Greek fix near you? Click here for more restaurants around the country to smash your way through dinner.

P.S. Please don't walk into these restaurants and break their plates... obviously.